Benaa – Cool WordPress Theme For Real Estate – Whether you are currently looking for a WordPress theme for Real Estate that helps you create a real estate classifieds portal, or a real estate agency with a friendly front-end that makes your property management easier and more beautiful ? There are tons of great themes suitable for building a real estate website with WordPress and in this article we will review a Real estate WordPress theme I accidentally found for a project on Themeforest, called BENAA – Real Estate WordPress Theme .
The BENAA theme is a modern real estate theme featuring everything you need to create an online property management system with WordPress. This theme allows you to build a professional real estate marketplace, coordinate your agents or receive submissions for your listings and directories. This theme is perfect if you are planning to launch a high-quality real estate portal or directory site for selling houses, apartments, mansions or any other type of accommodation. Of course, the BENAA theme is fully responsive to ensure your properties can be perfectly viewed on all devices.
Read: Education Base – WordPress Theme For Educational Institutions
Design
To help you get your website up and running as quickly as possible, BENAA includes one-click demo data. After installing the demo content, you can then edit the page to add your own content and set up your website and start promoting your property online. Apart from that, it also provides complete documentation and video guide to help users use this theme easily.
The Benaa theme pack comes with 10 homepage layout designs that help you build different types of real estate websites. The different layouts give you the ability to display a search box on the front page of your website, list your most recent properties in a slideshow format, or use an interactive map to display links to your property in a specific geographic area. The different elements of each of the homepage options can also be mixed and matched, to help you get the right look and feel for your site.
This theme offers lots of great features for displaying property lists in a professional way and it comes with a very popular drag-drop page builder plugin namely Visual Composer. You can easily use the integrated WPBakery Page Builder tool and custom widgets to control and customize the elements displayed on your website. Apart from that, thanks to the extras in this theme pack, you can add all kinds of features to your real estate website.
For example, you can use built-in functions to give visitors the ability to upload their own real estate listings to your website. You then have the option of using a payment processor feature to collect payments from your users for this service.
Considered the backbone of this theme is the Essential Real Estate plugin. The flexibility of this plugin gives you endless choices of what you can use for your real estate website needs. Let's take a look at some screenshots to see how your property portal will look like BENAA Real Estate in the gallery below: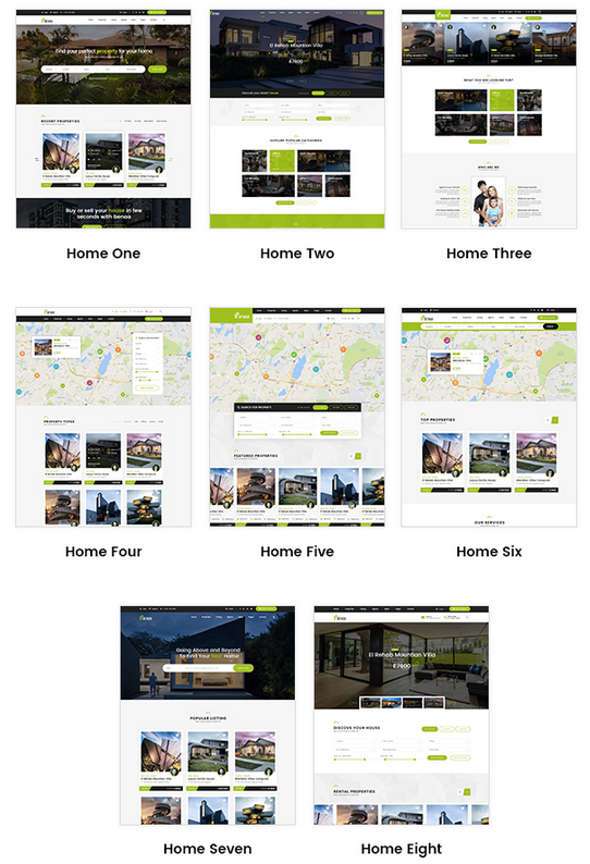 Functionality
This theme helps you create a traditional real estate agency website with all the features your real estate website will need in a suitably professional design. Individual agents or realtors can use this WordPress theme to create their own personal website and promote services, as well as list any property they manage, you get access to all the great features to make your real estate website not only see section but also provide easy to use experience.
Another type of real estate website that focuses on developing this theme is a multi-vendor online marketplace. In this mode, your visitors will be able to quickly create an account and add their own listings to your website. This gives them the ability to save their favorite properties and upload their profile details and contact information.
Of course, you get complete control over how this works, with the ability to collect payments in exchange? Home owner / property agent listing on your portal. You can allow people to submit their property for free or for a fee based on the package you want. You can create multiple packages with expiration dates starting in days, weeks, months, or years. You choose what number of lists and listings to display on each page. It provides you with many monetization options for your real estate website.
Other real estate-related features in the Benaa theme pack include a mortgage calculator, property profile and management, a payment processing system (supports PayPal, Wire Transfer and Stripe for payments and transactions), a property comparison tool, adding properties to favorites lists and an email alert system. . You can also let real estate agents create their own profile on your site and accept requests from visitors. Uploading floor plans and other documents to your listing is possible too with this real estate WordPress theme.
Photos and other images of individual properties on your site take center stage with this theme. This is thanks to the use of a full-screen image slider on the homepage, as well as a gallery of images on individual listings. There is also space on each listing to upload a video, as well as displaying a Google Map location of the property's location and details of the surrounding area.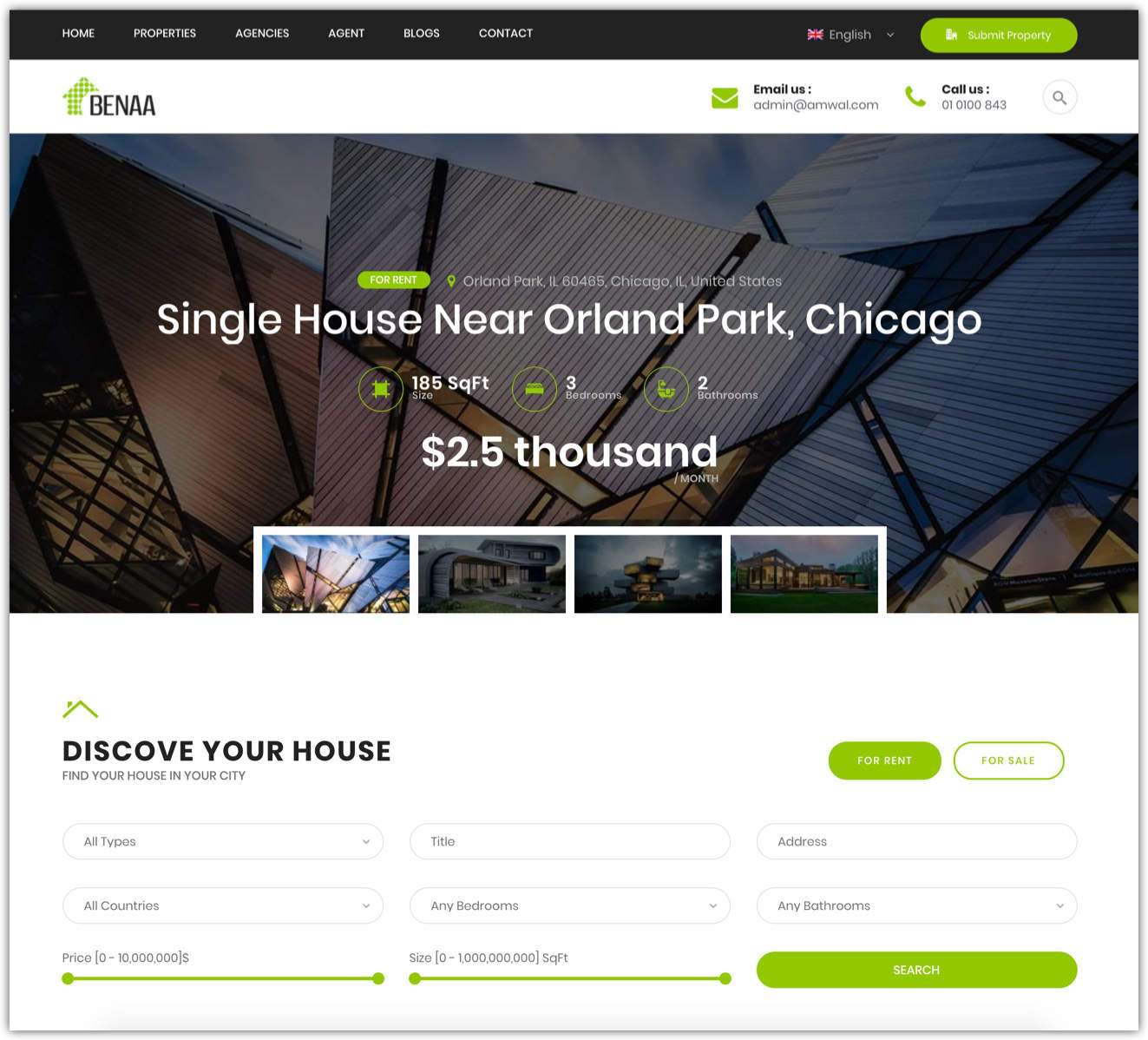 Since this theme was built specifically for the real estate industry, properties get the most of the attention. You can add as many 'Property Types,' 'Features',' Status', 'City', 'Neighborhood', 'District / Country', " Labels' as you want and change the permalink for each category. For a single property, you can set a gallery slideshow, 360 video or image and attached files.
All options are collected in the Theme Options and Real Estate Options panels on the backend. Based on the Smart Framework panel, Real Estate Options allows you to customize Property, Users & Agents, Price Format, Payments, Running Score, Front-End Submissions, Map Direction, Property Pages and more. With this kind of management, you can view property details and customize it to your liking.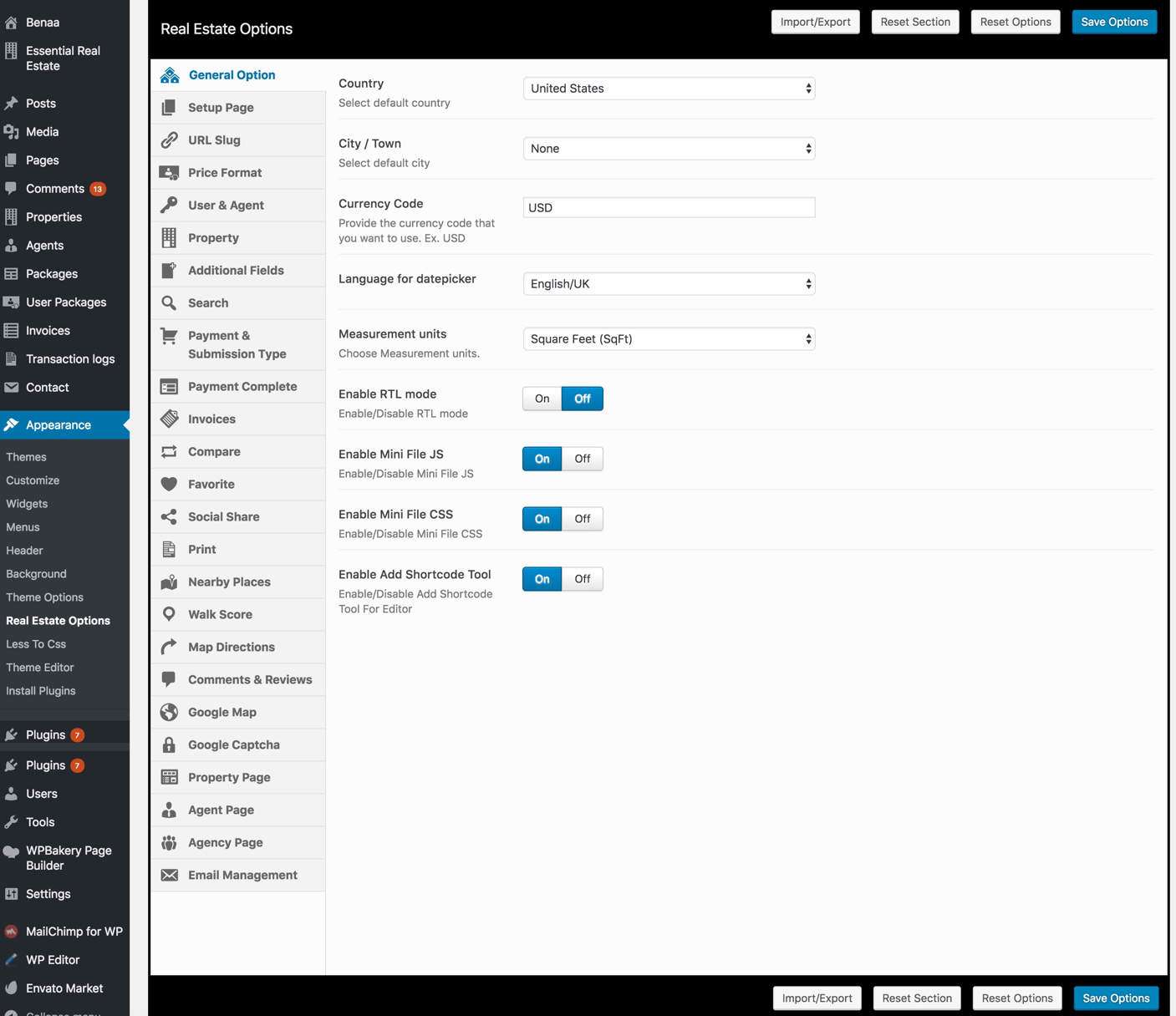 The Themes Options panel includes settings that you can choose to change the logo, header, presets for each page, taxonomy layout, footer, etc. The 'Theme Colors' tab in Preferred Themes allows you to change the color of each page element, starting with the top bar, navigating through the menu, and in the footer. Some of the settings are also in the Customizer list on the frontend.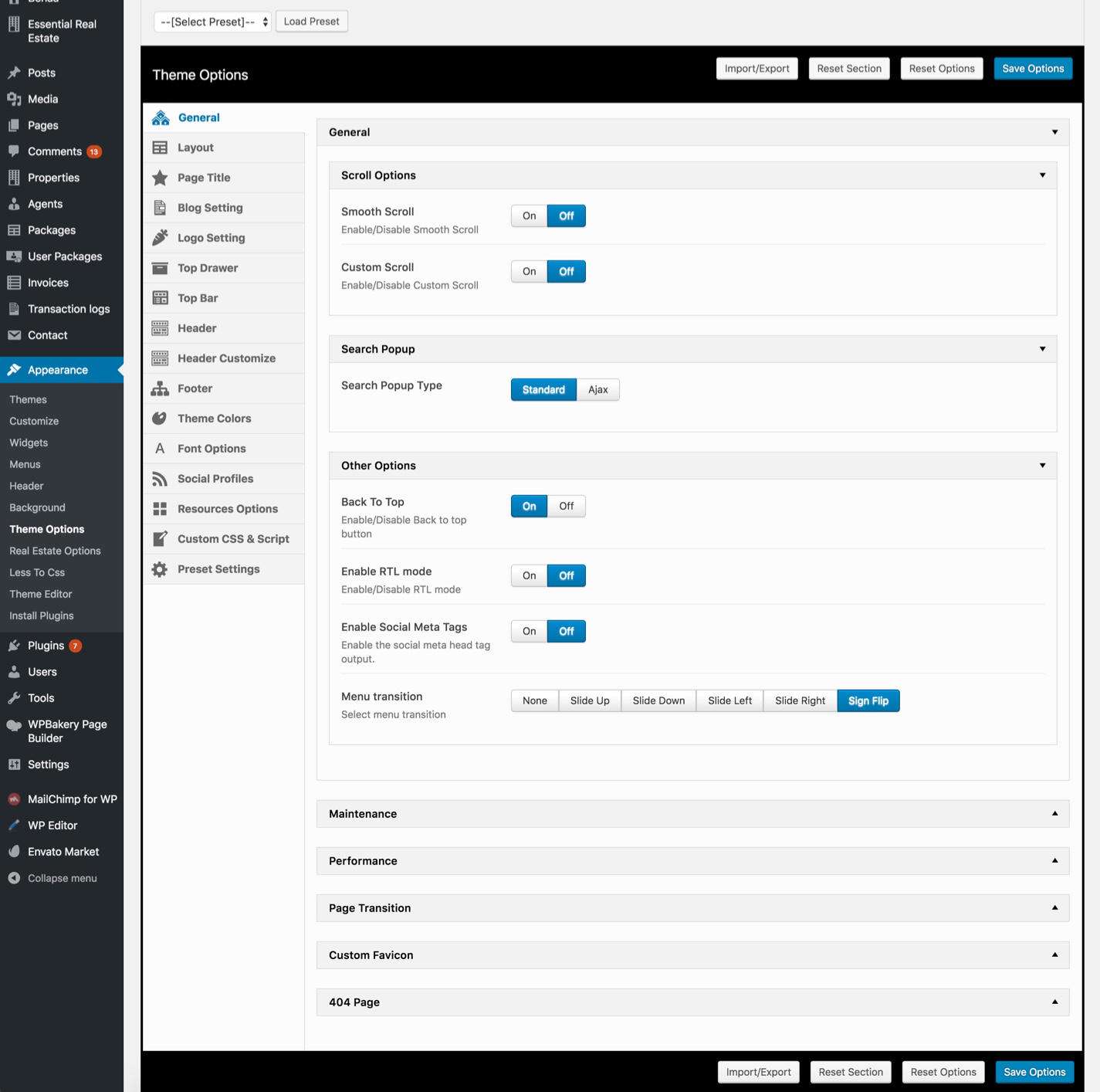 This theme includes good Google Maps integration so that your visitors can easily find properties they are interested in geographically. Visitors can not only browse the map but also search for properties based on location and within a certain radius of their favorite address.
Responsive display is great for mobile devices too, this is just another option we are giving you on themes. You can see how BENAA looks like by visiting the demo and please rate how this theme works as a user:
Performance
We've tested Benaa's built-in demos on different page speed tests, and the content loads at a good speed. With a fast theme, of course this will make users feel good because they will quickly see what they are looking for. In addition, speed is also very influential on search engine rankings, therefore the speed of Beena's website is really noticed by developers.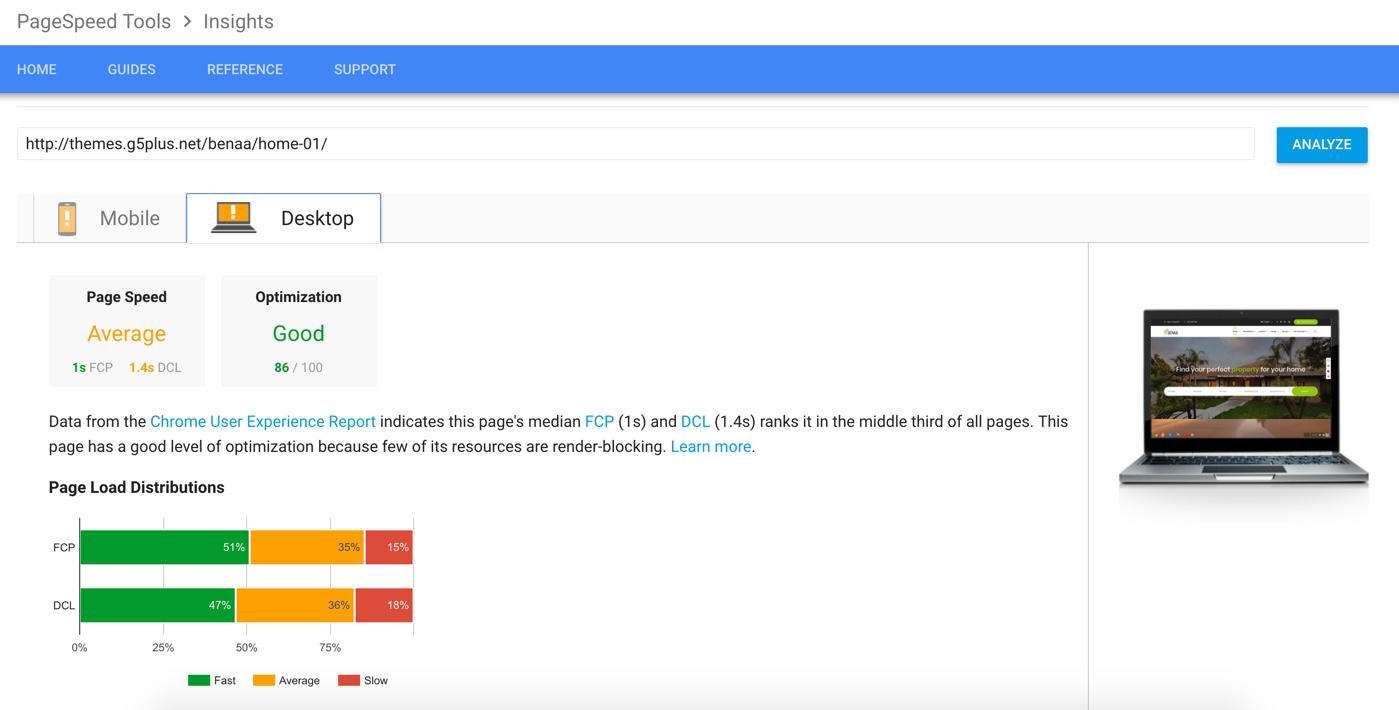 Weakness
In the BENAA WordPress theme there is no built-in translation panel, but the theme is WPML compatible. BENAA provides more than 800+ Google Fonts , but you have to add custom? Fonts manually if you need something else.
And that's my full review of the BENAA theme – Real estate WordPress Themes, I hope this article helps you make it easier for you to find a suitable WordPress theme for real estate sales sites. Good luck 🙂