10Web – A Service That Provides Everything For WordPress – WordPress users are always spoiled by the many services provided by several companies or third party developers that handle the need for WordPress, in fact many of the best hosting companies design their servers specifically to run WordPress to run and work with them. maximum.
In addition, with WordPress creating a website for various purposes is very easy, and for those of you who are still having trouble using and optimizing WordPress perfectly, there are many services that you can use to help you use WordPress to reach its peak.
One of the services that I will discuss here is 10Web. By using the services offered by 10Web, you can maximize the use of WordPress without worrying, because they offer a wide range of products to meet the needs of your WordPress website in terms of plugins, themes, image optimization, backups and much more. 10Web also provides dedicated support assistance for your WordPress site, it can be said that you have a personal assistant to handle your WordPress site, basically 10Web is everything for your WordPress site .
What is 10Web?
10Web is a Software as a Services (SaaS) service that offers a premium solution for managing and optimizing your entire WordPress site creation process. 10Web provides complete tools and support to design, develop and launch websites, as well as manage, optimize and maintain existing websites with ease. They provide dozens of plugins and themes ready for you to use without limits in addition to support services and other premium services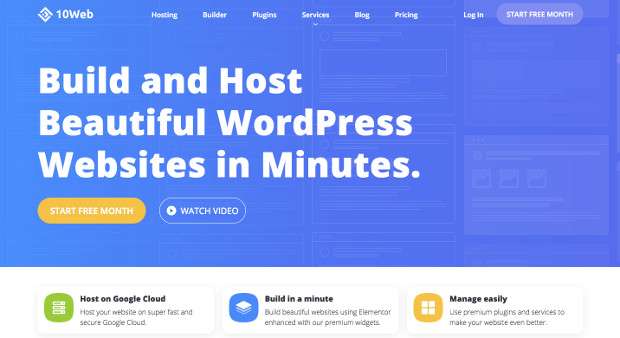 10Web has been developed by the same experienced people behind the Web Dorado company, their mission is to create products that will help clients increase productivity, expand the functionality of your website and make your work easier and more effective. 10Web is also committed to doing everything to ensure a solution that combines functionality and aesthetics to enhance your experience with WordPress.
Read: Complete Guide How to Migrate WordPress to a New Hosting
What services does 10Web offer?
10Web provides a wide range of products and services to meet all the essential needs for your WordPress site and it can be called an All in One WordPress solution.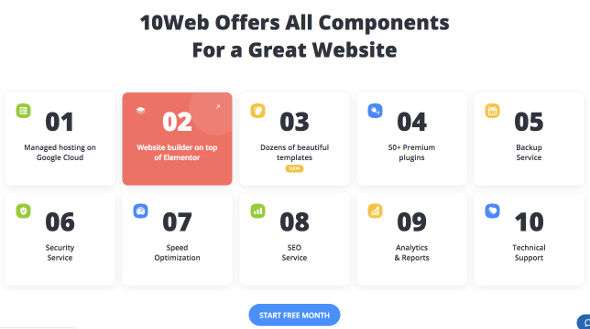 By paying only $12 per month, you can already use a wide variety of WordPress tools and services. Before you say this service is expensive or paid, please read this article first and conclude for yourself whether this is worth paying for.
Some of the services offered by 10Web:
More than 60 premium WordPress plugins
6 premium WordPress themes
One Click Management
Universal Reporting
Plugin Manager
WordPress Backup
Image optimization
SEO tools and analysis
Those are some of the features and services offered by 10web for you, but keep in mind that the above services are for now. They say that they will always add some more features and services as time goes on. 10Web will be adding more premium WordPress plugins and themes, and will also soon be adding hosting, security, and uptime services, to their membership plans. And this is very worthy to follow, because if hosting services, security and other services have been added, it will become a complete WordPress service at a very low price.
WordPress Plugins
10Web provides a variety of premium WordPress plugins that you can use freely when you are already a member. Most of the plugins are popular plugins and you will actually use them on your WordPress site. Actually when you access the plugins page, you will only see 25 available plugins and +60 is for the number of plugins and Add-ons, but that is already a complete number of plugins.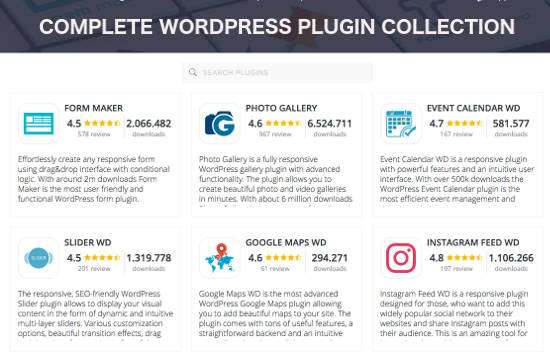 Some of the popular plugin lists include Photo Gallery , Form Maker, WD Slider, WD Instagram Feed, Contact Form Maker, Contact Form Builder, Spider Calendar, Event Calendar and many more. All the plugins offered get a very good rating of 4+ and some of them have been downloaded millions of times by WordPress users.
You can see in full about what plugins are offered by 10Web and see in detail each function of the plugin, besides that you can also see Live Demos and complete documentation on each plugin. 10Web Plugins .
Read: LMS Tutor – WordPress Plugin To Create an Online Course Website
WordPress Themes
10Web provides a variety of premium themes for your WordPress site needs to create various types of site objectives from business, portfolio and online magazines. However, for now 10Web still provides a few WordPress themes, namely 6 themes and this certainly looks lacking, but you don't need to worry because 10Web promises to add more themes with various categories.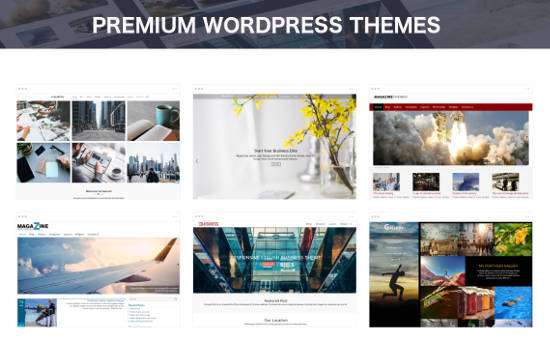 Some of the WordPress themes offered are Sauron, Business elite, Best Magazine, News Magazine, Business World and Portfolio Gallery. You can see a full description of each WordPress theme and see a live preview of the theme here 10Web WordPress Themes .
WordPress Services
10Web provides an easy-to-use custom dashboard to manage all the core services you need for your site to be faster, efficient and smarter. With the dashboard provided by 10Web you can manage multiple WordPress sites at once, you can update plugins, themes and regular backups without having to switch between admin panels.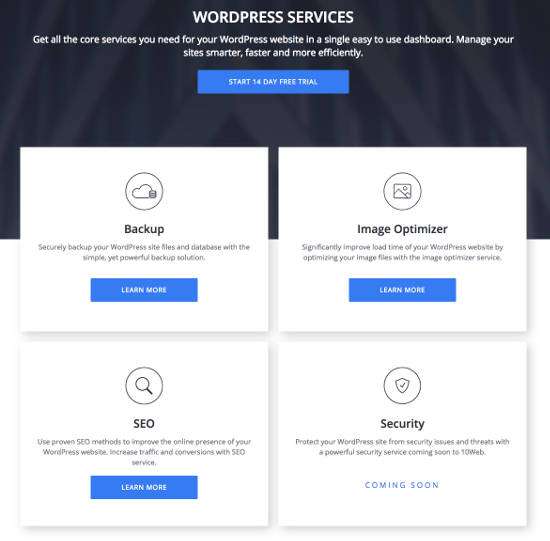 Some of the important services that you will get are:
Backup : 10Web has a backup feature that will automatically back up your website and you can restore it when you need it. The backup system owned by 10web is an advanced backup system that ensures your website is safe and will not lose data due to hacks, malware or user errors. In addition, you can schedule backups and store your backup files in various cloud services such as Dropbox, GDrive, RackSpace and others.
Image Optimizer : 10Web has a feature to increase the speed of your WordPress website by optimizing images. You can resize or compress without losing image quality. This feature is important because having a fast website will be more user friendly and improve SEO.
SEO : 10Web has advanced and complete SEO optimization tools. You can use this tool to perform a performance analysis of your website to improve the ranking of your WordPress site in search engines.
In addition to some of the WordPress services above, 10Web will also soon add several other services which will certainly make 10Web the most complete WordPress management service provider. Some of the services that will follow are hosting, security and uptime services. 10 Web Services .
Price
As I mentioned earlier that this is a premium WordPress service, 10web offers three pricing plans, namely: Basic, Standard, and Premium.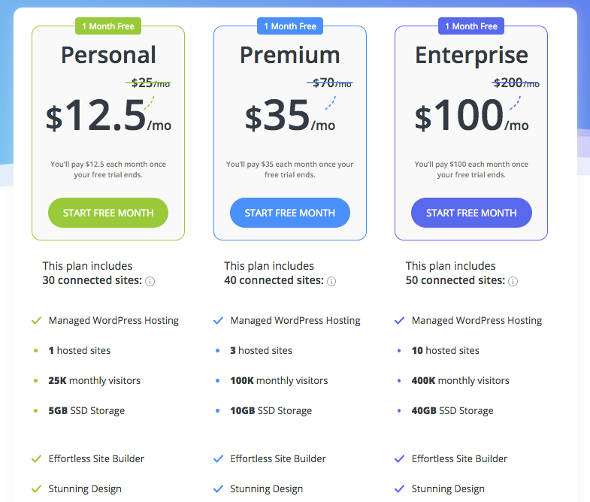 Basic $12.5/month : 3 Domains, Premium Support and Updates, Slider, Gallery, Form + 60 WordPress Premium Plugins/Add-ons, WordPress Premium Themes, Unified Dashboard, WordPress Backup: 10GB Storage, Image Optimizer: 20,000 Images/Month, Use Premium Products Even After Cancellation.
Standard $35/month : 10 Domains, Premium Support and Updates, Slider, Gallery, Form + 60 WordPress Premium Plugins/Add-ons, WordPress Premium Themes, Unified Dashboard, WordPress Backup: 40GB Storage, Image Optimizer: 80,000 Images/Month, Use Premium Products Even After Cancellation.
Premium $100/month : 50 Domains, Premium Support and Updates, Slider, Gallery, Form + 60 WordPress Premium Plugins/Add-ons, WordPress Premium Themes, Unified Dashboard, WordPress Backup: 140GB Storage, Image Optimizer: 250,000 Images/Month, Use Premium Products Even After Cancellation.
All of the above pricing plans give you a unified dashboard, support and updates, and access to all plugins and themes, the only difference being the number of domains you can use, the storage capacity and the number of optimized images.
The price above is also a monthly price plan, you can opt for an annual plan and it's much cheaper because you will immediately get a 20% discount where the discount is calculated by the way you are given an additional two months free. And you need to know that all subscriptions can be canceled at any time and you can continue using the 10Web plugin forever because all their products are GPL friendly.
If you are curious about this service but don't want to pay up front, you can try this service for free as 10Web offers a 14 day free trial for their service. You'll need to enter your credit card details to take advantage of this trial, but don't worry as you won't be billed if you cancel within two weeks. If you decide to cancel, you can continue to use their plugin on your website for as long as you want (but obviously, you don't get access to updates and support).
Conclusion
10Web looks really serious about providing this kind of service to WordPress users, the services offered are very complete and at a price that can start at $12 is quite cheap considering the so many plugins, themes and web services on offer.
Full support is also provided to you so you don't have to worry about your website. 10Web service is a service that pampers WordPress users, for those of you who have many WordPress sites and want to manage your site easily and efficiently, 10Web is really worth trying.
And that's my review of the WordPress management service from 10Web, I hope this article is useful for you and good luck with this service. Good luck