GTranslate – Easy Solution for Creating Multilingual Websites – One way to grow your business to be much more developed and get a wider market is to introduce your business online. As we all know that nowadays if you only run your business in the traditional way then gradually you will experience setbacks and will be unable to compete with your competitors. We cannot deny the progress of the times and technology, and the wisest way is to follow these developments so that the business can continue to run well as expected.
By bringing your business to the online realm, it will have a huge beneficial impact on the continuity of your business. And a very common way is to create a website for your business, do marketing so that the business can be widely known and easy for users.
If you are currently trying to bring your business to the online realm by creating a website for your business and have already experienced the benefits and success of the business, there may be a sense of dissatisfaction because you only managed to run a business for the local market share. If you feel that way and are thinking of growing your business to be better known throughout the world, then the easiest way for you to do is to make your business website support various languages according to the country you are targeting.
To create a multilingual website is not difficult, because there is a tool that can easily make a website support multilingual quickly and practically called GTranslate. In this article, I will review in full the GTranslate plugin to make your WordPress website support multilingual. Indeed, there are many WordPress plugins and other services that can help make a website support multilingual, but GTranslate can be an easier choice because it does not have complicated settings and usage.
What is GTranslate?
GTranslate is a free multilingual plugin that can easily translate your website into multiple languages with just one click. GTranslate can not only be used for WordPress, but GTranslate can be used for various websites, be it WordPress, Joomla, Drupal, Shopify, Magento and HTML.
But specifically for the discussion in this article I will focus on WordPress because I am a WordPress user and WordPress is the most popular platform today.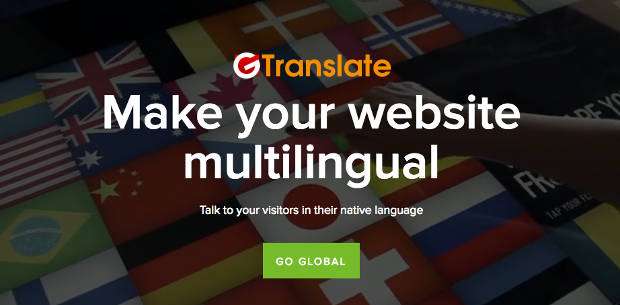 GTranslate works by utilizing a sophisticated and popular translation engine, namely Google Translate, but as we all know that Google Translate can't translate languages perfectly, but you don't need to worry because the advantage of using GTranslate is that you can edit the translation results in parts that are less than perfect. so that the translation results become better and according to your wishes.
Another advantage when you use GTranslate is that it will not slow down the performance of your site because each translated version of your site is not loaded from your own website server but GTranslate can host the translated content independently and send it to your site when needed.
Read: Tutorial on Creating a Multilingual WordPress Website with Polylang
GTranslate's Featured Features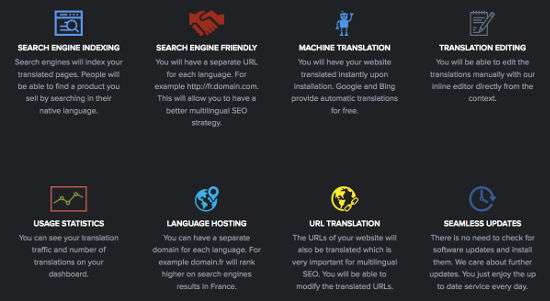 Before we talk about how to configure and translate a website using GTanslate, let's discuss some of the great features of GTranslate.
Search engine indexing: Search engines will index your translated pages. People will be able to find the product you are selling by searching in their native language.
Search engine friendly : You will have a separate URL for each language. For example . This will allow you to have a better multilingual SEO strategy.
Machine translation : You will have the website translated directly during installation. Google and Bing provide automatic translation for free.
Translation editing : You can edit translations manually with GTranslate's inline editor right from the context. This makes it easier for you because you don't have to switch to another setting.
Usage statistics : You can see translation traffic and number of translations in your dashboard.
Language hosting : You can have a separate domain for each language. For example, domain.id will rank higher in search engine results in Indonesia.
URL Translation: Your site's URL will also be translated and this is very important for multilingual SEO. You can modify the translated URL.
Seamless updates: No need to check for software updates and install them. We care about further updates. You just enjoy up to date service every day.
Read: Making WordPress Multilingual Websites Easier with Weglot
How to Use Gtranslate in WordPress
To make your WordPress site multilingual with GTranslate, the first thing you need to do is install the GTranslate plugin through your WordPress dashboard because GTranslate is available in the WordPress.org plugin directory.
The trick, please go to the Plugin menu » Add New and type "GTranslate" in the plugin search form located on the top right so that it appears as shown below. And please click the "Install" button.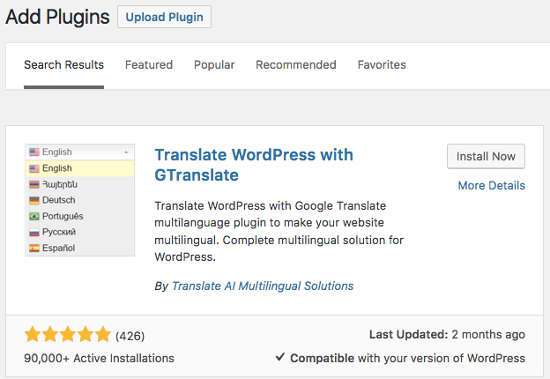 After the plugin is installed, please click the "Activated" button so that the plugin can be used and there will be a new menu item added with the name "GTranslate" which is a sub-menu of "Settings". Next, please configure the plugin in the Settings » GTranslate menu.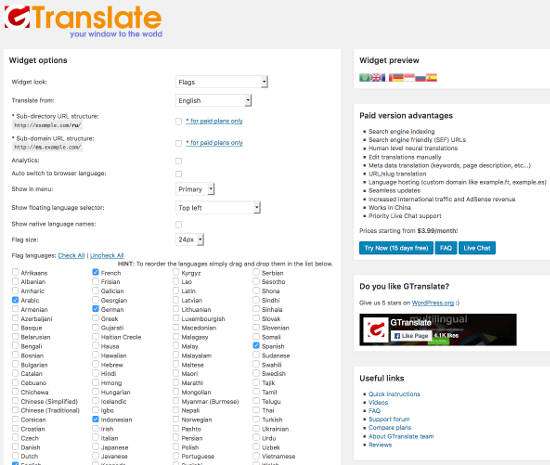 On this page you will be presented with a simple settings page. Where the configuration page has 3 main sections:
Widget Options
Code Widgets
Preview Widgets
You'll also see some features for the GTranslate Pro plugin, a link to the GTranslate Facebook page, a GTranslate video tour, some links to GTranslate and live chat documentation and live chat help timelines.
Let's go over each of the three main parts of setting up GTranslate.
Widget Options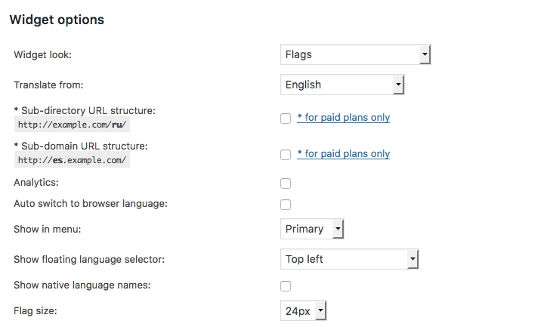 In this section you can do various kinds of settings.
Widget look : You will see a drop-down menu where you can choose how the switcher or language switcher will be displayed. You have several language switching options in this section such as:
Nice Dropdown with Flag
Flags and dropdown
Dropdown
Flags
Flags with language name
Flags with language code
Language name
Language code
Translate From : This drop down menu contains a list of languages from various countries, by default the language used is "English". You can adjust this option to the native language for your site, for example, "Indonesian".
Next, you can choose to enable or disable Translation Analytics. This will display the traffic of the translated version of your website.
Structure URL : This option is only available specifically for the Pro version of GTranslate. Where this option is very useful for your website SEO. You can choose between enabling or disabling URL translation.
If you are a GTranslate Pro user then we recommend that you enable this option so that search engines can index your translated content as well. You will also have the option to open a translated version of the page in a new window. In my opinion, this is not something I have seen on any multilingual website.
Analytics : If you have Google Analytics code on your site. You can enable this option and you can view translation reports in Google Analytics » Content » Event Tracking .
Auto switch browser language : When a user translates your WordPress site, the translated page will be opened in a new tab.
Show in Menu : You can set the language switcher to be displayed on your menu by selecting the primary menu, secondary menu or handled menu option.
Show floating language Selector : this is useful for controlling the position of your language switcher from the drop-down menu whether to set the language switcher to be on the top left, right and bottom, there are 8 options in this section.
Flag Size : You can also choose the size of the flag that will appear on your language switch. You can use the default size which is (24px) because it looks good in preview.
Flag Language : In this section you can select several languages that you want to translate into your site by ticking some language names. GTranslate supports more than one hundred languages.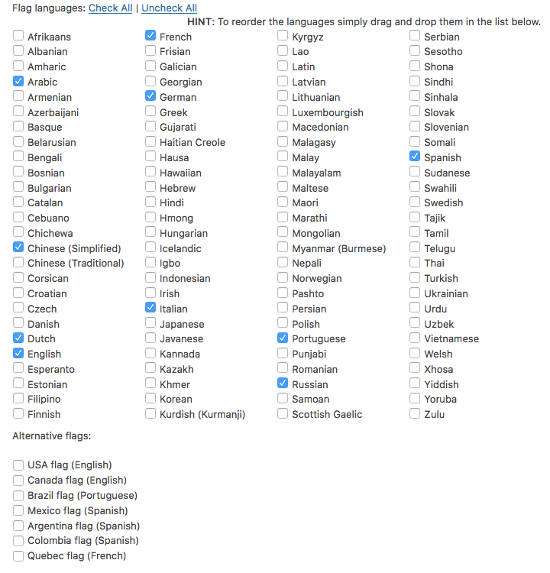 In this section you can also select various flags to display in the language switcher for several languages. For example, you can choose the USA flag to represent the English language instead of the British flag.
Preview Widgets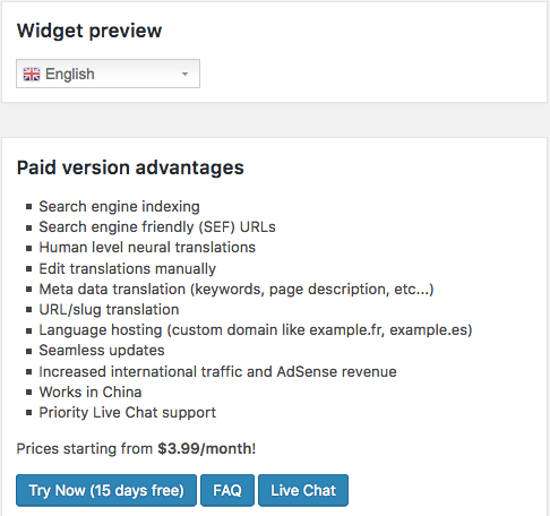 In this Widget Preview section you will see how the language switcher will look when displayed on the front-end. You are free to choose any style that suits your website.
Code Widgets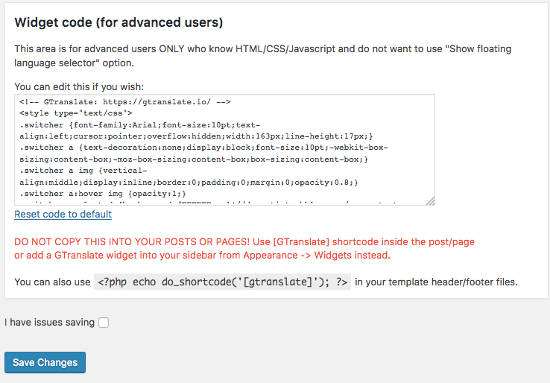 This is the code behind the language switcher widget. You can edit this to customize your language switching. For example, having different flags for certain languages. But keep in mind that it is very necessary for you to understand the code, if you are a WordPress beginner then leave this section by default.
Added language switcher to widget
Apart from adding the language switcher to the main navigation menu, you can also add it to your sidebar as a widget or any widget area widget your theme provides. Also, you can add a GTranslate shortcode to display a language switcher on any page or post.
To install the language switcher, please go to the Appearance » Widgets menu.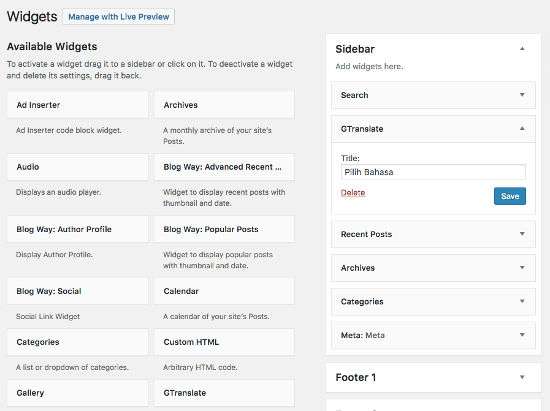 Find a widget with the name "GTranslate" and add it to the widget area by drag and drop on the area you want or on your sidebar. And here's the view of the GTranslate switcher on the blog sidebar.

You can also install a language switcher in the pages and posts with shortocoe [gtranslate] and can also add GTranslate in various places such as footers or headers or anywhere else on your site by adding PHP code to your WordPress theme files.
Documentation and support
GTranslate is a plugin that has great capabilities but is still simple to use. You can also view the full documentation on GTranslate here Documentation GTranslate .
In addition, GTranslate has a vidoes page that explains how to use the plugin; not only for WordPress but also for other platforms.
Users of the free version of GTranslate can also get support on the WordPress.org support forum. Team GTranslate also seems to provide good support for users of the free version.
GTranslate Price
GTranslate is a free plugin that you can download through the WordPress.org directory, but GTranslate also provides a premium version with additional features that are very useful for you, such as being able to edit translations and host your translated content.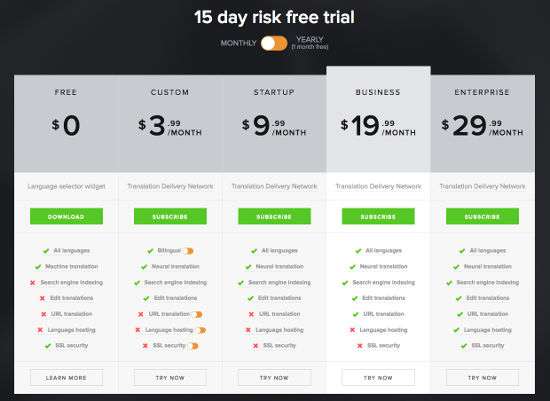 Here are some pricing plans from GTranslate:
Free $0 : All Language, Machine Translation, SSL Security
Custom $3.99 / month : Bilingual, Neural Translation, Search Engine Indexing, Edit Translation
Startup $9.99 / month : All language, Neural Translation, Search Engine Indexing, Edit Translation
Business $19.99 / month : Bilingual, Neural Translation, Search Engine Indexing, Edit Translation, URL Translation
Enterprise $29.99 / month : All language, Neural Translation, Search Engine Indexing, Edit Translation, URL Translation, Language Hosting, SSL Security.
Above are some pricing plans for GTranslate, and you can use a 15 day trial period to see how the plugin works for your site. And there is an option to pay annually.
Conclusion
GTranslate is a very simple tool but has amazing ability to translate websites, not only supports for WordPress but GTranslate can be used for various websites and website platforms.
To maximize the features of Multilingual GTranslate, you can use the pro version of the plugin with prices starting at $3.99 / month. It is a low budget to have a multilingual site. The setup and setup of the plugin is very easy and simple, and even beginners will be able to use Multilingual GTranslate easily.