Web chat is a type of online conversation in real-time and typically takes place on a company's website. It enables consumers to communicate straight with businesses. The web chat window appears as an overlay of the web page in the browser, giving the user the ability to write and send a message into a text field and frequently gives them the option to attach pictures and other files.
Two of the most critical aspects of customer service are made possible through a web chat. First, it puts customers at ease by providing a conversational web chat interface. Secondly, it allows customers to get their questions about products answered before making a purchase decision. After making a purchase, customers who use web chat have access to a quick and easy method for resolving any issues they may have had with the company's customer service department.
1. HubSpot Live Chat

HubSpot's free CRM includes Live Chat, which is available even without its CRM. This is ideal for those who don't want to squander money on a chatbot. Try it risk-free to discover if your business needs it.
Moreover, HubSpot's free tool is powerful. You get a chat widget, greetings, routing rules, and a meeting schedule while making your website's chatbot professional. Plus, a chat inbox manager is included. All chats are kept in a universal folder, so every representative knows everything in seconds.
You can drag and drop a live chat widget in minutes without coding or development abilities. You determine its appearance and behavior.
Users can easily:
Note discussions with guests
Calling
Turn conversations into tasks
Create tickets automatically
2. LiveAgent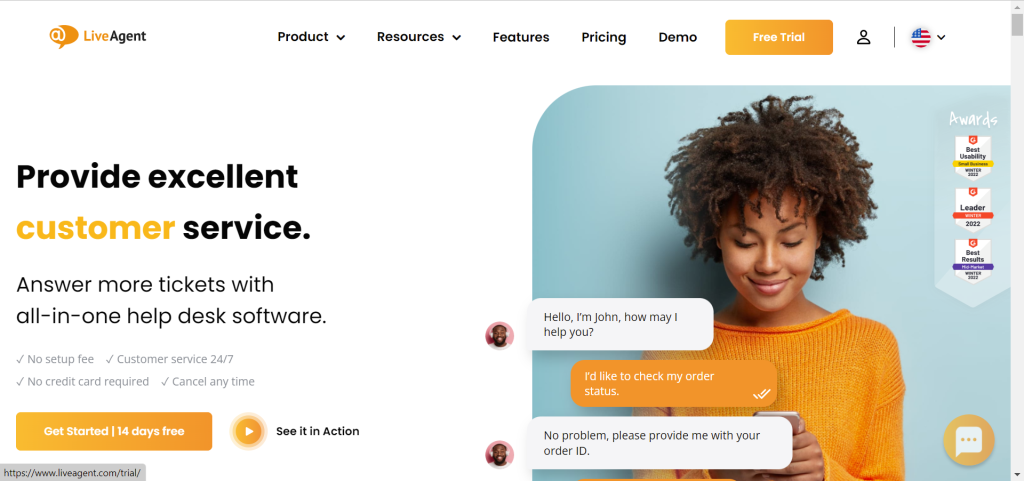 LiveAgent is a live chat customer service solution. It lets you route conversations to the correct reps, reply to popular queries, segment your audience, design unique chat flows, and propose relevant support articles. It gives your agents more time to focus on human issues. The widget automates 24/7 client support using your support manuals, and the web chat offers a 24/7 help center.
The widget is fully customizable, allowing you to use your colors, make a unique welcome message, define custom rules, and track people. You can see a live text preview as customers type, so your reps can find a solution before the other person sends it.
In addition, it's fully integrated with LiveAgent's ticketing and support solution. No APIs or developers are needed, and it takes less than a minute to plug and play, offering complete customer support.
3. Olark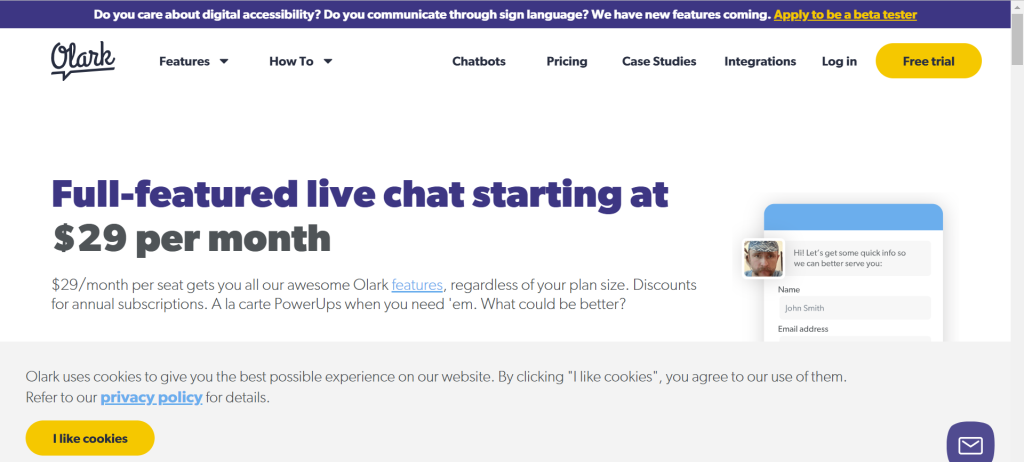 Olark is a popular live chat system for small businesses and websites. Its simplicity and usability make customer connections easier for newcomers. Creating and publishing a live chat widget takes minutes, and you can automatically collect customer data and statistics.
Olark excels at searchable transcripts. This best-in-class tool makes it easy to track client problems and solve common issues in the future. By easily searching through chats and finding client difficulties, agents can have a remedy ready without the client relaying the situation. You may develop a database of quite often handled issues in a few clicks to reduce requests and free up agents' time for loftier questions.
Olark isn't a support provider, but it helps teams solve difficulties. An agent reopens a past chat, detects the customer's problem, and fixes it immediately. Salesforce, HubSpot, Groove, HelpScout, MailChimp, WordPress, and Google Analytics are integrated.
4. LiveChat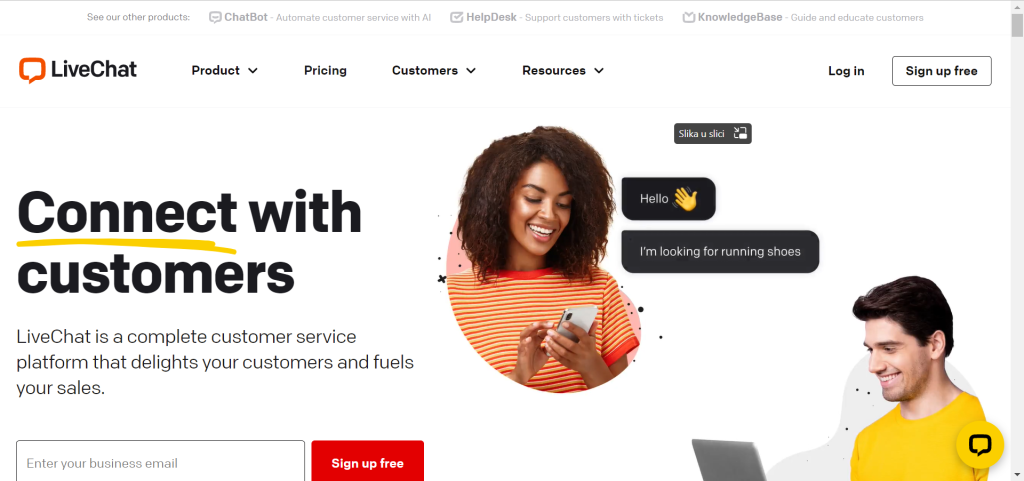 LiveChat offers comprehensive customer support. It merges chats and questions from every network into a single mailbox. You can give buyers info when they contact you. When your team sees everything, they're more agile.
LiveChat offers product cards, custom forms, AI automation, and sales analytics. Conversations use all three, and this level of automation increases conversions and helps firms create long-term client relationships.
5. Podium Webchat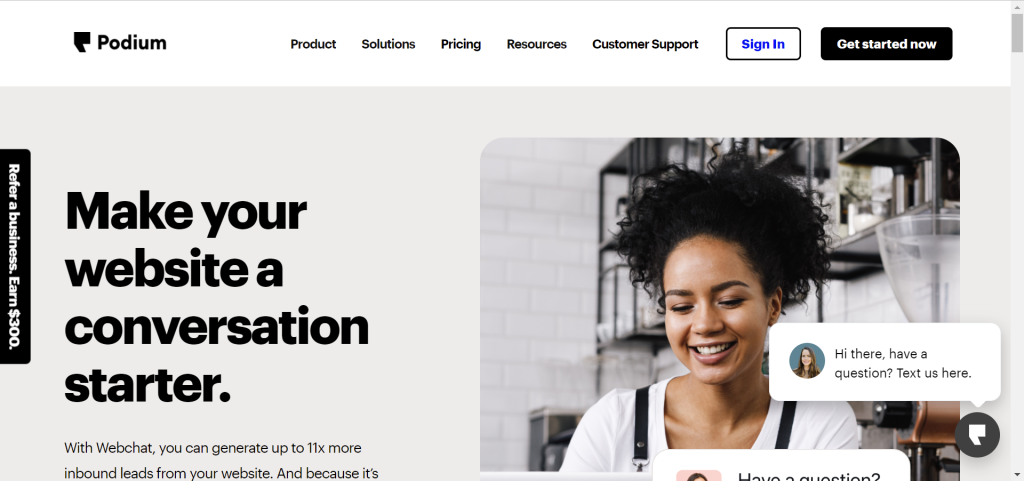 Podium knows chat widgets can't replace messaging from a phone. Whatever your motivation for using live chat software—sales chats with prospects, client assistance, or setting up appointments or meetings—why not let your customers and workers do it over SMS?
So, Podium's Webchat widget has one screen. When site visitors click the symbol, they'll see a form providing their name, mobile number, and welcome message.
Podium Webchat features:
Google Analytics tracking
Warm leads to CRM automatically
Daily performance emails
Pre-packaged answers
Autoresponders
Podium's items have custom pricing. You may package Webchat with Teamchat, Videochat, and Payments. The free version includes a webchat, a communications manager, and customer review capabilities.
Conclusion
You now have to choose the proper kind of live chat software. Of course, the solution is contingent on your requirements. There are, of course, a plethora of other worthwhile options to explore.
This article will find a list of live chat services that offer a free trial or a free sample upon request. Try them out if you're unsure which one is best for you.