One thing is for sure, starting your website the right way is crucial. If you have a business already running on social media or real life, establishing a site should be your number one priority. Does a business even exist nowadays without a proper website? 
However, it takes a bit of time to put it all together. That's not a secret, but you do not want people hitting dead ends while making it. That's why the Coming Soon & Maintenance Mode plugin will be a great helper while creating your freshly new site!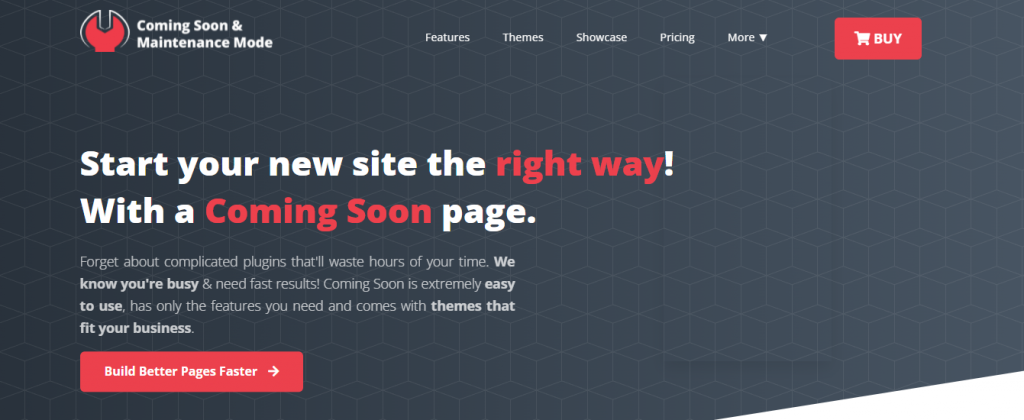 Let's make one thing clear, some plugins will help you achieve similar results like this one, but there isn't one that will give you faster results with only the tools you need! Plus, there is not a more accessible tool to use with all of its features. 
So, let's jump in and see what it offers!
Features
As we mentioned before, this one has the features that you need to create a coming soon page in a matter of minutes. We will detail how each element will give you the goods for your site and what you can do with it. 
Themes
The first significant feature of this plugin is that it has over 170 stunning themes. These themes are professionally made and can be adapted to your site in a matter of seconds. There are themes for any business; you name it, they have it! They have themes for car enthusiasts, digital marketing, traveling, photography, and many more to spike your interest.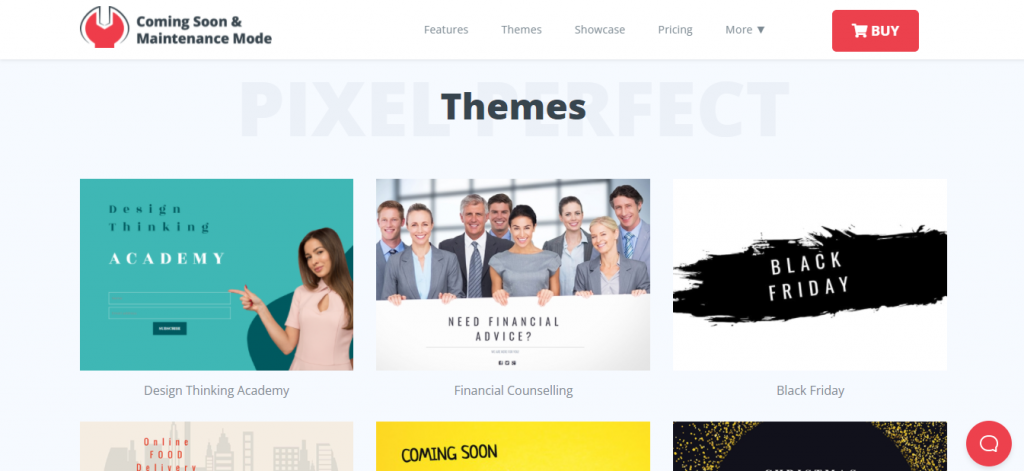 You can spend hours browsing through the theme catalog to find the right one for your business. You can also see how they look on the spot and test them out right away. However, there is something else we need to say about this topic.
If you find a theme that looks like it would be an excellent fit for your site but does not necessarily vibe with some parts of it, don't worry, you can edit every aspect of the theme as you wish. You can make simple changes to your font, colors, or pictures. On the other hand, you can change it drastically; it's all up to you. So, it is essential to know that editing a theme and making it your own is easier than ever. 
Images
We all know that photos are a big part of any website and are worth a thousand words. Sometimes a picture can make or break a design. With this plugin, you get access to over 2 million free images. Those are not just stock photos. They are high-quality ones that will put your visitors in awe.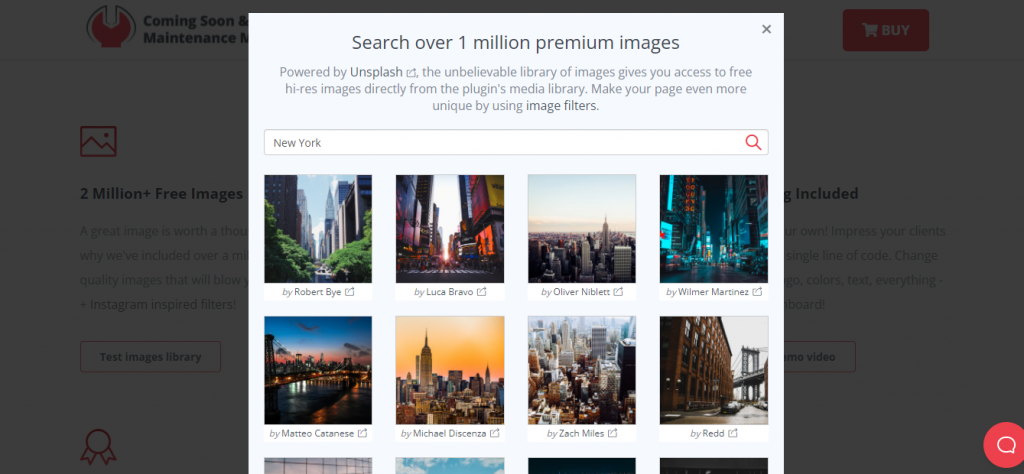 Moreover, it is no secret that sometimes we find an excellent photo, but the color scheme doesn't go with our overall design. When that happens, we usually can't let go of that perfect view and how good it would look if the colors were a bit adjusted, right? 
Well, Coming Soon & Maintenance Mode is all about giving you the freedom to edit everything. That's why it has Instagram-inspired filters that will help you adjust the photo and make it pop out a little bit more. It has 26 amazing-looking filters that will give you a brand new image in a matter of seconds.
In the interface, you can see the image preview before selecting the filter, so you can easily browse and see how a picture would look with different filters. Plus, all those filters can be added to video backgrounds as well.
Design
The Coming soon & Maintenance Mode plugin also comes with a handy drag & drop builder, with ten modules that can be customized the way you want. It is one of the more uncomplicated builders for WordPress there, so you do not need to worry that it will be complicated to make a page the way you like it. 
You can play around with content overlay, which will give you a transparent background to an entire content section, content width, content position, content animation, and modules spacing. Therefore, the great thing about this tool is that it lets you customize everything. 
With that being said, we will cover some of the essential parts that you can play around with. The background is possibly one vital part of many on your site. That's why you have terrific options to make it great. You can put a static image or even an animated video as a background if you like.
You can also choose from those 400,000 images in their gallery or upload your own. Like any picture, you can play around with the size, position( 9 positions predefined), and 27 filters. In addition, you can choose any background color that you want if you are not into background pictures. 
You can choose videos from YouTube that can be played on a loop and muted regarding the video source. It also lets you play with logo, header, content, video, columns, map, subscription form, social icons, progress bars, and custom HTML. 
Finally, a cool thing to do with your coming soon page is to include social icons, a subscription form, and a progress bar. Social icons will let visitors go directly to your social media profiles, a subscription form will let them subscribe to your page to be informed when it is active, and a progress bar lets them know when that can happen. 
SEO
One more crucial thing to a website and a business is SEO. And yes, you need it from day one! For that reason, Coming Soon & Maintenance Mode has built-in tests, guidelines, and checks that will quickly put you in the first position in the search engines.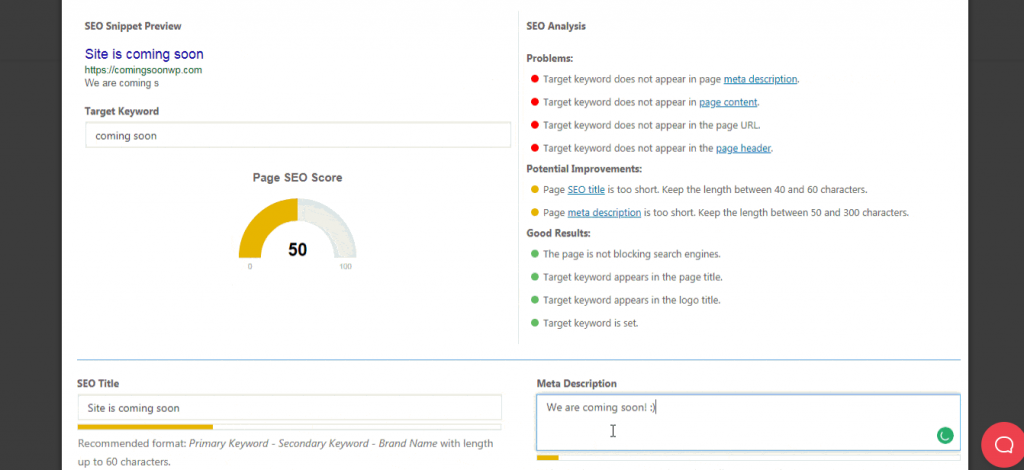 If you do not know what SEO stands for, let us quickly explain, and then we can move forward. SEO is Search Engine Optimization, which means if your SEO is good, you will be in the search options on, let's say, Google. The better your game is, the higher you rank, and the higher you rank, the more visitors you get. 
You can put the target keyword, SEO title, and meta description and see the score you got. The SEO Analysis will show you all the problems you have, where you can improve your SEO, and some excellent results. That way, you can keep working on the SEO and see what works, what doesn't fit, and so on.
Rebranding
Now, which plugin lets you take complete control of it? The answer is none. But with this one, you can make it your own in a heartbeat. If you get this plugin but want to work for other people or an agency, you can, without a problem.  
They do not even have to know that it is not your plugin. Once you seem like the owner of that plugin, you want to control all the sites. You can change the name of the plugin, colors, text, logo- everything. Also, you can remotely control them from your dashboard without a problem.
It lets you enable or disable the coming soon mode for any website you want, synchronize the data from the plugin, or view numbers vital to you in the traffic stats. You can also see countries, number of visits, device types, and browser in the traffic stats. Plus, if you want only your client to see how his new sites look like while working on it, you can provide them with a secret access link. 
Pricing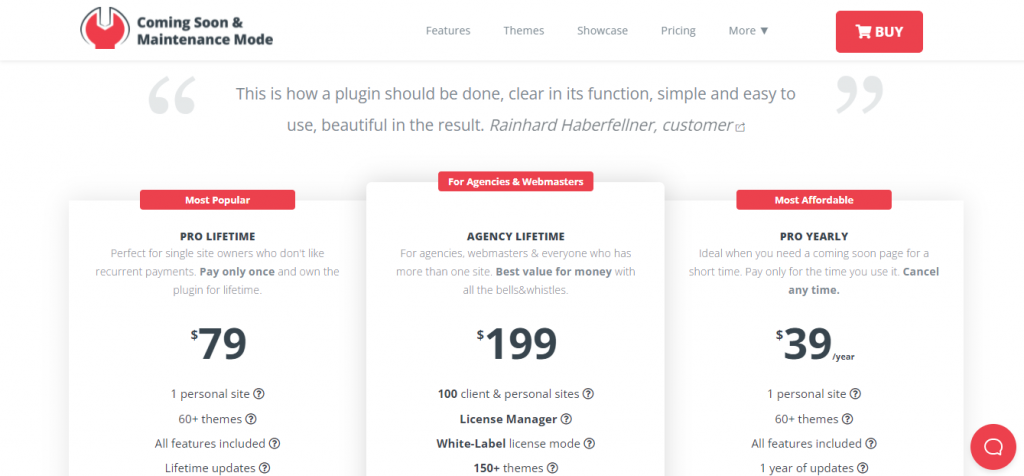 This plugin offers three different pricing plans by the names of Pro yearly, Pro lifetime, and Agency lifetime. The most affordable one is the Pro yearly which costs $39/year. You can use it for as long as you need and cancel it at any time. It is an excellent option if you need a coming soon page for a short period.
However, the most popular plan is the Pro lifetime which costs $79. The features are pretty much the same as the previous one except that you get lifetime updates and lifetime premium USA-based support.  It is a perfect option for owners who don't like yearly payments, you pay once, and you own the plugin for a lifetime. 
The third pack is for agencies and webmasters, which costs $199 for a one-time payment. This plan is made for everyone who owns more than one site! 
Conclusion
To conclude this article, we must say that starting a website the right way is essential. Even while working on it, it should be stunning to the people who click on your website. 
Coming Soon & Maintenance Mode is the perfect plugin to provide that! The best part about it is that it lets you fully customize every inch of your website.