WooCommerce Order Export is a free WooCommerce plugin. It allows you to export orders and products from your website to your email, WordPress database, or file transfer protocol. If you sell products on your WordPress website, you need to export the orders data to get a better look at your statistics.
However, WooCommerce does not have a data export feature built-in. That's why you need to install a WooCommerce export orders plugin that enables you to have quick access to your database. You can easily add this plugin to your WordPress website with a few clicks. 
Moreover, WooCommerce Order Export provides a lot of features that can help you have a better insight into your business and make the right decisions in the future. You can choose from the free and paid version; both offer great features that can elevate your work. WooCommerce Order Export gives you many different things you can do aside from exporting records.
It is the best plugin to export various types of data from products, orders, customers, coupons to shipping and is mainly used to export orders and check which products sell better than others. You will want to get your order data to either fulfill it, send it to another system, or have a spreadsheet tracking. This article will give you insight into how to export WooCommerce orders with the WooCommerce Order Export plugin quickly. 
Export WooCommerce Orders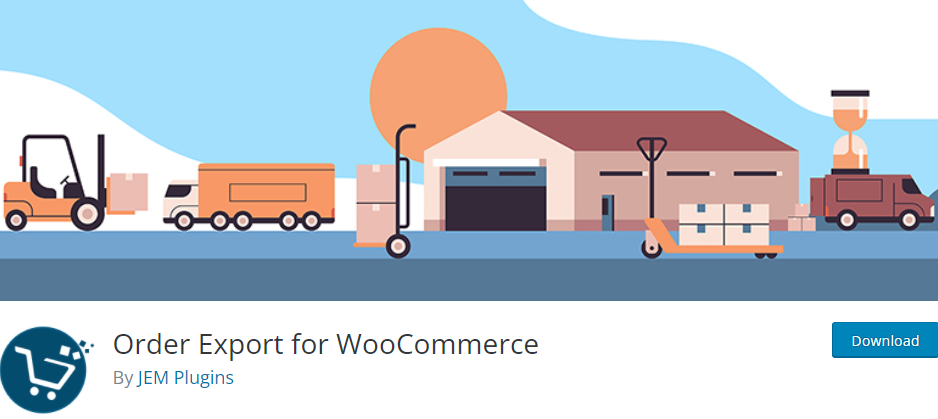 When you head to the export WooCommerce orders dashboard, you will see the basic features it provides. They are there as you need to make sure that you are exporting the exact data you want. All of these features can be easily customized based on your current needs and preferences.
The best thing is that you don't need to worry about coding or HTML, making the whole process complicated.  You can choose the sections you want with a few clicks. The dashboard is designed in a way you can see everything you need and there is no unnecessary information or tabs. If you need any help, you can contact the WooCommerce customer support. 
Date Ranges to Export WooCommerce Orders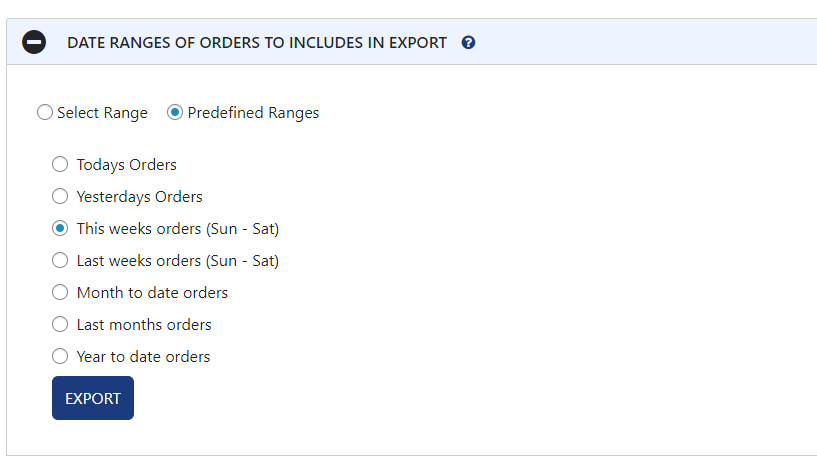 In this section of export orders WooCommerce, you can pick a particular date the order was made. To make it easier, there are some already set ranges you can choose from. You can pick today's order, yesterday's order, this week, last week's order, months to date, and so on.
By choosing the specific date range, you can quickly review the current state of your website orders and have an in-depth analysis. Based on your business, you can export data daily, weekly, monthly, or annually. You can also manually choose the date range. 
Export New Orders Only 
If you exported past orders, you will probably not want to export them again with the new ones. You have the option to WooCommerce export only new orders. This way, it will not export the data in the same order every time you decide to get your data.
You will be able to have all your records organized and clear in one space. It prevents you from having the same data exported multiple times, making it easy to sort everything out. The "export new orders only" feature ensures that you don't get overwhelmed and confused by all the databases. 
Filters to Export WooCommerce Orders
This is a relatively new WooCommerce feature that makes this WooCommerce Order Export plugin so helpful. Filters simplify you checking specific things you want to know about the WooCommerce export orders and eventually export all the data.
You can choose from orders paid in a particular currency, those paid by check, and so on, allowing you to have a better view of your orders and analyze the customers. Suppose you have multiple products you might want to export data for a specific one. WooCommerce export orders based on the product allows you to have better insight into how your products are doing in the market. 
Fields to Export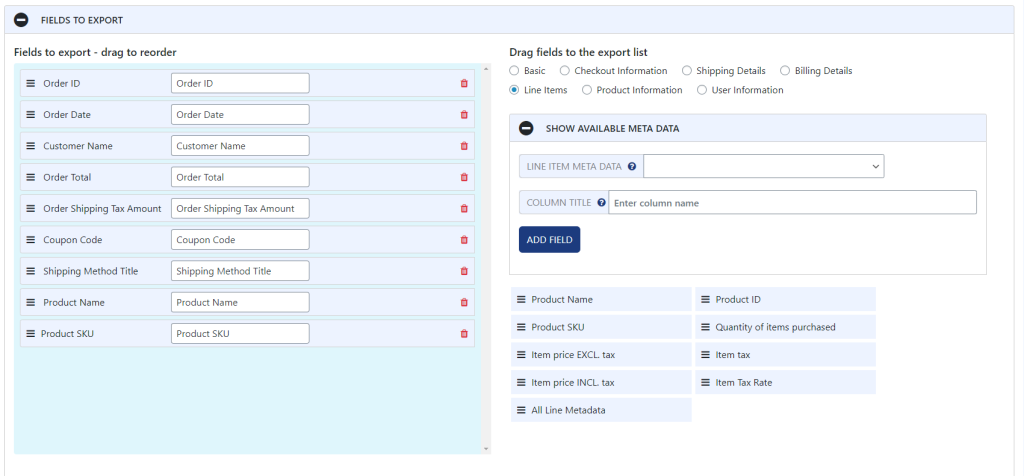 Export orders WooCommerce field is optimized so that you can effortlessly choose which one you want to export solely by drag and dropping. You can place them by dragging and dropping each section on its own.
Some of the fields you can drag and drop to the report list are basic, checkout information, shipping details, billing details, product information, and so on. If there is a field you don't want to see on your custom report, you can quickly delete it. Also, there is metadata in this section that shows plugins and similar things that you have on your WooCommerce.
In case your order contains more products, you can decide how you want them to be exported. You can choose to have each item in separate rows or all in one row and each product in individual cells. The drag and drop option is perfect for beginners and those who don't want to spend a lot of time choosing which report they want to export. 
Additional Export Order WooCommerce Features
WooCommerce Order Export provides other features worth mentioning. These advanced features will make the whole export process much easier and faster. You will be able to have complete control over your export process. Some of these features are the preview button, settings page, and scheduled exports. 
Preview Button 
The Preview button on the WooCommerce Order Export plugin helps you see all the data before you decide to export it. This button was made to save you time and energy. You will be able to see 25 records that match your selected fields.
If you won't want to run the full export and only want to see some of the data, the preview button allows you to do that. It also ensures that you are exporting the right kind of data. 
Settings Page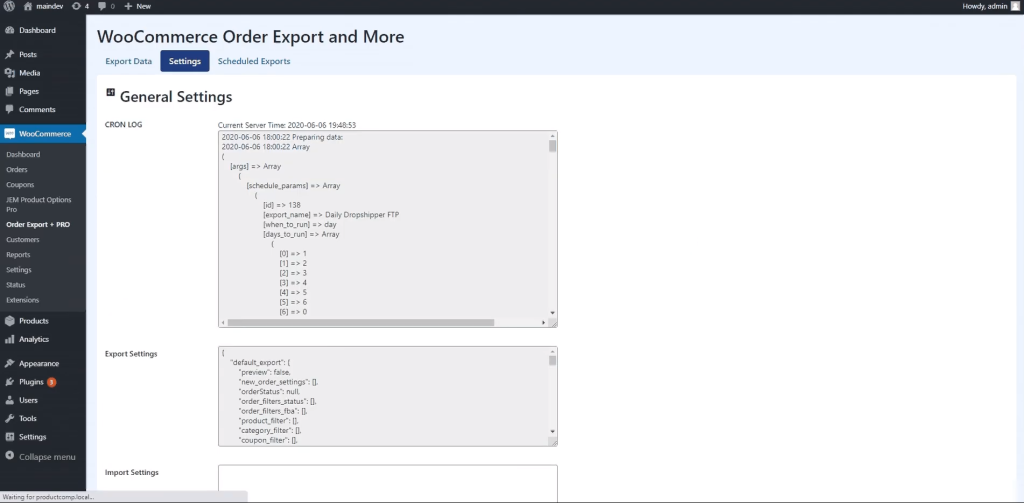 On the settings page, you can find a log of the exports you scheduled in advance. It shows you the input parameters, and you can see how many records it performed. WooCommerce Order Export plugin also allow you to import and export settings. You can easily copy the settings from one website and paste them into another.
Another great thing about setting a page is that it can help you if you have any issues. WooCommerce customer support will assist you if you have any problem with exporting data from your WordPress website. All you need to do is send them a copy of the settings, and they will fix the problem. 
Scheduled Exports WooCommerce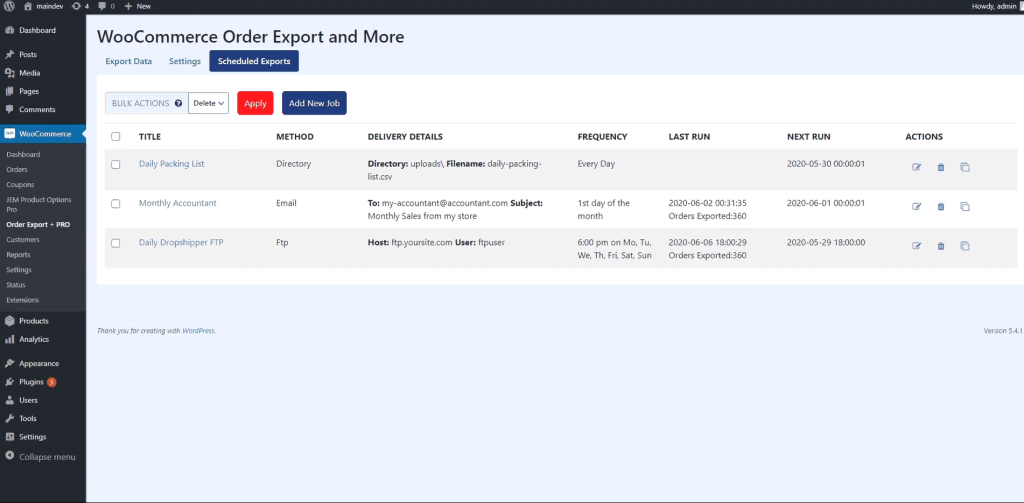 Scheduled WooCommerce export orders are a feature that makes WooCommerce Order Export so popular among different online business owners. It allows you to set up as many orders as you want. You can add titles and descriptions to stay on track with every export you wish to make.
There are also different delivery methods you can choose from. You can either pick email, directory on your WordPress site, or file transfer protocol. WooCommerce Order Export plugin made sure that you can choose the option that suits you the best. Scheduled exports enable you to decide how frequently you will run it, when it last run, and when you schedule it. The best thing is that you can easily edit them, add new ones, or delete those you no longer need. When it comes to the days you want to run it, you can choose a specific day in the week and time. 
Finally, those who want to have a clear look into their orders need to install WooCommerce Order Export plugin on their WordPress website. The plugin includes features as exporting orders from a date range, helping you filter orders by status, custom field, metadata product categories, customer, and so on.
It also offers various options to reorder exported fields. You can easily choose which ones you want to include, ones you want to remove, and rearrange them with the drag and drop feature. This plugin also gives you the ability to sell your products on different websites. 
Conclusion
This premium WooCommerce export orders plugin helps you export all kinds of data from your WooCommerce repository. The data like orders, customers, coupons, products, shipping classes, categories, tags, etc. It can be exported in CSV files and can be viewed with Excel or Google Sheets.
You can use the valuable filter feature of this WooCommerce plugin to guarantee that you export only necessary data from your website. Scheduled exports are an extra feature of the premium plugin that you won't get in the free plugin. This feature makes sure that the WooCommerce Order Export plugin transfers the export records to the particularized inbox according to the collection schedule.