OceanWP WordPress Themes for Different Types of Websites – When you are building a website with WordPress, one of the most important things you need to think about is making your WordPress website have a good look so that the website looks professional.
One of the advantages of WordPress is that there are many free WordPress themes that you can easily find, as well as premium WordPress themes from third-party developers. In addition, you can easily install WordPress themes through the WordPress dashboard because most free WordPress themes are already listed on the WordPress.org directory.
But because of the many WordPress themes available, it might make many WordPress users confused in finding a good WordPress theme that meets the criteria. Here I will help you find a good WordPress theme that can be used for various types of websites, namely OceanWP .
What is OceanWP?
OceanWP is a WordPress theme that can be used to build various types of websites from blogs, businesses, portfolios to online stores and fully responsive themes. This Oceana WP theme was recently added to the WordPress.org theme directory in April 2017 and is a brand new theme.
But the most amazing thing is that the theme has been used by more than 30,000 users and a high 5 star rating even though the theme has just been released, this proves that the OceanWP theme is widely liked by WordPress users.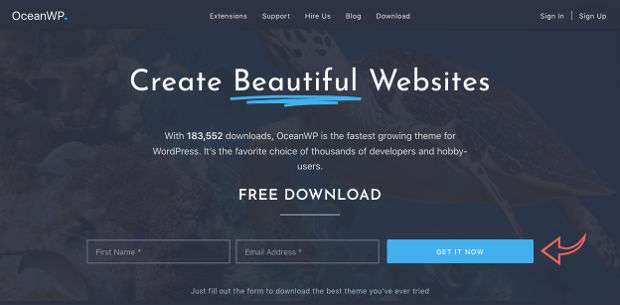 Moreover, OceanWP Theme is fully compatible with top performing page builders like Elementor, Visual Composer, Beaver Builder and Divi Builder. Apart from that, the Theme also supports the popular WooCommerce plugin for building an online store.
OceanWP also comes with many different website demos and you can easily activate a demo website according to the purpose of the website you are going to build.
OceanWP Featured Features
OceanWP is indeed a free theme, but it brings a number of premium features that are not found in most other free themes. And here is some list of features brought by OceanWP: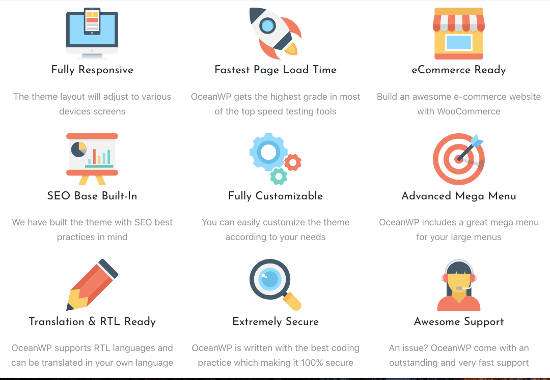 The theme is fully responsive which means that it will perform flawlessly on a variety of devices with different screen sizes.
The theme has speed optimized and the OceanWP theme is a lightweight theme so it is very fast to load.
The theme is built to support the WooCommerce plugin to be able to be used in creating online store websites.
The theme is built with the best SEO strategy practices in mind so it will be very easily liked by search engines like Google.
The theme is integrated with the WordPress Customizer making it easy for you to make changes and any changes will be seen live.
The theme is equipped with a Mega menu, so you can create multi-layer menus with a beautiful appearance like a classy website.
Controls display different sections in the WordPress customizer. This is very useful because the WordPress customizer may be slow when it is filled with lots of options.
Page selection control for each page
There are about 13 free site demos and lots of options for the pro version
Multilingual ready with RTL support
Fully compatible with various page builders such as Elementor, Visual Composer, Beaver Builder and Divi builder
Equipped with complete extensions with amazing features to make OceanWP have more complete features.
How to Use and Configure OceanWP Theme
To use the OceanWP theme, the first thing you need to do is install the theme through your WordPress dashboard by going to the Appearance » Themes menu then clicking the Add New button and typing the OceanWP keyword in the theme search field. After the OceanWP theme appears, please click the install button and then activate the theme.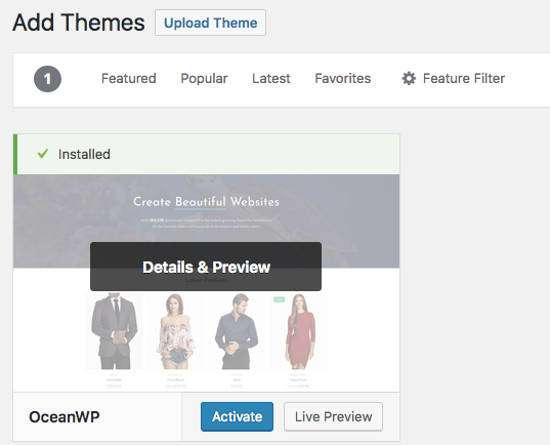 Once you activate your OceanWP theme, you will get a notification message recommending to install the default plugins from OceanWP such as the "Extra Ocean" Plugin which is useful for enabling and disabling different customizer sections, Importing and exporting theme settings, and a panel for activating premium extensions. Moreover, you can control showing/hide sidebar on page or post and even change the layout.
And it is also recommended to install the "Elementor Page Builder" plugin to make it easier for you to build your pages in WordPress.
Once the Ocean plugin is activated you will see a new menu item added to the sidebar of your WordPress dashboard with the name "Theme Panel". Please enter the "Theme Panel" menu, in this section you can activate or deactivate the Customizer panel, add logos, favicon, control your header and footer options, etc.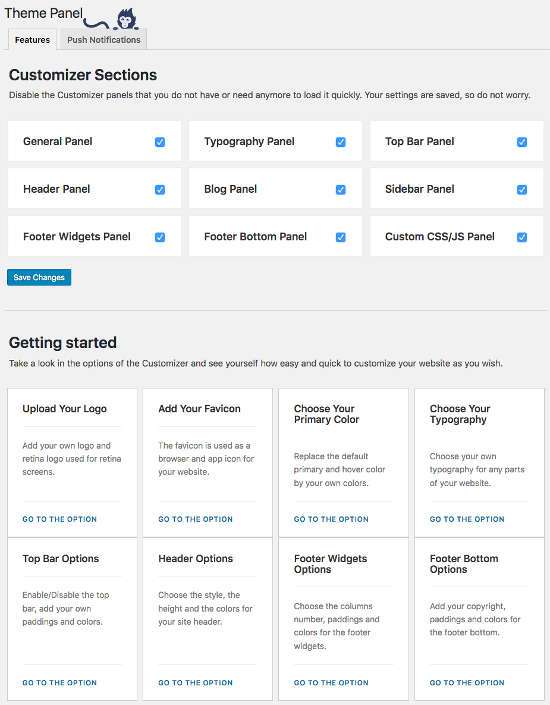 Under the Theme Panel, you will find a sub-menu item called "My Library". In this section you can create custom header templates, footer templates, and much more using the Elementor page builder. You'll be able to create stunning pieces on the Ocean theme if you master the use of the Elementor page builder.
In the "Script & Style" section, you can control the different CSS and JS codes that control various features in the OceanWP theme. For example, you can enable/disable some features by simply unchecking them. By disabling some things you don't use, it can help increase the loading speed of your website.
In the "Import & Export OceanWP" section, you can export the theme settings and then you can use them to import them to other websites of yours that also use OceanWP.
In the "Rec. Plugins" there is a list of popular plugins recommended for you. There are several free and premium plugins such as Contact form 7, WooCommerce, Slider Revolution and many more. For this section you are not required to install the plugin unless you really need it.
In the "Extensions" section there are several Extensions from OceanWP that you can install. Currently there are about 18 Extensions, there are some that are free and also paid. These extensions are very useful for adding features to your website. Such as Ocean Extra, Ocean Social Sharing, Ocean Demo Import and many more.
OceanWP Themes Demo
As I mentioned in the OceanWP feature that this theme offers as many as 13 sample demo themes for various types of website purposes. You can take a look at this demo sample from OceanWP to determine which one is the most suitable for the website you are going to build. OceanWP makes several sample demo websites for various purposes such as business, blog, sports, OnePage, and eCommerce.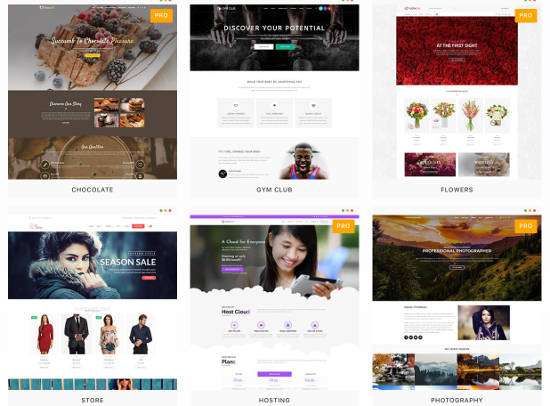 By activating Ocean Demo Import, it will make it easier for you to build and manage website layouts. To try out some of the demos that OceanWP offers, please go to the Theme Panel » Extensions menu and find Extensions with the name "Ocean Demo Import" and click on the install button and activate it.
Next there will be a sub menu item in the Theme Panel with the name "Install Demos". You will see all the available demos, select the demo you want to import and click the "Install" button.
Read: Monstroid – Best WordPress Theme for Elementor Page Builder
Customize OceanWP Themes
To customize the OceanWP theme, you can go to the Appearance » Customize menu, you will find the default options from the default WordPress customizer and also many other customization options from OceanWP.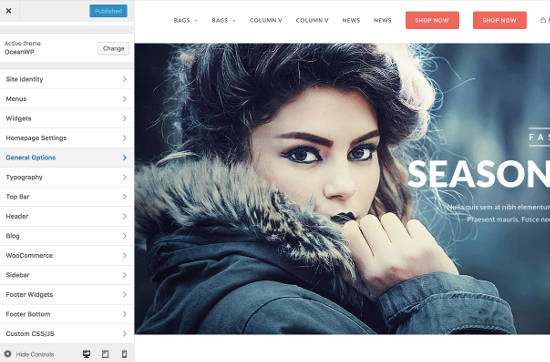 In this Customize section you can make comprehensive adjustments to the appearance of your website such as changing the logo, setting headers and footers, sidebars, menus, and much more. And the best thing about this Customize integration is that every change you make can be seen right away.
To fully discuss using OceanWP in one page, of course it is impossible because of the many features and advantages it has, you can learn in detail about using OceanWP and its extensions on the documentation page that has been provided in full by OceanWP.
Core Extensions Bundle
Apart from offering a free plan, OceanWP also offers a premium extensions package as well as a premium theme demo. You can buy each extension separately for $29, but that will look very expensive when compared to when you buy extensions in a bundle package for only $35 and already get all the extensions along with all the pro theme demos.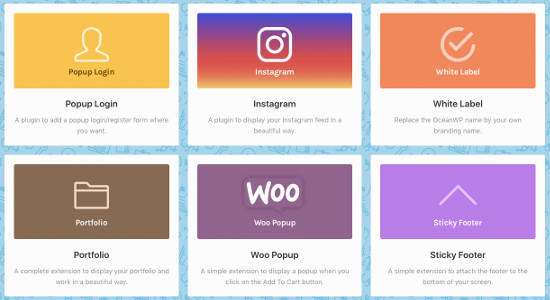 And here is a list of premium Extensions that you can get:
Login Popup : Plugin to add popup login, register and lost password form.
Instagram : A plugin to display your Instagram feed in a nice way.
Portfolio: A complete extension to showcase your portfolio and work in a great way.
Sticky Header : Attach a header with or without a top bar at the top of your screen with animation.
Footer Callout: Add some important/relevant information about your company or product in the footer section.
Elementor Widgets: Add some new widgets to the popular free page builder elements.
Side Panel : Add a responsive side panel with widgets of your choice in it.
Ocean Hooks : Add your custom content to various areas of OceanWP without using child themes.
Sticky Footer : A simple extension to attach a footer at the bottom of your screen.
Woo Popup : A simple extension to show a popup when you click on the Add To Cart button.
White Label : Plugin that adds a new box in the Theme Panel to allow you to rename OceanWP.
Conclusion
OceanWP is a theme that can be used for a variety of website development purposes, it is a free theme that is completely full-featured and also comes with many free and premium extensions to make OceanWP a multi-functional theme. To get full features from OceanWP is also not expensive because the lowest package is only priced at $35. Before you try other themes for your WordPress website, then I suggest trying OceanWP first.
And that's my review of OceanWP themes, I hope this article is useful for you and helps make it easier for you to find the best theme for your WordPress site. Good luck