How to Find Broken Links in WordPress – Broken links or broken links on a website or blog are very detrimental to the owner. Because if your website has broken links Google or other search engines will give your site a bad reputation. Such a bad reputation can result in a drop in your ranking to the point that you may no longer be seen as an authority in your business.
Because you need to know that search engines like Google have a main goal, namely Google to create sophisticated search engines to create a better web experience for everyone. To achieve this of course they try very hard for users who use their search engine not to access websites that have broken links.
If you are a WordPress user, be it for business web or blog purposes. It is necessary for you to always check whether in your site there are broken links. In this post I will give a WordPress tutorial on how to find broken links in WordPress and how to fix them.
What are Broken Links?
As I mentioned at the beginning of the paragraph that Broken links are broken links that don't work like live links, broken links produce a 404 error when clicked. This is usually because the website is trying to redirect visitors to a missing page or source that no longer exists.
These broken links happen for a number of reasons, but mostly when the link URL points to a domain that no longer exists (could be due to changing domains), changed URL structure settings, has unusual firewall settings, has been hacked or failed to manage hosting right.
As an example :
The first time I created this WP Radar blog, my URL structure included the following categories:
https://wpradar.com/hosting/10-layanan-hosting-terbaik-dan-murah-best-host/
Because I felt the URL was unattractive and too long, two years later I decided to replace the URL with a structure without including categories so that the URL looked like this:
https://wpradar.com/10-layanan-hosting-terbaik-dan-murah-best-host/
When I have changed the URL structure as in the example above, the old URL will be considered a broken link and has already been indexed by search engines and it has a bad effect on my blog and visitors who find the broken link will be redirected to a 404 page.
Read: What are Backlinks and What is the Importance of Backlinks?
How to Check for Broken Outgoing Links
When you need to check if your post has broken outgoing links, we have an excellent tool for it. It is an add-on for WP 301 Redirects and will be a life-saver. So, the add-on called LinkScanner works by scaning and analyzing your entire site to find any broken links.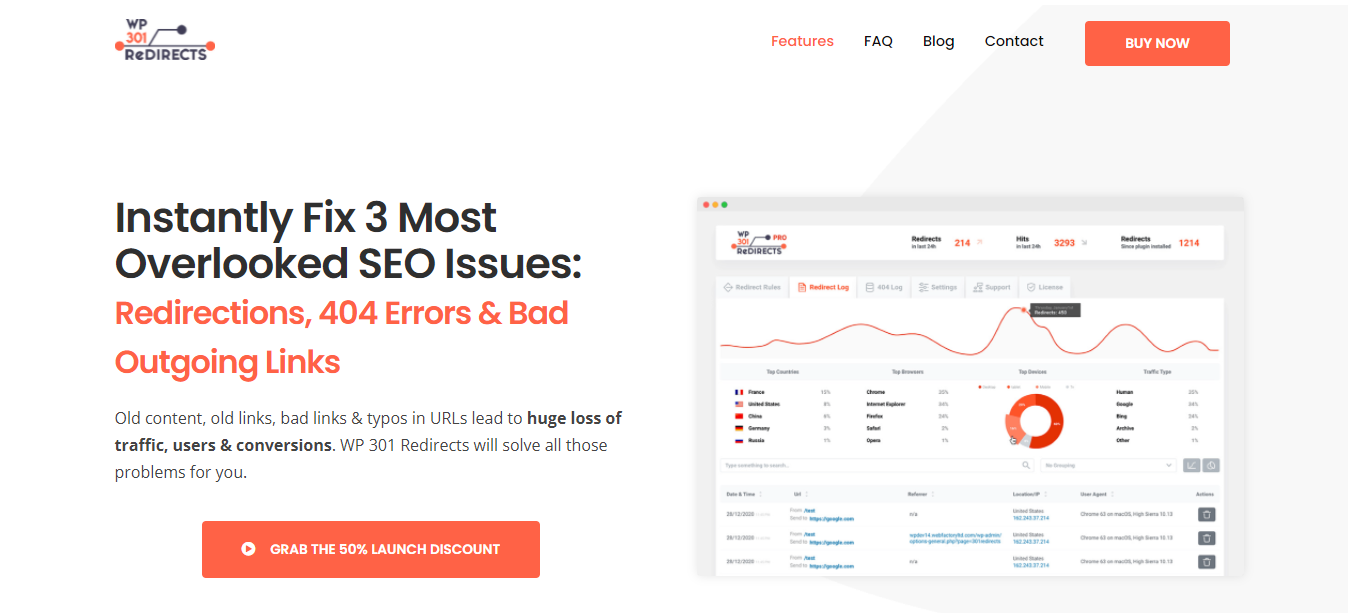 First, you will go to your settings, find 301 Redirects PRO and choose LinkScanner. After that, you can click on "Check & Analyze" button. Be patient and wait a few moments while the scanner is looking throigh your site for any faulty links. The speed of this process will depend on the number of pages and posts that you have and on the number of links. The great thing is, the scanner works in the background so you can safely resume working on your WordPress website.
Once the scanner has done its thing, you can check your results and see link details. So, you will click on the "Open Details" button, which will take you to a new page with all of the details about links in question. The faulty links will be distinguished by having a red mark next to them, and they will be on the top of the page. Aside from the mark, each outgoing link will have stats. To remove/replace/update the broken link, you just have to click on the icon next to the URL, which will show you where the link is located.
In addition, the list of links will consist of total pages scanned, total links found and total problematic links. You can also sort the list by page title, errors, and more. Finally, you may be wondering how many times you can scan your website. Well, that depends on whether you have recurring or one-time credits. Recurring credits will reset on first day of each month, while one-time credits can be used only once.
How to Find Broken Links with Broken Links Checker
With a WordPress plugin called broken link checker, WordPress users will no longer be bothered by searching and finding broken links, you don't have to look for broken links one by one, because you can use the Broken Links Checker plugin to find broken links automatically. automatically across your site.
1. Download Broken Links Checker Plugins
2. Install and Activate
3. Go to Settings » Link Checker
In the menu section the "General" tab will by default display a list of broken links that have been detected displayed in the "Status" section. And when the plugin finds a broken link, there will be a notification of the number of broken links accompanied by active links which when you click it will go to the broken links list page.
In addition, in that section you can also set the time when the plugin will work to check for broken links, settings for notifications via email if there are broken links and others.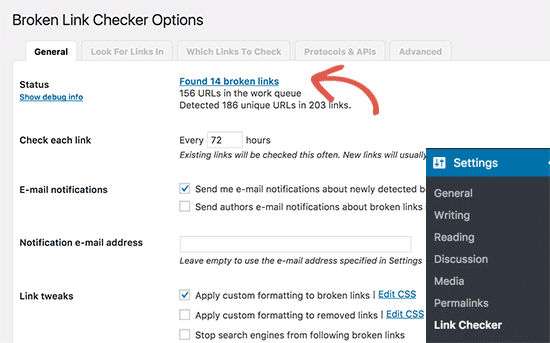 On the "Look For Links In" tab menu, you need to make settings where the plugin will scan, by default the settings will scan posts, pages and comments.
If your articles are few and your hosting server is fast in just a few minutes the scan process will be completed, but if the web hosting server you are using is slow it will also take a long time.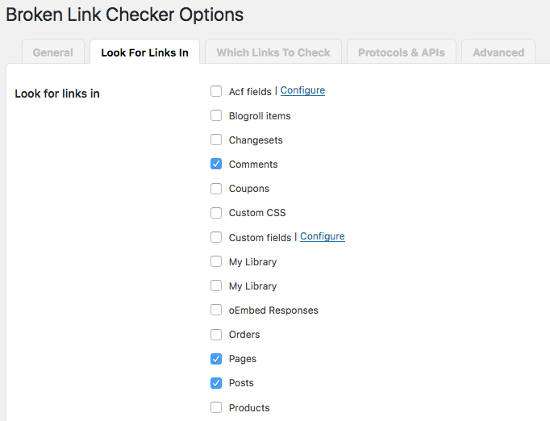 If the scanning plugin finds a broken link, it will appear in a new tab on the Tools » Broken Link menu panel. A notification will also appear in the "Broken Link Checker" widget on the dashboard. And here is a list of some broken links.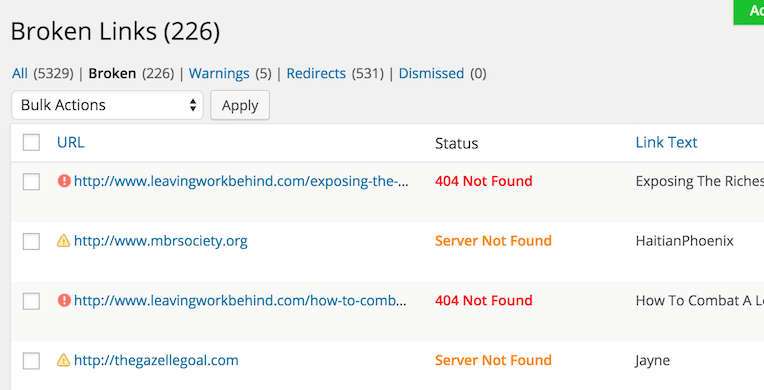 There are several actions associated with each list of displayed links. In this section you can fix URLs detected as broken links. This action will appear when you move your mouse over one of the links listed on the list:

Edit URL : Allows you to change the URL of the link. If the link is present in more than one place then the plugin will automatically replace all URLs with new URLs.
Unlink : Removes the link but retains the link text.
Not Broken : Allows you to manually mark links as "broken" as they work. This is useful if you know it was not properly detected as a broken link due to a network error or bug. flagged links will still be checked periodically, but the plugin won't consider them broken unless it gets new results again stating it's broken.
Dismiss : Hide links from "Broken Links" and "Redirects". It will still be checked as usual and get normal links.
You can also click the contents of the "Stats" or "Link Text" fields to get more info about the status of each link.
Above is a complete guide on the downsides of having broken links and how to find and fix broken links on your WordPress site. Hopefully this article is useful and good luck. ️