Are you currently looking for a way to easily create a beautiful static website? Or have a web design project that you even want to work on with your team? Here I have the answer you might be looking for.
I'm on this blog very often discussing WordPress and even the biggest content in this blog is about WordPress, but this time I'm going to cover something else but still in touch with web building tools. This you can make as another smart alternative to WordPress for static web or for web design.
Why do I call this a smart alternative to WordPress? Yes because not everyone needs a very complex platform or CMS like WordPress which has lots of files and is redundant in terms of functionality, and in fact you probably don't need it for the most part.
Web design consulting service can benefit from using website builders tailored for web designers. These specialized platforms provide the flexibility and customization options required to create unique and visually appealing websites while streamlining the development process for efficient and effective consulting projects.
If you need something simple for creating static web or completing a web design project, then you can try using a tool like Sitejet. Where Sitejet is the right and fast solution, provides convenience, effectiveness and efficiency in management. Let's get to know more about Sitejet, and why it can be a smart choice for you in completing website and web design projects.
What is Sitejet?
Sitejet is a comprehensive website builder that combines web design, content management and project management into one complete platform. You can quickly create high-performance, attractive websites that can be adapted to your coding level, even without coding knowledge.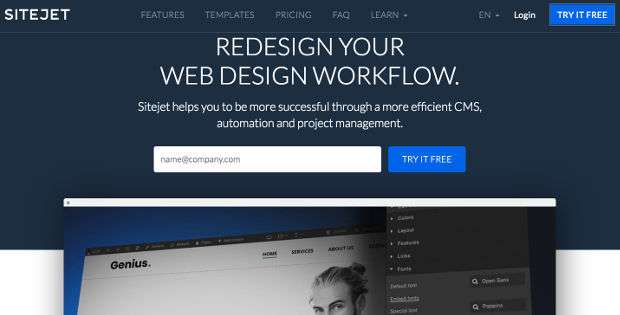 Basically Sitejet is more focused on helping web designers create websites for clients. Where you can create website projects on one platform together with your team so that the work becomes more effective, you can even involve clients in the process and there is also a time tracking feature.
however anyone can use Sitejet as a fast, handy tool to create beautiful custom websites with a visual, drag-and-drop website builder interface, and access to all HTML, CSS, and JavaScript code.
And the thing you need to know is that Sitejet allows you to export files from websites that you have created on the Sitejet platform and then you can use them on your own host. So, Sitejet doesn't limit you to using their hosting service forever, and you have the freedom to move things around your way.
Read: Brizy Page Builder – Easily Create Attractive Pages in WordPress
Sitejet prices
Sitejet is not a free web builder tool, this is because it has great and more specialized features. Where this is a practical tool to create a static web and more projected on the web design project business. However, the price offered by Sitejet is also still affordable where you can start Sitejet plans starting at $ 5 per month for basic features and ranging up to $ 19 per month (team) and $ 89 per month for (agent).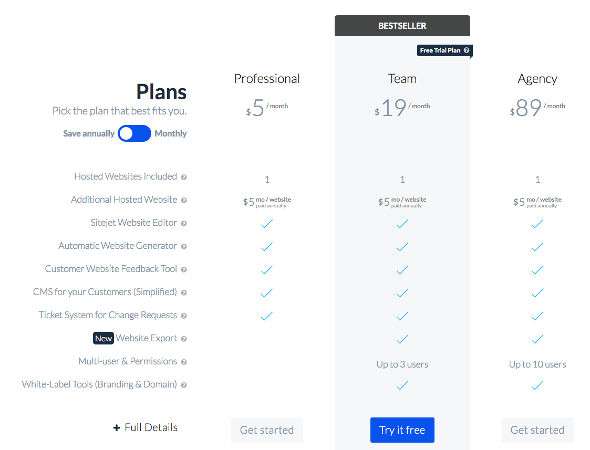 Where all the prices offered by Sitejet give you access to features and also one website get hosting service. And if you want to host more websites with Sitejet, you'll need to add just $ 5 per month to each additional website.
As for the pricing on the team and agency plans, you'll get the option to export the site files you create on Sitejet for use on your own hosting.
However, you don't need to worry because before paying you are given a 14-day trial period. So you can try everything before you decide to pay for what Sitejet has to offer.
Sitejet features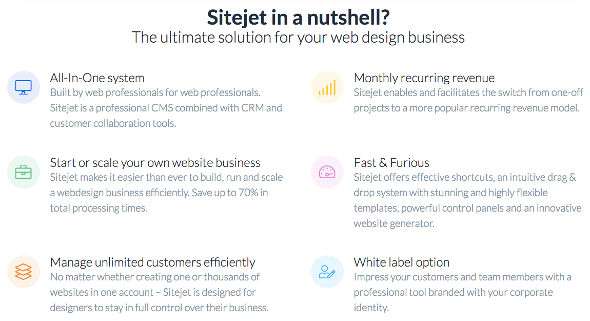 Below is a list of some of Sitejet's top features, this web builder allows users to manage multiple web design projects simultaneously, implement effective team collaboration and project management, support and maintain customer websites, and much more. It can help you monitor each detail of a project.
Easy to use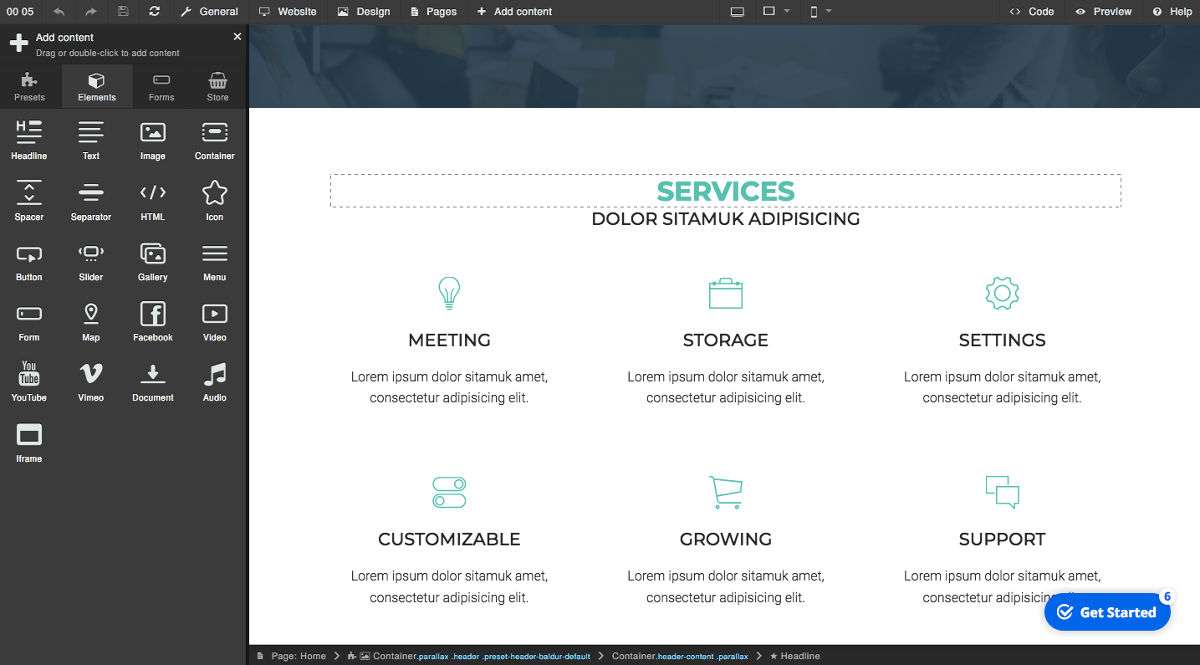 Sitejet just needs a quick and easy account registration, by entering a few basic forms you can already have a sitejet account and start your project. Some other conveniences are that Sitejet has a drag and drop website builder tool where you just have to select elements and drag and drop them into the creation area.
You can move or add new elements, add new menu items, insert links, sliders or galleries, add social buttons, maps, media content, etc.
While it may take some time to figure out how the system works, the entire editing process looks quite simple and beginners will definitely love it.
Also, for those of you who have more coding knowledge or are a web designer then Sitejet allows you to enter the coding section of HTML, CSS or Javascript depending on your skills and competencies.
The ability to manage recurring website elements is an essential feature for those looking to reduce redundancy rates and save a lot of time. The split screen option is another time saver that lets you keep track of all changes and modifications here within the template without the need to create a separate style sheet.
Template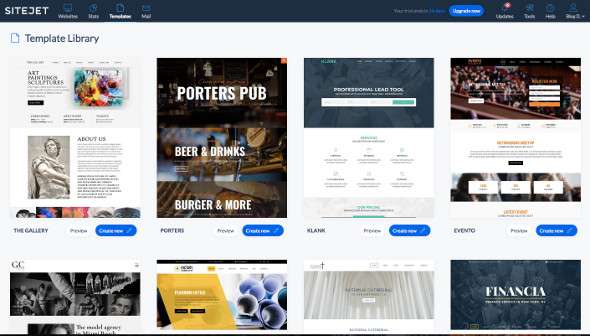 At the time of writing this article, I noticed that there are around 70+ ready-to-use templates with beautiful designs aimed at several niches. You can use one of their template designs to make your website look beautiful. You can jump into the HTML, CSS, or JavaScript sections to customize your website or implement existing design ideas. All Sitejet template designs support responsiveness so they are perfect on a variety of different screens such as smartphones, tablets and desktops.
For those of you who are not satisfied with the existing templates, you can start from scratch and make everything yourself or with your team according to the desired design and how your website will work.
Team Management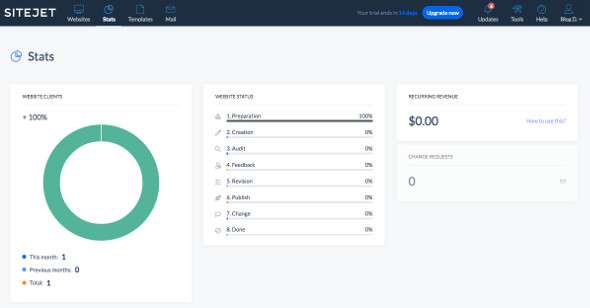 Sitejet provides features that are not found in similar tools offered by other website builders. This feature for team management is called Team Collaborated, where with this feature you can choose between two main modes, either working together with colleagues or with customers.
Customers' Collaboration – a good choice for web designers to create websites for other companies. This function allows you to invite customers to leave comments, corrections, and other types of feedback for a project under construction. Customers can track your workflow.
Colleague's Collaboration – a powerful function for web design agencies to work in teams, change website elements, replace old photos, and add new content at any time.
Self-Service Portal – a simple way to support and maintain customer websites that are shared with their owners. You can still maintain control and limit the roles of clients.
White Label
Web designers and companies have the opportunity to build their own brand identity using the Sitejet platform. The White Label feature allows you to upload your own logo, set a highlight color for the platform, create company emails to stay in touch with customers, etc.
Hosting Services
As I explained above, Sitejet with the price offered already provides hosting services at once, but for the price of the other packages it also allows you to use your own hosting. On their hosting, they also provide other features like CDN, SSL, and powerful hosting as a single web building solution. You're free to link your own domain as well as buy it from Sitejet.
Other Features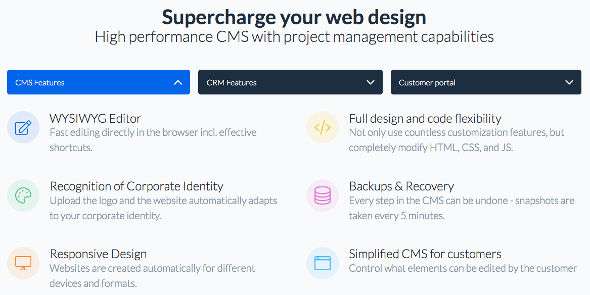 There are many more important features that you can get when using Sitejet such as additional features for creating multilingual websites, SEO settings, Backup and Recovery functions, corporate identity detection, website generator based on customer data and many more.
Conclusion
Sitejet is a great choice as a smart alternative to WordPress, it is a special tool for web designers to work with a team or invite colleagues to join together on projects. And it's also a great and very fast tool for creating beautiful static websites equipped with a rich selection of templates. It only takes you a few minutes to create a cool website even for beginners because their builder supports drag and drop. With an affordable price, Sitejet could be a good choice for you. Please try and use Sitejet as the right choice for your various website projects.