10 Best and Popular Online Stores in Indonesia – Along with the development of internet technology in Indonesia, there are a lot of e-commerce startups. They build online stores that sell very complete products such as malls with their respective advantages, the goal is to accommodate sellers and buyers to make transactions easily and quickly without the hassle of just being in front of a laptop, tab or smartphone as long as the device is connected to the internet.
In this article I will list the best and most popular online stores in Indonesia, the online stores that I mentioned have different business models, there are C2C (Consumer to Consumer) and B2C (Business to Consumer) etc., if you don't know about the types e-commerce business, you can read the previous article:
1 # Tokopedia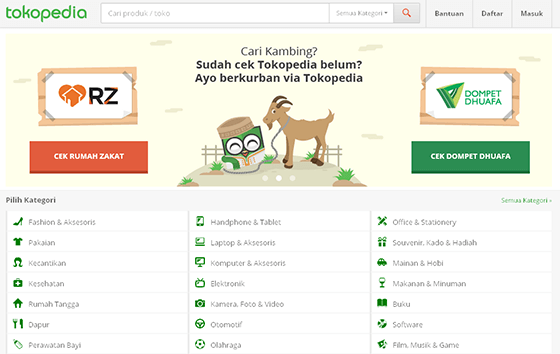 Tokopedia.com is one of the best online stores in Indonesia that carries a marketplace business model. Since its launch until the end of 2015, Tokopedia's basic services can be used by everyone for free. With a vision to "Build a Better Indonesia through the Internet", Tokopedia has a program to support Micro, Small and Medium Enterprises (MSMEs) and individuals to develop their businesses by marketing products online. Tokopedia has succeeded in becoming one of Indonesia's fastest growing internet companies. Tokopedia also made history as the first technology company in Southeast Asia, which received an investment of USD 100 million or around Rp 1.2 trillion from Sequoia Capital and SoftBank Internet and Media Inc.
2 # Bukalapak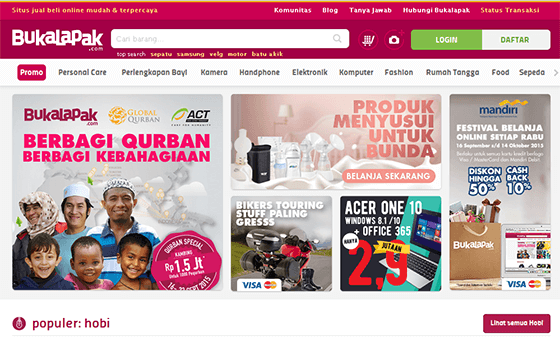 Bukalapak is one of the leading and best online marketplaces in Indonesia (also known as online store chains) owned and operated by PT. Bukalapak. Like online buying and selling service sites with a consumer-to-consumer (C2C) business model, Bukalapak provides a means of selling from consumer-to-consumer everywhere. Anyone can open an online store and then serve prospective buyers from all over Indonesia, either individually or in large quantities. Individual or corporate users can buy and sell products, both new and used, such as bicycles, cellphones, baby equipment, gadgets, gadget accessories, computers, tablets, household items, clothing, electronics, and others.
3 # Shopee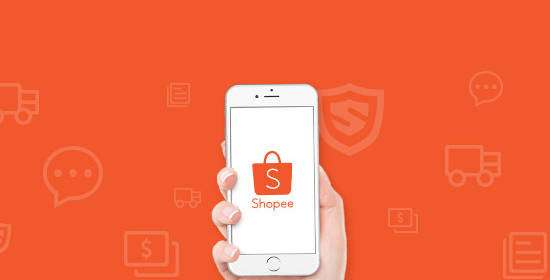 Shopee is Indonesia's best online shop and e-commerce headquartered in Singapore under the SEA Group (formerly known as Garena), which was founded in 2009 by Forrest Li. Shopee was first launched in Singapore in 2015, and has since expanded its reach to Malaysia, Thailand, Taiwan, Indonesia, Vietnam and the Philippines. Due to its mobile elements built around the concept of global e-commerce, Shopee is one of the "5 most disruptive e-commerce startups" published by Tech In Asia.
Shopee itself is led by Chris Feng. Chris Feng is a former Rocket Internet activist who has headed the online stores Zalora and Lazada.
Read: 5 Best and Most Trusted Online Shopping Applications in Indonesia
In 2015, Shopee was launched in Singapore as the first social-centric mobile marketplace where users can browse, shop and sell at any time. Integrated with logistical and payment support that aims to make online shopping easy and safe for sellers and buyers.
After that Shopee, based in Singapore, expanded to other ASEAN countries and opened Shopee Indonesia, Shopee Malaysia, Shopee Thailand, Shopee Taiwan, Shopee Vietnam and Shopee Philippines.
4 # Lazada Indonesia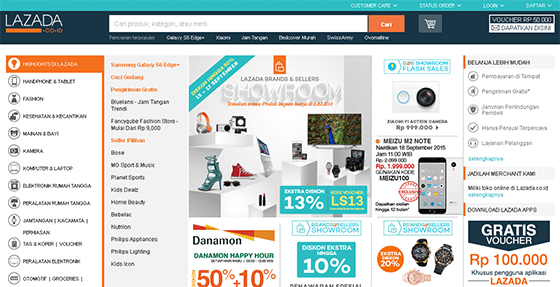 Lazada Indonesia is an online shopping center that offers various types of products ranging from electronics, books, children's toys and baby equipment, medical devices and beauty products, household appliances, and traveling and sports equipment. LAZADA Indonesia was founded in 2012 and is one of the branches of the LAZADA online retail network in Southeast Asia.
LAZADA International Group in Southeast Asia consists of LAZADA_Indonesia, LAZADA Malaysia, LAZADA Vietnam, LAZADA Thailand, LAZADA Philippines. LAZADA Network, Southeast Asia is a subsidiary of the German internet network company Rocket Internet. Rocket Internet is an online incubator company that has successfully created innovative online companies in various parts of the world. Headquartered in Berlin, Germany, Rocket Internet's projects include Zalando, TopTarif, eDarling, Groupon (formerly CityDeal), etc.
5 # Blanja.com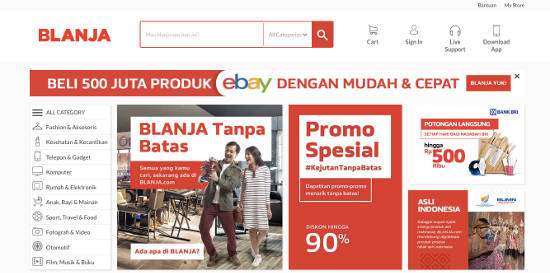 Blanja.com is the best online shop site or cheap, safe and reliable online market place. This buying and selling situation is a joint-venture between Telkom Indonesia and eBay which is under the umbrella of PT. Metra Plasa and already has more than thousands of merchants who offer various products from various categories such as fashion, gadgets, computers, health, automotive, property and many more.
This online shop also has an application for smartphones with Android and iOS OS and the payment system is very easy and complete because it has cooperative relationships with a number of the best and foremost banks in the country such as Mandiri, BNI, BCA, BRI, BTN, Mega, Niaga. , ANZ, BII, and so on. By looking at the name behind this shop, you can be sure that this is a safe and trusted online shop. Shopping can be done with an easy process, payment and delivery are also easy.
6 # FJB Kaskus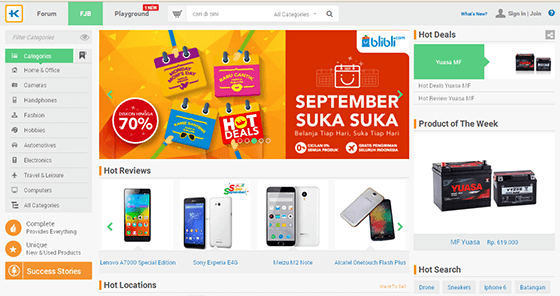 FJB Kaskus is a Kaskus Buying and Selling Forum or Forum where Kaskus users can sell and or buy the desired goods or services. Kaskus, which was founded by Andrew Dervish at first was just a community forum, but due to the large number of Kaskus users or what is often called Kaskuser, there were those who used it as a place for buying and selling transactions, so the Kaskus FJB was created.
In this FJB Forum you can sell or buy goods and services easily and for free, there are lots of product categories in this buying and selling forum. To be able to start becoming a seller all you need to do is register as a member of Kaskus. And buying and selling in Kaskus is also very safe because it uses the payment method with the Rekber system which is managed by Kaskus itself.
7 # OLX Indonesia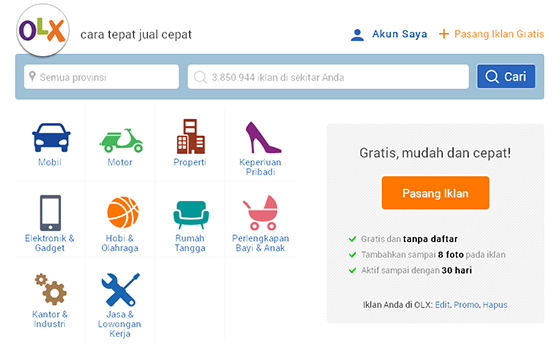 OLX Indonesia (previously known as tokobagus.com) is a classifieds website in Indonesia that is focused on buying and selling products and services online and free of charge for sellers and buyers who use the services of OLX Indonesia. OLX Indonesia is a place to find quality new or used goods such as electronic products, automotive, sports, homes, household appliances, various services, job vacancies and other products.
Actually there is also a site like this called berniaga which is also very popular and has as many users as olx. However, on November 14, 2014, OLX Indonesia announced that it would merge with OLX Indonesia in 2015 and finally the merger process was completed in February 2015.
8 # Bhinneka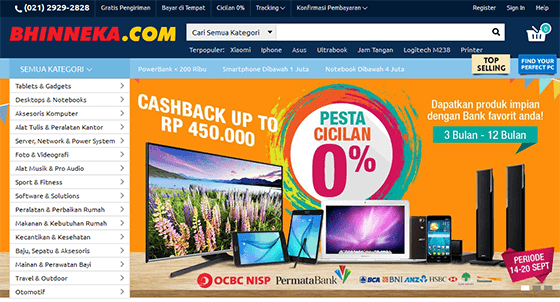 Bhinneka.com is an e-commerce site that pioneered the online store which has continued to develop and grow to become the largest eCommerce site in Indonesia. Called the pioneer force because this bhinneka site was launched before the 21st century, around 1996-1999. Before Bhinneka.com, of course some people still remember Indonesia's first online store, which was deceased for a long time, namely the sanur.co.id bookstore, unlike the online stores of its generation which were buried, Bhinneka continues to develop following developments until now. After that Bhinneka.com and several other sites appeared in between those years such as Kaskus.
Bhinneka.com (Indonesia # 1 Webstore), from the tagline, it has the vision to be a player at "home", how can it be an online shopping choice for Indonesians. As written by the founder of Bhinneka.com, Hendrik Tio on his profile on his website, that enthusiastic service from the heart builds trust and the onslaught of competition that will be faced in the future.
9 # Blibli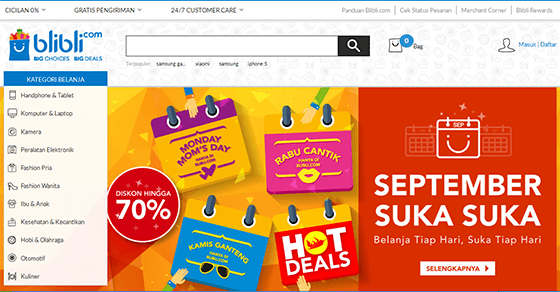 Blibli.com is one of the E-commerce in Indonesia with the concept of mall-style online shopping. With this concept, Blibli hopes that Indonesians who are accustomed to shopping at malls can find the items they are looking for easily and pleasantly wherever and whenever. Blibli is the first product of PT Global Digital Niaga which is a subsidiary of Djarum in the digital field which was founded in 2010. Blili collaborates with world-class technology providers, logistics partners, banking partners and merchant partners with certain standards to create a back-end system that meets certain standards. blibli user needs. Currently the Djarum Group, through Global Digital Prima Ventures (GDP), for example, has formed an incubator called Merah Putih Inc, a community-based local start-up incubator and provides capital assistance for innovative local start-ups.
10 # Elevenia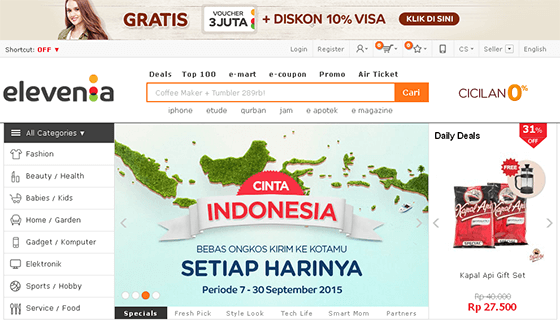 Elevenia is an online shopping site with the number 1 open marketplace concept in Indonesia operating under the auspices of PT XL Planet which provides convenience and security for shopping. This site offers a wide variety of products for online shopping lovers. Until today, it is recorded that Elevenia offers more than 2 million products from 16,000 sellers divided into 8 categories including: fashion, beauty / health, babies / kids, home / garden, gadget / computer, electronics, sports / hobby, service / food.
In February 2015, Elevenia has managed to add more than 23,000 sellers and live listings of 2 million products. Within one year, Elevenia also managed to reach 1 million users and sent more than 400,000 thousand products. Apart from that, they were also able to earn IDR 250 billion in 2014. In their second year, Elevenia is targeting to be able to earn IDR. 1.1 Trillion.
11 # Zalora Indonesia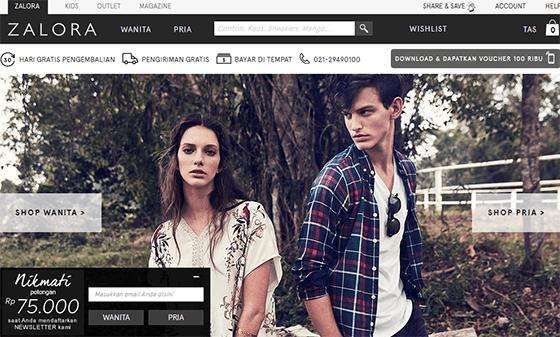 ZALORA Indonesia is a shopping website that provides clothing fashion needs consisting of products from various brands, both local and international. Customers who shop through this site are not charged shipping fees throughout Indonesia and a guarantee of return of goods if the customer is not satisfied with the product they receive. Zalora Indonesia, which was founded in 2012 by Catherine Sutjahyo, is part of the Zalora Group in Asia which consists of Zalora Singapore, Zalora Malaysia, Zalora Vietnam, Zalora Taiwan, Zalora Thailand and Zalora Philippines. Zalora is a subsidiary of the online shopping site Zalando. Zalando is a project from Rocket Internet such as the online shop Lazada. In Indonesia, Zalora is under the auspices and managed by PT Fashion Eservices Indonesia.
12 # Mataharimall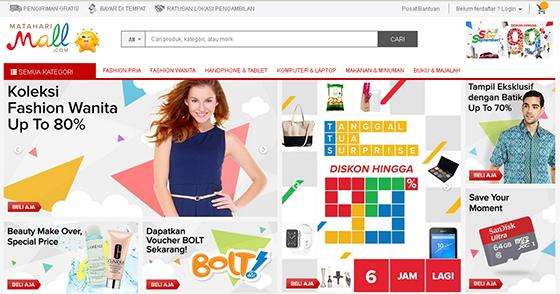 Mataharimall.com is the online version of one of the largest shopping centers in Indonesia, the Matahari Department Store. Mataharimall.com will be Indonesia's original e-commerce, and will be the largest and most comprehensive. Jhon Riyadi, Director of the Lipo Group, explained that the Lippo Group has invested US $ 500 million or equivalent to Rp. 6.5 trillion for the operations of Mataharimall.com for the next 2-3 years. Although when this article was published, Mataharimall was not yet worthy of being declared a popular one in Indonesia, but of course it will soon become the largest online site, because of its many advantages such as having offline stores in various cities in Indonesia and their experience in managing the buying and selling business.
13 # Jualo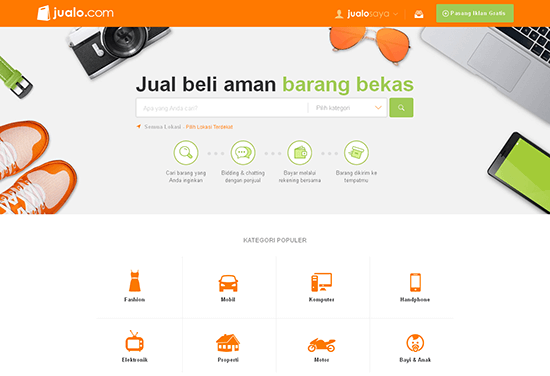 Jualo.com is a site for buying and selling or the best and safe online shop, exchange and bargain in Indonesia, this is an online store with the C2C (Customer to Customer) type. You can easily find new and used items on this e-commerce site. Jualo is a used goods buying and selling marketplace that focuses on buyers based on distance or features (geo-search function). Users have the option to buy, sell and or bid on goods, Jualo also facilitates every aspect of the buying and selling process. This online buying and selling site is under PT. Jualo whose office is at Wisma Barito Pacific 6A Floor Jl. S. Parman kav 62-63 Slipi, West Jakarta. You can shop safely at this online shop because you have used the official rekber service owned by jualo and for shipping goods, you have also partnered with well-known courier services that have been verified.
Above are the top 10 lists of the best and most popular online stores in Indonesia, if you want to create your own online store for small businesses, you can also easily create one using WordPress. Please read the article link below to learn how to create a complete WordPress online store.
(Source: en.Wikipedia.org)
Maybe you want to read a review article about hosting services in Indonesia? Please click the following link » 10+ Best Cheap Best Hosting Services in Indonesia .