2FAS – Increase WordPress Security With Two-Factor Authentication – When I talk about WordPress security, I often repeat that WordPress is a secure platform and is being developed regularly. However, if for that reason you have not thought about increasing WordPress security, then the answer is that you must remain vigilant and still have to improve the security of your WordPress site.
Did you know that every day, bots attack thousands of WordPress sites and expose their visitors to malware or malware. A website filled with bots will be detected by the search engines and the website is considered bad by the search engines, besides that the hosting service provider can also block access to the website and this means that the website will start losing traffic so all your hard work will go to waste. drain.
In addition, hackers also attack sites built with WordPress every day because WordPress is the most widely used web platform in the world for blogging, business and other purposes. They will always try to find loopholes to get into a WordPress site and take advantage for themselves. By knowing this, increasing WordPress security becomes very important and mandatory for you to do, there are many ways to improve WordPress security that you can do and one of the things I want to discuss here is adding two-factor authentication to WordPress with a plugin called 2FAS.
What is Two-Factor Authentication?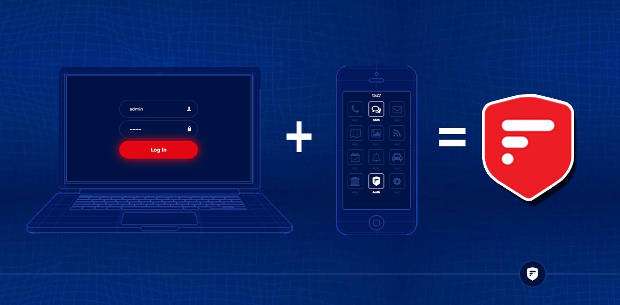 Two-factor authentication (Two Factor Authentication) or what can be called two-step authentication and the simplest example is when you want to login and you are still required to enter a captcha as a second authentication.
And for things that are even more complicated but will have an impact on a high level of security is that you are asked to enter an additional PIN number to identify the pattern before you can enter. So the user has to confirm their identity beyond the username and password by using the code sent to the mobile or by using some other device.
Read: 10 Tricks to Increase Security or CMS WordPress Security
How Two-Factor Authentication Works
Before we talk about the 2FAS plugin in WordPress, let's first understand how the method to receive the code is used for Verification. There are several methods of receiving a verification code that you can use and choose the one that works best for you. You can receive the code you entered during verification in one of the following ways:
Email Service : When you try to sign in, a code is sent to your email.
SMS : Sent to your mobile.
App Generated Code : Apps like Google Authenticator and Authy will generate new codes automatically at very short time intervals. The code that is currently generated when you log in must be entered. The app may require a bit of setup.
USB Token : You just need to insert the token into your USB port (and maybe enter the token password). No more This is a very secure method, as there is no way Authentication could be intercepted. But it has the disadvantage of not working with mobile phones, because it needs to be inserted into the USB port.
The first two methods require internet or cellular connectivity to receive the code, while the latter two do not rely on connectivity. All services will not offer all options and you have to choose the one that is best for you. Some services may offer more than one option.
Read: WP Cerber Security – Security Plugin and Spam Counter For WordPress
What is 2FAS?
2FAS is a WordPress Plugin that is useful for increasing WordPress security from various attacks such as brute force, phishing, keylogers and others by implementing two-factor authentication, where in the process when you login to the WordPress admin, you need to enter a code that will be sent to your smartphone.
Two-factor authentication offers an additional layer of security, so even if your password is discovered by a hacker, the hacker will still not be able to access your website without that additional PIN code. This code is sent to your registered smartphone number. This is commonly referred to as a Time based One Time Password or TOTP and only when you want to login to WordPress the pin will be sent and the pin will always change.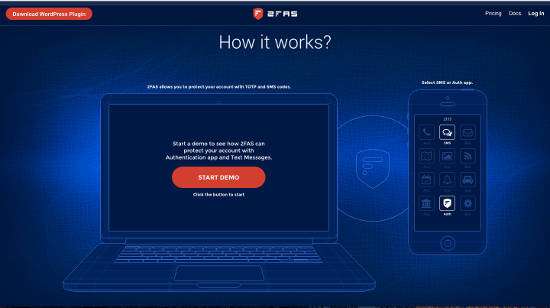 2FAS also allows you to generate a backup code or credit card pin to the system to use as a security code in the event you lose your smartphone or your app is deleted, and you can receive codes via SMS or VMS.
2FAS uses the industry standard TOTP token, which is the same token used by:
Google Authenticator
Microsoft Authenticator
Authy
FreeOTP
and much more…
2FAS also uses third party services to make this plugin work:
https://2fas.com – for authentication requests and communication with mobile apps
https://pusher.com – for realtime feedback in the browser
2FAS will Protect WordPress from?
Here are some of the benefits that you will get from using 2FAS Two-Factor Authentication, your WordPress site will be protected from some of these kinds of attacks:
Brute force attack
When undergoing a brute force attack, your password can be found by attackers. This is the only vulnerability you will experience with 2FAS. 2FAS's intelligent security feature provides a limited amount of time for an attacker to access the correct token. After the access period expires, the attacker is locked out for security reasons.
WordPress Takeover
Many people use the same password or similar passwords for many online service accounts. Keywords that are repeatedly used remain vulnerable in the online world. If you are using the 2FAS plugin on your WordPress site, then establishing access without any 2FAS-registered devices is very difficult.
Phishing and keylogger attacks
If you are not completely sure that the device used by you or your users is completely free of keyloggers and viruses, then using 2FAS to protect your WordPress site from security breaches is a great solution!
Attempts to find a password are pointless with 2FAS. Without the tokens generated by 2FAS, conventional access to your WordPress site is nearly impossible.
How to Use 2FAS Plugin in WordPress
To use the 2FAS plugin, the first thing you need to do is install the 2FAS plugin from your WordPress admin. This plugin is already available in the WordPress.org plugin directory, please go to Plugins » Add New , and type the keyword 2FAS in the plugin search field.
After you install and activate the plugin, a new menu item called "2FAS" will appear, please enter the 2FAS » Admin menu, you are required to register because the 2FAS plugin communicates with the 2FAS API. It gives the opportunity to perform Authentication, send text messages, make automatic voice calls and much more.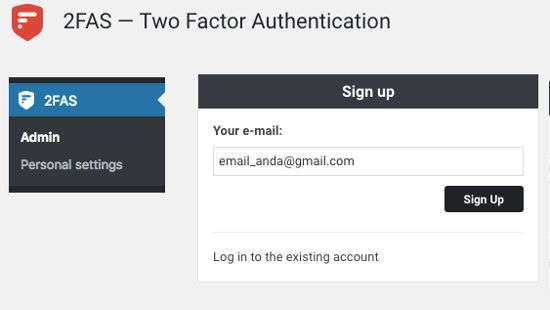 If you are using the Autobot 2FAS application, stage 2 verification can be done by confirming the login on the phone without the need to retype the token in the browser (push authentication).
Now please download the 2FAS application on the Google Play Store if you are an android user and on the App Store if you are an Apple user.
After you have installed the 2FAS application on your smartphone, please synchronize between your smartphone and 2FAS on your WordPress site by scanning the QR Code and entering the token code in the column provided on the 2FAS » Personal Settings page . And now your WordPress site already has the security of Two-factor Authentication.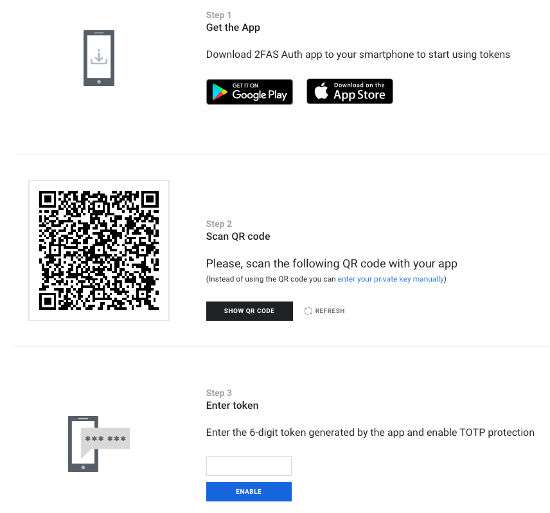 2FAS also has a service to perform two-factor authentication by sending a token code via SMS or Voice Call, fees are charged on a per SMS and per minute basis for Voice Calls.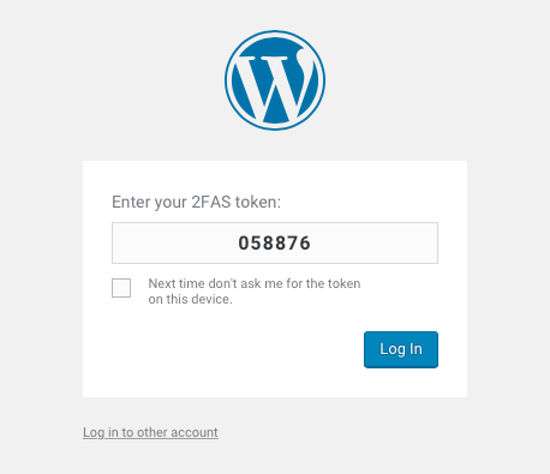 Consider using WP Login LockDown. In addition to its login protection features, WP Login LockDown also offers the option to enable two-factor authentication (2FA) for WordPress login. 2FA adds an extra layer of security by requiring users to provide an additional verification step, typically through a secondary device or application, in order to successfully log in. This feature greatly enhances the security of the login process and helps prevent unauthorized access even if login credentials are compromised. By enabling 2FA with WP Login LockDown, website owners can significantly reduce the risk of unauthorized login attempts and protect sensitive information from potential security breaches.
Conclusion
2FAS is a simple plugin that can increase the security of your WordPress site by implementing the WordPress two-factor authentication system. This plugin has a very easy configuration, so beginners can also use this plugin. Your WordPress website will be very difficult to hack and almost impossible if you use this 2FAS two-factor authentication, besides that your WordPress site will also be protected from various attacks such as brute force, phishing, keylogers and WordPress takeovers.
And that's my full review of the 2FAS Two Factor Authentications plugin, I hope this article is useful for you and gives you a solution to improve the security of your WordPress site. Good luck. ️