Best Free Video Editing Software . When you want to edit videos, there are so many software options that can be used. And most of them are paid software and most users will use pirated or cracked video editing software because they can't afford it or maybe don't want to spend money to have it.
Using cracked software is easier because you don't have to pay to buy it, but sometimes it can be a problem when the software has been infiltrated by a virus.
To overcome this, it is better to find other, safer alternatives, namely by using free video editing software. Using free video editing software is an easy and convenient way to edit your videos. And most of them are so easy to use that they are suitable for beginner editors.
You may want a video editor if you need to extract audio from a video or add different audio, cut parts of a video, add subtitles, create a DVD menu, merge video files together, or fade in or out video. Most vloggers need a video editor of a kind that can do all of these things.
Since most of the free video editor software limit their features to advertise their premium version, you may find some features that you need but can't use because of the free version, but not for the video editing software below, because of the best free video editing software below can do all the things you need for video editing for your vlogger needs. Here are the 8 best free video editing software you need to try:
EaseUS Video Editor (Windows)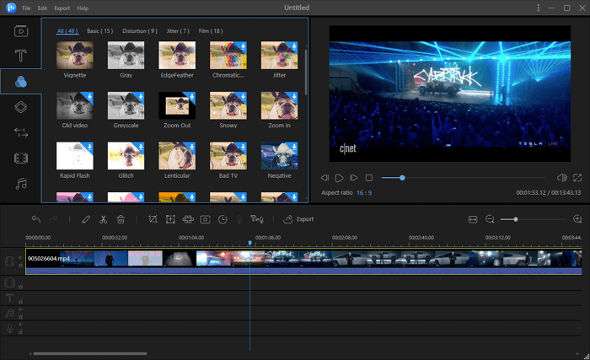 EaseUS Video Editor is a great video editor for editing your videos to make them look professional quickly and easily. This is perfect for anyone who has a hobby of making videos for various projects or vloggers. You can use EaseUS Video Editor on Windows 7, 8 or 10. There are so many cool effects and a collection of video filters to make your videos look attractive.
This video editing software for PC offers various options to export edited videos to any format and can be played on iPhone XS Max, iPhone 8 Plus, iPhone 8, iPhone XS, iPhone XR, iPad, Samsung Galaxy, HTC or other devices. Or you can also burn video to DVD or directly upload your video to YouTube, Facebook, Twitter, etc.
Allows to edit videos by cutting / splitting / merging / rotating / mixing items
Add various simple even complex transitions
Added filter / title / subtitle
Activate multiple video and audio tracks
Import media files from storage devices and videos captured by camcorder, DV, video, webcam, cell phone
Provides templates that are ready to use
There are more than 50 visual and transition effects that allow you to add a professional touch to your videos.
EaseUS Video Editor is near the professional level and is therefore recommended for both novice and professional users.
MiniTool MovieMaker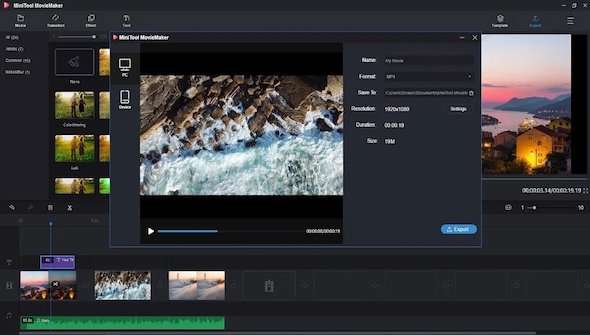 MiniTool MovieMaker is a free video editing software and movie maker software which is very easy to use so you can make movies easily even if you have no video editing experience. This is a video editor which has many features like free video speed controller can easily speed up videos, slow down videos, or reverse videos. Choose the speed of your video from 0.01x to 50x and reverse it if you want.
MiniTool MovieMaker is a Practical Video Editor, which has an easy-to-understand MiniTool MovieMaker Interface that allows anyone to create videos without the need for video design experience! Just import your files, add titles, transitions and effects. With it you can create a Hollywood-style Cool Movie or Trailer that is fun. Choose a template, then import photos and videos, save cool movies on PC or share with friends. And here are some important features of MiniTool MovieMaker:
Simple Timeline
Amazing Transition
Studio Quality Titles
Perfect Aesthetics
Trim / Split Videos
Video Speed Controller
Animate the Zoom Tool
Save Auto Project
OpenShot (Windows, Mac, and Linux)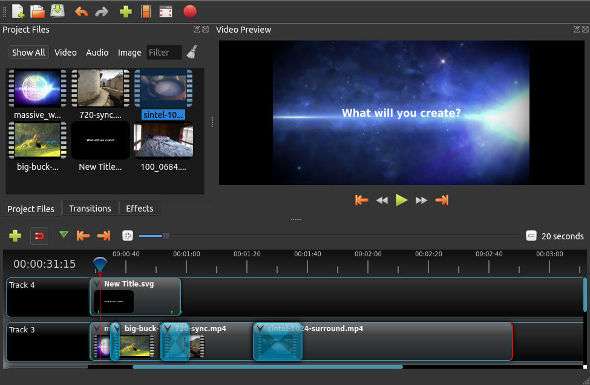 The first Free Video Editing Software is Openshot. Editing videos with OpenShot is awesome when you look at its list of amazing features. You can download it for free and can be used for various OS such as Windows, Mac and Linux ( 10 Best Linux Distros ).
Some of the features supported in this free editor include desktop integration for drag-and-drop support, images and audio, curve-based Key Frame animation, unlimited tracks and layers, and 3D animated tiles and effects.
OpenShot is also good for clip resizing, scaling, trimming, snapping, and rotation, plus scrolling for moving image credits, frame stepping, time mapping, audio mixing, and live preview.
You can try to download and use this Openshot video editing software and prove that with free software you can get amazing features as I have mentioned above.
The interesting thing about OpenShot
Easy to use interface.
This is Open Source.
Great user forum.
VideoPad (Windows & Mac)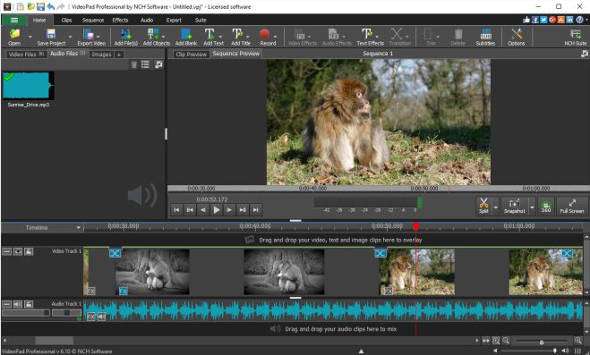 The second Free Video Editing Software is VideoPad. Another video editing software or software for Windows and Mac is VideoPad, from NCH Software. It's 100 percent free for non-commercial use.
This software supports drag-and-drop features, effects, transitions, 3D video editing, text and text overlays, video stabilization, easy narration, free built-in sound effects, and color control.
VideoPad can also change video speed, reverse video, burn DVDs, import music, and export movies to YouTube (and other similar sites) and various resolutions (such as 2K and 4K).
The interesting thing about VideoPad
Supports multiple video formats.
Easy to install, setup and easy to use.
VSDC Free Video Editor (Windows)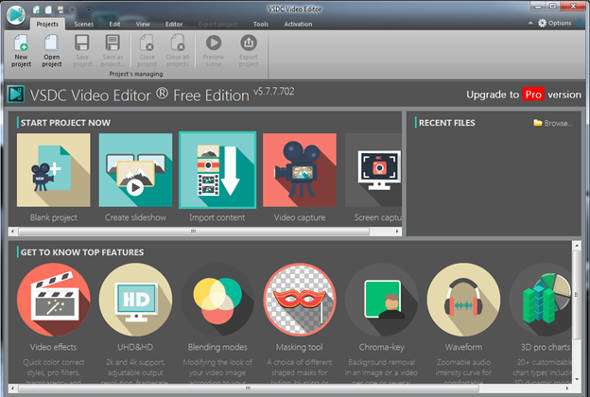 The third Free Video Editing Software is VSDC. VSDC is a full featured free video editing software that you can install on Windows. However, this software may be a little difficult to use for beginners because of the many features and menus.
However, if you look around for a while and play with your video in an editor, you will find that it is not quite as troublesome for you as it was when you first opened this video editing software.
There's even a wizard you can run to make things easier. Some of the things you can do are add lines, text, and shapes, as well as charts, animations, images, audio, and translations. And like any good video editor, VSDC can export videos to a variety of file formats.
VSDC Video Editor also lets you easily install video recording programs and their screen recorders. These are of course optional but they may be useful in certain projects.
The interesting thing about the VSDC Editor
Has some features that you won't find anywhere else.
Export to various file formats.
Includes an optional screen recorder.
Freemake Video Converter (Windows)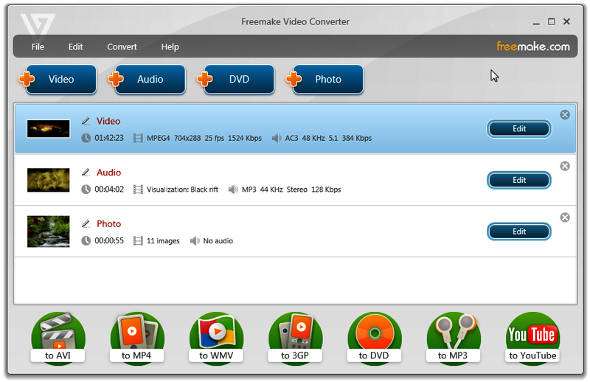 The fourth Free Video Editing Software is Freemake. Freemake Video Converter has the main function of being a free video converter which is why I added it to this list. However, this software also has a video editing feature that is simple and easy to use. This software is different from other video editing software which features a more complex and confusing editor.
If you need a simple video editing software with light editing capabilities for videos, then this is an excellent video editing software. You can also use the same tool to convert files to a variety of other formats, or even burn files directly to DVD.
Some of the video editing features of this program include adding subtitles, cutting out any part you don't want in the video, removing or adding audio, and merging videos together.
The great thing about Freemake Video Converter
Supports many input formats.
Burn files directly to disc.
Easy-to-use editing features.
iMovie (Mac)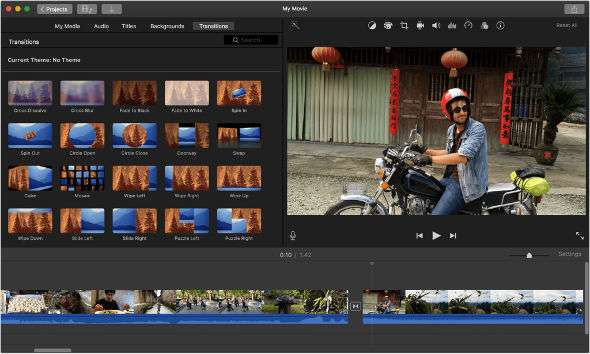 The fifth free video editing software is iMovie. iMovie is truly a free video editing software for macOS and unfortunately this software is only intended for users of devices with the Apple logo, namely Apple. This video editing software offers many options for editing video and audio as well as adding photos, music and narration to your videos.
One of my favorite features of iMovie is its ability to film in 4K resolution, and you can even start doing it from your iPhone or iPad and then finish on your Macbook. This is very cool!
What's interesting about iMovie
Easy to use interface.
Lots of tools to improve video and audio quality.
Supports 4K resolution.
Movie Maker (Windows)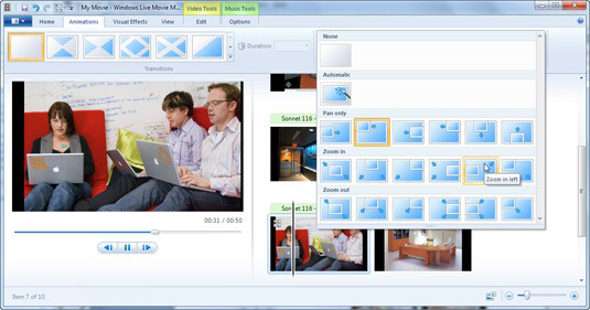 The sixth Free Video Editing Software is Movie Maker. Just like iMovie, Movie Maker is a free video editing software for Windows users. This video editing software was originally installed on Windows OS by default. However, it is no longer installed at this time, but you can still download this application from some third parties and use it to create and share high quality movies.
This free video editor software deserves to be on this list due to the large number of Windows computer users, which means you don't even need to download anything to start using it.
What's interesting about Movie Maker
User-friendly, with a classic Microsoft feel.
Great for starting video editors.
Shotcut (Windows, MacOS, Linux)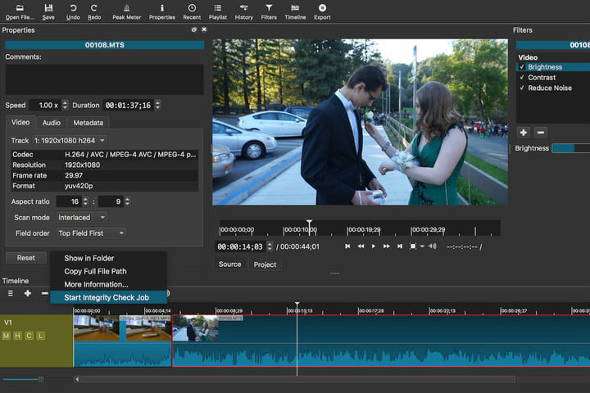 Shotcut is the seventh great free video editor software for the home industry who wants as much compatibility as possible with a simple, customizable interface. It supports most (hundreds) of formats via the FFmpeg project, and makes this software easy to capture and use video directly from your computer with support for up to 4K resolution.
I also like the simple, modular interface style except for the ability to "mount" as many panels as you want to fit certain editing jobs. This makes Shotcut ideal for experienced editors working on their own projects.
The interesting thing about Shotcut
User friendly with a familiar interface
Supports many video formats
Supports 4K resolution
Read: Crello – Free Online Graphic Design and Photo Editor Software
And those are the seven best and free video editing software that you can use to fulfill your video editing needs. You can download and use the above software for free and do your best work with the free video editing software above. Good luck 🙂
Read: 10 Best Screen Recording Software for Making Video Tutorials