Crello – Free Online Graphic Design and Photo Editor Software – When you are doing internet business such as internet marketing, or running a website or blog, it is certain that you will often need images in every post or when publishing your marketing content.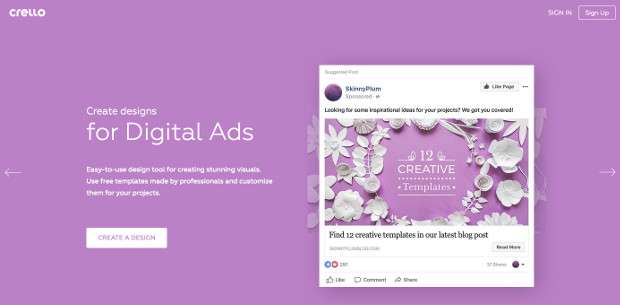 Images are a very important element needed in various kinds of content. For example in the world of blogging, images will be an indispensable part because images can make the content more interesting and make visitors feel more at home when reading your article. But what matters is how difficult it is to find or create suitable images for your content. Sometimes just looking for a suitable image will take a very long time and it will slow down the publishing of your content.
To solve this problem, here I will introduce you to a free online service that can help you find images or help speed up the process of making a good image design quickly and easily even if you are not a designer. The image provider service is Crello.
And the great thing about Crello is that it can be easily integrated with the WordPress web platform so you can easily create images or have quick access to the graphic editors, online photo editors, design elements, and the thousands of free templates that Crello has for a variety of. your posts directly from your WordPress dashboard without ever leaving your website.
What is Crello?
Crello is an online photo editor service that provides a simple graphic design tool created by Depositphotos. Where with their free service you can choose from a variety of templates which can then be customized with new backgrounds, text styles, lines, borders, stickers, icons, and much more.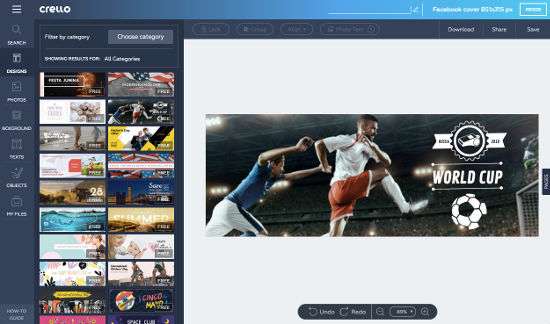 Crello provides graphic design templates grouped by size, so you can get images specifically designed for your various online content needs such as Facebook and other social media, common dimensions for blogs, digital ads, animated posts, cards, posters, flyers, and other sizes.
In addition, you can also use typography that has been provided by experienced Crello designers so that the designs offered will certainly be very interesting and follow the latest design developments, or you also have the option of being able to start making your own from scratch.
As I mentioned above, Crello also provides a free plugin to integrate WordPress with Crello with a plugin called 'Create in Crello'. This plugin will take care of all your visual content needs, allowing you to quickly access the graphic editor easily to create visuals for your blog posts.
Crello has 12,000+ free graphic templates, designed by professionals and available in plugins, as well as thousands of high-resolution photos, icons, illustrations, frames, stickers, and much more.
Crello Price
Crello is a free online photo editor and design service and for the WordPress plugin, Crello is also available for free which you can download directly in the WordPress plugin library. However, Crello also offers optional premium design elements which are priced at $ 0.99 each per photo, shapes, patterns, text badges, and stickers.
After you buy the elements you want, premium elements will be automatically stored in your Crello account and can be used an unlimited number of free without any additional costs.
Crello Key Features
Besides being a free online photo editor that is easy to use, Crello is also equipped with various features that are needed by every user.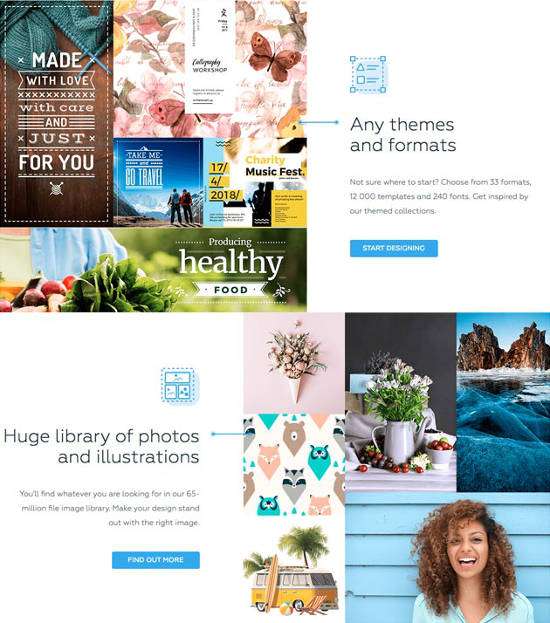 Here are some of the main features of the online photo editor Crello you can get:
Integrate a free graphic editor with your WordPress site
There are 12,000+ templates designed by graphic professionals
Has 240 fonts
It has thousands of high resolution photos, illustrations, icons, frames, stickers and other design elements
30 graphic formats to choose from, including social media, blog images, headers, advertisements, animated GIFs and more.
Animated GIF design, Marketing materials, Event graphics, Advertising graphics
Custom format size
Ability to save your own project and use it repeatedly
Inspirational section for graphic design ideas
Photo effects and filters
Free and premium design elements
Ability to upload your own images
How to Integrate Crello in WordPress
To use the Crello service from your WordPress site, the first thing you need to do is install and activate the ' Crello ' plugin through your WordPress dashboard because the plugin is available for free in the WordPress.org library.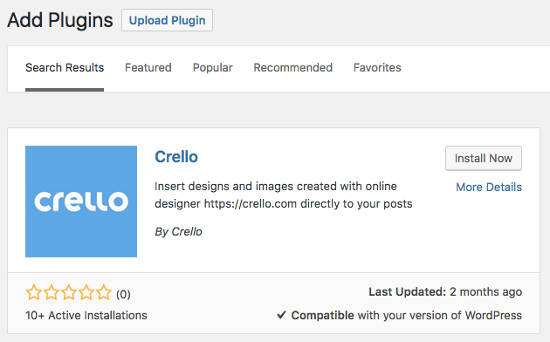 After you activate the 'Crello' plugin, you will be immediately taken to the 'Crello Settings' screen where you will be faced with a screen asking you to select 'Design Type' and also you are required to request an API Key by clicking the 'Request an API Key' link .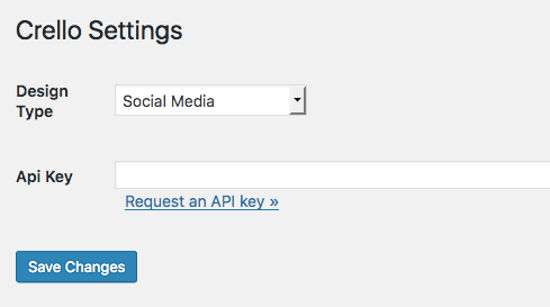 After that, you will be taken to a different page where you are required to contact their support team to get an API Key by filling out a form containing an email address, subject and descriptions.
Even if they don't ask for it, you'll need to add the domain name you want the Crello plugin to install on. Just add it in the Description section. And if you have, please click the 'Submit' button.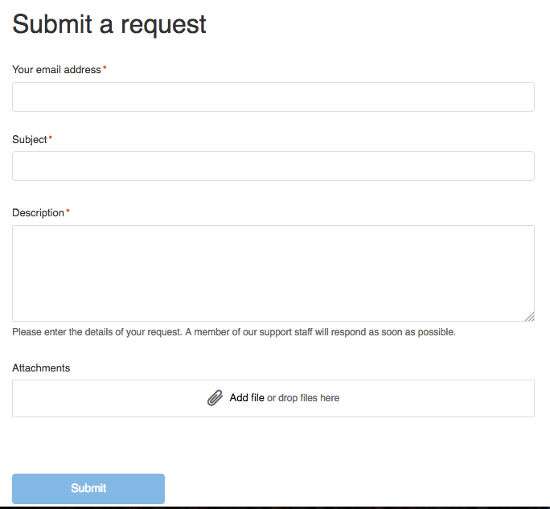 In a few moments the Crello support team will send you an API Key to the email address you used to contact them, you'll need to open Crello's settings in WordPress.
For 'Design Type', you should choose a format that suits your design needs. However, for this option you can still change your choice of format at any time.
The different design formats include:
Facebook, Twitter, Instagram, Pinterest, and Tumblr post images
Social media cover, channel, and header art
Blog titles and graphics
Email headers
Social media ads
Leaderboards
Large and medium rectangles
Wide skyscrapers
Posters
Cards
If you have got the API Key from Crello, now you can enter it in the API Key field and click 'Save Changes'.
Using Create with Crello on WordPress
Once you have successfully integrated Crello with WordPress, you can now start using Crello on your WordPress site.
Please go to the page or post editor and you will see a new button added with the name 'Create in Crello' next to the 'Add Media' button.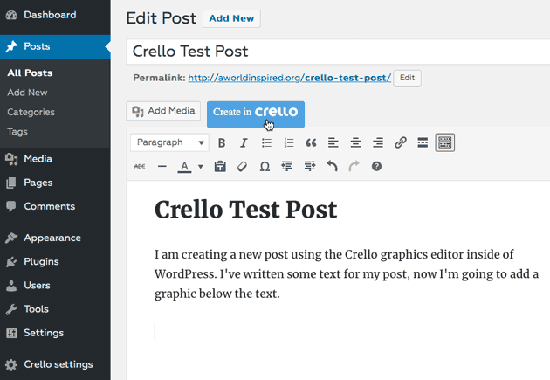 Please click on the 'Create in Crello' button and you will open the Crello graphic editor window and display the template, design tools, and canvas. And you can create many different types of designs, including designs for your blog, social media, advertisements, and even designs for print.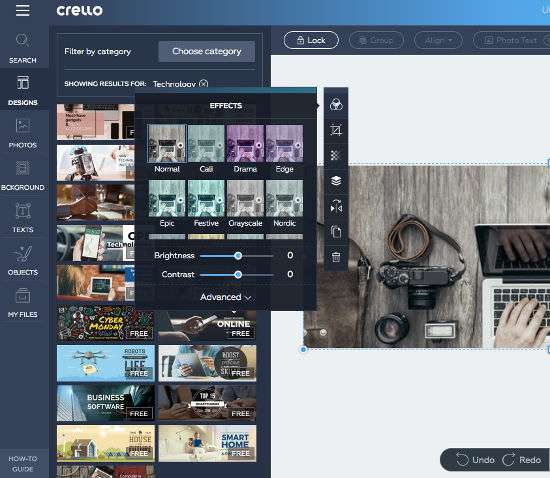 The Create in Crello user interface includes a selection of design elements on the left and a canvas area on the right, where graphic editing is done.
To add design elements to the canvas, you just have to click on it. Then, once they're on the canvas, simply click on the elements to see their corresponding options.
For all design elements, you have options for moving, scaling, transparency, layering, duplicating and deleting. For text elements, you have options for font type and size, color type, format and alignment, line height, and character spacing. And all objects (excluding text), can also be flipped horizontally and / or vertically.
Crello's online photo editor and graphic design also lets you lock elements on the canvas, create elements for groups, and align elements. And of course, you can do basic steps like give your design a title, save it, and publish it to WordPress.
Crello online photo editor also has a 'My Files' section which stores your uploaded items, fonts, purchased items and favorite items.
Crello Templates
The easiest way to get started using the Crello editor is to choose one of its templates and then customize it. Crello photo editor online offers more than 12,000 templates to choose from.
Another way to create designs with Crello is to build from scratch using either the available design elements or upload your own.
Crello's templates are grouped by size and category, so it's really helpful for creating social media and web graphics. It also provides options for customizable sizes, so you can make a design to the size you want.
Use the 'Filtered by category' Search by Category to find template designs by theme.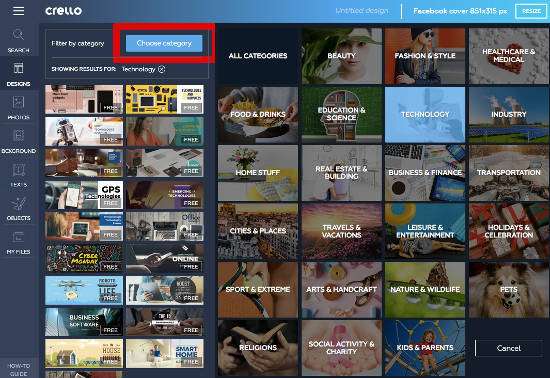 Here are some of the theme categories included with Crello:
Beauty
Fashion & Style
Healthcare & Medical
Food & Drinks
Education & Science
Technology
Industry
Business & Finance
Transportation
Travels & Vacations
Leisure & Entertainment
Holidays & Celebration
Sports & Extreme
Arts & Handcraft
Nature & Wildlife
Pets
Social Activity & Charity
Kids & Parents
Crello photo editor online offers hundreds of design elements to choose from, and gives you the ability to filter and search for what you need. And if they don't have what you're looking for, you can also upload your own objects, photos and fonts.
For your design element options, you can choose from:
Design : This section refers to the previously mentioned Crello template. Photos offers both free and premium photo images ($ 0.99 for a single photo). To make it easier to find what you're looking for, you can filter photos by category. You can add filter effects to photos in Crello. Some of the filter effects include: Drama, Edge, Festive, Grayscale, Retro, and Selfie. You can create custom filters by adjusting the available photo effect sliders.
Photos : This section allows you to adjust brightness, contrast, saturation, tint, blur, x-process, and vignette. And Crello lets you crop photos however you like.
Background : This section includes a selection of backgrounds using photos, patterns, or colors. You can also upload your own background.
Texts : This section includes pre-designed elements such as badges, logos, stamps, and promotional graphics. You can add text for headings, subheadings, and body text. You can even use text as a stencil to display images. And, as previously mentioned, you can upload your own fonts if you don't find what you need from the large selection of fonts that Crello has to offer.
Object : This section allows you to choose between design elements such as shapes, icons, illustrations, lines, borders, stickers and frames.
Saving and Publishing Designs
When you are finished designing and ready to add your image to your WordPress post or page, click on the 'Publish' button located at the top right of the "Create in Crello" graphic editor.
After clicking the 'Publish' button, the graphic image will appear in the WordPress editor.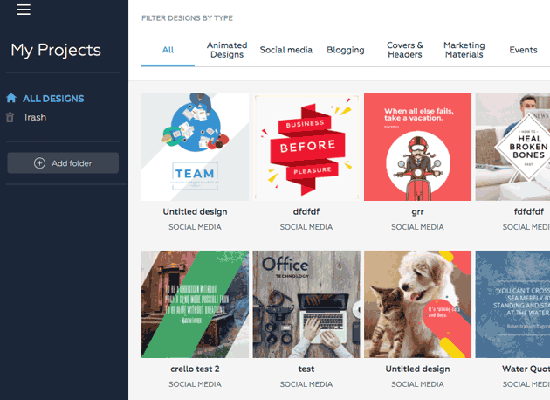 Since your site is Crello bound, WordPress images created with the plugin are saved in the 'My Project' section of your Crello account. This allows you to come back to your project later and edit it further if needed. Or you can use it as a new template to use in your other projects.
Crello online photo editor lets you save your designs in JPEG, PDF or PNG format. I would also like to see options for saving the image in GIF format to further compress the image with dominant colors (eg logos) and save a smaller file size.
Conclusion
Crello is a free online photo editor and graphic design tool that makes it easy for users who need image content for various purposes easily and without design experience can produce good images. Crello also provides lots of free templates and images that can be used easily and quickly. The thing that caught my eye the most was when Crello created a WordPress plugin that integrated their online editor with WordPress making it easier for WordPress users to create or search for images from the powerful Crello editor.