While it used to be common knowledge that paid-for big software such as Photoshop is the only thing you could do proper editing with, this is no longer the case. Technology has been rapidly improving, and more and more products are springing up every day that allow for both convenience and bring about some powerful editing features.
If you don't want to get expensive editing software or need something that elaborate and complex, let us introduce you to some of the photo editors you can work with straight from your browser.
1. Photopea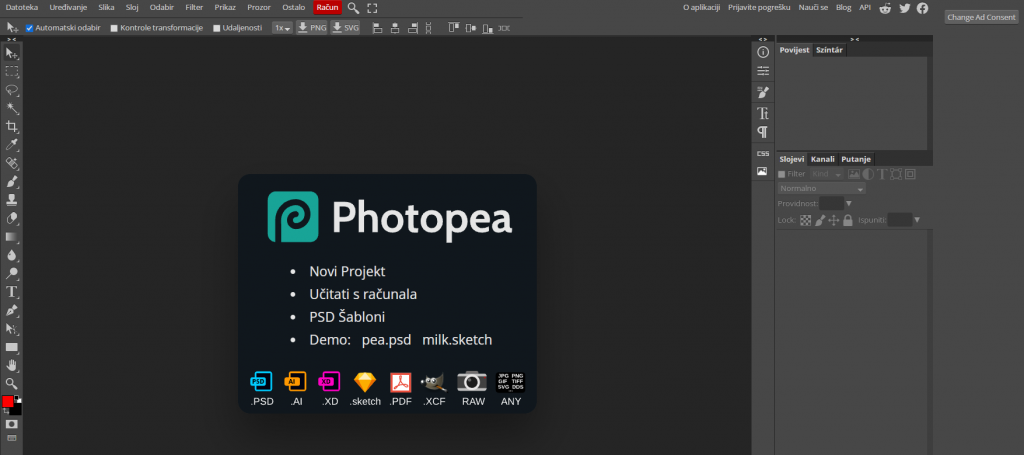 The reason why we decided to make Photopea the crown jewel of today's list is two-fold. The first reason is that you can use it for precise edits and adjustments, but you can also create elaborate designs if you have more know-how.
The second reason we decided to place it first is that it's completely free so that anyone can use it. When it comes to its capabilities, it lies somewhere in between GIMP and Photoshop, so it really can be used for anything. You can choose a predesigned template project, start something from scratch or upload a file you wish to edit.
More advanced users will be delighted to hear that Photopea allows for layered editing, typically found in Photoshop. There's also quite a selection of filters and other tools to choose from. Most will be satisfied with the free version, as all of the features are available within it.
But for those looking for more extensive edits, this tool costs about $40 per year. The only difference between the two plans is that the free one has ads restricted to 30 steps.
2. Taler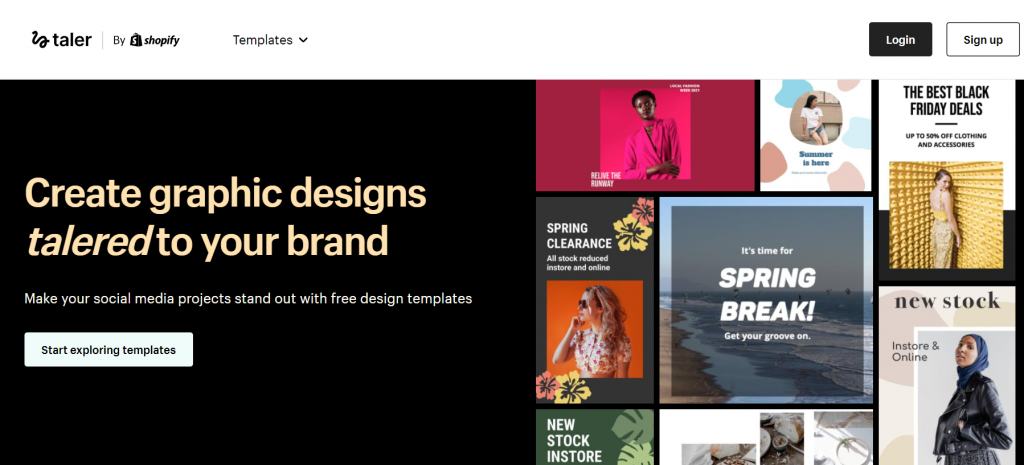 Taler was created by Shopify and can't be described as your run-of-the-mill photo editor. Besides just its photo editing capabilities, this tool also has features for full-scale product mockups. So, if you need that, that's just one more reason to give it a look.
However, since our real focus in this article is photo editing, explain why we chose to put it on this list. Taler comes with plenty of free templates that are endlessly editable, and a lot of them are even social media-specific. We're talking things like Twitter and Facebook banners, Instagram posts, etc.
While this editor might not be for everyone as it is in its nature something between a photo editor and a design tool, if what you're after is the perfect tool to edit all of your social media materials, then Taler is perfect. There's also a library of 17,000 free images you can use to amp your designs, as well as plenty of font and customization tools. It's also free forever.
3. BeFunky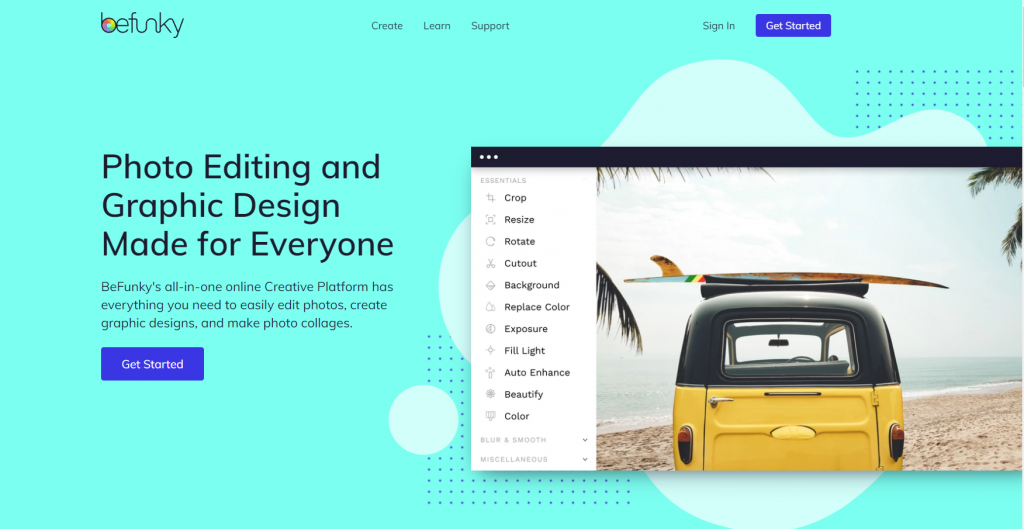 The following editing app we have in store is probably the best fit for influencers and bloggers, as it is rather basic, but it's also relatively easy to use, no matter your skill level. BeFunky offers plenty of options for color corrections and effects that can make your images stand out; it's more of a "enhance their natural beauty" editor than a comprehensive full-fledged editing tool.
In addition to the basic editing features, there's also a pretty unique one called Graphic Designer. This feature allows you to create banners, brochures, etc., using ready-made templates or uploading/designing your own. Aside from these, BeFunky sports some pretty nifty resizing tools, a background remover, a cartoonizer, and batch processing.
It's available both for iOS, Windows, Linux, and as a standalone app. The base version is also completely free, but you can buy the app for $1.99. This is pretty cheap, all things considered, if you need something relatively beginner-friendly and straightforward. But those of you on the hunt for a more professional tool should read on and skip this one.
4. Canva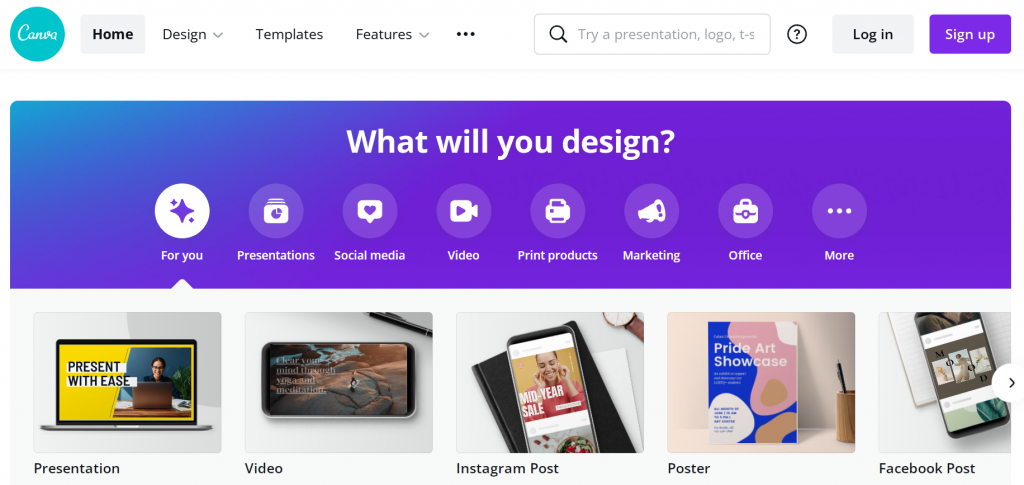 Canva is one of the most famous design tools on the market, but it can be used solely as an image editor. This online tool offers a whole slew of fantastic features such as millions of stock photos, a drag-and-drop design tool, an image cropper, speech bubbles, trendy filters, and so on. You'd be surprised just how many professional-grade features you can find within this software.
Canva is perfect for turning our images into business assets like brochures, presentations, and social media images. The best thing about this is that it can help you with branding your entire business, as you can use preset filters and effects to make everything you put out coherent and recognizable as your own and no one else's. Canva is available for Windows, iOS, and in the browser.
The basic version is also free, but you will have to pay to download some assets and use certain features. The Pro plans start at $9.95 per month.
5. Adobe Lightroom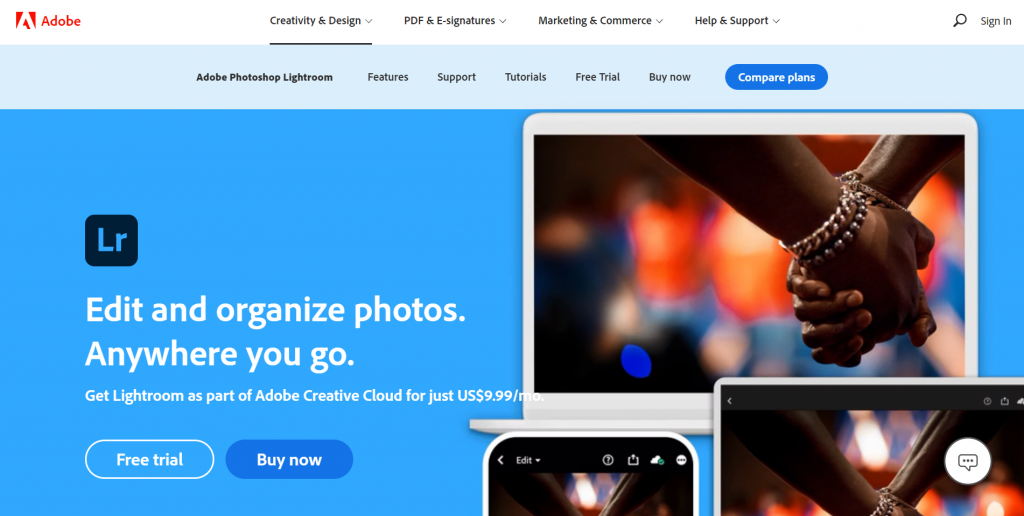 Our last recommendation will be the most professional one out of the bunch, so if you're on the way to becoming a professional photographer, this is the editor you'll be focusing on. Much like the rest of Adobe products, Adobe Lightroom is a compelling software with many features bound to please even the most demanding. This tool's primary focus is professional, detailed-oriented batch editing.
It comes with organizational tools, a lot of advanced adjustments, and just about any output option you could think of – perfect for photographers who want to sell their photos online. It's available for both Mac and Windows and can even connect to your phone and pretty much every other product in the Adobe family. The prices start at 9.99$ per month.
Final Thoughts
Every editor we mentioned will do a fine job; it all depends on what you're looking for. If you want to edit some Instagram posts and social media banners, there's probably no need to go the full mile and get something like Adobe Lightroom.
Just pick which one suits you the best, maybe even Corel Draw, and get editing. Have any other recommendations or favorites? Let us know in the comment section below.