One of the best formats for your content is animation, which is made easier by the availability of animation software. You can create an educational series or branding campaign in digestible content. Generally, to have animation software, you have to spend a lot of money. It will also take you a lot of training time to become proficient when it comes to animation.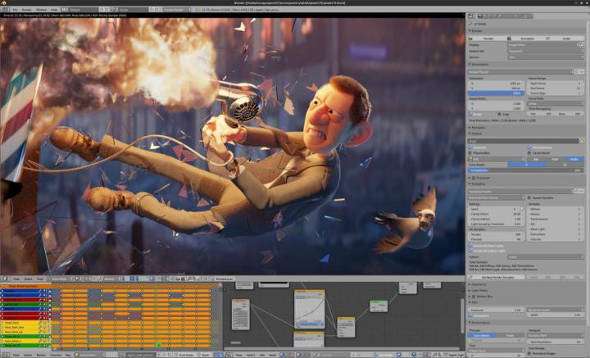 Fortunately, these tools are so easy for users these days that even a novice can speed up creating an animated feature in the software in just a few hours or even less. The good news is, you now have a large selection of free animation software that you can use. And if you have reliable graphic design software, you can do a lot of making quality animation for something completely free.
In this article, I will provide recommendations for the 8 best free animation software available today. I'll also go over the main features of each animation software that make it unique such as real-life simulation, real-time rendering, effects library, cloud-hosted deployment, and ease of use. The latter is quite important especially if you are seriously considering using the software to create your own animations.
1. Blender
The first and best free animation software is Blender, it includes an object tracking feature. You can pan, tilt, track and rotate the camera around your object in 360 degrees. Also, it comes with a Python API so that advanced users can customize the user interface.
One nice thing about Blender is that it integrates with the Pipeline Tools. A powerful piece of software, Blender is a professional animation software that can be used. It has been instrumental in creating award-winning animations. The Netflix animation 'Next Gen,' for example, was made with the help of Blender.
Blender easily meets the needs of advanced users. It is not beginner friendly despite many online tutorials. You can download Blender here for free and learn as you go along if you're interested. If you're looking for an even simpler tool, please read on.
Main Features of Blender:
Advanced production line tracker for realistic rendering
Designed for powerful animation
Industry standard realistic simulation
Customizable user interface
2. PowToon
If you are here looking for free animation software to use a simpler but attractive presentation or video presentation, PowToon might just be the best free software for you. Basically it is an online presentation and animation video maker. As such, it is perfect for idea pitches, product introductions, company profiles, how-to videos, infographics, and online advertising.
As a user-friendly animation platform, it empowers anyone to create professional-looking presentations for free (with its free plan). Of course, it's not as feature-rich as others.
With PowToon, you can create, post and share your creations online. You can share them via email or in your virtual workspace like project management software. PowToon is well integrated with Facebook, Vimeo, YouTube , and Slideshare. With a well-directed touch of creativity, you can take your company presentation to another level.
PowToon Key Features:
Easy to use interface
Access to the PowToon video library
Royalty-free content
Export directly to sharing platforms (Facebook, Vimeo and others)
3. Animaker
Animaker is probably the most user-friendly out of the list of 8 best free animation software solutions. If you are looking for a platform that has a dominant drag-and-drop interface, Animaker is the best free animation software for you. It's as easy as operating PowerPoint but only for animation. In fact, it looks a bit like PowerPoint or Google Slides. There are many types of videos that Animaker has designed to help you animate your slides. It has different custom modules ranging from explorer videos to advertisements.
If you want to level up your content marketing fast, Animaker will help you achieve this without success. With a large library of characters and animated templates, you can lay down cartoon faces and let them move to add character elements to your videos. You can also create whiteboards, 2D cartoons, and infographics using Animaker.
Main Features of Animaker
Whiteboard video maker
Infographic maker
Huge library of characters and templates
Drag and drop user interface
4. Pencil2D
Pencil2D is an animation software that lives up to its name. It allows you to create traditional hand-drawn animation. This app allows your turn the traditional digital hand drawn 2D animation. It's also offered on macOS, Windows, and Linux . It remains completely free and open source. There are no paid plans and you can use them commercially.
Since this is a digital version of a traditional animation workflow, the best way to leverage it for business is to have someone with traditional art skills handle it. If you have the skills yourself, animation will be easy. Easy and user friendly interface.
Key Features of Pencil2D
Functional for popular OS
Easy user interface
Light program
Switch between vector and raster files with ease
5. Synfig Studio
Synfig Studio is free open-source and animation software. The user interface is time based. Just like Pencil2D, the way it works is based on traditional animation workflows. It is not as user friendly as others but video courses are available online to make using Synfig easy. You will most likely need an artistic mentality to make the program work for its intended commercial use. If you're familiar with PowerPoint, then it looks like that in many ways.
For those of you who aren't animation beginners, it's relatively easy to work with. This is a bit time-consuming because there aren't any templates or large content library to work with. If you can afford to invest a lot of hours of work mixed with good technical skills, then this may be easy for you.
Key Features for Synfig Studio
Animated bitmap image with bone system
Filter feature
Layering feature
Vector tweening and advanced capabilities for advanced users
6. OpenToonz
OpenToonz is a 2D animation software. It is open-source and free software, which means anyone in the world can use it for commercial purposes or for personal use. Advanced users can modify the software to suit their use. The user interface is fairly straightforward but there are powerful tools and capabilities which allow you to create more technically complex animations.
It is an intermediate level animation software which experts and beginners can use for their specific projects. If you're an individual business professional with no spare time to put up with customized animations, this probably isn't for you. But for professionals in the content department, it's a free animation software worth considering. You can exercise your creativity without being limited by a complicated user interface or workflow. It also has a paid version called Toonz.
Key Features of OpenToonz
Easily change image styles
Create a wavy distortion
Lighting available
7. Plastic Animation Paper
Plastic Animation Paper (PAP) is widely regarded as one of the free animation software for animators. This is a 2D animation tool that lets you intuitively switch from analog to digital animation. This is intuitive if you are already an animator or have the necessary art skills and understand the tools. If you are new to animation but are reading this list to improve the visuals of your company presentation, this may not be for you. This is suitable for those of you who really have a passion to learn and become experts in the field of animation.
PAP is actually an older version of Animation Paper, a paid version. Even though many digital artists think PAP is out of date, it still works well if you get used to it. The creator is not sold on the old version of the user interface but it is very functional and free. The paid version is definitely an update. It has a newer UI and is packed with more features.
Key Features of Plastic Animation Paper
Layering ability
Basic drawing tools
Light Table
Cycle running and clone time
8. K-3D
K-3D is a completely free 3D animation and modeling platform. Offers a digital artist platform with a complete suite of plugins. K-3D uses a pipe architecture which increases its usability and flexibility. This platform allows you to create different combinations. The user interface is quite straightforward. This allows you to easily create 3D models.
If you want to bring logos or text to life, K-3D can be the perfect free app for you and easy to use. It uses 'undo tree' so you don't have to be afraid of making mistakes. Also, because of the pipe architecture, you can modify your workflow from the start and watch changes occur automatically to the end of your work.
Key Features of K-3D
A node-based visualization pipeline for flexibility
Intuitive user interface
Powerful with procedural and parametric workflows
Those are the 8 best free animation software, click center choice. All of the above software have different functions and some have similar capabilities and features. Choose the one that you think is best for your project needs or personal interests, which are obviously all free for you.