I know that in Indonesia there are a lot of bloggers and they create their blogs with Google's platform, Blogger.com. And most of the Indonesian bloggers make money through Google AdSense. Therefore, here I will list the 10 best free blogger templates for Google AdSense.
If you are currently new to blogging, you can read the following guide on → How to Make a Complete Free Blog on Blogger.com .
In order to have the best blogger template, you need to choose a blogger template which loads fast, is built with clean code and also has several areas of proper ad placement and generates lots of clicks.
Apart from that, the best blogger template must also have a good appearance so that it enhances the user experience and the UI (User Interface) plays an important view that determines the proper design of your blog with visible text so as to provide a good experience for visitors who come to read articles on your blog.
As we all know, AdSense is the easiest way to monetize your blog with niche websites, magazines and news. Though it does not require technical skills for regulation. But this is only possible if you have the right AdSense friendly blogger template for your blog.
As you know, AdSense is well known for paying good CPC / PPC networks due to its high popularity and high competition between advertisers. If you are just starting out with blogging on blogger, I highly recommend you to choose an AdSense friendly blogger template.
Well, the bottom line is SEO and AdSense go hand in hand which illustrates that you can easily get ranked and make a lot of money with AdSense CPC from organic traffic. In this post, I have compiled a list of the best free blogger templates that are AdSense friendly which are well designed and offer a great and challenging user experience with a good codebase.
SEO Boost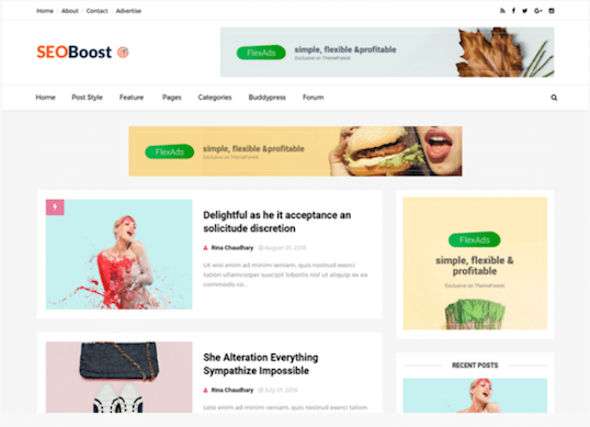 SEO Boost is the best and free AdSense friendly blogger template for you to download, this blogger template has a clean and sleek interface and is fully compatible with AdSense. SEO Boost is suitable for those of you who have blogs that have a niche in lifestyle, travel, technology, fashion, gaming, food blogs, health, sports, travel, technology, business and entertainment websites.
If you are talking about Google AdSense, you can see a number of options for placing your AdSense ad units. Also, the SEO boost AdSense friendly blogger template will help you get fast and easy approval when registering for Google AdSense .
If you are looking for a blogger template that looks minimalist then you don't need to look any further, the SEO Boost blogger template has a minimalist and clean design, it has been adjusted and optimized according to user needs.
This best blogger template for AdSense has the following features:
SEO friendly & responsive
Ad area ready
Slide show & social bookmark ready
Email subscription
Widget
Page navigation
AMP Ready
Compatibility across all popular browsers .
SeoRocket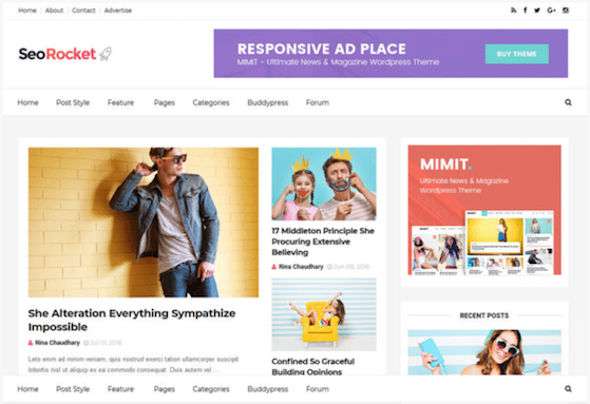 SeoRocket is the best free blogger template for Google AdSense. You may be wondering why this AdSense blogger template has such a name. Yes, this theme is made with a highly optimized SEO framework so you can compete in the search engines, and it loads really fast too. And this is certainly very good for your blog site. In addition, this template deserves to be called an AdSense template. This is a design that has several potential ad unit places to increase revenue from AdSense.
SeoRocket follows the latest SEO trends and guidelines and is equipped with the following features:
Meta tags
Perfect On-page SEO
Clear cache
Perfect page speed
Clean code
Responsive design
AMP Ready
Top Magazine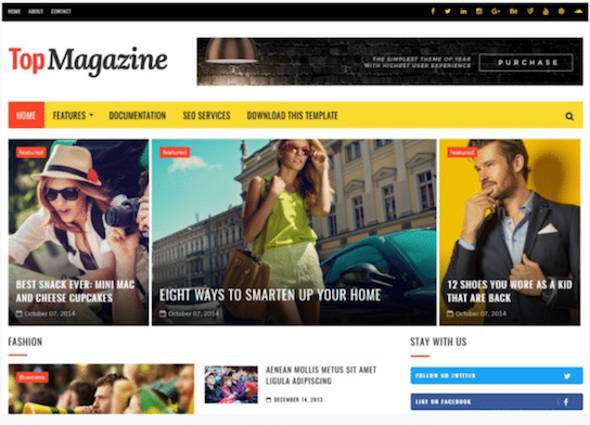 Top Magazine is the best free blogger template which is AdSense friendly and very much in demand by most of the blogger users, this theme has a web design layout to display article rich news & blogs. However when it comes to design you can see options like dropdown menus, tab ready widgets, post thumbnails, premium but free features, and many other premium features. This AdSense-friendly top blogger magazine template is quite profitable and looks premium, it also features several strategic areas to place your AdSense ad units.
Top Magazine comes with many features such as the following:
Responsive
Ad ready
Fast Loading
3 Columns
SEO Optimized
Browser Compatible
AMP Ready
Flexzine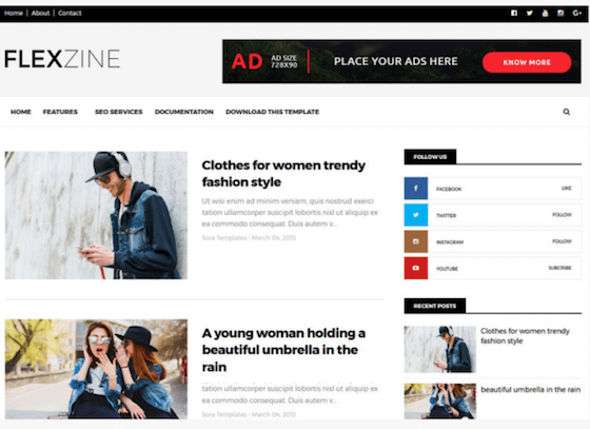 Flexzine is undoubtedly the best AdSense friendly blogger template you can find which is completely free. This AdSense friendly blogger template has a great combination of black and white color combination even though the background remains white which helps your readers to easily see the words you are typing.
Start with the best free blogger template flexzine for AdSense which consists of many layout options displayed in the template. AdSense flexzine friendly blogger template for anyone who wants a modern and clean design. Ideal for magazine, news or blog websites.
It comes with a fully responsive design that fits into any type of screen. On top of that, the template features a gorgeous looking background with minimal color combinations to match any niche or topic.
Create a simple and minimal blog using Flexzine which has the following features in it.
Simple fast loading
Responsive
SEO ready
Retina ready
Browser compatibility
AMP Ready
Fastest Blogger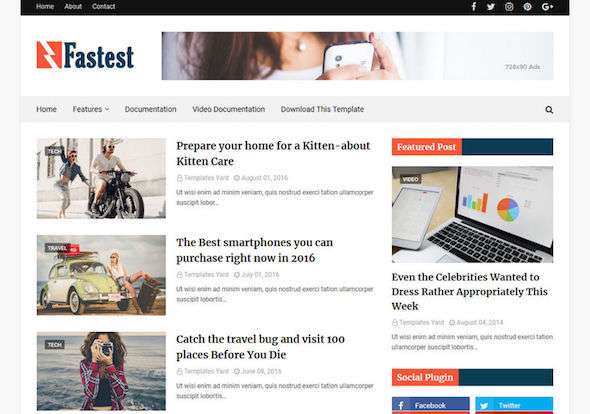 Fastest Blogger is a free fast loading AdSense Blogger Template that loads pages in no time. It is very different and the template is very well designed and keeping the official blogger widgets intact, it helps you to create an amazing responsive blog that fits perfectly into any screen size or device. As it takes less time, this theme is ideal for smartphones, which gives you the opportunity to attract mobile users.
This blogger template is ideal for businesses, companies, blogs, personal websites or any other type of site. Best suited for blogs like niche, food, reviews, howTo, movies, criticism, DIY, tutorial blogs, institutes, exams, banking, etc. Being a highly optimized theme that outperforms other available templates for bloggers. It comes with a minimal and simple looking color scheme of red, black and white, which can be adjusted via the blogger dashboard very easily.
The Fastest Blogger template features are as follows:
Seo Ready
Browser Compatibility
Ready Ads
Email Subscription Ready Widget
AMP Ready
Conclusion
Your blog design is something every visitor sees and stays on the hook for 10 minutes. It doesn't matter how many visitors you have on your blog, it is a matter of pride to have a beautiful blog appearance. Especially when your blog can generate lots of clicks and income from AdSense it is certainly even more extraordinary. Therefore, choosing a blog template that is fast, SEO friendly, attractive design and also optimized for ads is a must. And above is a list of the templates you need.
Most of the AdSense friendly blogger templates on this list are inspired by premium WordPress themes which will offer you a complete new look and design. AdSense is the best method for making money and it is simple for simple websites like blogs, specialized websites, magazines, news and businesses.
We wish you a pleasure to read the best free AdSense friendly blogger templates article. Let me know in the comments column to show which one you like and can optimally increase AdSense revenue on your blog.