Do you have problems remembering passwords you use for emails, subscriptions services, or social media? Are you afraid of selecting a weak password so that you expose yourself to getting hacked and having your confidential information stolen? Well, if the answer to these two questions, or at least one, is affirmative, I would recommend you to try out password managers.
A password manager is a tool that takes care of all of the passwords that you use for any service daily. It has many valuable features such as remembering your password and auto-fill it for you, helping you select strong and hard-to-hack passwords, and a sync option that allows you to use those passwords across platforms and devices. The whole idea behind password managers is to let you write a password when you register an account, and it will store it safely so that you never forget or lose the password.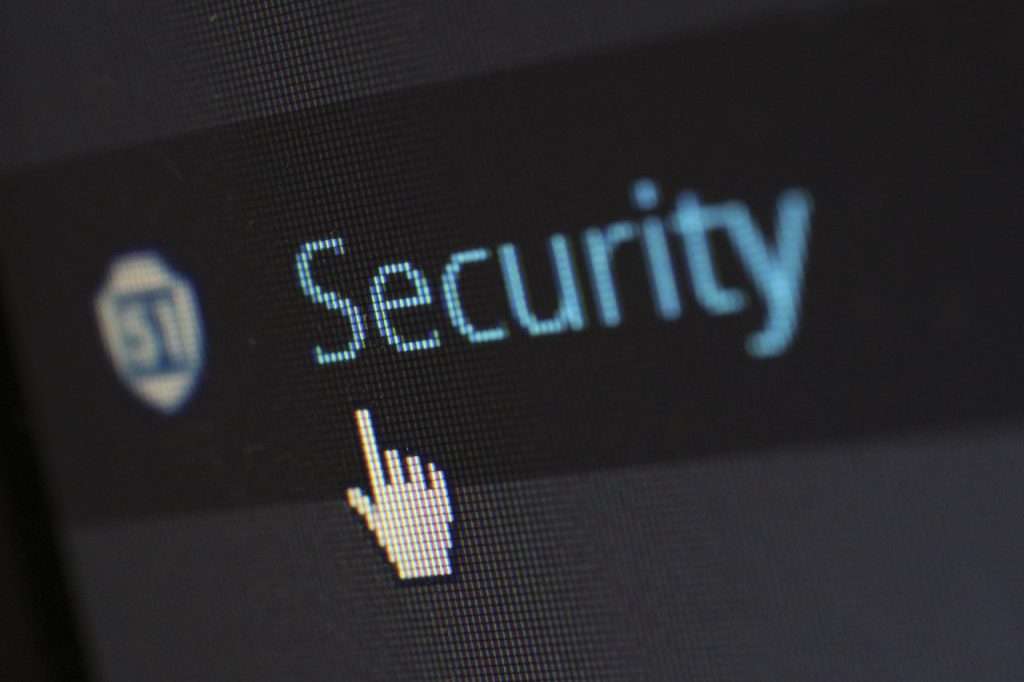 As in everything, you can go for a free (most of the time, it is limited) or a paid option. Mozilla Firefox and Chrome come with an in-built password manager that works fine and supports syncing. However, if you need more features, better security, more robust encryption, and export options, you should think of upgrading to paid password managers.
Let me give you a list of some essential features and benefits that password managers bring to the clients:
Stop remembering your passwords. Let the tool do it for you.
Choose more secure and longer passwords for websites with the help of a strong password generator as a part of password managers.
Switch to another device and automatically have all the passwords auto-filled from your computer
Automatically fill forms
Find out whether your credentials are leaked and shared between hackers.
But, how do you know which password manager provider is the best option for you at the moment? In this article, I will give you a list of the top five best password managers you should not forget to check out in 2022.
1. BitWarden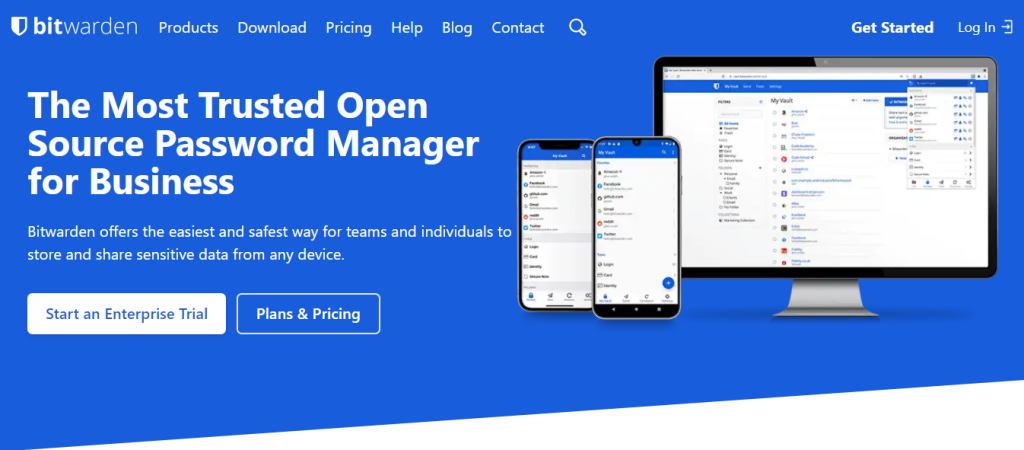 Suppose you do not trust how your passwords are stored and where BitWarden is a fantastic option. It uses end-to-end encryption and is fully open-source. Its source code is publicly available (transparent) and maintained by its huge community.
Features:
Robust security (Zero-knowledge encryption)
Open-source
40 languages support
Support all devices
Syncing
2FA
Export vault
Strong password generator
2. 1password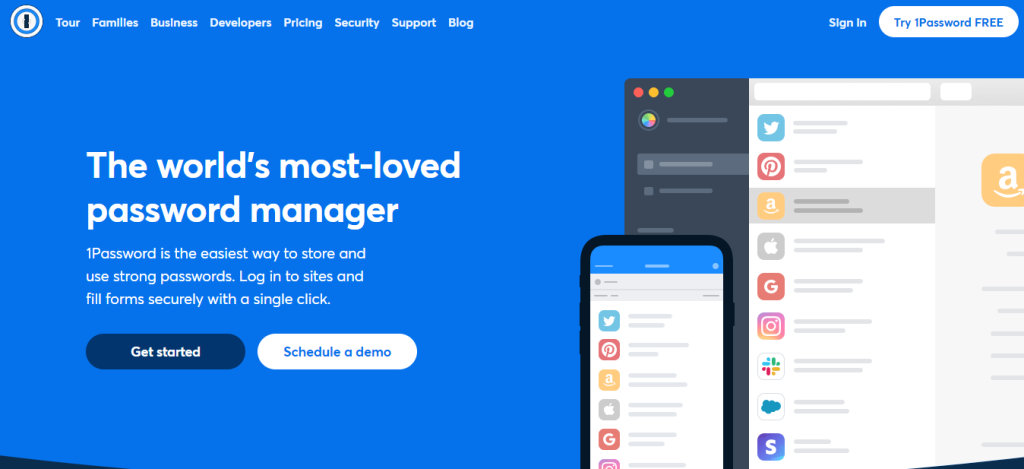 Whether you travel a lot, use multiple devices daily, or need to store credit card information online – check out 1password manager. It's free for 14 days; you can always cancel it and pay $0.
Features:
Cross Platform support
Friendly support
2FA
1GB document storage
AES-256 bit encryption
Auto-fill PayPal logins, credit cards, bank accounts safely
3. Dashlane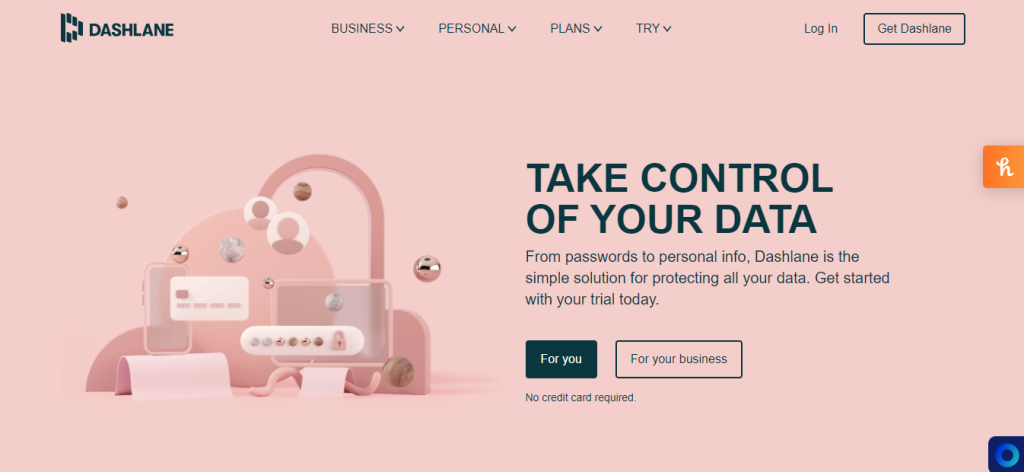 With over 14+ million users, Dashlane claims that they never experienced a data breach in 10 years for how long they are in the password management business.
Features:
Dark web monitoring for your credentials to check if your password is leaked
Security alerts
Password generator
Encrypted storage
Syncing
Unlimited devices
4. NordPass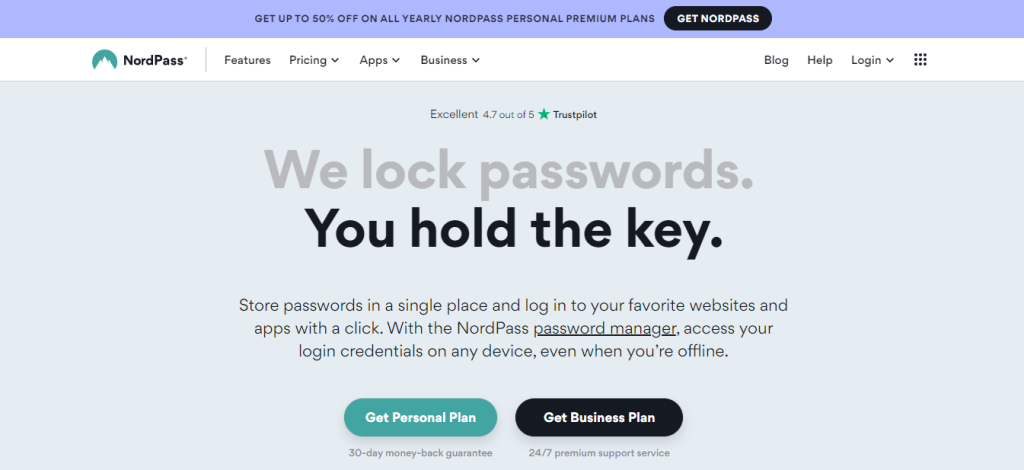 Coming from a respectable and experienced company that has provided a VPN Service for around a decade, it recently launched NordPass. It is a password manager that will take care of all passwords you enter online and store them safely in their unlimited storage vault.
Features:
Store unlimited number of passwords
Syncing across your devices
Auto-fill login credentials
Auto-fill credit cards and shipping details for shopping websites
Protects your NordPass account with Face ID or fingerprint
Import passwords stored in your browsers
5. LastPass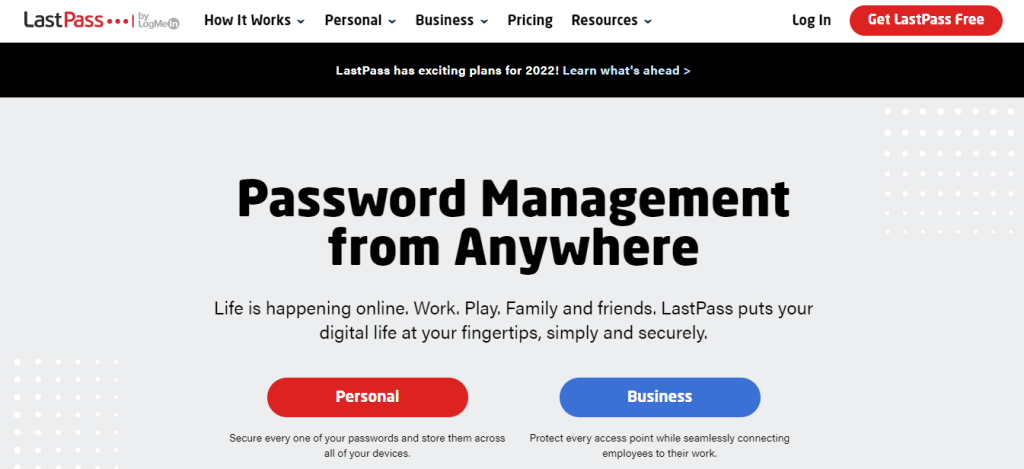 For around 13 years in the password management business, LastPass is the last item on the top five list of the best password managers you should try. Its database has over 30 million users and thousands of positive reviews.
Features:
Auto-fill payment and shipping details
Strong random password generator
Store wifi passwords, confidential notes and other data
Get a notification if your password is found in data breaches
Unlimited passwords
2FA
Cross platform support