When they ask me which is the best WordPress hosting for small to medium sized sites I have no doubts: Siteground . This company, founded in 2004, has quickly become one of the leading names among hosting providers worldwide. It succeeded thanks to an aggressive marketing strategy, of course, but also and above all through cheap, reliable, easy-to-use hosting plans (thanks to cPanel technology) and very fast assistance, via ticket or live chat, even in Italian.
Currently, we read on the official website, Siteground has in hand the management of 500,000 domains . Among them, my site and that of all my clients. I have therefore had the opportunity to directly experience on more than one occasion the goodness (and also the limits, because there are) of the services offered by Siteground, so I can talk about them with a certain knowledge of the facts. Let's see them in detail. As always, if you have any questions or specific requests, leave a comment or contact me !
What are we talking about
Why Siteground is the best WordPress hosting
To summarize, there are three characteristics that, in my opinion, make Sitegroud the best hosting for WordPress.
Quickness . Siteground hosting plans ensure speed of execution to the pages of your site , even in the case of the cheapest packages on shared hosting;
Easy to use. Buying a hosting plan is very simple even if you are not an expert. Ditto for management: the customer area and the cPanel (the control panel that allows you to manage all aspects of the server, from mail accounts to caching to subdomains) are structured in a clear, linear (and in Italian language) way;
The Sitegroud team is always available. Solving a problem is a matter of minutes and not days (understood, Aruba?). The team responds in Italian and, above all, offers a wide range of services. Two, in particular, are worthy of mention: the transfer of the site and domain from another provider, which is physically carried out by the Siteground team, to solve problems on WordPress related to an incorrect configuration of the platform (and not, therefore, to a problem in the code of themes or plugins).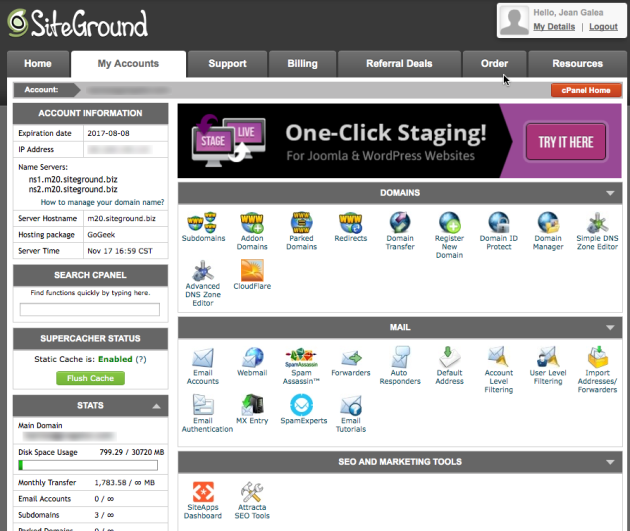 Plans and costs
Siteground offers a rather wide range of solutions, ranging from shared hosting to cloud hosting to dedicated servers . The former are suitable for small-sized sites with a limited number of monthly visitors; the second and third for more extensive and complex web projects. (For web designers and developers like myself, there is no shortage of reseller hosting plans, to manage their customers' sites more efficiently.)
Let's analyze the first ones, which are much more common and probably in line with your needs. There are three packages: StartUp , GrowBig and GoGeek .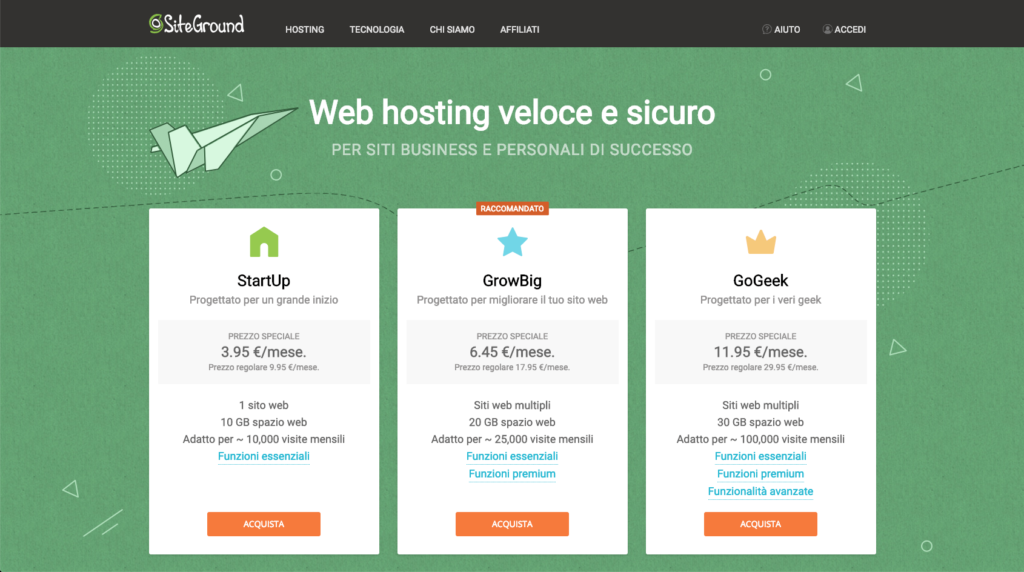 The three floors share these services:
Free new domain registration
Free site setup or transfer
Unlimited emails
Unlimited MySQL databases
Unlimited parked domains and subdomains
cPanel & Softaculous
30 days money back guarantee
Free WordPress installation
WordPress automatic update
Advanced WordPress security
WP-CLI pre-installed
Free CDN with every account ( Cloudflare )
HTTP / 2 enabled servers
The differences concern:
Number of recommended monthly visits: up to 10 thousand for the StartUp plan, up to 25 thousand GrowBigs, up to 100 thousand GoGeeks;
The web space: 10 gb for StartUp, 20 gb GrowBig, 30 gb GoGeek
Hosted websites: one for StartUp, unlimited for GrowBig and GoGeek
Daily backups: one for StartUp, 30 for GrowBig and GoGeek
Other services such as caching services, staging environment, Git (see next paragraph)
See the list of full services and the comparison between the three plans.
We come to the costs. StartUp costs € 3.95 / month , GrowBig € 6.45 / month and GoGeek € 11.95 / month (VAT included). These are quite competitive prices, and very often the subject of discounts and promotions.
Services for WordPress
For WordPress users, Siteground offers a number of very interesting services.
– Installation service: reserved for less experienced users, it allows you to install WordPress through a user-friendly cPanel application. Active service on all floors.
– Auto-updates: allows you to have WordPress always updated to the latest version. Active service on all floors. (Nb: I recommend disabling this service. Before updating the platform, it is important to back up files and databases for security reasons. The WordPress upgrade, in fact, could cause malfunctions on the site due to compatibility conflicts with plugins or themes. )
– WP-CLI enabled. WP-CLI is a set of tools for managing WordPress installations via prompt. You can update plugins, set up multi-site installations, and more right from the command prompt , without using a web browser. Active service on all floors.
– SuperCacher . It is the caching service developed by Siteground. It allows to improve the page loading speed. The SuperCacher includes 5 distinct options, which can be activated with the higher hosting plans:
Static cache option: creates a static copy of the contents of your site, placing it in the server's RAM. In this way, when a visitor accesses the site, they will see the copy static and with greater speed than the original version, since the server RAM is faster than the hard drive.
Dynamic Cache Option . Particularly suitable for WordPress, Joomla, Drupal and Magento sites. It creates a static copy of the PHP content generated by these platforms and makes it quickly viewable to site visitors instead of generating it every time. Activating this service requires the installation of a plugin .
Memcached Option. Memcached is the caching system also used by giant platforms such as YouTube , Facebook , Wikipedia . Memcached caches the requested data to the database, thus reducing the use of resources and significantly speeding up the site.
HHVM Option. Available only on dedicated hosting, HHVM (acronym for Hip Hop Virtual Machine ) is a "virtual machine" that uses hack and php programming languages and guarantees a higher speed in loading the site.
Google PageSpeed Option. It is an option that takes advantage of a caching technology developed by Google , the Apache mod_pagespeed module . With this option it is possible to activate a series of operations (including combination and minification of JavaScript and CSS files) that improve the performance of the site according to Google's requests;
– WordPress Staging Environment. The staging tool allows you to activate an environment in which to test, in total safety, the changes to your WordPress site . It is a service available on GoGeek plans and above: if you are a web developer or have constant needs to modify your site, it may be worthwhile to incur a higher expense in exchange for a service perfectly integrated into the cPanel.
– Pre-installed Git. GIT is a Version Control System ( VCS ). It allows you to keep track of changes made on a website over time and to recall a specific version at any time. Ideal for web developers, it is available on GoGeek plans and above.
The speed
One of the elements that contributes to making Siteground in my opinion the best WordPress hosting and one of the best ever is speed. How is it guaranteed?
SSD Drives : All Siteground hosting plans use SSDs instead of HDDs. Beyond the technical details, the substantial difference between the classic hard disk (HDD) and the most recent solid state drives (SSD) concerns precisely the speed of input / output operations, all in favor of SSDs . Whether or not you choose Siteground as your WordPress hosting, the advice is therefore to look for providers that offer SSD drives;
NGINX Server : Wikipedia itself defines the NGINX server as "a lightweight, high performance web server / reverse proxy" . In the case of Siteground, this technology is present in all shared plans, cloud and dedicated servers (as part of the performance booster);
Advanced SuperCacher : we have already talked about it (see previous paragraph). This caching service for WordPress, Joomla and Drupal can be an additional tool to reduce the loading times of your website;
Free CDN : CDN stands for "Content Delivery Network". Indicates a platform of internet servers distributed around the globe in order to form a network that allows you to route a request for content on the optimal node, that is, the one that can satisfy the request in the shortest possible time (for example, because geographically closer to the location of the applicant, or because burdened by a lower workload). Sitegroud offers the Cloudflare CDN on all hosting plans, which caches the content and distributes it across multiple data centers. When an overseas visitor to your site requests content, Cloudflare delivers it from the nearest data center with ultra-fast times ;
HTTP / 2 enabled servers: HTTP / 2 is the new version of the HTTP network protocol used by the World Wide Web. It is based on the SPDY ("speedy") protocol and offers a marked improvement in performance (for the more experienced: multiplexing, for favor the request and reception of multiple web objects at a time; header compression, to reduce the data transmitted; management of requests based on priority). Siteground supports HTTP / 2 on all its servers. To work properly, it requires an encrypted connection (i.e. https). No problem: among the services that Siteground offers for free there is the Let's Encrypt SSL certificate;
PHP7 : Siteground offers its users continuous updates of the PHP version , in order to allow you to keep up with new technologies and, above all, improve the performance of your site;
Uptime: 99.99%
Siteground's data centers are located at:
Chicago, USA
London, UK
Amsterdam, Holland
Singapore
The risk of downtime is reduced to a minimum thanks to a series of measures. First of all the Linux Containers (LXC) to offer stability in moments of unexpected traffic peaks (the Linux Kernel patches developed by the Siteground team have been incorporated into the official code in the Linux Kernel itself). Proactive server monitoring, for its part, detects current problems and corrects them. Not only that: it is also able to predict imminent critical issues and work to prevent them.
Secure account isolation with CHROOT is a treat that perhaps only experts are able to appreciate. More relevant to the average user is definitely the automatic backup and on-demand backup system , which is truly exceptional. I have been able to personally test this feature several times: the customized backup system is very fast, it allows you to create instant backups at any time and to back up files, folders, databases, emails or the entire account instantly, using a very practical app in the cPanel. The instant backup is included for free in the GoGeek and Cloud plans, while it is paid for the StartUp and GrowBig plans.
Beware of CPU resources
As I wrote before, thanks to my activity as a web developer and SEO consultant I have gained a good experience in terms of hosting. Siteground has become my fixed choice for some years , but not without criticality. The largest of these is related to CPU consumption.
CPU stands for Central Processing Unit, or Central Processing Unit. Exactly, the one you studied at school in computer science hours. Your website is located on a server which is nothing more than a computer; this computer has its own nice CPU, which is the unit that processes requests sent by users (for example, viewing a page) and performs the operations. It is therefore easy to understand how all the actions that users perform on a site "consume" CPU.
Siteground (like all hosting providers) places a limit on CPU usage ; when this limit (daily, weekly or monthly) is exceeded, the site crashes and the browser returns a 503 error. The erosion of CPU resources is not only linked to the amount of visitors to a site, but also to other aspects:
code issues in themes and plugins
components of the site that use too many resources
a poorly optimized database
DdoS attacks (massive influx of spambots)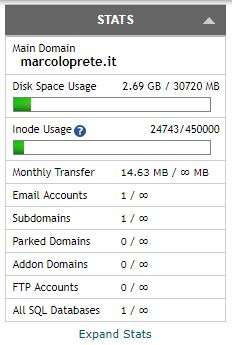 It is therefore important to make sure you have a well-built site, protected from spam and, obviously, with a volume of traffic not exceeding the limits that Siteground recommends for the various plans. The CPU consumption can be monitored through the statistics service integrated in the hosting cPanel, AwStats , or, in the case of WordPress sites, through plugins (e.g.,Query Monitor ). If you have problems running your site on Siteground, contact me!
The other critical issue I encountered, using Siteground, is a very fast assistance service, but not always competent on "advanced" technical issues. Let's be clear: I'm talking about particularly complex problems, which most site owners probably never encounter, but it is fair to take into account the not always exceptional preparation of the first assistance team. In such cases, however, the critical issues were resolved by a superior support team , contacted by the same basic support of Siteground (obviously at no additional cost).
In conclusion: is Siteground worth it?
I believe I have offered an in-depth examination of Siteground's offer. Net of some problems, moreover balanced by the quality and quantity of the services offered, I consider Siteground the best WordPress hosting , and its shared hosting plans the best in value for money for small-medium sized sites.
If you have any doubts, don't worry: after purchasing a Siteground hosting plan you can always get a refund (within 30 days)
Would you like to know more? Visit the official Siteground website. Do you have experience with this hosting? Share it with other users by leaving a comment. For any request for clarification, I am at your disposal: contact me!
If, on the other hand, you need an expert to help you create your website with WordPress, discover my services!