Start Your Online Education Business with WordPress LMS – Whether you are an online trainer looking to start a MOOC platform or looking to start your own online education business, WPLMS provides you with the best solution of web and mobile experiences for instructors and students.
Let us dive deeper into why WPLMS is the best LMS you should use as well as the most sought after LMS.
What is WPLMS?
WPLMS is a Learning Management System (LMS) built for WordPress. It is a combination of themes (WPLMS) & plugins that turns your WordPress site into a full LMS platform. The main idea of WPLMS is to create a course website and sell courses online.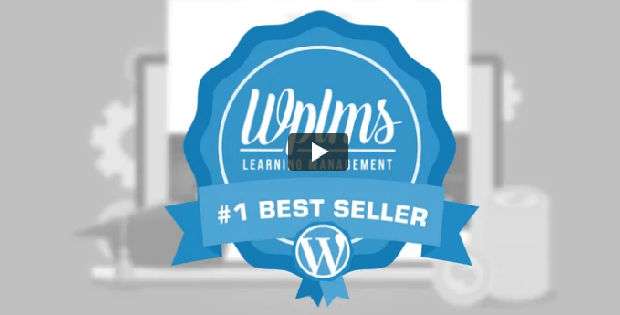 WPLMS can be used for a variety of needs ranging from personal training platforms to Massive Open Online Courses (MOOC) platforms. The most interesting part of WPLMS is that it is built on top of the BuddyPress social networking plugin and uses WooCommerce which is the most popular eCommerce platform for the WordPress web. So even though your site is an eLearning platform, it combines the best of social networking features and eCommerce features.
The point here is that WordPress, BuddyPress, and WooCommerce are managed by the same company AUTOMATTIC. From a developer's perspective, WPLMS doesn't change the WordPress database, so the security, scalability, and robustness of the platform are as strong as WordPress itself.
This is software that you need to host on a server and they have fanatical support that can help you with almost anything. help@wplms.io
WPLMS WordPress LMS Features
When choosing eLearning software for your website, the determining factor that you should always pay attention to is what features the LMS can support. So let's have a look at the list of excellent features of WPLMS: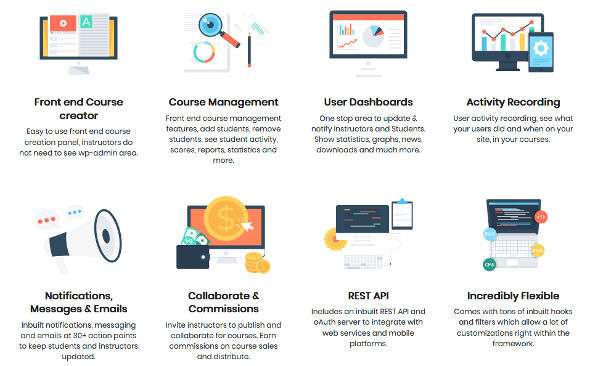 1. Integrated Mobile Application : – WPLMS also has a mobile application project where you can build a mobile application for your WPLMS website and publish it on Android Playstore or Apple AppStore. The WPLMS Site and App work in sync, so whenever a new user registers on the App, it is also recorded on the website and whenever you add a new course on your site it will be reflected in the App as well. This app supports offline storage, so it loads content within the app itself and can work without internet access or offline as well.
2. Course creation & Management : WPLMS provides a beautiful interface for creating online courses. It has a set of settings that are easy to customize, and it also has an easy-to-use interface for your Instructor to create and manage online courses and location-based courses.
3. eCommerce : WPLMS uses the most powerful eCommerce platform for the web called "WooCommerce" which supports more than 250 payment methods in various countries. So, you can sell courses created in WPLMS in your own currency and paid directly to your bank account. Furthermore you can activate multiple currencies and be recognized globally.
4. Directories : There are Users directory, Course Directory, Groups directory, product directory and activity directory. You can filter Courses by various modes such as price, category, etc.
5. User Profile : Each user has his own profile and his own Dashboard with charts and statistics for courses, scores and grades.
6. Quizzes : One of the most powerful quiz platforms for the web with more than 10 types of questions, such as FillBlanks, match answers, sort them, upload them with leaderboards and much more.
7. Social Networkings : Features like custom groups, notifications, emails, reminders, private messages, follow, wishlists.
8. Companies : You can allow companies to register on the platform, reserve seats or empty slots for courses.
9. Instructor Bookings : You can allow users to book instructors with various time slots set by the instructor. Bookings will automatically adjust based on the viewer's timezone.
10. Video Conferencing & Whiteboards : WPLMS comes with an integrated video conferencing platform. Integrated with email reminders and notifications that must be used.
11. Encrypted Videos : WPLMS also has a built-in video encryption system. The same technology used by popular video hosting platforms like YouTube, Vimeo, Wistia is being implemented at a very low cost and you can host your videos to your own site.
11. Certification : WPLMS provides various features for certificates, so that every user who takes an online course on your website can get a certificate. Each certificate has a unique certificate code that can be verified online on your website.
Conclusion
WPLMS has been rated 4.5 by users on both Themeforest and Capterra which is labeled as one of the most promising LMS to look for. The best part is that this software comes as a one-time payment option and has a lifetime upgrade. From fortune 500 companies to several successful startups with WPLMS to many success stories over the last 5 years, you can contact them to learn more about them. With WPLMS you can't go wrong, they have a 30 day return policy and an amazing support staff. It's time for you to try to create a great online course with the platform: WPLMS WordPress LMS
Read: EduGram – Best Affiliate Network for Educational Niche