Are you looking to find a cloud hosting solution or cloud hosting and read reviews about the best cloud hosting providers? Now you have come to the right place.
Web hosting is the invisible foundation of the internet. Where every site you visit is hosted somewhere. Your site will need hosting as well, and one of the best options available to you is cloud hosting.
Rather than being tied to a single server, cloud hosting takes its resources from multiple sources to create a virtual server.
Unlike the most commonly used hosting, namely shared hosting or shared hosting, if your server goes down then your site will experience the same thing. But not for cloud hosting servers, if the cloud server goes down, other servers on the network take over to keep your site up and running. Cloud hosting provides you with an excellent balance between affordability and power. You can read more about cloud hosting here .
Cloud hosting is great for anyone who needs flexibility and cloud hosting is suitable for various types of websites, be it personal blogs, companies, businesses, online shops, schools, universities and various other types of websites. There are dozens of hosting providers in Indonesia for you to choose from and finding the best one can be a time consuming part, which is why I have done in-depth research to find the best cloud hosting in Indonesia.
I've also analyzed everything, from the features and reliability to the support and pricing plans offered. So, you only need to choose which one is the most suitable for your site from the list of the best cloud hosting providers in Indonesia below.
5 Best Cloud Hosting Providers in Indonesia
The following are the 5 best cloud hosting service providers in Indonesia that you can try, basically the services they offer are the same both in terms of software technology and hardware used, the difference is price. These prices are differentiated because they offer different packages, namely on the SSD storage capacity, memory, CPU Core and other features. And in general, higher prices will provide better service.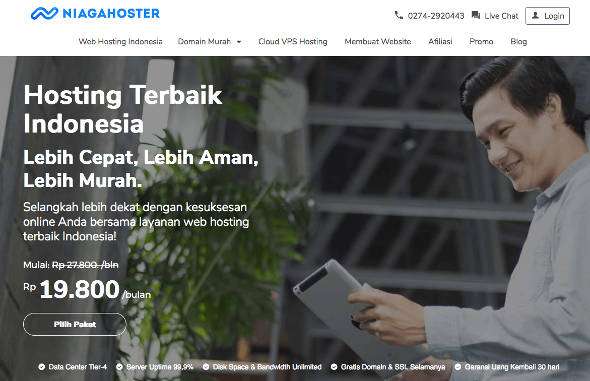 Niagahoster is an unlimited cheap hosting service with cPanel and Indonesian servers. A business class Indonesian hosting service that uses a sophisticated and modern, tier-4 certified data center from DCI Indonesia. A hosting service that guarantees quality uptime and fast website access.
Niagahoster presents cloud-based hosting (cloud technology) to offer the convenience of shared hosting with dedicated resources such as VPS. Powered by WordPress Accelerator, LiteSpeed, and free domains! Premium cloud hosting performance is 5x faster with the flexibility of dedicated resources such as VPS. The difference is, Niagahoster will help you handle and optimize the server so that its power will be faster than ordinary shared hosting.
For WordPress users, you will get a WordPress Accelerator where the loading of your WordPress website will be faster and for optimal website performance, this will really guarantee the speed and smoothness of your WordPress website. This hosting is provided by Niagahoster to meet hosting needs for businesses and others that require greater resources than shared hosting.
The price offered by Niagahoster for the Cloud Hosting package is indeed quite expensive, where the lowest package is 150 thousand per month and the most expensive is 720 thousand per month. However, the resources provided are indeed very large. You can see more complete information about commerce cloud hosting via the link below.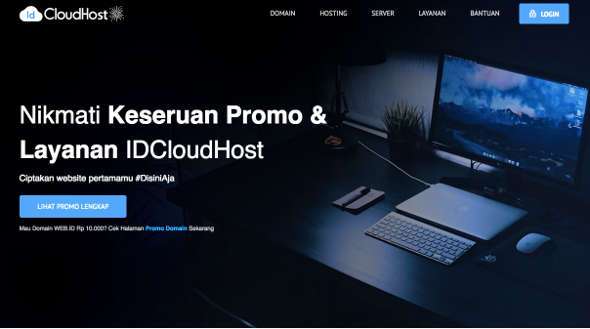 IDCloudHost, as the name suggests, is a hosting provider that excels in cloud technology-based hosting solutions, where this hosting company stands under PT Cloud Hosting Indonesia with the IDCloudHost trademark which has become one of the most trusted Web Hosting Provider companies in Indonesia with thousands of customers who have used IDCloudHost services . IDCloudHost has been widely covered by the media and reviewed by customers as one of the world-class Indonesian Web Hosting services.
In addition, you will also get large resources, RAM and CPU Core above the standard at a very cheap price. Where for this type of cloud-based hosting is classified as the cheapest but provides a reliable server and access speeds many times faster than regular hosting, 99.9% uptime guarantee, free domain, free SSL certificate and much more.
The price offered for the lowest package is only 15 thousand rupiah per month, while the most expensive package is 230 thousand per month. Where the package offered by IDCloudHost is a reasonable package with a capacity sufficient for small and medium scale businesses. But if you want a more reliable server for high-end businesses, IDCloudHost also provides many other package options. You can read more via the link below.
3. Dewaweb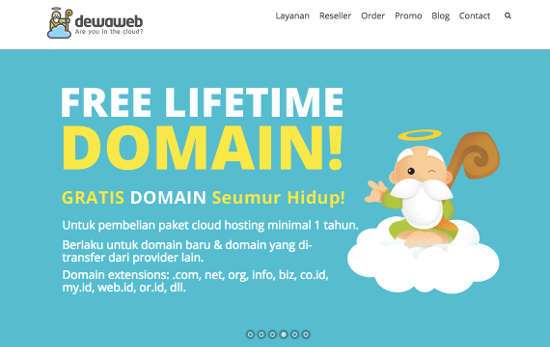 Dewaweb is an experienced hosting provider with tens of thousands of users who have reliable hosting servers. Dewaweb was founded in 2014 to become the first cloud hosting provider in Indonesia that is safe, fast and reliable because they understand that your website is a very important asset for your online business. When you choose Dewaweb, you will sleep better knowing that your website is in good hands and the dewaweb team will protect it with Legendary Ninja Support 24/7.
Dewaweb serves more than 32,000 customers now and is the first to receive ISO 27001 Certification, the world-class gold standard for Information Security Management. Where Dewaweb has several attractive hosting packages for beginners and websites for big business people. The prices they offer are also cheap, where the cheapest cloud hosting package price is 20 thousand per month and the most expensive is 140 thousand. And if you feel that you are not satisfied, then you can upgrade to a more reliable package such as VPS cloud hosting. You can see more complete information about dewaweb via the link below.
4. Ardetamedia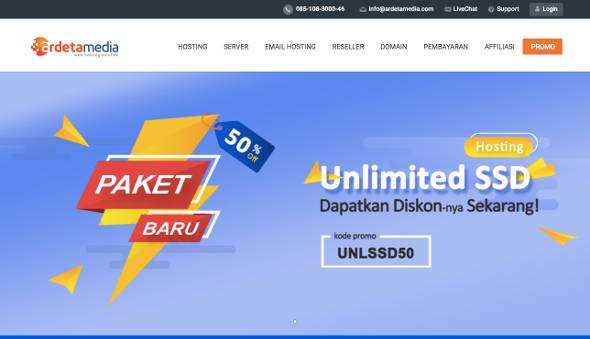 Ardetamedia is a reliable hosting provider that also has the best cloud hosting packages that you need to try, this hosting service offers many hosting packages for users so that it provides many hosting options according to their needs. The servers they have stand on the linux cloud which has been proven to be effective and stubborn for hosting your website.
Ardetamedia for cloud hosting offers a fairly expensive price with the lowest price is 200 thousand per month and the most expensive is 600 thousand per month. Apart from that, they also offer many powerful features and a free domain, free SSL and 24/7 professional support. Please feel free to get to know more about Ardetamedia via the link below.
5. Jogjahost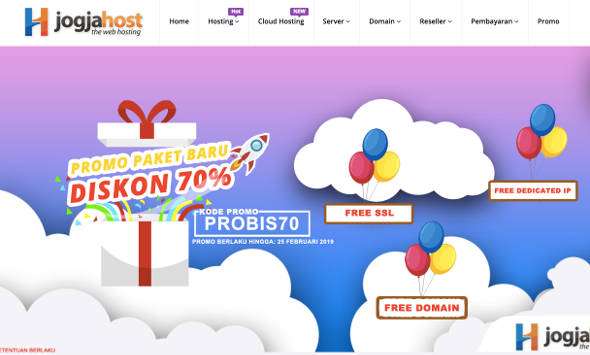 Jogjahost is the same as Ardetamedia hosting service, this is because they are one company and have the same office too. Even the price offered is the same as the same hosting package. Jogjahost or ardetamedia differ only from the domain and site appearance.
So I don't need to give more explanation because this is the same as Ardetamedia. If you need a cloud-based hosting package, you can choose jogjahost or ardetamedia. Please see information about jogjahost via the link below.
And those are some of the hosting providers in Indonesia that provide cloud hosting packages with the best service and performance. You don't need to hesitate to try one of the cloud hosting services above to host your website. For WordPress users, you don't need to worry about whether the site will run well if you use the cloud hosting above, because the answer is that it will be very good and run smoothly for WordPress hosting , because they use a special server and are equipped with various technologies that will create a website and build on the platform. WordPress works really well and is even faster.
Read: 10+ Best Hosting Services in Indonesia [Really Cheap] .