5 Best Indonesian Web Hosting Services for Small Businesses . Every business needs a website, but finding the right web hosting package isn't always easy. Many plans are targeted primarily at home users, and don't have the power that businesses need.
Take email, for example. I've seen hosting plans offer at least five email addresses for websites, and with an inbox limited to a few hundred megabytes, that's potentially a big deal for any business. Make sure to check the email specifications of any hosting plan before you sign up for hosting for your small business.
An SSL certificate is a must-have for a professional or business website, but it isn't included with every plan. Fortunately, they don't have to be expensive. Many hosts now offer free SSL certificates from the Internet Security Research Group's Let's Encrypt project, and although online store websites may need something more, Let's encrypt is perfectly adequate for standard sites.
A business website shouldn't fail – so – reliability is key when choosing a hosting. Choose a Virtual Private Server (VPS) or cloud hosting plan for your business, if you can afford it, to avoid the hassles that are common with shared hosting. Find support that can be accessed quickly by phone and live chat, as well as email and tickets. You may want a plan that includes automatic backups too.
Think about upgrading too, especially if you're starting with the basic plan which is Shared Hosting. If your business grows then your website needs can also grow, and it will make your life easier if your hosting choice has another package to upgrade.
There's a lot to think about, but fortunately, there are also some excellent hosting providers around who understand exactly what a small business needs. In this article I have looked at five Indonesian web hosting services that have something to offer anyone who wants to build a website for a home business to even corporate users.
5 Best Web Hosting Services For Small Businesses
And below is a list of the 5 best hosting providers that have several hosting packages for small businesses. Please choose one of the best below to meet the needs of your business website, I also use one of the following hosting plans for hosting this blog center, namely IDCloudHost :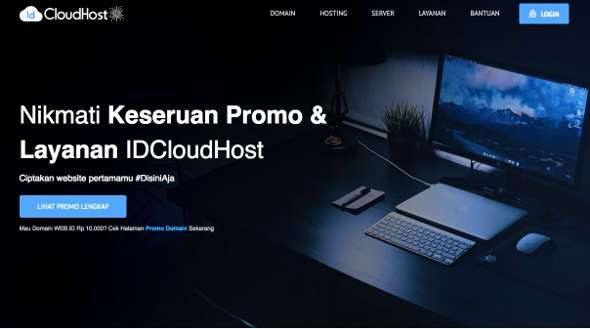 IDCloudhost is a hosting company that offers hosting with cloud technology and it is suitable for your business website, as the name suggests all hosting is on cloud technology infrastructure. In addition, IDCloudhost also provides a very cheap VPS package where you can start with only 100 thousand. There's also good customer support on offer, and the end result is a blend of user-friendliness alongside a lot of power and customization potential for more advanced users.
As an Indonesian Web Hosting with the best and most complete quality supported by the latest technology, of course it provides a guarantee for the quality of use at IDCloudHost. Not only that, IDcloudhost also provides a local server that is accessed through Indonesia to cut access and speed up access to your website from users around the world, especially in Indonesia. Indonesian servers are the right choice for developing the internet business which is currently popular.
IDCloudHost hosting for cPanel cloud hosting can also be the best choice for you, besides the low price, this hosting is very strong in accommodating many visitors. The team behind IDCloudHost is very experienced and fast in providing services. You can see for yourself how they help you with every problem. Please visit directly here → https://idcloudhost.com/ .
Get discount:
Switch Hosting Promo – 50% Discount
VPS Server Promo – 30% Discount
Domain Promo, FREE Premium Email
Flash Sale Hosting – 90% Discount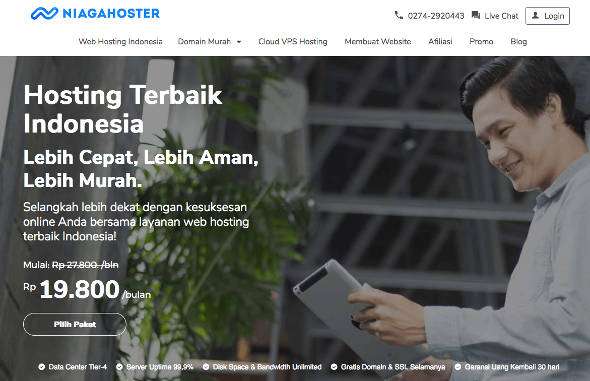 Business-friendly features at an affordable price of only 85k per month
Unlimited bandwidth, email, websites
Free SSL
Various kinds of plans
Shared Hosting is slower and less reliable than VPS and dedicated plans, but still adequate for many simple websites, and the best hosting plans will handle all major business needs.
Niagahoster Shared Hosting packages have good ratings. No bandwidth limits, email or MySQL databases. Your site is secured by a free Let's Encrypt SSL certificate , and pre-installed WordPress allows you to have your site up and running in a professional quality – plus SSD storage that will keep performance high. Apart from that Niagahoster also offers a free domain name on every Shared Hosting package and there is also free privacy protection.
Get 75% discount only today, please visit Niagahoster and get hosting at very cheap prices on Blackfriday. Free domain and free SSL.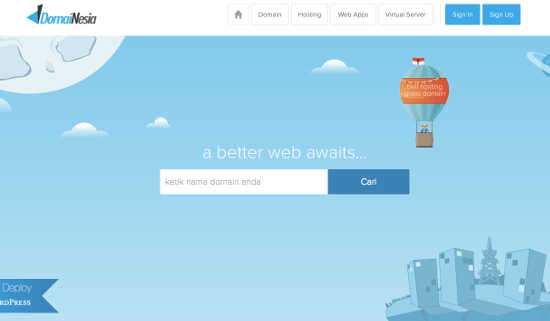 Provides business hosting needs with prices starting at 80 thousand per month
Fast cloud hosting
Good rating
Free domain and SSL
Cloud hosting is a smart technology that spreads your website content across multiple devices, increasing redundancy and speeding up loading times. This is an interesting idea that has many business benefits, but if you choose wisely, you can try it out for a small fee of some of the Shared Hosting products.
Domainesia Business Cloud Hosting, for example, delivers business basics with support for unlimited websites, unlimited bandwidth, and free SSL certificates and generous storage space.
Because Domainesia uses cloud technology, three mirror copies of your website are spread across multiple devices. If there is a hardware failure, your website can be redirected to another server immediately.
All Domainesia cloud plans give you shared access to specified system resource levels (CPU time and RAM). Another benefit of cloud hosting is that you can buy more of this and see the benefits right away, with no downtime or time-consuming migration, this hosting is also perfect for your small business.
Get 25% discount only today, please visit Domainesia and get hosting at very cheap prices at Blackfriday. Free domain and free SSL.
4. Ardetamedia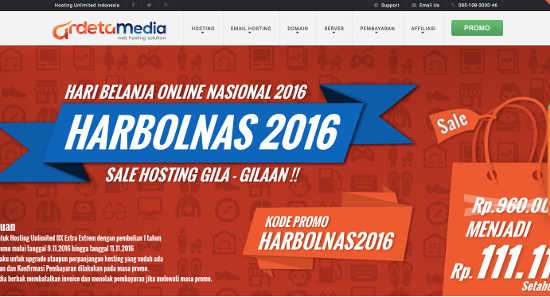 More hosting power, technical issues supported
Resources dedicated to your site
Easy to set up and manage
Affordable prices
Most hosting products for businesses focus on power and functionality over ease of use. That's fine if you know what you're doing, but small businesses don't always have the technical expertise to manage this kind of hosting, and it may take some time and effort to figure out how this service works.
Ardetamedia Hosting is a product that aims to offer dedicated resources and performance similar to Virtual Private Server (VPS) hosting, with simplified cPanel-style management of shared hosting services.
Ardetamedia's basic launch plan gives you 1GB of RAM, unlimited diskspace and unlimited bandwidth, for example. These resources are solely for the use of your website, which should provide you with improved and more consistent website performance no matter what other sites are hosted on your server.
Restrictions elsewhere are kept to a minimum, with support for unlimited websites, databases and e-mail, and unmeasured bandwidth.
Get 50% discount only today, please visit Niagahoster and get very cheap hosting at Blackfriday for your business. Free domain and free SSL too.
5. Ardhosting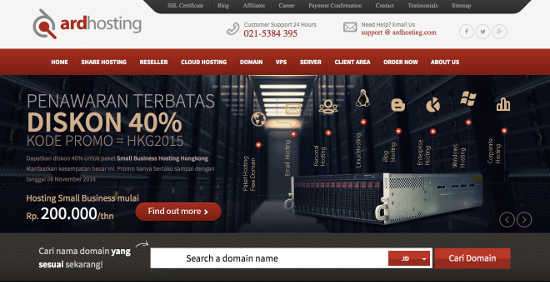 The company has been around since 2000, and the experience has been clear since I visited the site. The product area is clearly highlighted at the top of the page. This hosting service has a lot of hosting packages to offer, making it easy for customers to choose a package that suits their needs.
Cheap and reliable SSD web hosting Indonesia, Email Hosting, WordPress Hosting, Cloud Hosting, the best Cloud Server, SSD VPS Hosting, kvm vps, openvz vps Indonesia, VPS Windows Hosting, Best Dedicated Server, Colocation Server, Indonesian WordPress Hosting, Reseller Hosting and Domain, Web Design, unlimited hosting, SSD corporate hosting, hosting for small and medium enterprises, VPS, SSL Certificate and domain registration. That is a line of packages that ardhosting offers for you.
Support is an essential element of any web hosting package, and Ardhosting starts off with what looks like a great start with its many options: phone, live chat, and ticketing systems are all the support packages you can easily and professionally get.
Get 40% discount only today, please visit Ardhosting and get very cheap hosting at Blackfriday for your business site. Free domain and free SSL.
And those are the 5 best Indonesian hosting lines that are suitable for small and even medium-sized businesses. You can choose one of the hosting providers above for the operation of your small business website. Hopefully this article is useful and good luck 🙂