How to Make an Autoblogging Website with WP RSS Aggregator – Creating an Autoblogging website can be a very interesting idea. Where you can collect one or many topics in one website very easily without tiring efforts. You can display a variety of interesting articles on your website from various trusted sources and make it easier for your readers to find content that is really interesting and they are looking for.
The autoblogging website I mean here is that your website only displays the title and snippets of the source content, then for readers who want to read the content as a whole, it will be linked back to the original source, where readers can access the complete content through the source directly. One example of a website that uses this method to collect feed content from various news sources is Google News.
In this article, I will review the WP RSS Aggregator plugin and explain how to easily create an autoblogging website on WordPress using the WP RSS Aggregator plugin.
What is WP RSS Aggregator?
WP RSS Aggregator is a WordPress plugin that lets you import feeds from multiple sources and display them on your site. You can select quality relevant content and import from various feed sources, filter it and display content the way you want it. And then this will work automatically, where your website will always have fresh content from various feed sources that you have entered. This will literally turn your website into a compelling container of content from multiple sources without you needing to create one.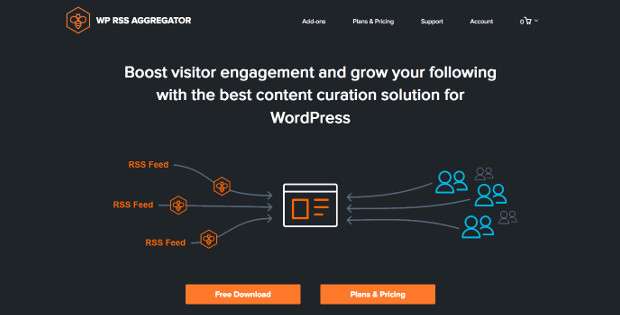 With this plugin you can also customize how the feed will appear attractively on your website with thumbnail images and snippets. Not only article content, you can also display video content, Instagram and much more.
The WP RSS Aggregator plugin is a free plugin that you can download directly from the WordPRess.org plugin library, however this plugin has 7 premium add-ons and has a price plan that is packaged in two bundles, for the cheapest price for one site basic package $ 59 per year and pro $ 149 per year.
How to Make an Autoblogging Website with WP RSS Aggregator
Please install and activate the WP RSS Aggregator plugin, upon activation you will see a new item called "WP RSS Aggregator" on the left of your WordPress dashboard and you will see several menus for you to configure.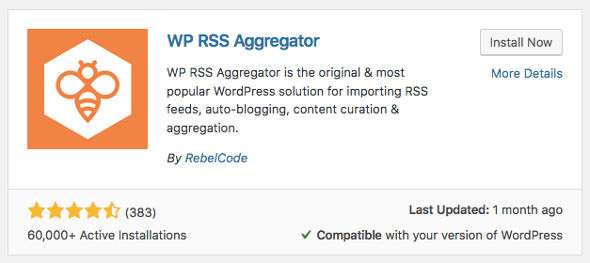 Settings
First, let's enter the settings section, namely in RSS Aggregator → Settings , In this section you will find several tab menus such as: General, Custom Feed and Advanced.
In the "General" section, you can specify the update import frequency (anywhere between every 15 minutes to once every day), the order of import of feed items, you will be able to specify the maximum age of imported feed items as well as the maximum number of items per feed.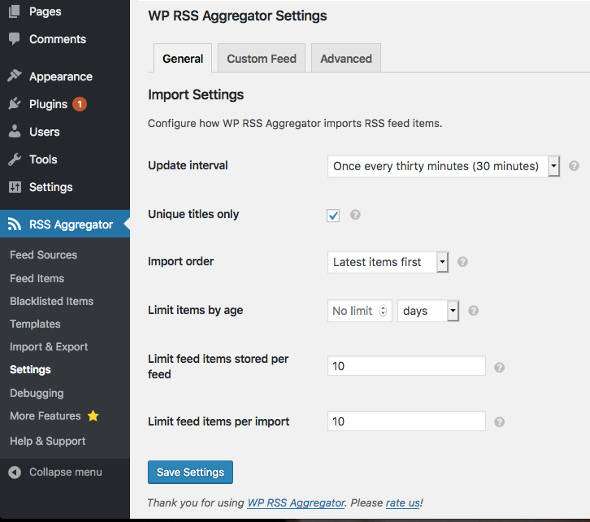 In the "Custom Feed" section, you can set a custom feed URL, feed title and custom feed restrictions.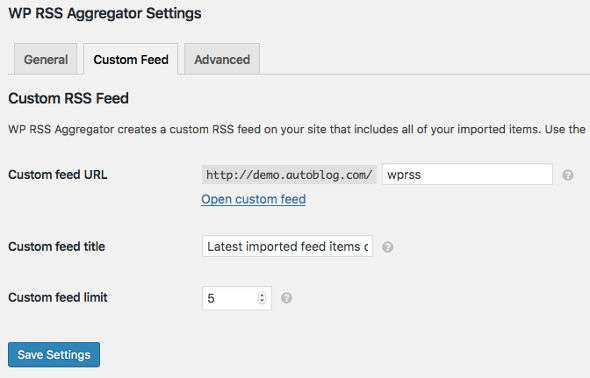 In the "Advanced" section, you can adjust the appearance of your feed according to your website preferences by checking "Disable Style" and also enabling the feed cache.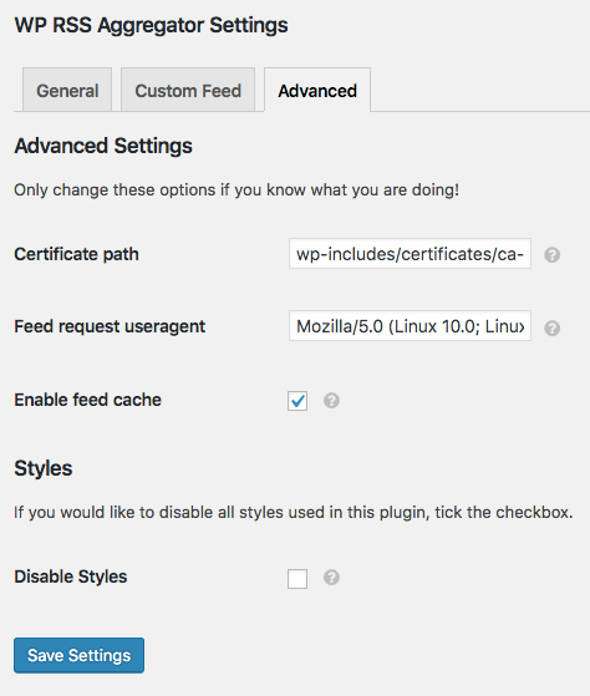 Feed Sources
Next, after the configuration of the plugin settings is complete, go to the "Feed Sources" section to add the feed URL of the source blog whose content you want to import into your WordPress site.
Please provide a Feed Name and you can also enter the name of the feed source blog, then enter the Feed URL using the URL from the RSS Feed, then check whether the feed URL is working properly by clicking the 'Feed Validation' option.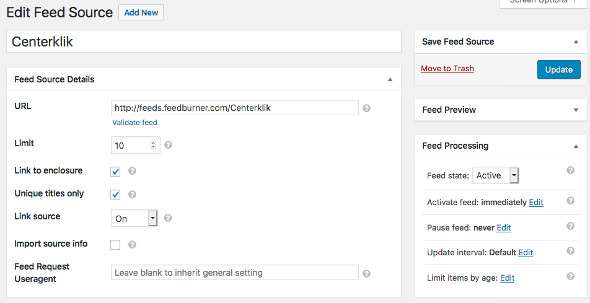 Furthermore, you can limit the number of items from the feed that you import to keep, outside of which older items will be automatically deleted. If you check the 'Link to enclosure' option, you can access links to images, audio, video and more.
The 'Unique Title Only' option is useful for avoiding duplication when there are multiple permalinks for the same article or when the permalinks change. Additionally, you can enable "Link source" to the RSS feed source site
On the right, there is a special panel that functions for feed processing, and also you can pause feeds, delete old feed items, and set update intervals.
Now you can test whether the feed is working properly, please press the "Publish Feed" button.
Furthermore, you can also open the "Feed Items" menu to see a list of feeds that have been entered and see the article title, URL, publication date, and source.
Templates
In the "Templates" section you can set how the feed is displayed on your WordPress site such as setting the maximum title length and linking to the original post, showing the author's name for each feed item, and setting the link to open in a new tab, making the link nofollow. There are options to link to video items or embed videos on your page, limit the number of items to display and opt for pagination.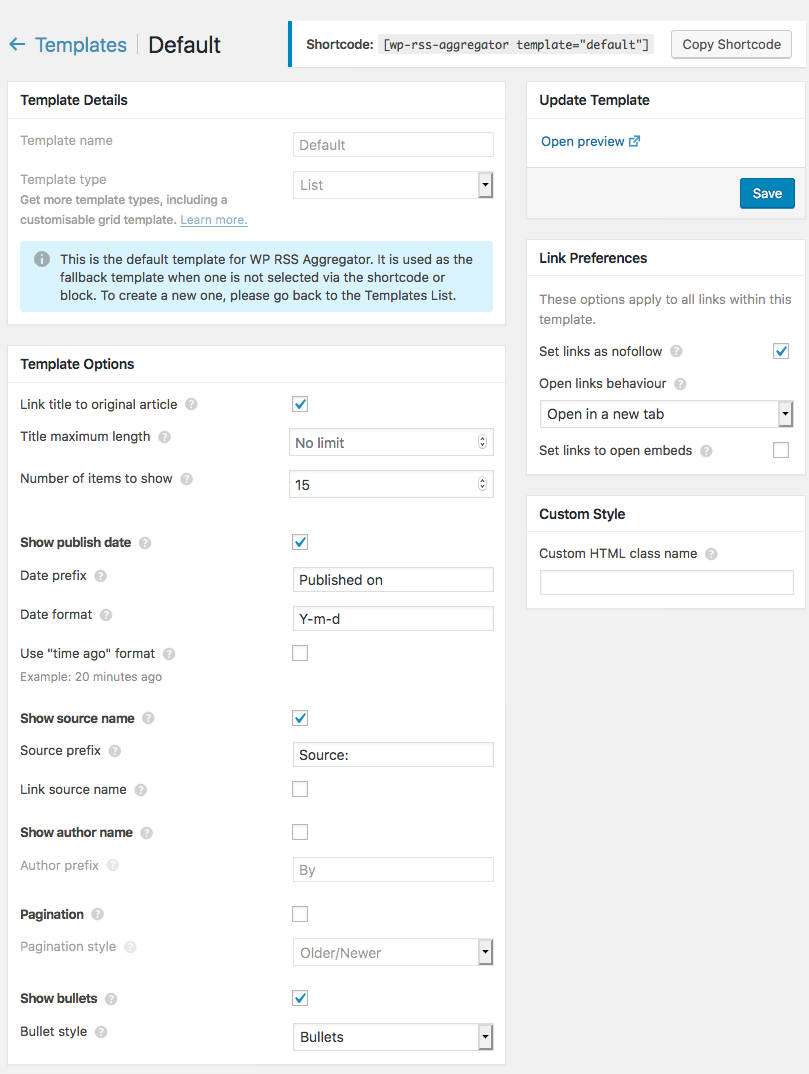 You can also set the date format, the default date is the posting date in GMT. You can also choose the format of the past date and time when the feed item was published.
Displaying feeds in posts
To display feed items in a post, WP RSS Aggregator provides a short code. You can access this shortcode by clicking the RSS icon in the Visual Editor on the post.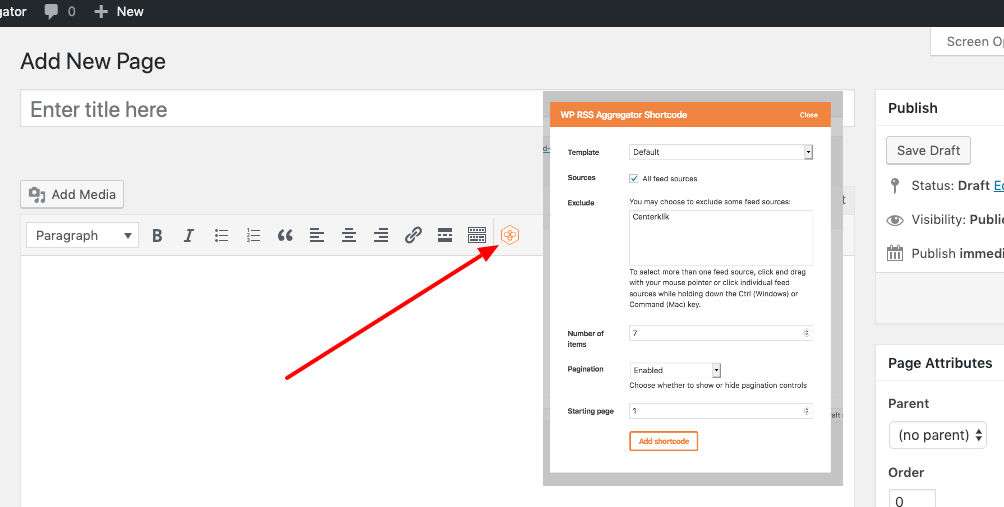 After the shortcode is added to your post, it will automatically display all feed items in a post. If you use the [wp-rss-aggregator] shortcode without adding anything to it, all feed items will be displayed.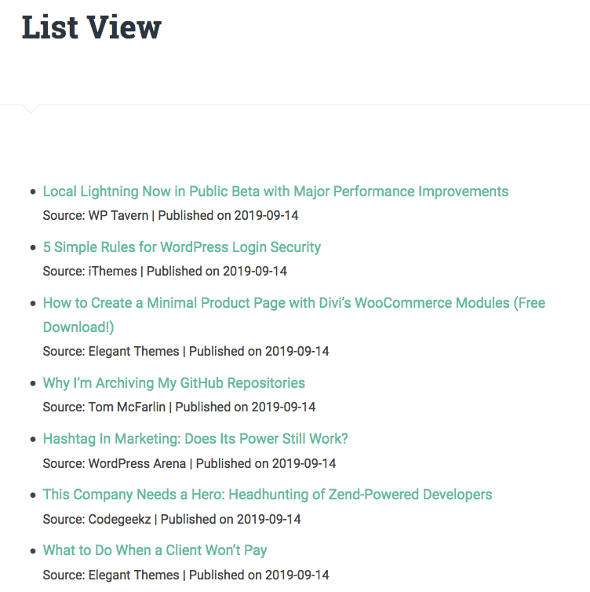 Import & Export
WP RSS Aggregator's "Import" feature is useful for sourcing content from multiple sources. For example, if you have a news website, you can add as many feed sources as you want, This feature will help you import all of them at once.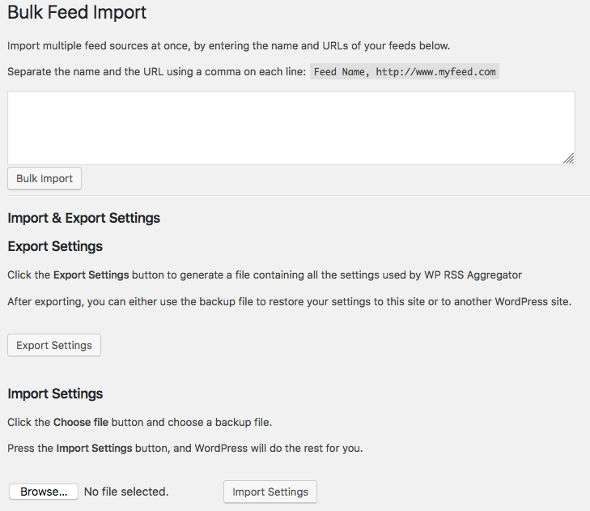 To add a feed source, you must enter the name and URL of your feed, separated by a comma on each line.
Then in the "Export" section, you can export the source feed by clicking the "Export Settings" button.
You can also export all Settings used by WP RSS Aggregator. On the second WordPress site, you can import files and hit the "Import Settings" button, and WordPress will do the rest for you.
Blacklisted Items
In this section, you can use as a tool to skip multiple items when importing a feed. Where you can enter the article title and then the appropriate article title will not be included in the Feed Items.
More Features
In this section "More Features" you can find about 7 premium add-ons from WP RSS Aggregator, you can buy and install buy them through this menu. These add-ons have different functions such as Feed to Post, Templates, Keyword Filtering and many more.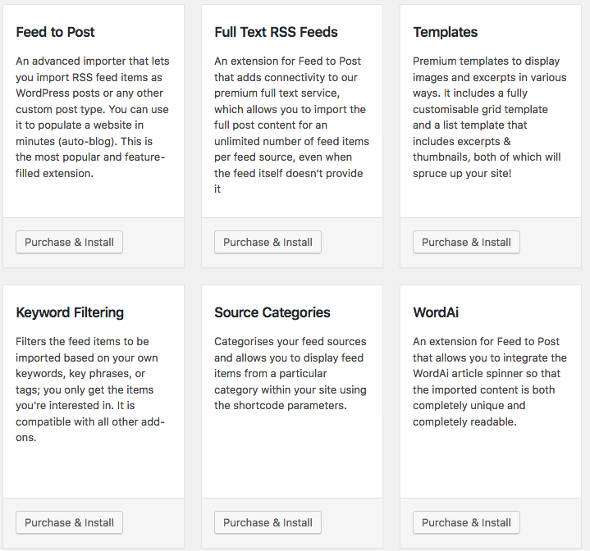 Of course, if you add this add-on to your Autoblogging site, it will make it easier for you to create a professional autoblogging website and much easier to run an autoblogging website.
Read: LMS Tutor – WordPress Plugin To Create Online Course Website
And that's a review of the WordPress WP RSS Aggregator plugin, how to configure and create an autoblogging website using WP RSS Aggregator. Hopefully this article was useful for you and good luck. 🙂