SEMrush – The Best SEO Tools To Win on Google's First Page – Competition to get top rankings or just on the front page of search engine results is currently not easy, especially after the big update of Google's algorithm called Google Bert made many blogs and websites freefall .
Back when the Google search engine was new, it was quite easy for a website or blog to rank on the first page of Google even though the article content was not decent enough. Back then, SEO was quite simple. You can easily get high rankings and appear on the first page of Google with only a few strategically placed keywords and a few links in the article.
But then Google started improving its search engine algorithm and with regular updates it made things messy and felt so complicated that even the SEO industry experts really didn't know how this algorithm worked. Now, in order to climb to a higher rank there are more than 200 different factors that come into play in the search results. And all of this is made even more complicated because every day hundreds of new websites appear on the internet.
And if you want to win over the competition in these search engines, you should at least try different optimization methods and even analyze other competing websites. And the best tool for optimization to analyze various things about SEO that you need to use is SEMrush.
What is SEMrush?
As you have read in the title, SEMrush is the best tool for SEO optimization and as the best tool to help your website get on the first page of Google and beat your competitors' websites. SEMrush can do monitoring from social media to website audits and even SERP ranking tracking (search engine results pages) and much more, SEMrush can get all the data that you then use to optimize the SEO of your website and also the content of your articles.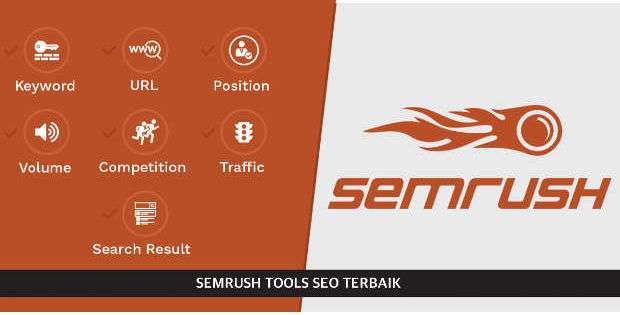 SEMrush arrived in 2008, SEMrush took a different path from the SEO marketing tools of the time. Where SEMrush has become a web-based marketing series. Over time, SEMrush added a more comprehensive range of features to improve the usability and performance of the overall SEO solution thus making SEMrush the best tool for SEO optimization to date.
SEMrush helps you implement the right tactics and strategies for your website so that you can always be one step ahead of your competitors. It provides you with a complete analysis of your website as well as the competition in your competition such as data on link building, display advertising, organic and paid searches.
With SEMrush, you gain knowledge of the strategies your competitors are implementing, whether it is working or not. With that information, you will know which strategy you should implement. SEMrush can even tell you the reasons why your website is performing poorly. That way you can avoid a failed campaign and build more resources towards more positive results.
SEMrush Key Features
It is in this section that you will understand why SEMrush is the Best All-in-One SEO & SEM tool that you must use if you want to be successful in building websites.
SEMrush, provides all the useful features and really unlocks all the important information so that your website is in the top position in the search engines and tells you how to win over your competitors. SEMrush will provide you with a complete analysis of your competitors' websites and help you set the right strategy so that you can rank better than them.
Let's take a more detailed look below to find out the usefulness of each feature so that you can use SEMrush properly.
Search Engine Optimization (SEO)
SEO determines how well your pages rank in search engines. SEMrush provides an organic search function that tells you about the best (keyword) keywords for your niche and how these keywords will target your market.
Each keyword has its breakdown like competitive density, CPC, search volume, traffic, trends, etc. You can even take a look at the keywords your competitors are using, analyze their weaknesses and strengths and much more which will help you build your own strategy. There is also a Keyword Magic Tools feature which comes in handy if you have certain keywords you want to target and want to know how they are performing for your competitors.
To pinpoint SEO errors, SEMrush performs reverse engineering and crawls your entire web page to analyze over 120 technical errors that might affect your website's search engine rankings.
Analytics for Paid Advertising
One of the best features of SEMrush is paid advertisement analysis. It has built-in features to create some best-in-class advertisements for your customers. It features dynamic keyword insertion and advanced editing tools so that you are always one step ahead of your competition.
In addition, SEMrush can structure successful campaign templates used by your competitors so that you can add some customizations and use them for your own needs. There is also a PPC Keywords feature for your ad when there is a mistake in your ad campaign.
This eliminates all underperforming keywords and adds brilliant keyword recommendations for your ad. It even has a PLA research feature which lets you find out about other ads that are likely to be underperforming.
Content Marketing
Content Marketing is perhaps the most important aspect of blogging. With the right choices and strategies, you can make your web pages soar in the search results. The SEMrush topic research feature automatically generates relevant information about the topics you enter. It even includes a catchy title for your post.
It also provides you with information on search terms that drive traffic for the topic. All this information ensures that you have the perfect content-rich blog that has the potential to rank high in the search results. SEMrush also provides you with suggestions from other websites where you can get backlinks, thus promoting your content much better.
Social media marketing
SEMrush also provides a social media tracker that basically analyzes all your competitors and lets you know the type of content, frequency of posts and much more. It also brings all social media together. What it does is you can post on all platforms from one dashboard.
This makes it very easy to manage all your social media campaigns. It also lets you schedule your posts as well as from third party sources via an RSS Feed. SEMrush uses different analytical tools to keep track of the progress of your social media campaigns and also provides you with all this information in a PDF report.
Read: 15 Quality Free Backlink Sources for SEO and Boosting Visitors
Various SEMRush Tools You Should Know About
Let's take an in-depth look at each of the tools that SEMrush provides:
Domain Overview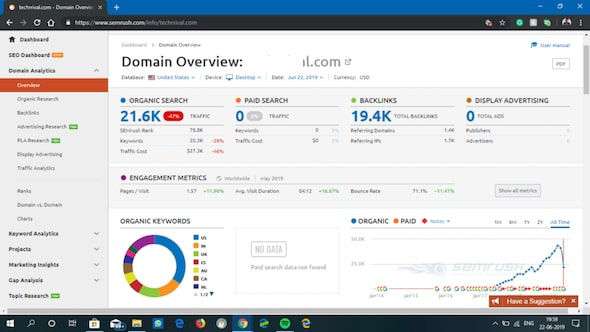 Domain Overview SEMrush is useful to give you an idea of how your site is performing. It provides you a lot of information about organic search, paid search, backlinks, advertisements and even about top anchors and referring Domains.
Organic Research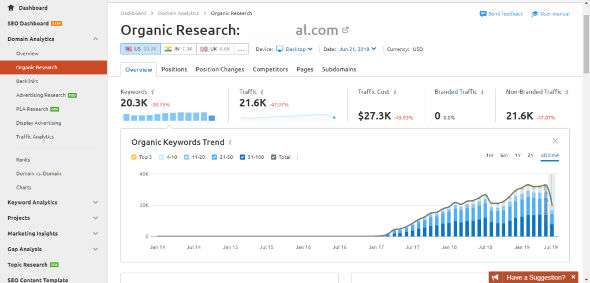 In the Organic Research tab, you can get an overview, position, change of position, competitors, pages and subdomains. This section tells you about the keywords your competitors are ranking for, the estimated number of people visiting the website and traffic costs.
In the positions tab, you can specify the keywords used to rank your competitors' websites. That way you have an idea of the keywords your competitors are using and outrank them by building the right strategy.
Traffic Analytics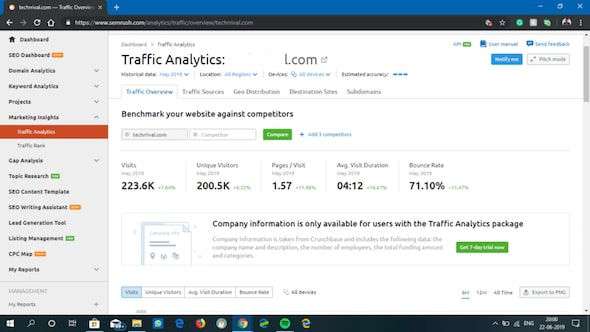 This metric shows you data about the overall traffic of the website. It also tells you information about how many people are interacting with the site. You can check average pageviews, bounce rate, session duration, etc.
This metric also provides you with a chart that illustrates how it has changed over time. But the most interesting feature is "Traffic Sources" or traffic sources. This section shows you where the traffic actually comes from. The numbers are broken down into categories like Direct, Referral, Search, Social, etc. It even includes providing a list of websites sending the most traffic to your competitors' websites.
Paid Search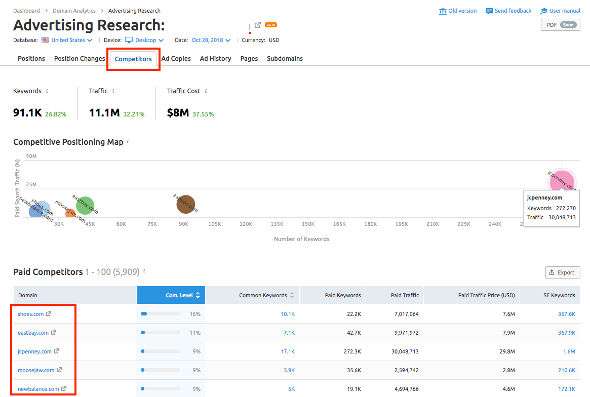 SEMrush users not only use this tool for analytics but also for the purpose of analyzing a successful SEO Campaign. And SEMrush is also a great tool for analyzing in paid searches like advertising.
You can see which keywords your competitors are using the most and also see the exact ad campaigns your competitors are using. You can observe and learn from your competitors and even copy their advertising strategies for your success.
Keyword Gap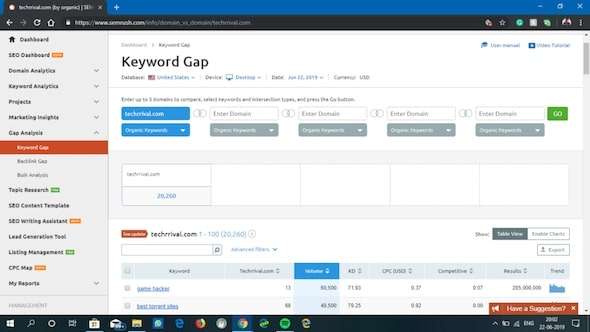 Using the Keyword Gap, you can see which keywords some websites are using to rank for. This tells you that if a particular keyword is working for many of your competitors, and tells you that it is a good fit for you too.
Keyword Overview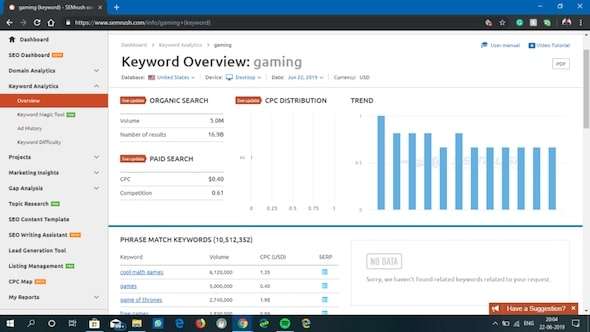 If you are looking for new unique keywords instead of analyzing your competitors, you can immediately see the keyword overview. In this section you can enter keywords into this tool and it will list the keywords and other metrics for that keyword.
Various metrics include cost-per-click (CPC) distribution, organic search, and paid search. It also tells you about the difficulty score for that keyword. Phrase Match Keywords suggest you other keywords related to your topic.
Keyword Magic Tools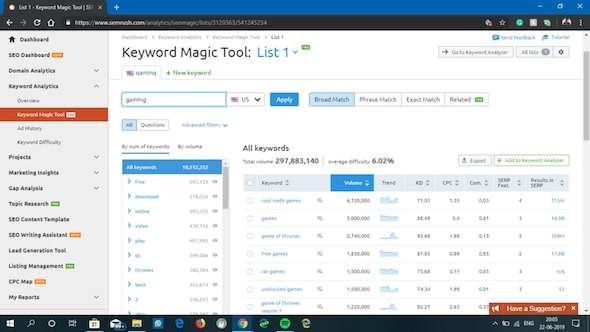 Just like Keyword Overview, the keyword magic tools feature also generates keywords, but without any other metrics. This will tell you hundreds of thousands of related keywords, although you can always sort the list by difficulty, search volume and more.
Positions Tracking

Position Tracking is one of the most useful tools at SEMrush. It is a ranking tracking tool that keeps track of any keywords and domains you have entered and provides you with daily updates on that information.
It provides different metrics such as trend visibility, estimated traffic, and average position of your domain and keywords.
Site Audits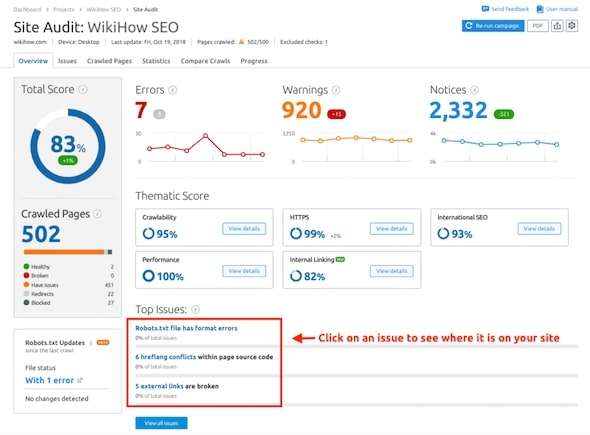 This feature helps you with site audits and error reports about your website. It also prioritizes which problems should be fixed first and which should not. If you have implemented AMP, it also detects a problem where it is not working properly.
Site Audit also helps you optimize your internal links as well as your external links. It detects errors and duplicates pages and fixes other SEO problems.
Site Audits runs automatically so you don't have to worry about manually auditing websites.
SEO Content Templates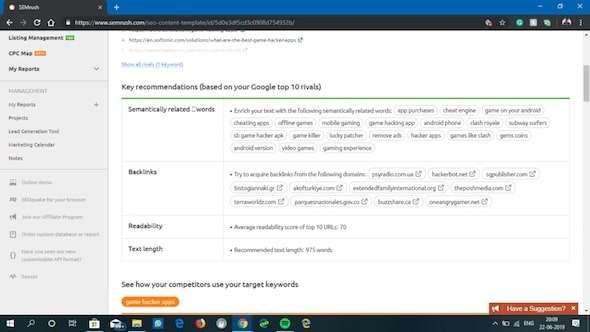 SEO Content Templates generates templates for SEO friendly content when you enter a lot of keywords. This template tells you the required length of your article, readability score, semantic related keywords, potential backlink targets and much more.
These specific SEO recommendations are based on the actual content of your top 10 competitors for your chosen keywords. You also get the ability to see how your competitors are using certain keywords.
Organic Traffic Insights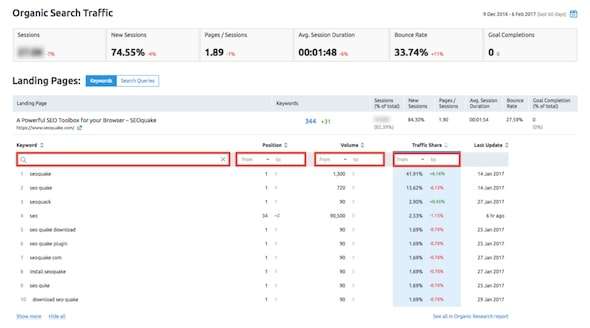 If you use Google Analytics and Google Search Console, you will probably be familiar with this feature. Organic traffic insights combines all of your Google Analytics, Search Console, and SEMrush data into one place. So all your data like click-through rate, sessions and volume with ranking organic keywords is presented to you in one neat dashboard.
You can even uncover "not provided" keywords from Google Analytics' past and cross-referenced data sources to get the most accurate insight into your website traffic.
Just connect your Google Analytics and Google Seach Console accounts with SEMrush. After this, SEMrush will analyze the data and find out which keywords are generating the most traffic.
Link Building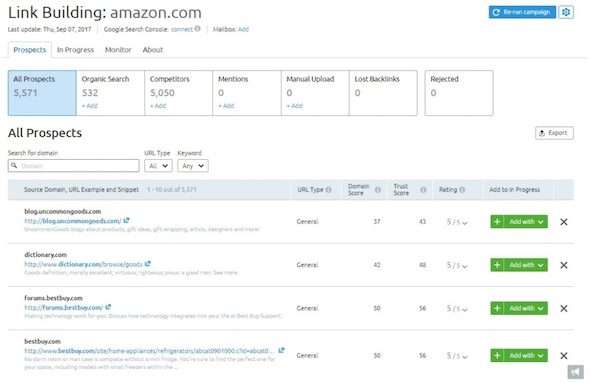 SEMrush has one of the best link building features compared to other SEO tools. This feature compiles a list of link building opportunities for your website and also provides you with an interface to actually acquire those links.
With this tool, you can run an SEO competition analysis against your rivals and operate an outreach campaign at the same time. It also has Gmail and Google Search Console integration which makes things a little easier.
You can view the total backlink, referring domain, referring IP, Authority Score and more with this feature. After you enter your keywords, SEMrush will find websites to rank for those keywords. In the Prospects tab, you can reach a list of websites to get backlinks that will benefit your domain.
On Page SEO Checker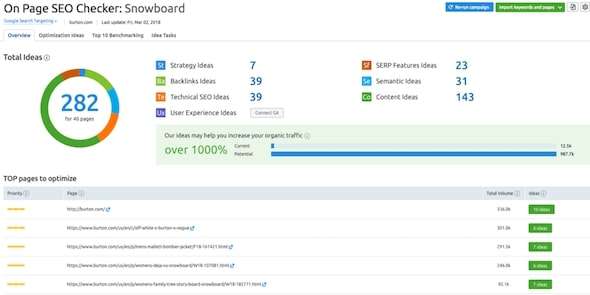 This feature ensures that your website complies with all on-page SEO elements like content quality, backlinks and reputation, page titles, H1 tags, meta descriptions, etc.
This feature will set a plan on how to increase your page rank for the top 10 search results on Google. Also, the related content is defined so that you really know what things to include in your page.
Keyword Difficulty Tool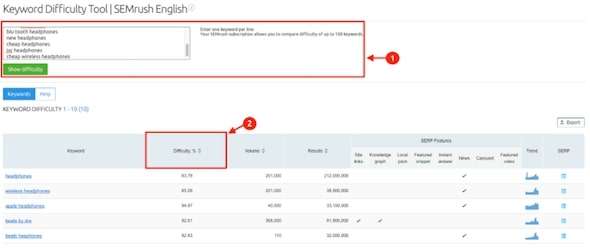 Even if your content is good, finding the right keywords for your content can be a difficult search. This is what the SEMrush keyword difficulty tool feature is for. After entering your keyword, you will see information about the difficulty level, volume, results, trends, and SERP source of that keyword.
Using this tool, you can compare several keywords to see which one ranks better for your website than others.
Read: What is Local SEO? Guidelines for Local SEO Optimization
SEMrush price
Now that you know all about SEMrush, its features and uses, now is the time how you can use SEMrush this best SEO tool. You can register to open a free SEMrush account now!
SEMrush pricing is based on different tiers and is targeted at different people – be it for small scale users and freelancers or even for large scale companies.
SEMrush Pro – $ 99.35 per month / $ 999 per year
It's best for small businesses and freelancers. With this, you get 5 scheduleable PDF reports, Track up to 500 words, 5 Projects, 3,000 daily reports, browsing 100,000 web pages, 12,000 results per report, etc.
SEMrush Guru – $ 199.95 per month / $ 1999.40 per year
It is best suited for growing SMBs and marketing agencies. You get – all the features in the SEMrush Pro plan, PDF branded reports, historical data, crawling through 300,000 web pages, 20 scheduled PDF reports, tracking up to 1500 keywords, 50 projects, 5,000 daily reports, 30,000 results per report.
SEMrush Business – $ 399.95 per month / $ 3999.40 per year
If you have a large sized business, then maybe the Business option will be best for you. With this you get – product listing ads, all features of the guru SEMrush package, historical data, 50 scheduled PDF reports, crawling of 1,000,000 web pages, tracking up to 5,000 keywords, 200 projects, 10,000 daily reports, 50,000 results per report.
SEMrush Enterprise – Fees are Negotiable
This is for large scale company owners. Such users can contact the users and decide on a price according to their organization's needs. With this, you get unlimited site crawl, all of the above features, on-site training, custom keyword databases, custom limits and much more.
Conclusion
SEMrush is indeed the best SEO tool and has all the SEO and SEM features needed to be top and first in search results. With so many tools and features provided, it might be a little confusing for new users. But when you are familiar and can use SEMrush well and implemented with the right strategy, then SEMrush is really a powerful tool that will keep your competitors below you. Indeed SEMrush is not a cheap SEO tool, but if you are really serious about internet business then this tool will be very useful and have a big impact on the success of your business.