Easy and Fast Way to Ping a Website with Pingler. Ping activity among bloggers is certainly not new, it could be that this ping activity is carried out every day by bloggers after updating their blogs. Pinging the blog aims to make articles indexed quickly by search engines such as Google, so that articles such as the latest news or your latest articles will be easily found in the search results list because the articles are already indexed.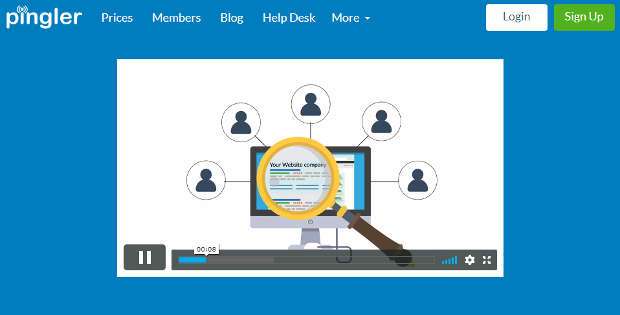 In this article, I will show you the easiest and fastest way to ping your blog so that your articles are indexed quickly in search engines. The tool that you can use is Pingler, before going to the tutorial using pingler, you should read and understand what pingler is.
What is Pingler?
Pingler is a Web-based internet marketing tool used to ping blogs or websites automatically. It is a web based software which allows users to get the URL of their blog post pinged by search engines like Google, Bing etc. And Ping activity is still one of the many secret tricks used to get blogs ranked fast in search engines because your site and page (s) get indexed faster. The main reason I like pingler is that it automatically pings with a few clicks.
How to Use Pingler
Pingler is probably one of the easiest tools to use. This is a web-based tool that you use for free or you can also pay a small monthly fee to ping your site's blog link. Actually the free version works pretty well for you, but the advantage of the paid version is the number of ping URLs you get.
There are several ways to use this pingler service, you can go directly to the pingler website, or use browser add-ons and plug-ins if you are using WordPress, but they all perform the same function. Here I will explain in full some methods of using pingler:
Using the Pingler Website
If you are using the pingler website to ping your new blog post or site URL please visit the site here . After you visit the site, you will be faced with a page containing a form to fill in your website information and URL.
The method is very easy, all you need to do is fill in the title or keyword of your article in the Title (Keyword) column.
Fill in the URL you want to ping in the URL field.
Choosing a category that corresponds to the category of the site or article you want to ping, you can choose by checking at least three categories in the Category column.
And finally please click on the Ping button.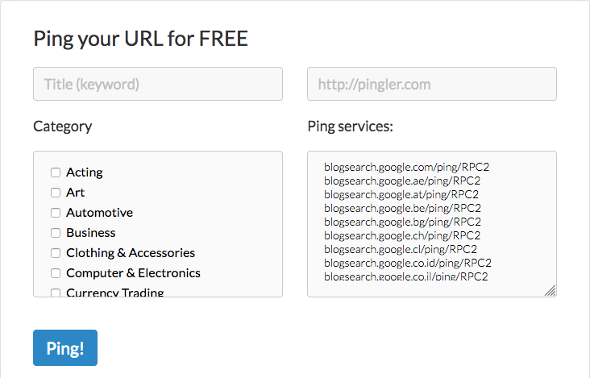 If this is the first time you ping, Pingler will automatically ping various search engines. However, if you have pinged a few times, a time will appear that you have to wait because you are using the free version. Make sure you stay on that page while waiting for the time to run and the ping takes place, because if you switch to open another tab, the time will stop.

If so, the ping process will be processed and display the ping status as shown below, which means that the ping is running well and OK .

Using Add-Ons
To use add-ons, the method is also quite easy, pingler add-ons are currently only available for 3 browsers, namely Mozilla Firefox, Google Chrome and Safari. In the tutorial on using pingler add-ons here, I will use the Mozilla Firefox browser.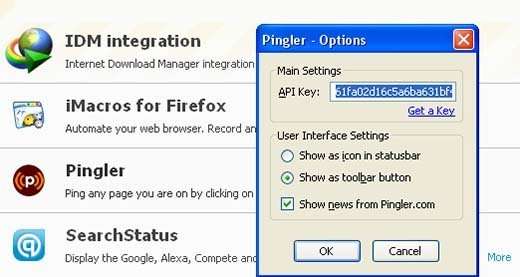 Please install Firefox add-ons here . After you install pingler add-ons, the mozilla firefox browser will ask you to restart the browser, after the restart is complete, please go to the Tools menu »Add-ons» Pingler »Options and then you will be asked to enter the API key from Pingler, to get Pingler API key please register here . Next, check the email you used to register at pingler, then you will get an API Key and enter it in the Add-Ons settings and click OK. And look at your mozilla browser toolbar, then you will see there is a letter "P" icon, to use it you only need to open the page you are going to ping, and click the "P" icon.
And above is a tutorial using pingler with several methods. One thing to keep in mind is that pinglers are not for building back-links, their main purpose is to let the search engines know of your new posts or to let your site know that your site has been updated. One thing you should make sure before you start pinging a website is that your permalinks are correct and set up for SEO . Here is some information about setting permalinks for your blog.