How to Quickly Index Articles By Google Search Engines . Writing SEO friendly articles on a regular basis is an important part of your blog site, but another important thing is how your writing can be read by others. While social media continues to improve more than ever, searching through Google and Bing is still the number one way for people to find your content.
Google and Bing will naturally crawl your site regularly to index your content. Setting up your sitemap file and configuring the robots.txt file will also help in this process. But below I will show you a little little trick on how to get your content indexed faster with Google and Bing, but in this post I will give tutorials for Google and in the next article for Bing. I use this technique when I publish new content as well as when I re-write or update major new content.
I'll also show you a few ways to verify that your content is indexed.
Method I: Using Google Fetch Tools
Fetch as Google is a diagnostic tool that allows you to simulate how Google crawls or creates a URL on your site. It can also be used to submit URLs to get your articles indexed. Google Fetch tools can be accessed for free within Google Webmaster Tools (GWT).
Follow the steps below on how to submit your URL for indexing using the Google Fetch Tool.
Step 1
Click to your domain in GWT. If you haven't registered your site or blog on GWT, please read the tutorial below.
Step 2
Click the "Crawl" menu and click on "Fetch as Google."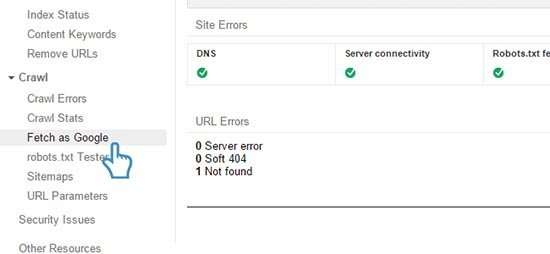 Step 3
Enter the URL of your recently written or updated page or post that you want to get indexed. And then click the button on "Fetch".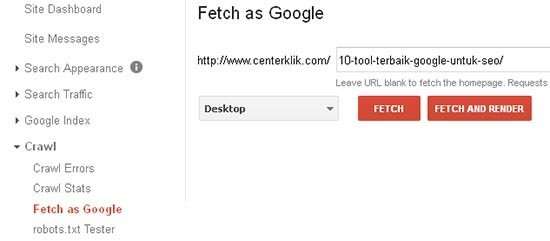 Step 4
Then click the button on "Submit to Index".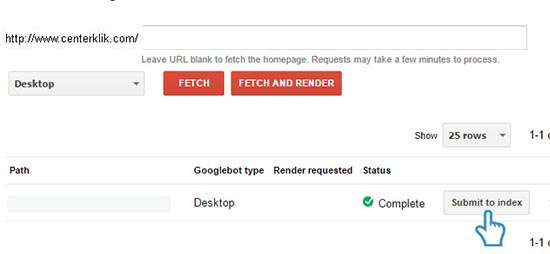 Step 5
Now you have two options. You can choose Google Crawl only URL or can Crawl URL and direct link. You only have so many submissions available to you each month.
Crawl only this URL : 500 posts available per month
Crawl this URL and its direct links : 10 posts available per month
I would suggest "Crawl Only this URL" unless you are submitting content that has related content that has also been recently updated. Then press the "Go" button.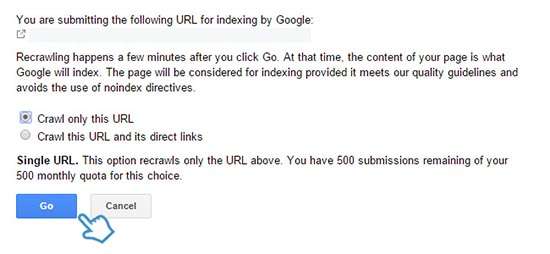 Then you will see a green "Complete" status and you can verify the time and date the URL was submitted. It keeps logs so you can always reference back when submitting new content.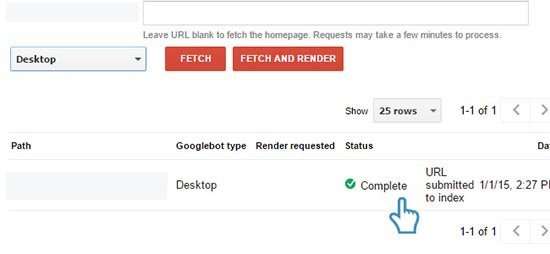 And that's the way to get your articles indexed by Google search engine. There is another way that is easier and faster to index Google articles, and this method is the method that you should apply compared to the old method above. In addition, this tutorial method is a new version of the latest version of Google Webmaster Tools Search Console.
Method II : URL Inspections
Google Webmasters Tools has now updated its appearance and features. When you enter the Google Webmasters Tools page, you will see a new button at the top next to the help button in blue and it says "Use the New Search Console".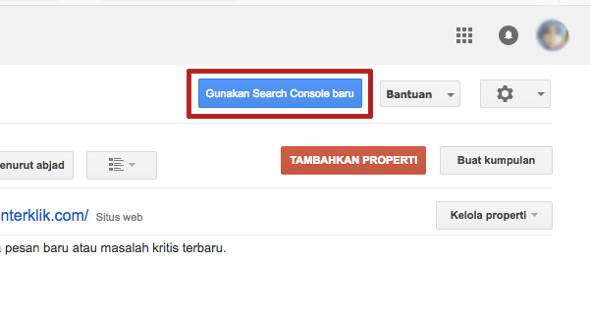 Please click the button and you will be taken to the "Google Search Console" with a new interface and new better features.
Now to get your articles indexed faster by Google, just enter the URL of your new article in the URL search field at the very top or click the "URL Inspection" menu on the left sidebar. And then press "Enter".
Let Google crawl your URL until it shows results, If your article has not been indexed by Google then the status will show "URL is not on Google", and if it is indexed then Google will give the status "URL is on Google". Next, click on "Request Indexing".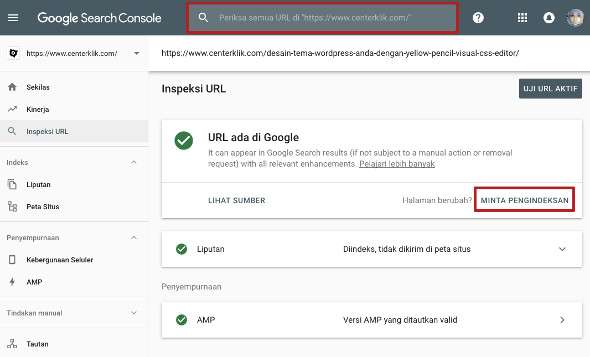 You can also do this for old articles that have been indexed if you make changes to your content to ask Google to update your new article page.
Google's indexing process will usually take about a day and can be even faster. But this way your articles will be indexed much faster and appear in search engines than waiting for Google to automatically index your articles.
Read: How to Create Email in Gmail with Computer and HP Smartphone
See if the article is actually indexed by Google?
After you have done the above process, the last thing you need to do is check whether the article is really indexed by Google.
How : Please copy the URL of your article and type Site: in the Google search engine field and put the article URL after the colon and press enter. If your article is indexed by Google then Google will show it, but if not then your article snippet will not appear. Below is an example of an indexed article.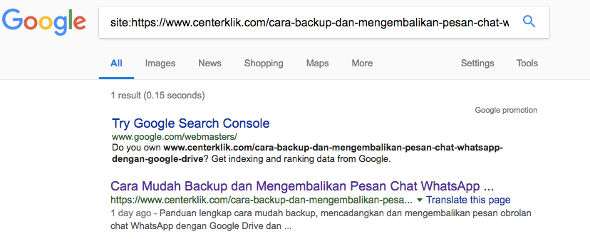 To see if it's indexed or not, it's best to check after half an hour or so. This is not certain because your URL is still in the Google crawl queue, results can be fast and can be slow, but at the latest is one day as far as I know.
And please don't ask, in what order the articles are in this way. It depends on the quality of the article, competition and your keywords. Here I only provide a guide for your article to be indexed immediately and this is not to make your article position on the first page position of Google search.
Read: How to Quickly Improve WordPress SEO in Google Ranking
That's a guide on how to quickly get an index from Google, hopefully the article above is useful for you, and you get your new article indexed by Google directly. For the Bing search engine, please refer to the next article. ️
Read: How to Quickly Improve WordPress SEO in Google Ranking