iPage is the best experienced web hosting service, this iPage hosting has received an A + accredited rating from the BBB (Better Business Bureau) and this proves that iPage hosting has professional service and guaranteed excellence. iPage offers a very affordable price in my opinion, because it is only $ 1.99 / month and $ 47.76 / 2 years, and when you get a promo from iPage it is usually only $ 1.75 / month.
With this low price, you can get lots of benefits and of course iPage is not cheap hosting. I've tried iPage hosting for some of my blogs, and so far there have been no problems. And even if a problem occurs, their support team is always ready to help solve problems quickly and provide easy-to-understand explanations.
How to Register and Buy Hosting on iPage
If you are interested in using a web hosting service on iPage and you want to register there, here are the correct steps that you must follow:
1. First, please visit the iPage website directly to https://www.ipage.com/
2. Click the Get Started Now button. When visiting iPage you will probably see a price of $ 3.99 / mo, so wait a few moments for the price to change itself to $ 1.99 / mo as shown below. Or you can just click the menu at the top with the name "Web Hosting" and choose the package provided.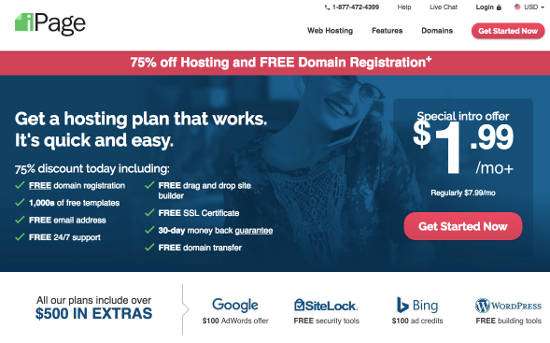 3. After that the next step is to choose a domain name. Please enter your preferred domain name in the search field and click 'Search'. If you don't have a domain before then the search results will display the message 'Domain Available' in green and if you already have a domain that you purchased elsewhere it will display the message 'Soory, this name is taken'.
All you need to do in this step is click on the plus (+) button when the domain name of your choice appears, be it a new domain or one you already own. Then click the 'Next Choose my Term' button.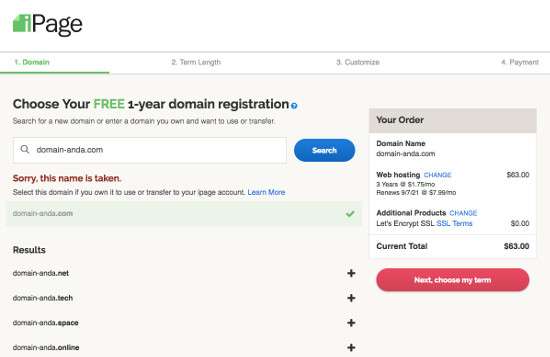 4. In this step you are required to choose how many years you will rent hosting on iPage? There are three options available, namely 1 to 3 years. To get the cheapest price, choose the three years at a price of $ 1.99 / month, unless you get a promo, the price will be the same and cheaper as shown below, which is only $ 1.75 / month.
When choosing how long to rent your hosting, I highly recommend choosing 3 years as that is enough time for you to learn blogging and generate sufficient income from blogging. Because if you choose a time of only one year, your blog may not be making enough money and you have already been billed by the hosting company for the normal, more expensive fees.
If you have chosen how long you will rent iPage hosting, please click the 'Next to Customize' button.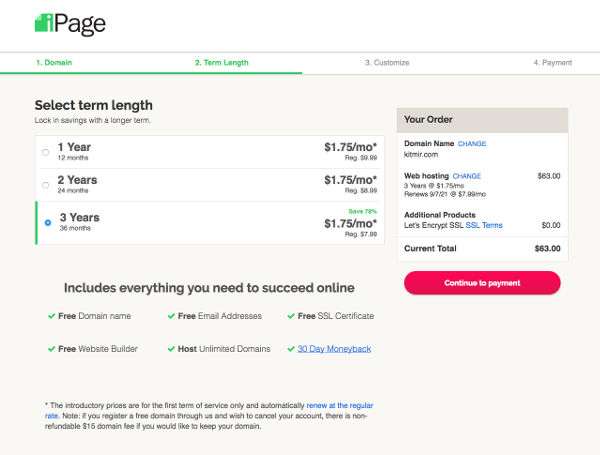 5. The next step is 'Customize', in this section you can uncheck the service products offered by iPage. If you don't do this, the cost you will pay will be very large.
So, make sure at this step you need to be thorough and uncheck all the services you don't need. And click 'Continue to Payment'.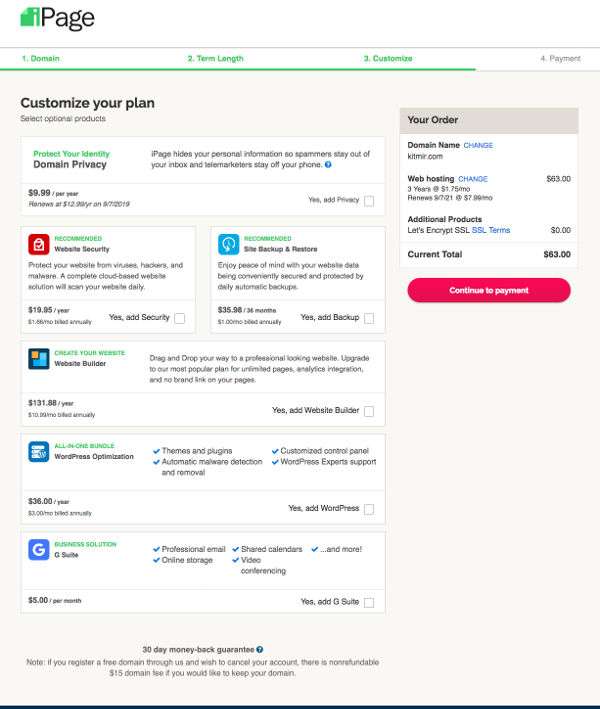 6. In this step you are required to fill in your personal information fields such as email, name, address, country, zip code, city and country. Make sure you fill it properly. And at the bottom there are payment options. You can use a credit card or PayPal as the payment system you use.
After completing this payment process, then the next step is to proceed to the hosting payment process, if you use the PayPal payment method, the payment will be charged directly to your PayPal account, please enter your PayPal account and click the 'agree and continue' button.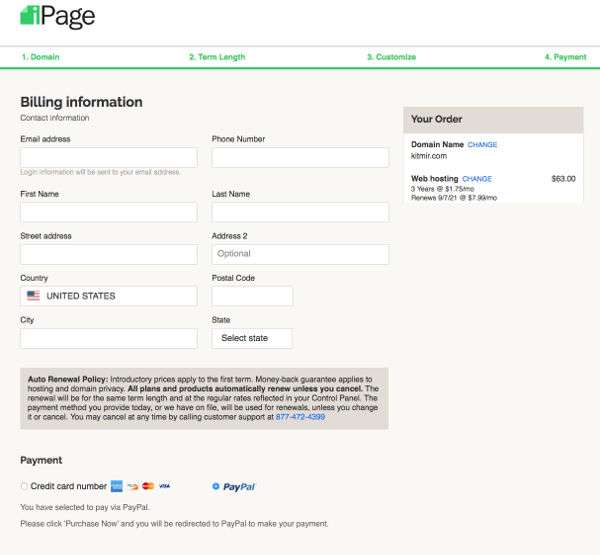 If you register your iPage hosting from the beginning until the payment is complete, you will get an incoming message in the email you use to register to receive complete information about your iPage hosting.
Next, you can start using iPage hosting for your website. Are you interested in trying hosting on iPage?
Here are some of the advantages of iPage:
Everything is Unlimited. Unlimited Bandwidth, Unlimited Host Domains, Disk Space, Unlimited Email Accounts and MySQL
Free Domain. If you don't have a domain yet, iPage gives you a free domain for every hosting purchase. This domain is free for the first 1 year. And you will be charged for the domain for the following year.
Free credit for marketing and search engine marketing fees. So that you can use this to advertise your site on several search engines.
Installing websites, blogs, e-commerce, and others is very easy with the Simple Script feature. Like WordPress, Joomla, Drupal and many other CMS that you can install with this.
Even if you don't use cPanel, the iPage control panel that uses vDeck is very easy to use and safe. There is access to Domain Management, MySQL Database, File Manager, and so on.
24/7 customer service both phone, live chat and email support
You will get a free email address
iPage provides more than 1000 free templates ready for you to use
Free SSL Certificate with Let's Encrypt
Hosting has fast servers that are accessed from various countries.
iPage has several types of complete hosting packages to meet customer needs
Those are some of the advantages of hosting on iPage which is one of the best hosting services , if your website and blog need good quality hosting and get fast and friendly support then you need to consider iPage. In addition, iPage can handle large and fast traffic so hosting like iPage will automatically speed up your website loading and help improve your website's SEO , of course, because site speed is the most important thing of SEO.
Hopefully this article was useful for you and made the website run fast, stable and successful. If you are a WordPress user then you can read the following tutorial: How to Install WordPress on iPage cPanel Hosting .