Easy Ways to Optimize Your Website's SEO Ranking With SEO Checklist – Currently competing for the first page rank of Google is not easy, in addition to many competitors, there are also many people who already understand SEO. For those of you who are just getting into the online world, especially content marketing, you don't need to worry about the competition. You still have a good chance as long as you are willing to work harder with more engaging content.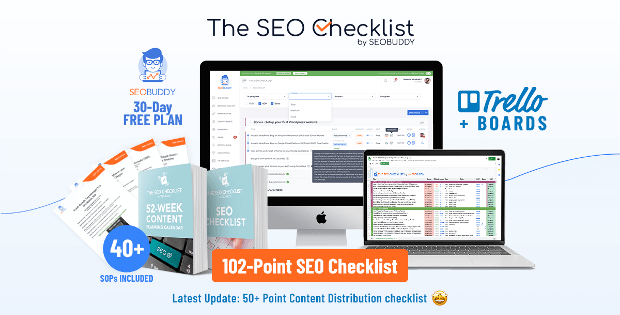 But to get more organic visitors to your website, quality content alone is not enough, you need to optimize and improve the SEO ranking of your website and optimize each of your pages and content to appear in search results, especially on the first page of Google.
Currently doing in-depth SEO ranking optimization is very easy because there are so many tools that can be used. One of the SEO optimization tools that will provide you with the knowledge and parts you have to optimize properly in order for your website to appear and be on the first page of search results is to use the SEO Checklist by SEOBuddy .
To help you understand how this SEO Checklist works and what you will get when using this tool, I will provide you with a complete review of this SEO Checklist by SEOBuddy so that you can quickly perform SEO ranking optimization steps and increase business levels. You are on your way to success.
Read: 10 Best Free WordPress SEO Plugins To Improve Google Ranking
What is SEO Checklist By SEOBuddy?
This SEO Checklist by SEOBuddy is not a tool that will help optimize the SEO of your website with a single click. Because there is no such tool at this time. But this bundle contains all the important checklists of what you should do for SEO ranking optimization. It contains the most important SEO optimizations that have been collected by professional SEO experts and researchers.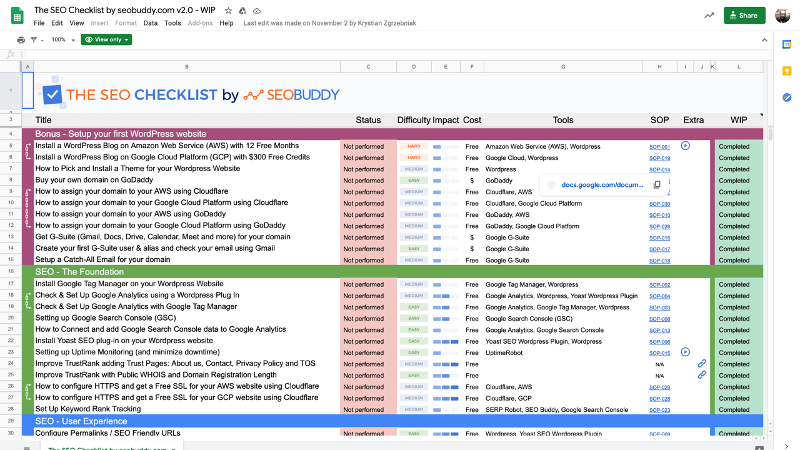 At the heart of the SEO Checklist is a checklist that contains all the important steps you need to take in order for your website to rank at the very top of the search results. Now, this may sound unusual to you at first, but it is a very efficient way of doing some optimization, even I personally after seeing this tool know there are a lot of SEO optimization stuff I have been missing.
This SEO Checklist By SEOBuddy is not an eBook or an article that will bore you with irrelevant details. No, with this SEO Checklist you can check items one by one and easily make sure you have implemented them all.
Everything is very intuitive, and the checklist is divided into eight different chapters dealing with different aspects of SEO.
You'll start with the basics and improve your content, user experience, and even local SEO if that's what you're interested in. And you can focus on the things that matter most easily because the SEO Checklist comes with a scale that shows how much impact each SEO element has on the performance of your website. Even if you need a tool that you need to perform a certain optimization, it's also listed there.
So it's very clear which steps you need to take, how they affect your website, how much impact they will have, and what tools you need to run them, plus everything is written so simply that everyone can understand it. But that's just the beginning! Because there is still a lot to offer this package.
SEO Checklist Key Points
The SEO Checklist contains dozens of very detailed checklists of all the SEO steps you need to optimize and implement in order to get more clicks on your site. The checklist includes everything you need to do to get there, as well as a guide on how to do it as well as information on recommended tools to help you make the optimization so that it reaches your desired traffic destination.
Plus, you'll have access to the Google Sheet version of the SEO Checklist, as well as a very useful interactive web app found in SEO Buddy.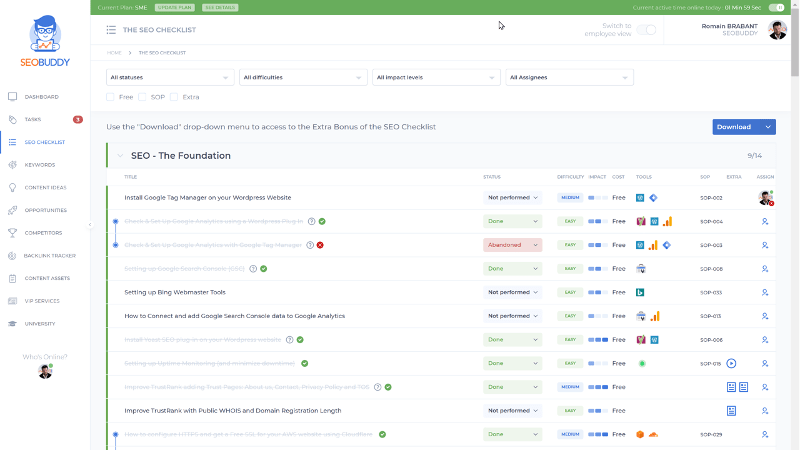 The Foundation
To have a well-functioning website, you need a good, stable foundation. To make that foundation easier, the SEO Checklist will help you set up Google Analytics to track your progress, show you how to track keywords and their success, and introduce you to some simple but important plugins and tips.
One of the most important steps on this list, which is worth mentioning itself, is implementing a trust page. There's no way your website will rank # 1 if Google doesn't trust you. You will also be given guidance on these basics, to get Google's trust signal.
User Experience
It is important to remember that search engines always try to give users the best results for their users. So, it should always be your goal for users to like your site because if they like it, then Google will love it too. Some of the things you should look out for here are: making sure your URLs are simple and short, and checking that your site loads fast and is optimized for mobile use.
Content
Even when thinking in strict SEO terms, you should always remember that the most important thing on your site is the content you create. If it's good and well presented, people are more likely to share it, which in turn increases reach and your site will properly grow and develop.
Performance
Performance is closely related to user experience, so if you have a high-performing website, your users will likely enjoy it. This category includes all the work you need to complete to ensure your website performs well from a technical perspective so that you actually have a high-performing site that your visitors will love.
On-Page SEO
As the title suggests, this section focuses on all the things you have to do to ensure that your website is fully optimized. The main focus of this is to properly format your content, reach the right target audience, name videos and images properly, and again use keywords in the right way to ensure you get top search result spots on search engines.
Off-Page SEO
Off-Page SEO focuses on the SEO practices that surround your website. People actually need to know that your site exists before you can convert it, and off-page SEO will help your future users find your site. The most important thing to tick off this list is the use of social media and reaching your full potential through proper placement.
Technical SEO
This section is intended to help you avoid some common obstacles that can significantly hinder the development of your website. This helps with structuring your site in the right way and cleaning up your URLs.
This section has a special focus on effective keyword research and using Google to get SEO boost ideas.
Local SEO
And last but not least, local SEO. While the previous category focused solely on general SEO enhancement activities, this category helps you gain leverage locally. This is done by claiming a GMB (Google My Business) listing on Google, a Yelp listing, and much more that you can learn once you sign up for the SEO Checklist.
Bonuses: Under the 8 categories, there are small bonuses that will help you set up your first website on WordPress. This is especially useful if you are a beginner in this field.
Collection of SOP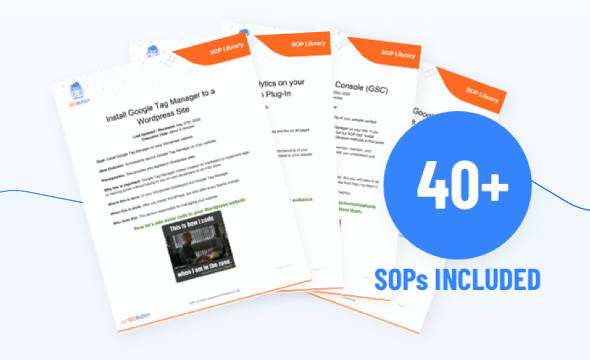 If you don't know what an SOP is, it stands for Standard operating procedure. These files contain detailed instructions on how to optimize to improve your SEO ranking in very simple but effective words to ensure that anyone can follow them to improve performance.
Using this, you can learn the basic steps you'll always need, as well as many more sophisticated procedures as you go deeper and really want to take things to the next level.
All of this includes step-by-step guides that are completed with screenshots and professional tips for specific SEO tasks that you didn't previously know how to tackle. The document consists of 44 processes in total, with more than 200 pages of help for you to consult.
Read: How to Quickly Improve WordPress SEO in Google Ranking
Extra Bonus
As already mentioned, there are many other perks included in this package. All of that adds more value to the entire bundle and makes it better for your buck than ever before.
SEO EBook Checklist : Unlike many other products out there, the ebook is not the foundation of this product, it's just an added bonus, this ebook contains a simple 63 page that gives you more help on SEO.
Trello Board : In case you didn't know it already, Trello Board is something like a virtual whiteboard that organizes your tasks on the board and tells you what you are currently working on. This is a subscription based tool that you will get for free as a special bonus in this package and will definitely help you keep your SEO process under control.
Content Planning Calendar : this is a 52 WEEK Content Planning Calendar, this is important because creating great content regularly is not always easy and that is why this particular feature will be of great help as it will keep your content publishing organized while keeping SEO in mind.
One month "Startup" plan for SEO Buddy : This is a very useful SaaS tool, especially if you're just starting out. It analyzes your search results to help you increase your domain. You can also track how the keywords you choose to use are performing.
Content Distribution : This is useful for helping you rank your content by helping you make a smarter distribution of the content. It includes a simple process that you can repeat a number of times to get your content top-ranked.
Conclusion
The SEO Checklist by SEO Buddy is definitely a tool worth checking out, its format makes it really easy to work with, and simultaneously focuses on certain small tasks that need to be completed, while still showing the bigger picture of everything you have to do for it. optimize your site. In fact, this is very easy for beginners to understand.
Quite a few things you need for optimization to improve your SEO rankings to place your website on the first page of search results. SEO Checklist by SEO Buddy is the right tool for you. There is a special 25% discount if you register for SEO Checklist with the code " CENTERKLIK ".