This financial WordPress theme is designed for individual financial advice, advisors, forex trading , brokers, financial planners, accounting firms or banking companies. The new financial WordPress theme comes in a variety of layouts and options to give you a clean and professional website that fits your brand and business image. The company theme is functionally SEO friendly, easy to use and responsive, mobile friendly.
The Financial WordPress theme is a clean, easy-to-use and feature-rich business portal solution. It's quick to install and ensures intuitive drag and drop customization and content management. This full-width slider is a more effective tactic than words and describes in a corporate mission image. Multiple layout blocks are separated to provide visual images and accompanying video text content. Customer feedback and contact information from public companies will be more reliable.
Read: Download 45+ Free WordPress Themes for Business [Best]
10 WordPress Themes For Forex and Finance
For those of you who are currently running a financial business or forex industry and acting as a Forex IB from various forex brokerage companies or maybe running an affiliate program with a particular forex company, then using one of the WordPress themes below is the right choice because the themes below are regularly specifically designed for business, financial and forex websites. And here is the list:
1. BrokerPress – Business Financial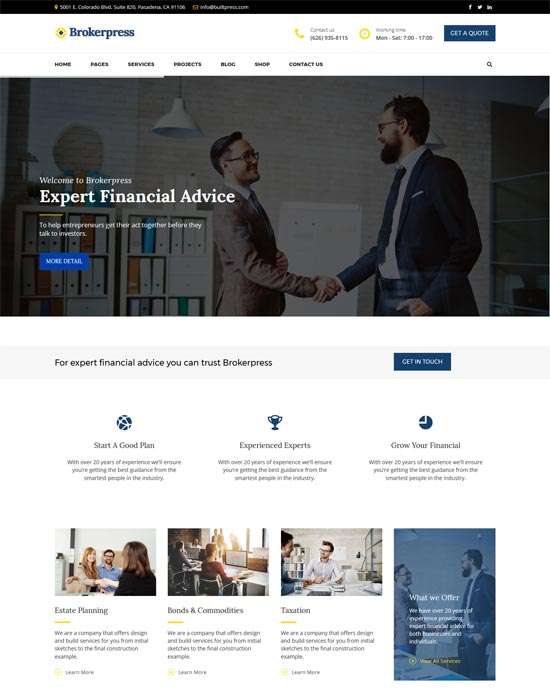 BrokerPress is a clean and responsive theme for business finance. This WordPress theme includes everything you need for business website pages such as forex and other areas of finance, services, testimonials , customers and team members. On top of that, BrokerPress includes many customization options that let you change the visual style of all elements without touching a single line of code.
2. Financial Business Hub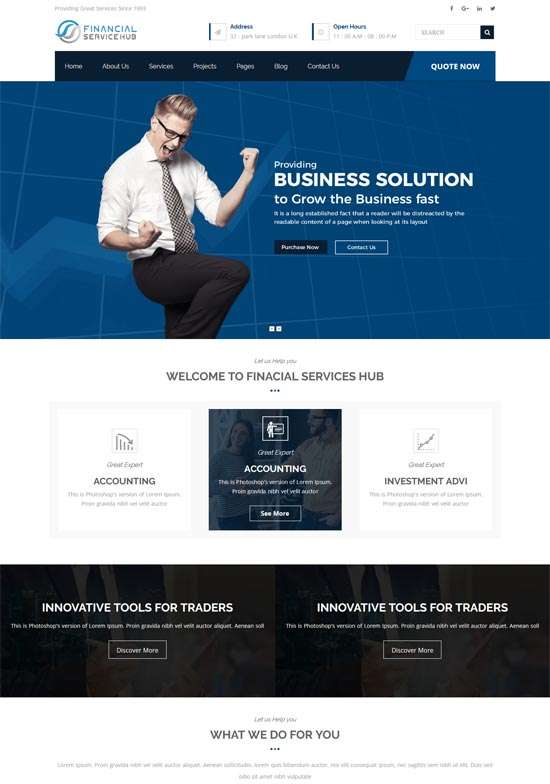 Business Hub is a financial and corporate WordPress theme like forex. It is specially designed for businesses, financial advisors, accountants, law firms, wealth advisors, investors and general corporate websites. This theme comes with a very powerful page builder which will allow you to build your site using drag and drop capabilities. Perfect financial, Consulting & Business WordPress theme.
3. Fintech WP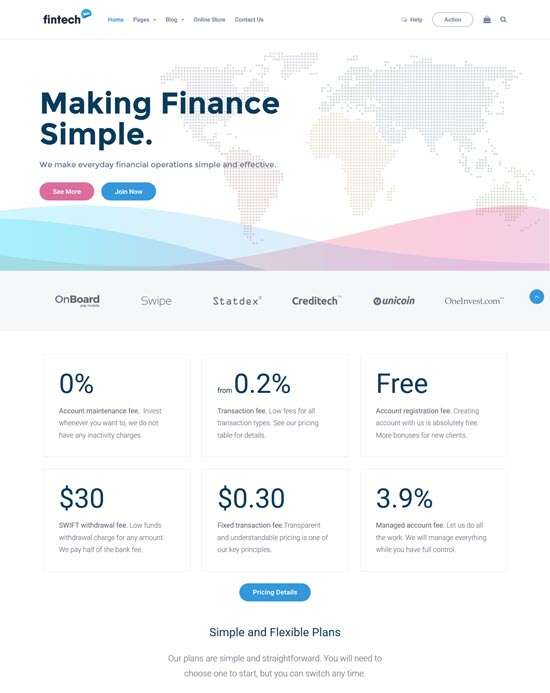 Fintech WP is a modern responsive WordPress theme. This theme is specially designed for businesses, accountants, financial advisors, law firms, investment advisors, forex and companies. It comes with a super powerful Visual Composer page builder which allows you to build your site using its drag and drop capabilities.
4. GoAhead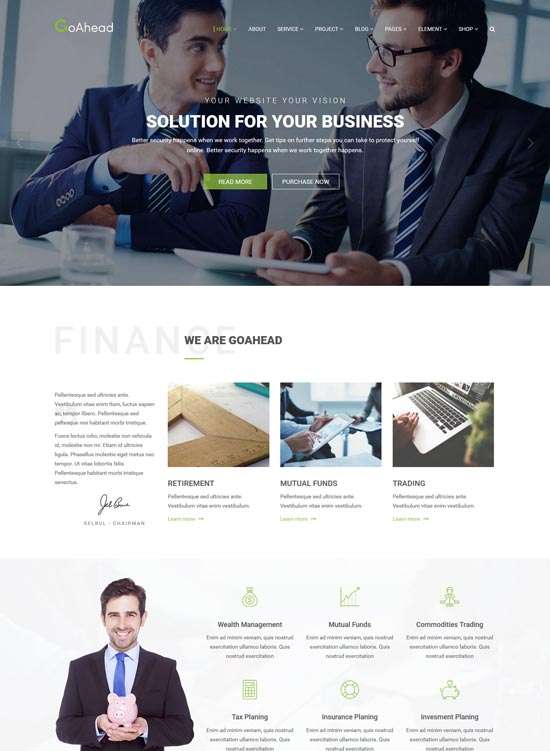 GoAhead is a Finance, Forex & Business WordPress theme is a clean and modern template for any financial and business company such as finance, investment, consulting firm, banking, accounting, startup, insurance, etc. It comes with 10 unique homepages and other useful pages, services, blogs, contacts, recruitment and other home pages will be added in the future.
Read: 8 Categories of the Best Fintech Companies in the World Today
5. FinanceBank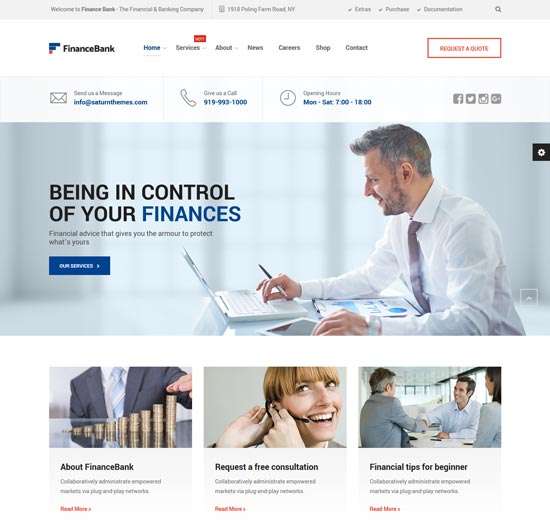 FinanceBank is a WordPress financial theme for financial advisors, accountants, planners, consulting firms and banks. This theme has a clean design and is fully responsive. It is very flexible and includes a drag and drop page builder that lets you create unlimited configurations with unlimited color schemes.
6. Finance Plus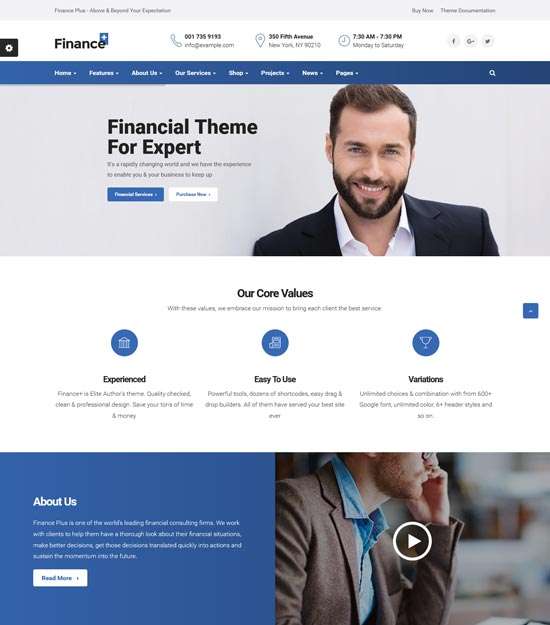 Finance Plus is a financial business WordPress theme. It has been specially designed for business, financial advisors, accountants, law firms, asset managers, investments, forex and general corporate websites. This theme comes with a powerful page builder for creating websites using drag-and-drop functionality. Now, why not add more added value to your business, such as blog, portfolio, testimonials, personnel, etc. With the features you need on your website.
FinancePlus is fully optimized for your WordPress site at optimal performance, search engine optimization, responsiveness, optimized retina. Which will make your company portal or studio / personal site, FinancePlus a solid foundation to build and develop a good website.
7. WP Finance Consulting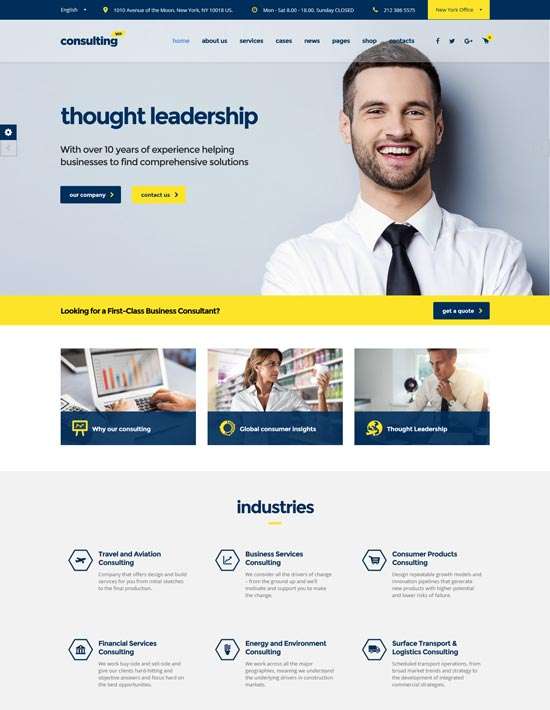 You can easily create a modern website for all the services a business provides with real content using WP Finance. Easily configure page layouts and edit actual content with the drag and drop page builder. WP finance – is a complete finance, forex, consulting and business WordPress theme
Business, based on an in-depth study of the financial and consulting sector, the developer has created a comprehensive consultant WordPress theme that offers everything you could want from a website. Prize and use pie charts, graphs, progress bars, and describe leads for services or case studies.
8. NYBank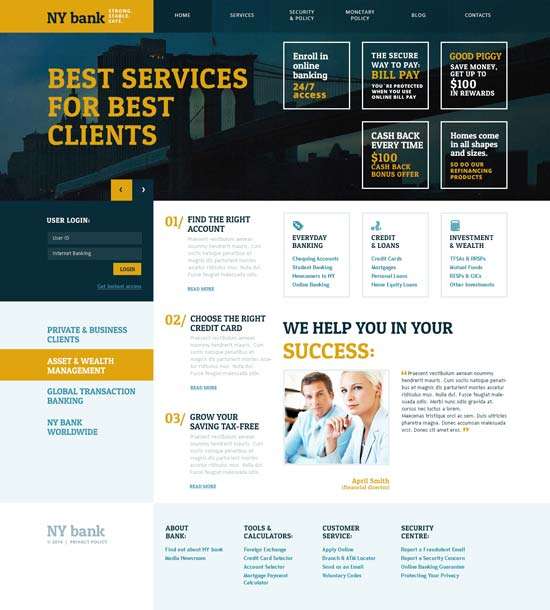 NY Bank is a great solution for building business, forex, bank and financial company websites. It offers an attractive look along with a powerful set of tools. The full screen bars at the top and in the content section are the most visible elements of the theme. They give a classy and stylish look. Thanks to its clean and minimalist layout, this corporate WordPress template can be adapted to suit any other type of business. Cherry Framework and Bootstrap ensure worry-free installation and customization. So, you don't have to spend hours building long lines of code.
Read: 5 Best Software and Applications for Forex Trading 2020
9. Exo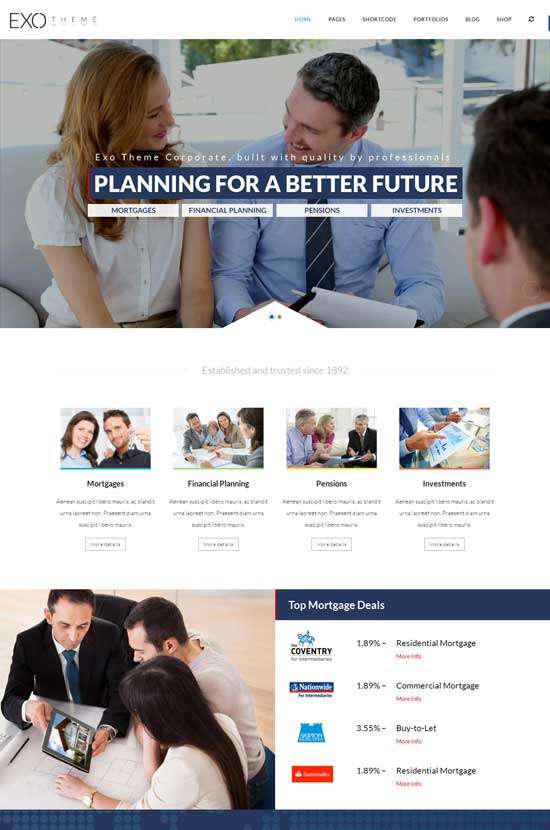 The Exo theme is an advanced financial WordPress theme made especially for, and dedicated to, creative industries and companies. With clean fonts and outstanding designs, a team of experienced designers and developers have created stunning themes, which not only offer powerful admins, designs with stunning goals and effects, but also provide creative, web-design-leading business firms to professional website.
10. Finance Group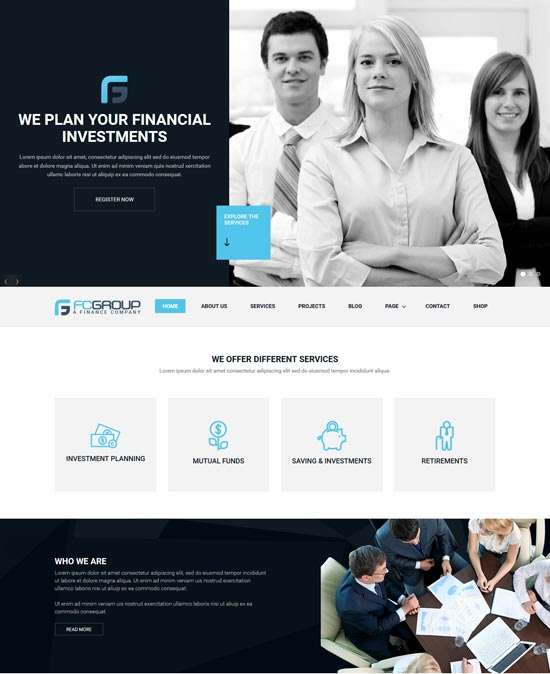 Finance Group is a personalized mini-blog for showcasing artwork. This multifunctional WordPress template has a fully reactive framework that looks fantastic on all mobile devices and a retina display ready for high-quality graphic resolution. This theme will be very suitable for financial business, financial advisor, forex, investment and business.
And those are the 10 best WordPress themes that you can use to build a financial or forex website. Please choose the best so that your business runs smoothly. Good luck 🙂