You run a business, and you want to go online with it. Do you want to create a site that will be attractive to users on the one hand and make your job easier on the other? However, you are not a fan of coding, and you would like to avoid using programming and markup languages ​​such as Python, PHP, JavaScript, HTML, or similar and wonder how this is all possible.
In doing so, you are unsure which tools are best to use and where to look at them all. There are too many questions in your head and doubts about how to do everything you want while avoiding mistakes and wasting too much time, stressful situations, and the like.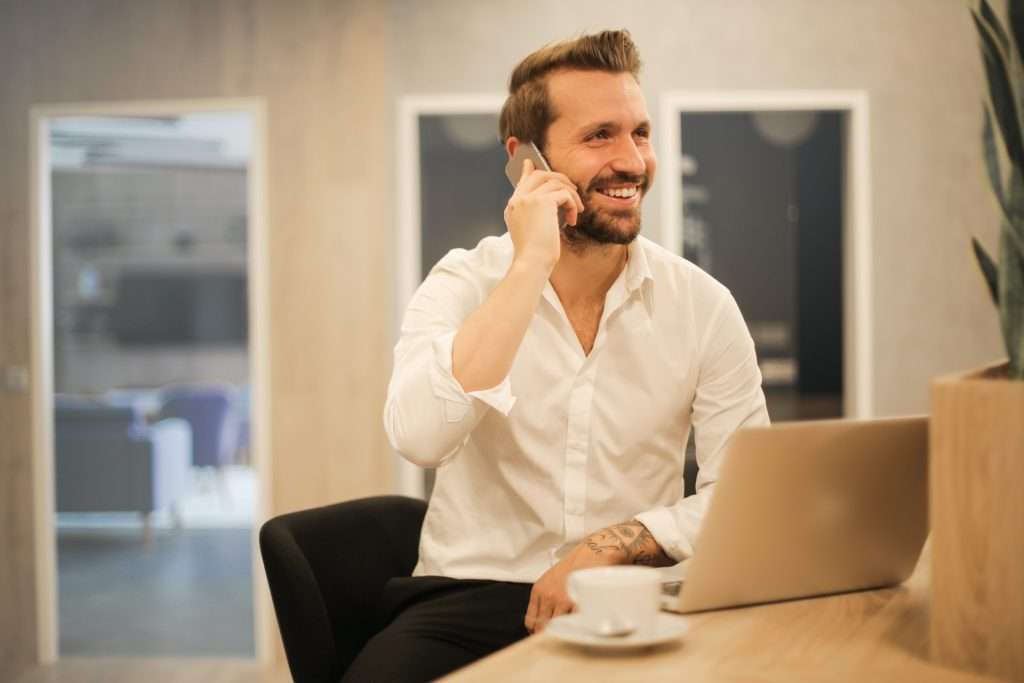 Indeed, such scenarios can be daunting and discouraging. Don't worry, in the age we live in, creating a website isn't that hard or impossible. Whether you are a beginner or working on creating a website with the help of other more experienced people, we assure you that this process is simpler than you could have ever imagined.
To create a great site that will boost sales and be popular among users, you need to have an idea and tools that will help you with that. With the right tools and the right choices, your site will, in addition to being efficient and effective, be secure and provide the best user experience.
You will need to pay attention to many things, such as plugins, themes, marketing strategies, web hosting providers, and the like. Today, we will deal with one of the most important parts that every site must have: web hosting providers.
To help you and make it easier to wander through the large number of those offered to you on the market, today we present HostArmada.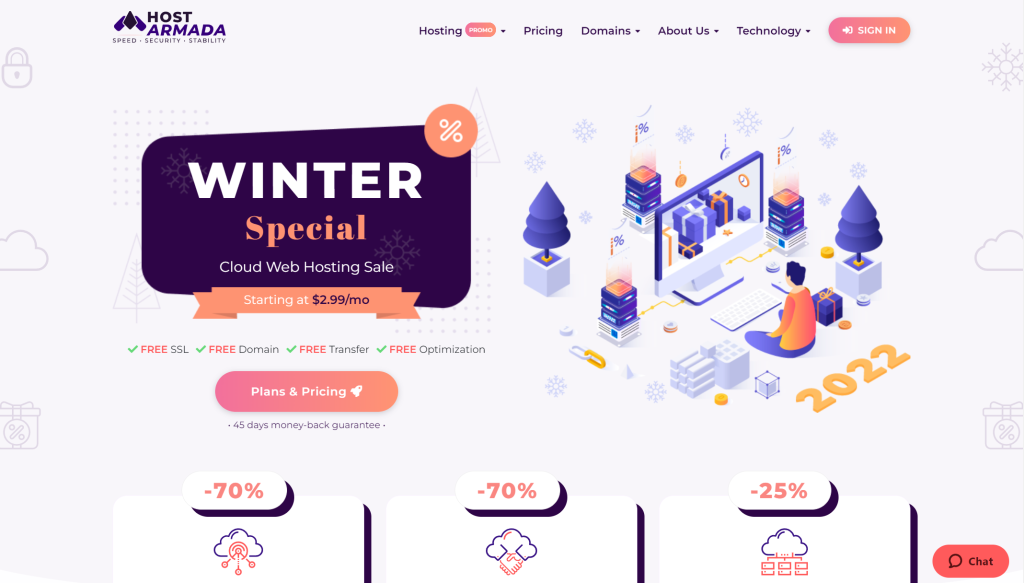 However, before we start with HostArmada, let us tell you in a few sentences what web hosting providers are, why we need them, and what their basic function is.
Hosting can be defined as a secure place to store content online. Everything that makes up your site, like codes, images, texts, videos, and more, needs to be stored somewhere. Without a stable digital repository, it would not be possible to access content on the web at all.
Accordingly, this makes hosting one of the most critical parts of the development of online web existence. To understand and establish your existence online, you need to understand what web hosting is and what to look for when choosing the best one. It is important to note that web hosting allows storing content off-site, which reduces the cost of local storage and associated physical footprint.
Here comes HostArmada, a web hosting solution as our choice for you. Although they are relatively new to the game, their capabilities are truly outstanding. To provide a fast, secure and reliable web hosting service, they are distributed in 9 data centers around the world, the USA, Canada, the UK, Germany, India, Singapore, and Australia.
You do not have to worry about loading speed or whether your service will be available because the server will be deployed from the data center closest to your location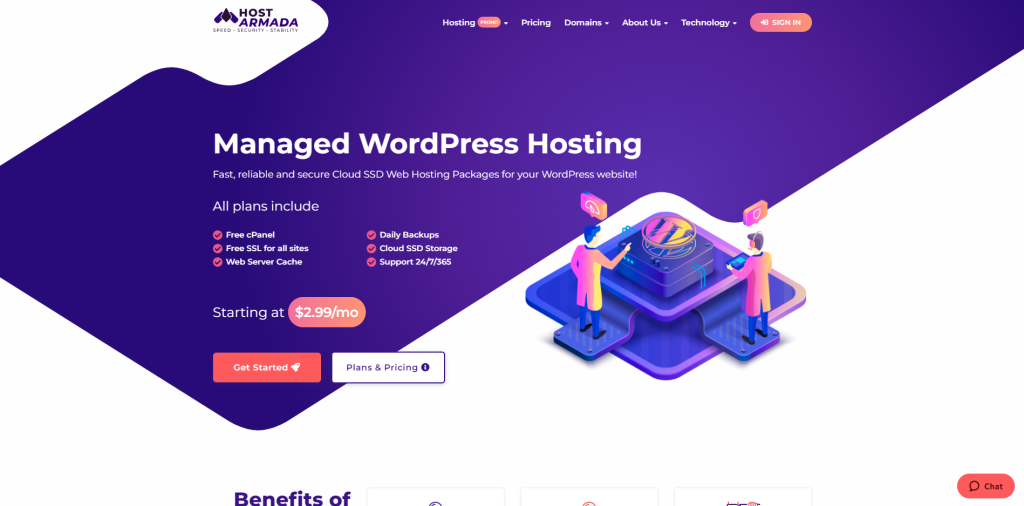 Cloud hosting offers you the so-called 1-click WordPress Installer, i.e., with this option, you are allowed to implement WordPress instances easily and configure each installation individually.
Security is something we are striving for, and as one of the basic factors of the site, we are glad to tell you that this hosting is to provide a safe place for your site. Maintain your website with daily off-site backups that you can restore with just one click.
One of the biggest features is the SSD cloud storage. SSD Cloud Storage uses native SSDs and combines them with battery-powered RAID controllers to ensure data integrity.
We want to emphasize 24/7 Technical Support for any doubts, problems, or questions. The price of this hosting solution is from $2.99/mo to $5.39/mo.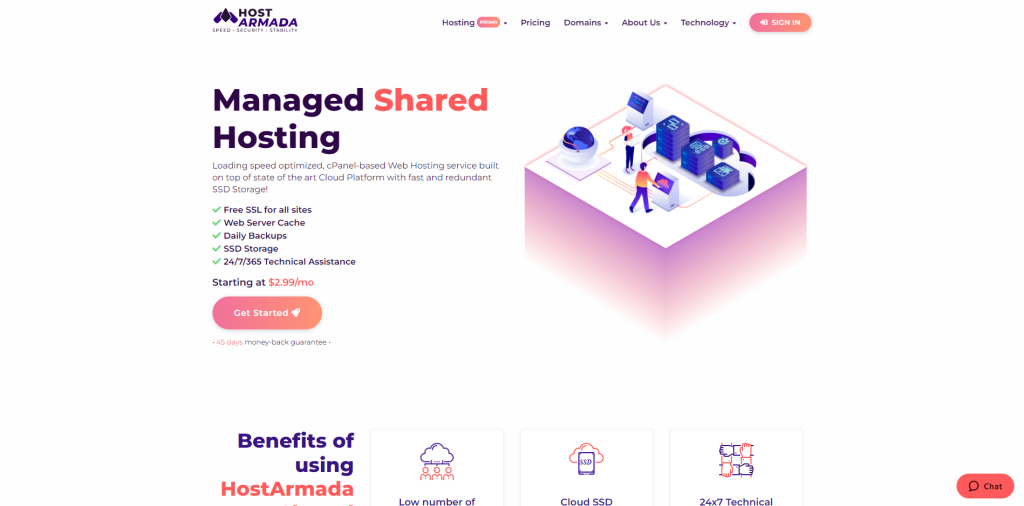 The HostArmada Cloud Shared Hosting package is an ideal solution for those who want to upgrade the original codes, improve the design, and fix broken connections. The first feature of this solution is the One-click Application Installer, which is to equip the website without wasting time and nerves.
Like Cloud WordPress, Hosting, and Cloud Shared Hosting, it is equipped with best-in-class, native SSDs. We also need to mention that security technologies based on artificial intelligence are available for every Cloud SSD Shared Hosting plan for optimal protection against web attacks.
Let us praise this package with another feature: you can optimize the Cloud Shared Hosting package to handle WooCommerce, WordPress, OpenCart, Magento, Joomla, Drupal, or PrestaShop without any hassle. Choose this solution from $2.99/mo to $5.39/mo.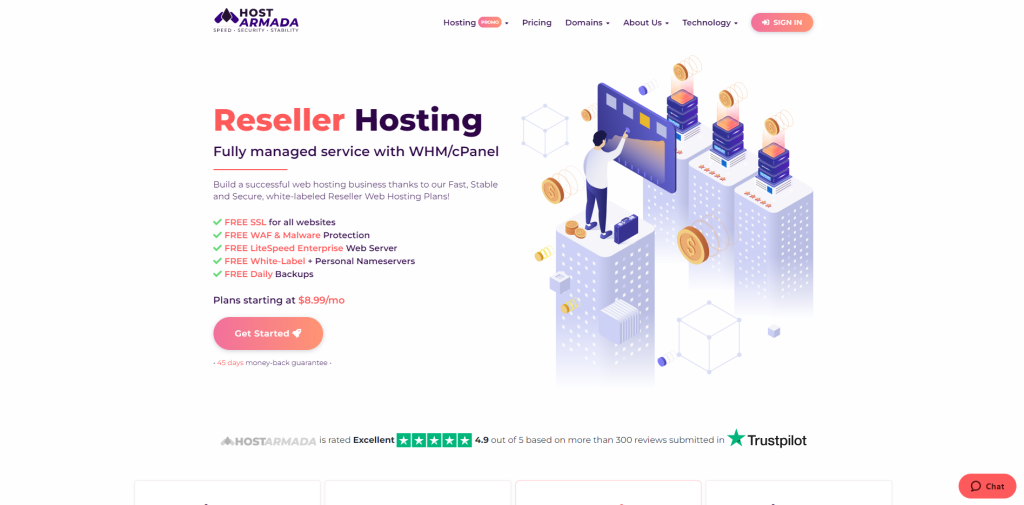 Cloud Reseller Hosting package is completely oriented to the technical aspect of your site. This package has enabled you to get a Softaculous 1-click application installer as a solution for deploying Opensource applications for client control and management.
Manage WHM Access and cPanel accounts without any hassle or inconvenience, and you have complete control of all clients for free. With individual virtual environments for each cPanel account, HostArmada will prevent further compromise of your other accounts and overuse of hardware resources in the event of an attack, abuse, or infection.
If you choose this package, you also get a LiteSpeed ​​Web server, LS Cache add-on, DDoS protection, IP-based firewall, and many other features. HostArmada Reseller plans are optimized for WordPress hosting, and with static and dynamic content caching and many other benefits, it will realize all your ideas. Try this solution at a price from $8.99/mo to $20.99/mo and see for yourself!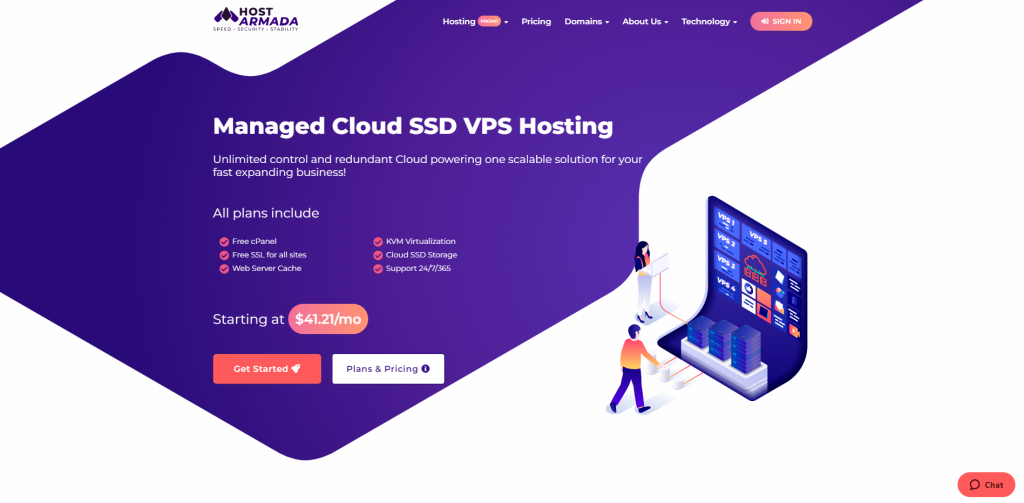 Suppose you have e-commerce, multiple websites, a MySQL database server, resource-hungry / custom application websites, and a dedicated email service or similar. In that case, this HostArmada package is the right choice for you.
This solution has many features and benefits, especially Nginx Web Server Cache, ROOT approach for advanced users, consistent backups, service for optimal performance in their latest version, one-click application installation, and more.
Nginx Web Server Cache ensures maximum website loading speed with minimal use of resources, and ROOT access will be available on every plan of the Cloud VPS hosting package. All in all, an extremely well-crafted solution worth trying. The price ranges from $41.21/mo to $101.21/mo.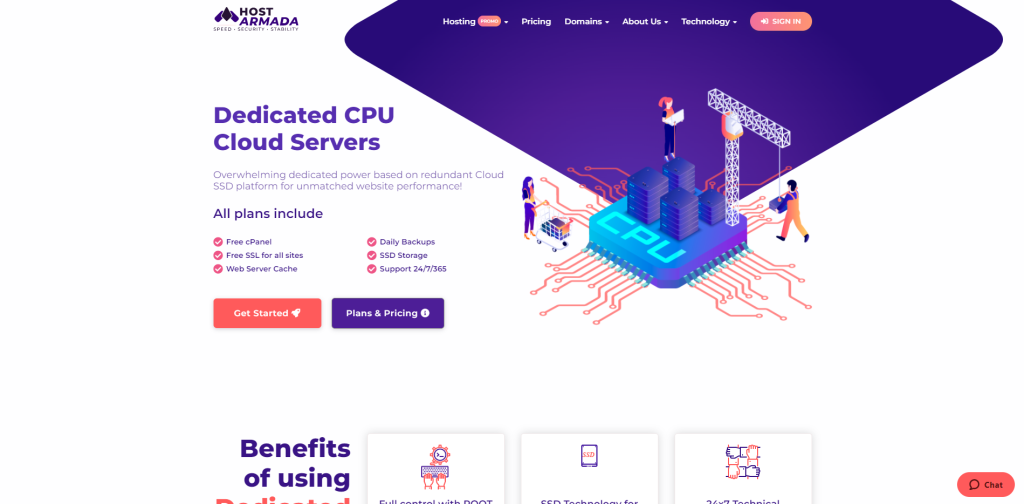 Whether you want a strong, enhanced dedicated CPU server or use this hosting solution for e-commerce, as independent database servers, everything will be possible if you choose Dedicated CPU Server Hosting.
Also, give this hosting a chance. You will be able to transfer your website for another web hosting service to the dedicated CPU server hosting package, as this package comes with unlimited web page relocations. To buy this solution, its price is from $111.75/mo to $246.75/mo.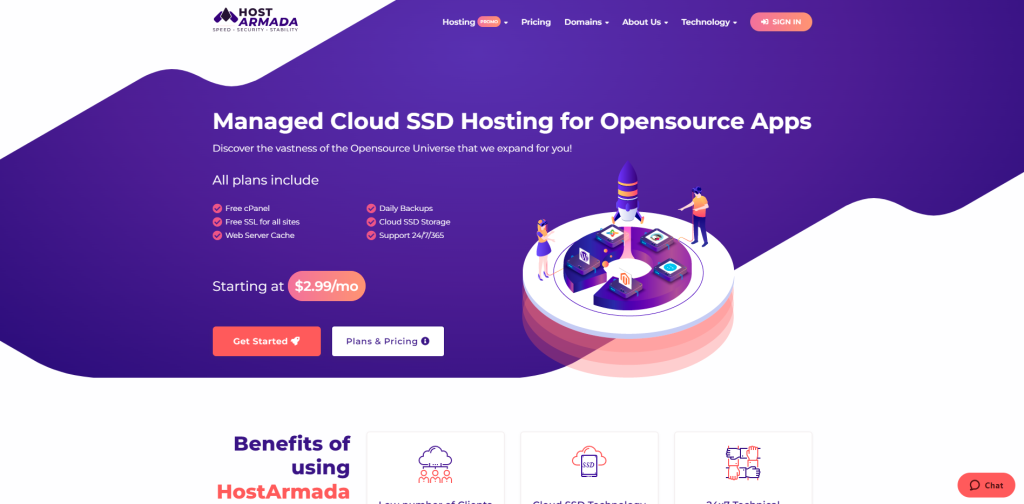 The goal of HostArmada experts was to create a specially optimized web hosting environment that meets all the requirements of modern open-source platforms and thus they created the Opensource Hosting package. It does not lag behind the last described, and its functions provide a lot of useful things.
Among other things, with the help of cPanel, you get a reliable control panel easy to use, and the original, best-in-class SSDs combined with RAID controllers on batteries will ensure maximum integrity of your data.
And yes, we must not forget the simplicity that adorns HostArmada hosting solutions and their installation of applications with one click. Try this solution at a price from $2.99/mo to $5.39/mo and check each of its characteristics.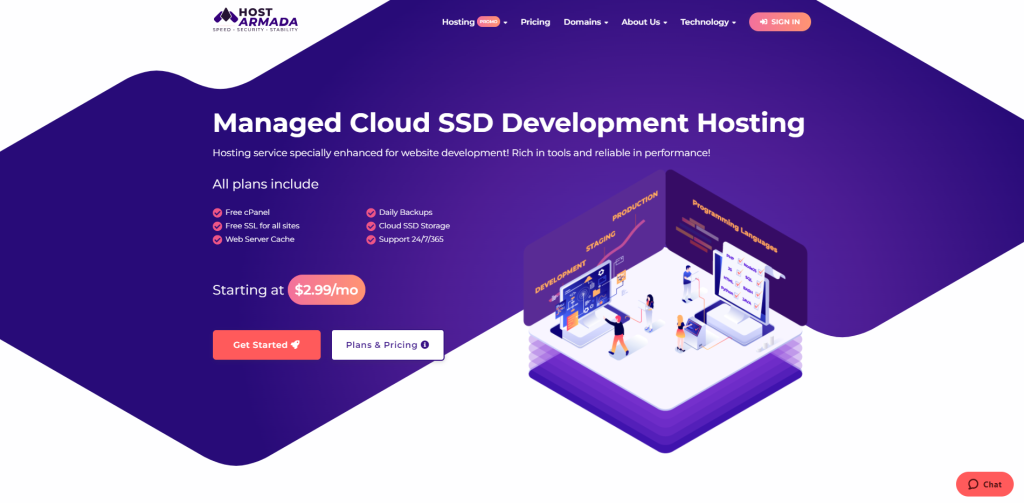 We end our story on hosting solutions with the Development Hosting package. Created to provide more features, this package provides an ideal environment for application development. In addition, the need for application migration between the development and production environment is minimized, which gives this hosting solution the ability to be used for both development and production.
Some of the basic features are Advanced Devs SHH Access (enables faster command line, perfect for developers), fast bug fixes, a large selection of domains, and many others. The price of this solution starts from $2.99/mo to $5.39/mo.
Loading Speed and Security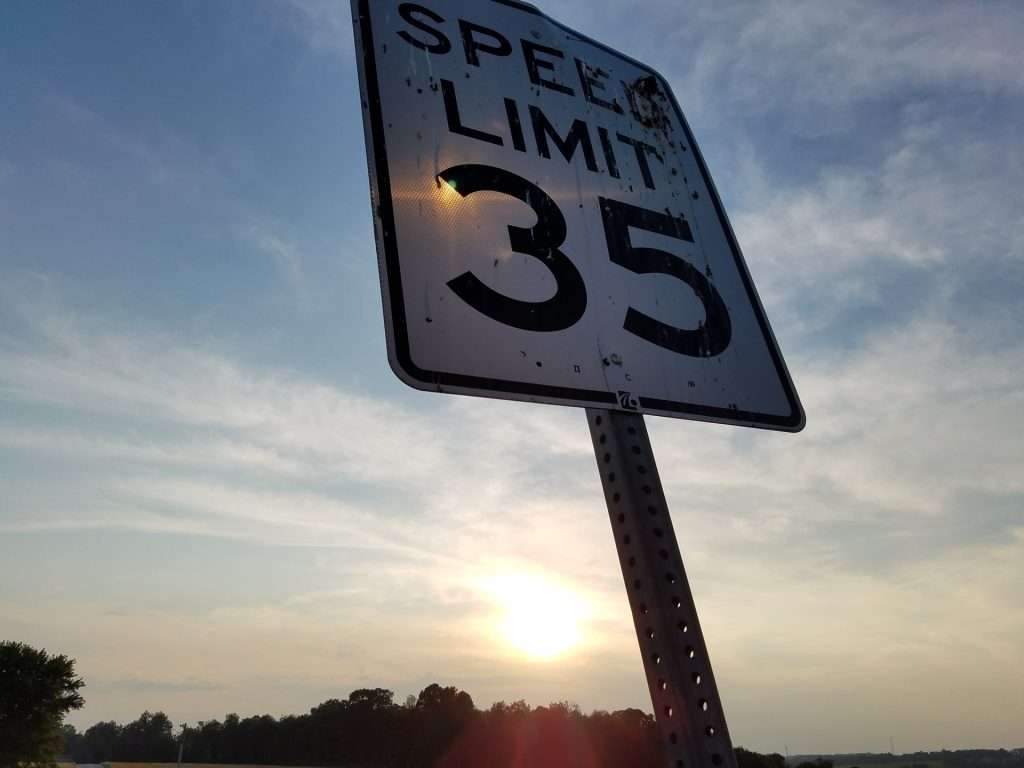 When choosing a web hosting provider, a very important feature is loading speed and security. You want to have a solution that will meet your expectations completely and give the desired results. Regardless of the solutions that HostArmada has, without good loading speed and security, it would not be possible to survive in the market and be competitive and be one of the best choices today.
With proper loading speed, you get features like improved SEO ranking among users increased conversion. More visitors will browse your website, the bounce rate will be lowered, and many other factors. However, without security, the loading speed would not be enough to attract users, and we can say that one does not work without the other. HostArmada achieved Top Security with all-in-one security solutions provided for hosted websites.
Conclusion
Through this article, we have tried to bring you closer to the importance and significance of web hosting providers and the many benefits you get as a site owner.
Our choice is HostArmada because its speed, availability, security, and the ability to choose from so many solutions do not leave you indifferent. Assess your needs and requirements and choose the one that suits you best.