How to Order or Buy Hosting and Domains at BlueHost – Hosting and domain names are an important part of a website. But for beginners who are starting to create their website or blog from a free web platform such as WordPress.com or Blogger.com, of course they are not familiar with these two things because indeed these free web platforms provide free hosting and domain names.
Having a free website or blog does not need to pay at all, but something free definitely has many limitations such as an unprofessional domain name and limitations in managing the website. If you want to have a professional website or blog then it is highly recommended to buy your own hosting and domain.
Domain : The name for your site, this is usually offered with a domain price ranging from $ 10- $ 15. Ex: WP Radar.com
Hosting : Web hosting is where all the files from your website are stored and can be accessed worldwide (prices vary according to the terms of the hosting company and the packages offered).
In this article, I will guide you in buying hosting and a domain at BlueHost web hosting service. This tutorial is certainly intended for beginners who are still confused about how to get hosting and a domain name for their site.
How to Buy Hosting at BlueHost
Bluehost is the best and well-known web hosting service company that you can choose to host your WordPress website and with Bluehost you will get one free domain name for one year, making it easier for beginners to start their website or blog. Please follow this step by step guide, you will learn how you can buy Web hosting and domain name in just 5 minutes.
Step by step tutorial to buy Hosting & Domains from Bluehost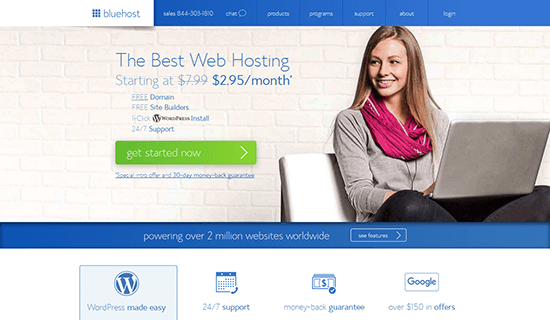 Please visit the site www.bluehost.com and click the "Get Started Now" button on the front page of the bluehost website.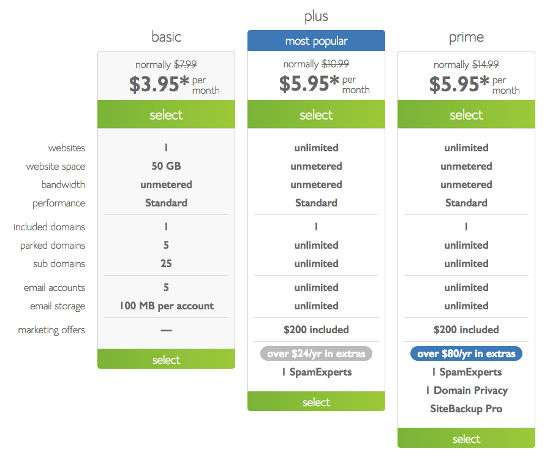 You will see 3 shared hosting packages offered at different prices. You can choose a package according to your needs. If your site is new and only requires one website then please choose the basic package at a price of $ 3.9 / mo (prices can vary if there is a promo) and click the "Select" button.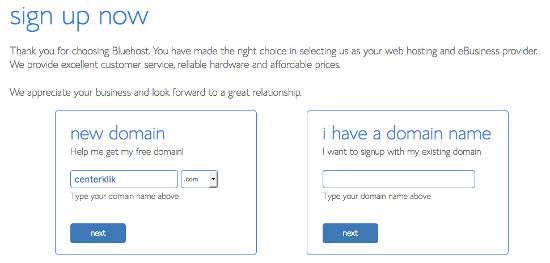 On the next page you will see two options:
New domain : Bluehost offers one free domain name, so you can add any domain name you want to buy now or if you already have an existing domain name you can take advantage of your free domain name later.
I have a domain name : If you want to use an existing domain name that you already own, you will need to enter it here and it will be your primary domain name.
In this tutorial I have entered a new domain name and if you already have a domain name that you purchased elsewhere, please enter your domain name in the right hand column.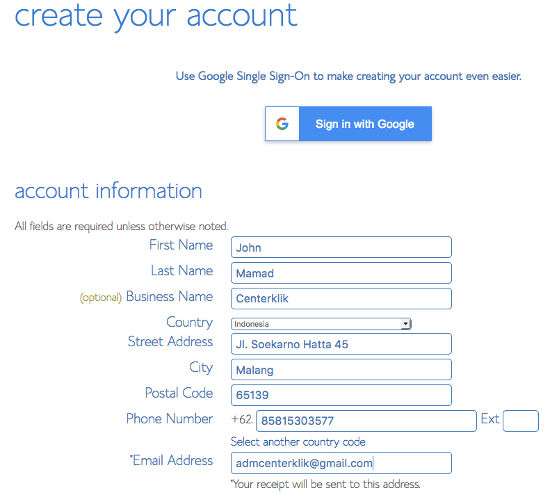 On the next page you will need to enter your detailed contact information. Make sure you enter the correct detailed information, because Bluehost will sometimes do verification by requesting (scanned copy of identity such as KTP). This is useful to avoid spammers and other users who try to abuse Bluehost services.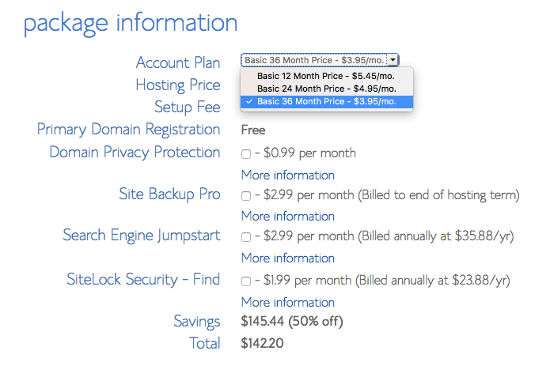 The next step in the information area and the most important one is to select the package you wish to purchase. Since you have used the link above (That's a special discount link), you will get a discount for hosting. I would suggest choosing a period of 24 or 36 months to save money, because the longer you choose the hosting package offered, the price you get is fairly cheap.
And don't forget to uncheck all the add-ons offered such as add-ons (Domain Privacy Protection, Site Backup Pro, Search Engine Jumpstart and Sitelock Security). This is to make the price you pay cheap and really just a hosting package. If you need the add-on, you can add it later to Bluehost's cPanel.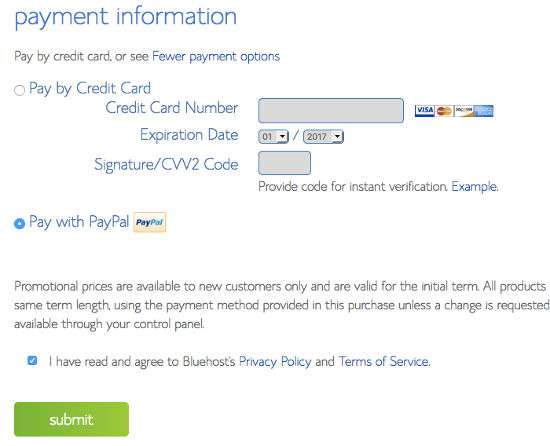 The final step is to make a payment via credit card or PayPal . By default bluehost payments appear to be using a credit card. If you want to use a credit card, please fill it in directly according to your credit card information. But if you want to pay by another method, namely PayPal, then click on the words "More payment option" to bring up the payment via PayPal and tick the option.
Click the checkbox " I have read and agree to Bluehost's Privacy Policy and Terms of Service . And click the "Submit" button.
Please complete the payment with PayPal as billed. And next you have to enter a password for your login, you can use the password generator on the same page to create complex passwords. It will take about 5-10 minutes from Bluehost to send the login details of your new hosting account in your Email. You can login and start setting up your website or blog on Bluehost cPanel. You can see the guide I have created for the Guide on How to Install WordPress on Bluehost Hosting .
And that's an easy way to order hosting and domain purchases at Bluehost web hosting services. And if you want to plan on creating more than one site, you can use the same hosting account for hosting more than one site. There's no need to buy a separate hosting package for your new website.
Hopefully this article was useful and helped you in how to buy hosting at BlueHost. Good luck and good luck. 🙂