How to buy hosting and domains at Hostgator . To start having your own website or blog, what you need first to get it online is a domain name and hosting. Getting your own domain name and hosting is not difficult, the most important thing is of course you already have a little money to buy the domain name and hosting plan.
Indeed, you can get a domain name and hosting for free, but both have limitations and make your site look unprofessional later. So, for those of you who want to be serious about having a website or blog, it is highly recommended to buy it. And buying hosting requires more knowledge than just having money and buying it in the wrong place. Because hosting plays a very important role in supporting your site.
In this guide, I will help you determine where to buy the best web hosting service and how to make a purchase for that service. There are lots of hosting services that you can find when searching on search engines, but to shorten your search I suggest choosing one of the 10 best hosting services that are blog center, click summarize here ⇒ 10 Best and Cheap Web Hosting Services .
And here I will make a guide to help you in buying hosting and domains at one of the best web hosting services, namely HostGator. This guide will make it easier for you to process the list of hosting and domain orders correctly.
How to Buy Hosting and Domains at HostGator
If you are not familiar with Hostgator, it is one of the best services for web hosting that you can use and for the quality there is no doubt because this is a well-known hosting company and already has millions of users around the world.
Hostgator offers many plans, but for a new website (WordPress, Static, PHP, etc.), shared hosting offers a good starting plan. In this tutorial, I'm going to buy the cheapest price plan which is the "Hatchling" plan for 3 years (Because the price is so cheap). The "Hatchling" plan offers unlimited everything but can only be used for one domain only. If you plan to create multiple sites, you can use the "Baby" package or the "Business Plan" package as well.
Hosting costs can vary depending on the type of hosting service offered. But for beginners, the shared hosting package above is the most appropriate choice because the price is more affordable. However, if your site grows in a few years, maybe two or 3 years later, you can upgrade to a more expensive service with extra capabilities, namely VPS or Cloud Hosting .
Read: Tips on How to Choose a Free and Premium WordPress Theme
And let's start with how to buy hosting at HostGator
Please visit the HostGator site at the following address ⇒ https://www.hostgator.com/ and on the main page of the HostGator site there is a button that says "Get Started Now" and click the button. If you can't find it, you can immediately click the "Web Hosting" menu.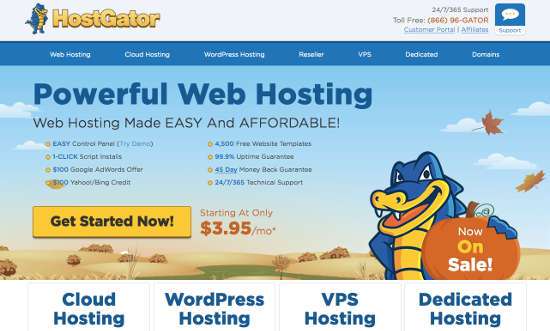 On the next page, click the " Signup Now " button right in the "Hatchling Plan" package.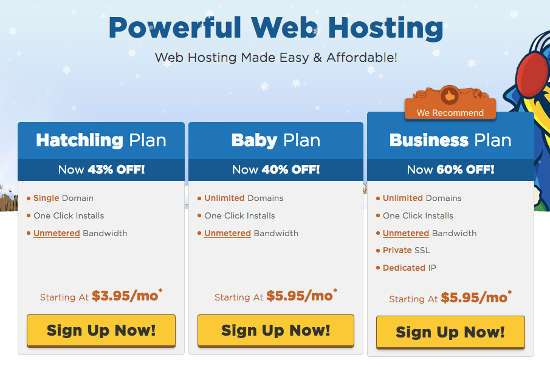 After that you will be presented with a long form which is divided into several sections. This is all important for you to pay attention to because this is the last page in the order process at HostGator.
1. Choose a Domain
First you are required to enter the new domain name you want in the column provided if you don't have a domain name "Register a new domain", an example of a domain name is: WP Radar.com, but if you already have a domain name that you have purchased on the spot. otherwise, click the tab menu "I Already Own This Domain" and type the domain name that you already own in the column provided.

Domain prices vary depending on the domain extension, for example the most popular (.com, .net, .org) is priced at $ 12.95 / year.
2. Choose a Hosting Plan
In the second part, you will automatically be in the "Hatchling" package because on the previous page you clicked on the package. And for the hosting plan by default on the 36 month or 3 year plan. You can change it if you want but better make a plan for at least two years. Next, fill in the username with at least 2 characters and a security PIN with at least 4 digits.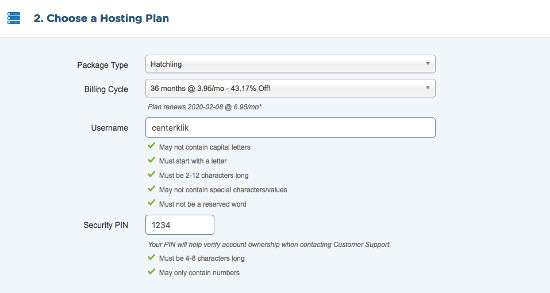 Prices will vary depending on how long the plan you are going to pay for, the longer the plan you take, the cheaper the price you will get.
3. Enter Your Billing Info
In this third step, you are required to fill out a form with information that matches your identity such as email, name, address and telephone number. I suggest you check the information to make sure it is correct, as they will call you on the cell phone number provided to verify the intended purchase.
This is done to ensure the safety of your account. And on the right you can also choose a payment method: PayPal or credit card. If you select PayPal, on the page after pressing the Checkout button, you will be directed to the payment page with PayPal.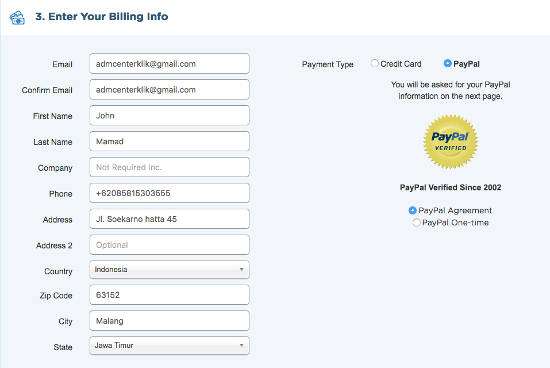 Read: Add WooCommerce Delivery Date Feature with Order Delivery Date Pro
4. Add Additional Services
In the fourth section is an additional service, make sure you uncheck all. Because this will make your hosting price expensive and this service is also not that important to you. But if you need this additional service, you can activate it later via the HostGator control panel.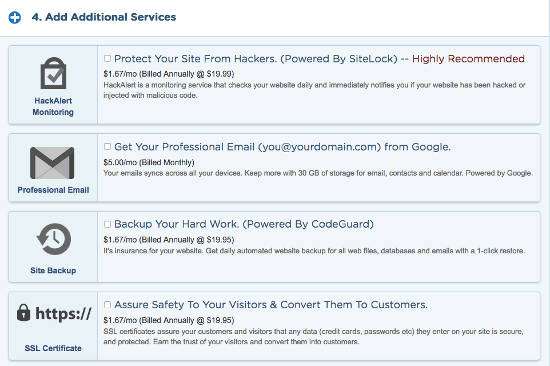 5. Enter a Coupon Code
If you have a coupon for cheaper purchases then enter it in this column. By using a coupon you can get a big discount of up to 60% depending on the applicable promo.

6. Review Order Details
In this last section you can look back at your hosting orders and see if the plan amount and the amount charged are correct. If so, please click the "Terms of Services" option and click the "Checkout Now!" Button.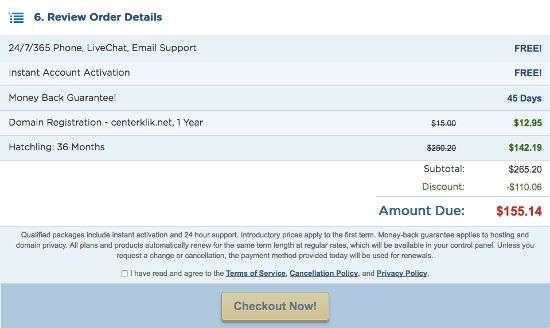 If your payment uses the PayPal online payment method , you will be taken to the PayPal payment page and please complete your hosting order payment.
And after completing the payment process in about one minute you will receive an email from Hostgator containing your order confirmation, and within an hour you will receive a call with the new hosting your account details and it will also be sent to your email. And the process of buying hosting and domains is now complete, you can directly access your cPanel hosting to perform the next setup steps. If you are using WordPress then you can read the guide below:
Above is a complete guide on how to easily order to buy hosting and domains at HostGator , I hope this article helps you and good luck. 🙂