How To Buy Hosting On SiteGround Web Hosting . Having a website or blog with your own web hosting and domain name does give a professional and serious impression, this is also important for business interests. For those of you who are starting to have a website or maybe currently running a blog on free hosting and domains, then this is the right time for you to switch to using paid services and feel the difference.
You can easily find good hosting services on the internet, and one of the best is SiteGround.
SiteGround is the best hosting service built through the community and they have special technology, namely Supercacher and special optimization for the WordPress platform. And if you are currently interested in using SiteGround, here I will guide you how to process the order to buy hosting at SiteGround.
Read: Recommended Web Hosting Service Companies by WordPress
How to Buy Hosting on SiteGround
To start buying hosting, please visit the SiteGround website at https://www.siteground.com and click the "SignUp" button. Or you can choose other packages that are bigger if you really need a package above shared hosting. If a WordPress user, please click the "WordPress Services" menu at the top and select WordPress hosting so that it looks like the image below.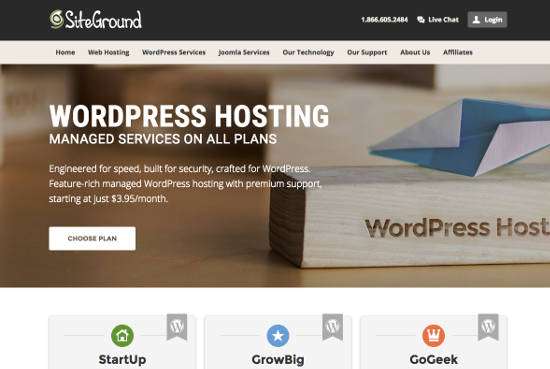 In this guide I will provide a guide to buying hosting with a shared hosting package at the lowest price of $ 3.95 / mo, namely "Startup" for one website, 10GB capacity and get many excellent features.
Step 1: Choose a Hosting Package
The first step is to click the "Order Now" or "Get Started" button right on the package you choose.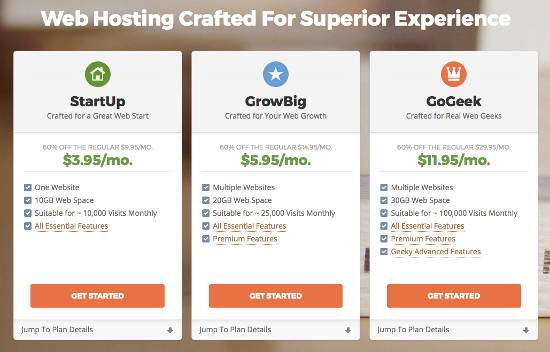 But for those of you who want to get premium features and excellent services at affordable prices, please choose the package above, namely "GrowBig" or "GoGeek" hosting plans, because if you visit other web hosting services you will not find these features.
Step 2: Choosing a Domain Name
The second step is to choose a domain name, you must enter your domain name by selecting "Register a New Domain" if you do not have a domain name. And select "I already have a Domain" if you already have a domain before. If you have clicked the "Proceed" button.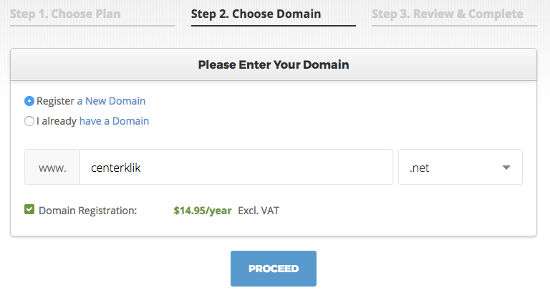 Step 3: Review & Complete
In this last step, you will wait a while because siteground is checking whether the domain you registered is still available, if the domain is not available then you are required to choose another domain name. But if the domain name is available you will get the message "Congratulations!" and please fill in the form below under "Account Information" with your new email and password (password to login to your siteground cpanel account).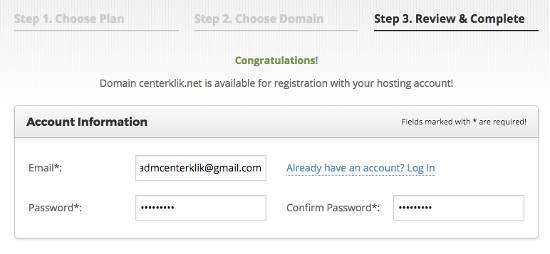 In the section "Client Information" Please fill in your personal data according to the official identity card or KTP as shown in the image below.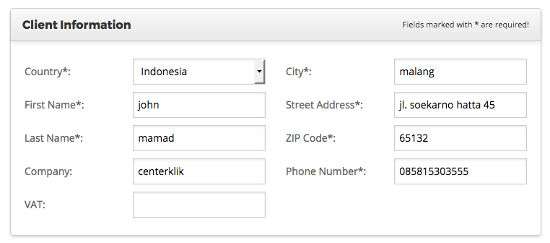 In the "Payment Information" section here you must fill in the information according to your credit card, this is needed to make a payment for the hosting package bill that you purchased. This section is the part that I think is not satisfactory at SiteGround because it only provides credit card payments by default. There is no payment using PayPal. But you can contact customer service via live chat to ask for other payment alternatives if you don't have a credit card.

The last part of Step 3 is "Purchase Information", here there are two parts, namely "Hosting Services" which contains the plan for the package you take, the data center location, the period and the monthly price. You can adjust the hosting rental period according to what you want in this section. And in the "Extra Services" section, please remove all the ticks to get the price according to the package, except for the domain registration check if you buy a new domain. Or you can check all of them if you really want the service.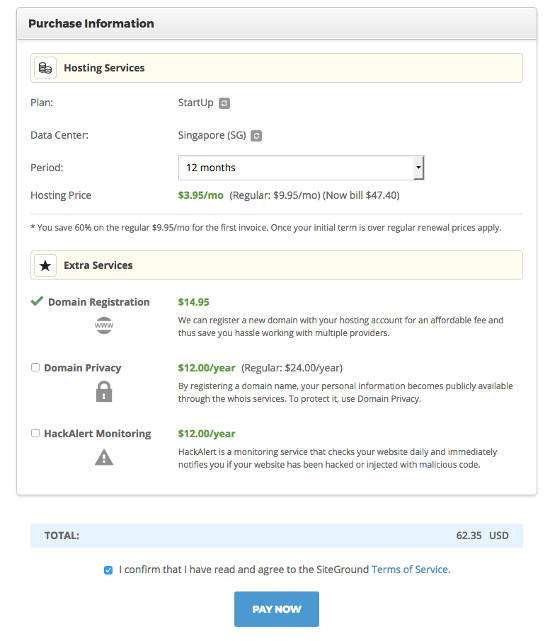 When all is done you can see how much you have to pay for the hosting that you ordered on SiteGround, if it is appropriate, please click the "Terms of Services" option and click the "PAY NOW" button to complete the payment. When the payment is complete, you will receive an email containing hosting information and confirmation of your hosting login. After that you can start to setup your website. If you are a WordPress user, please read the guide to install WordPress on SiteGround at the link below.
Above is a complete guide on how to buy hosting and a domain at SiteGround's web hosting service. Hopefully this article was useful for you and good luck. 🙂