Slider Revolution – Best Responsive Slider Plugin for WordPress – When you want to build a website and want to make it more attractive and interactive then you need to add a slide feature to your website. By displaying beautiful slides, the website will look more professional and convincing. Especially if your website is intended for a business or portfolio, it is imperative for you to install a slider. With this slider you can place all the important content in an attractive and interactive visual slideshow at the top of the page before your main content, this can quickly draw users to see the main points you want to offer and users can immediately take action.
If you are a WordPress user it will be very easy to find plugins to create slideshows, there are several plugins for free as well as paid ones. But for those of you who aim to create a large and professional website, I highly recommend using a premium slider plugin because it guarantees more quality and completeness of features. One of the premium slider plugins you need to try is Slider Revolution made by themepunch.
What is Slider Revolution?
Slider Revolution is a WordPress plugin that is used to create a slideshow with a responsive appearance or can adjust to various screen sizes and supports all browsers. This plugin is the best selling premium slider plugin on Codecanyon. Until I write this article, it has sold nearly 180,000, has a high rating of 4.77 / 5 and has been used by more than 2.5 million WordPress sites.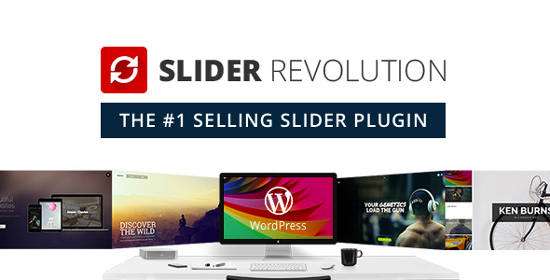 This Slider Revolution plugin was first launched in 2012 by renowned developer Themepunch to provide a solution for WordPress users who want to display a slideshow on their website by bringing a variety of excellent features and easy to customize.
You can get this Slider Revolution Responsive WordPress plugin at a fairly affordable price, namely: $ 25 for a Regular License and $ 120 for an Extended License. This price includes getting updates and support from themepunch for 6 months. You can add $ 7.88 to get an entire year of support.
Read: Visual Slide Box Builder – Create Beautiful WordPress Slider Galleries
Why Should Choose Slider Revolution?
There are several reasons why you should use this Slider Revolution plugin to create a slideshow on your WordPress website, because this is not just a slider plugin but more than that. Let's take a look at what makes this plugin more attractive than other slider plugins.
Powerful Visual Editor
Creating a slideshow is very easy because there is a visual editor feature with complete tools, even beginners can easily create a slideshow on their website with this plugin. With Visual Editor Slider Revolution you can add various things to your slides such as background, fonts, text, links, positions, animations, borders, and much more. In addition, there are more than 80 sample slides that every user can use, there are 340 SVG hand draws and website templates.
Responsive
The slideshow that you create with this Slider Revolution plugin will look perfect on various devices and screen sizes because it supports responsiveness. You can even customize the layers how the slide will look on various devices.
Media or Social Feed Support
Slider Revolution version 5.0 and above is equipped with advanced features to support WordPress posts and support popular social media such as Flickr, Instagram, Twitter, Facebook, YouTube, Vimeo and HTML5. And themepunch will always be planning to add a lot to this feature in the future.
Optimized Performance
For most users, they may still hesitate to add a slider to their website for reasons that will make the site heavy to load. But it is different if you use this revolution slider because it has been optimized so that it is light and fast when loaded. Features like Lazy loading are embedded in this plugin so you don't have to worry about slides burdening your site.
Free Updates and Premium Support
Since the plugin was released in 2012, the development team has consistently made updates and improvements to the plugin's features to make it easier to use and have more functionality. Using this plugin you will get free updates as well as full support. The developer provides complete plugin documentation, support from expert staff via tickets and free access to various other sliders.
SEO Optimization
For those of you who always implement SEO optimization, this revolution slider is equipped with features for you to add custom alt tags to images. Like the lazy loading feature is also included in this section.
Import and Export
With Slider Revolution you can easily import and export full-content sliders for use in themes or to easily move sliders to your other WordPress installations.
Read: Slides – Easy Ways to Make Beautiful Landing Page Websites
How to make a slider with Slider Revolution
In this section I will give the simplest example of making a slider with the slider revolution plugin, because you can read the complete slider setup in the themepunch documentation .
The first thing you need to do is to purchase the plugin through CodeCanyon for $ 25. And get after that download and install the plugin via your computer or you can upload it using FTP.
After your plugin is activated, please enter the plugin settings menu by clicking the "Slider Revolution" menu, in the plugin activation section click the "Register Revolution" button and enter your activation code so that the plugin shows a warning "Plugin Activated".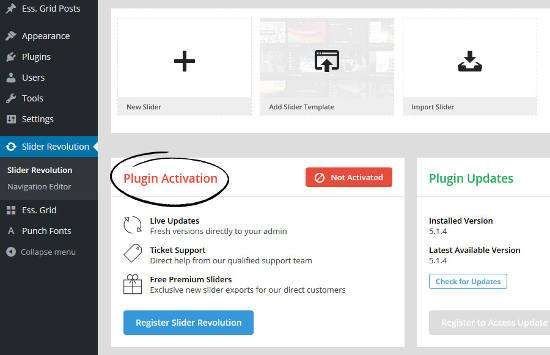 After the activation process is complete, please create a new slider by clicking the box with the + sign and clicking "Create New Slider".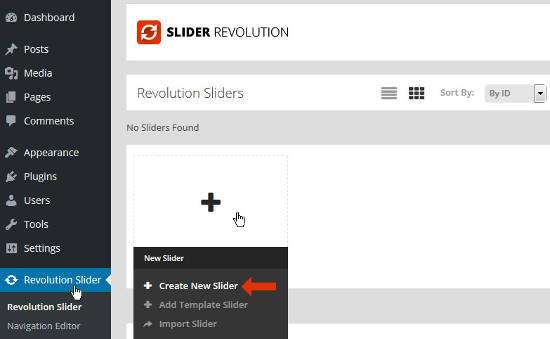 Now you will be in the "Slider Settings" section where you can select your slide source in section 1 which is "Content Source", in this section there are default sliders, post sliders, Instagram sliders and others. In this example I chose "Default Slider".

Please scroll down to section 2 "Slider Title & Shortcode", please fill in the slider title and also the alias name. And the third column will be automatically filled in as a slide shortcode that you created. This shortcode is what you can place in the post or page section if you want to display a slider in that area.

In part 3, namely "Select a Slider Type", there are various types of sliders that you can choose from, such as standard sliders, hero sliders, carousel sliders and many more. Here I choose to use the default slider type "Standard Slider".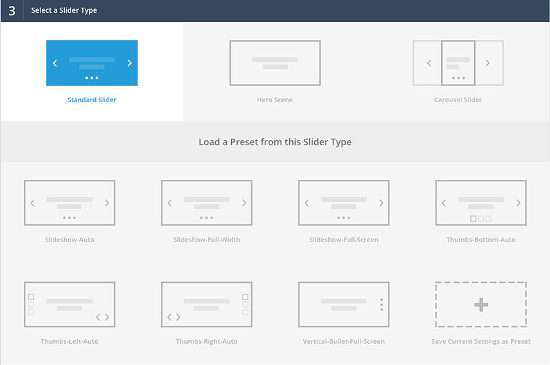 In the 4th part of "Slide Layout" there are three options, namely Auto, Full-Width, Full-Screen. Please select one of the three options.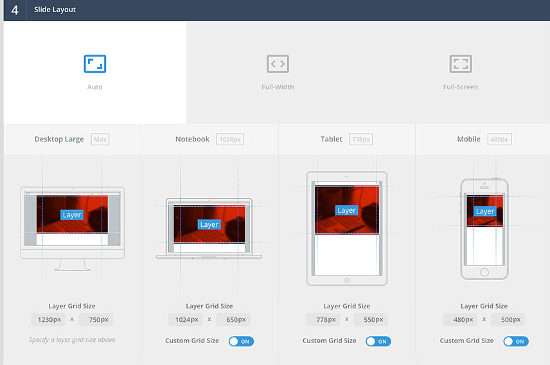 In part 5, you should first save it by clicking "Save Settings".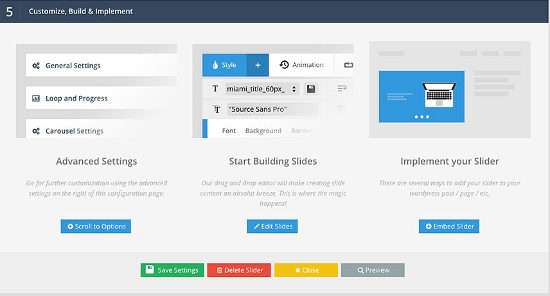 To perform general slide settings, you can configure on the right. In that section there are various kinds of settings such as General Settings, Layout & Visual, Navigations, Parallax 3D, Scroll Effect, Google Fonts etc.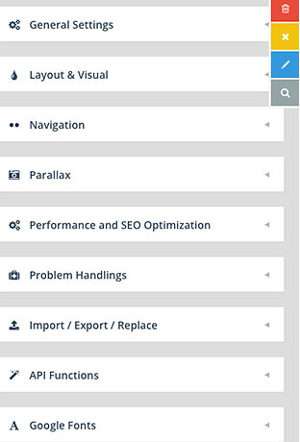 Next, to create a slide show, please switch to the "Slide Editor" tab menu, in this section you can make your slide show and set the various animations you want, you can add backgrounds, text and animation to the visual builder editor.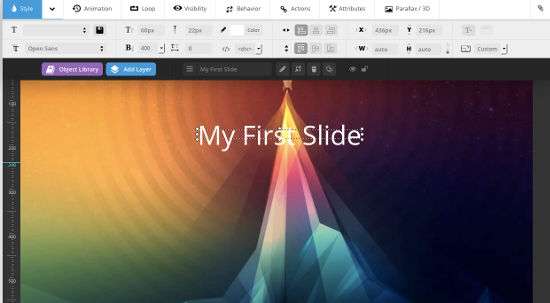 If you have finished the steps above, then the last step is to display your slide. To do this please go back to the "Slider Revolution" menu and highlight the name of the slide you just created and click the drop-down menu icon and click "Embed slider". You will see a pop up with various instructions on how to place the sliders on your website as below.

In addition to the method above, you can add to your slides with the option "Add Slider from Template" which already contains a lot of ready-made slide examples that you just need to edit. And also you can import sliders from your computer.
Conclusion
Slider Revolution is a combination of many features for the major WordPress slider plugins such as easy editing, multiple style and layout options, responsive interface and search engine optimization. If you are looking for a WordPress plugin slider that can create a beautiful appearance with various kinds of animations then Slider Revolution is the right choice for you and the price offered is also very affordable, it even feels meaningless when you enjoy the various features that this plugin brings.
And that's my review of the Slider Revolution plugin, I hope this article will be of use to you. And good luck using the revolution slider plugin.