If you currently really like using the Elementor page builder in WordPress, and are looking for a theme that is really suitable for Elementor and even made specifically for it, then you can try one of the themes that I will be reviewing, namely the Litho Theme.
This Litho theme has 200 element modules ready for you to use in conjunction with the popular page builder Elementor. You can create various types of websites easily just by drag and drop according to what you imagine in your mind.
Litho Theme
Litho theme is one of the most intuitive WordPress themes built for seamless integration with the Elementor page builder. You can create almost any type of website with this Litho theme. Good for creating business websites, personal, modern blogs, portfolios, freelance, agencies, WooCommerce online stores and many more.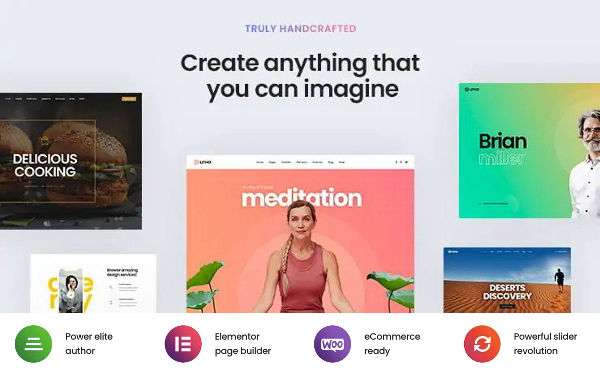 This theme comes with more than 200 ready-to-use elements and provides a large selection of interior page layout designs and more than 36 layout design options for ready-made homepages. Apart from that, you don't need to doubt the design of this theme because Litho theme has won many awards such as from Awwwards.
In terms of performance, there is no doubt, it is made with great care and follows the guidelines of the best SEO techniques which makes Litho a lightweight, fast and search engine friendly theme.
Litho Theme Price
This Litho theme is priced at a very low price considering the features and benefits it provides, you can buy the Litho theme on the ThemeForest WordPress Theme Marketplace for only $39 for use on a single website.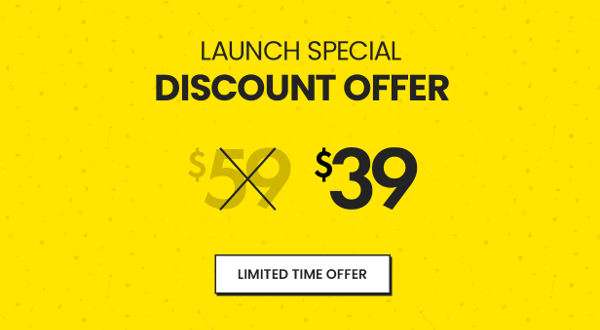 You'll also get six months of support and free lifetime theme updates included with your purchase and you'll also get the $85 Slider Revolution premium plugin for free. If you want to extend the support period for 1 year, you can add a $10 fee.
Read : Master Addons – Best Extensions and Addons for Elementor
Why You Need to Use the Lihto Theme?
Let's find out about the advantages of this theme, and find out why you should choose the Litho theme for any of your website building projects. Nothing is as easy as using this theme, almost everything has been thought of by the team of developers and designers of this theme, so that various website projects can be completed with this one theme easily and quickly.
Made for Elementors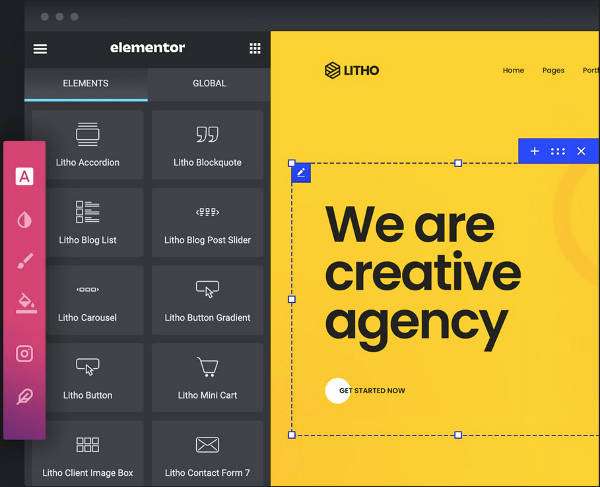 We all know that Elementor is the most popular page builder in WordPress, it has many advantages over other page builders. Therefore, the developers made this theme fully compatible with Elementor by creating a large collection of elements that are ready for you to use.
All elements are well made and fast so that it integrates seamlessly and doesn't affect the speed of your website, it's also very SEO friendly.
Although it's built for Elementor, it also supports WordPress' built-in Gutenberg editor. But specifically for elementor, Litho brings more than 200 ready-to-use elements that will meet your website creation needs, even with this theme you don't need to use Elementor Pro, just what Litho brings will meet all the needs you want.
Header & Footer Builder
Headers and footers are very important parts of a website. You have to make sections very distinct and unique while placing important navigation to make it easier for users. This avoids the need to install more plugins to handle aspects of your site.
Litho theme has a built-in builder to make it easier for you to create this header and footer section according to your needs. Even though the default header and footer designs have been brought and you can just use them, you can still make this section according to your imagination, it's very easy to use this builder because you only need to drag and drop.
36+ Homepage Designs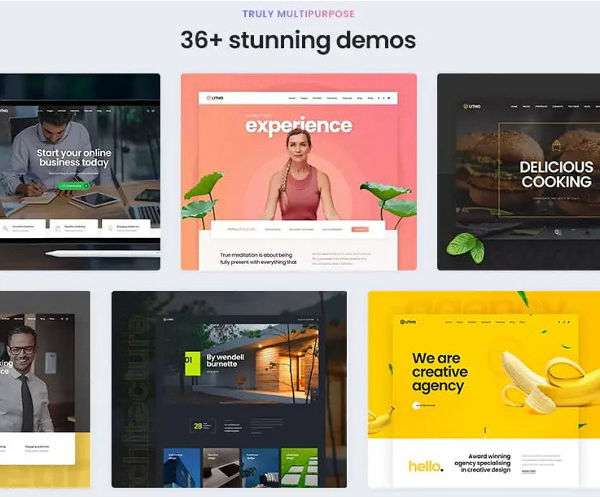 Litho Theme brings a large number of homepage layout designs, there are 36 more ready-to-use homepage designs that almost meet all website niches. It is designed to meet the needs of all users to work on various website projects with unique and modern design options.
No matter what type of website you want to create, Litho theme provides you with a website for corporate, design agency, personal, freelance, blogger, eCommerce, Yoga studio, restaurant, architecture, marketing, finance, travel, gym, interiors, SEO, apps, brands, fashion, furniture, photography, spas, magazines, consulting, home decor, cafes, events, hotels and any other kind of business using an incredible collection of design elements and template library.
A demo import feature is also provided to make it easier for you to quickly create a website using an existing layout and all you have to do is edit the content and images. Of course this will make it easier for beginners who are not experienced in creating websites using Elementor.
Professional Blog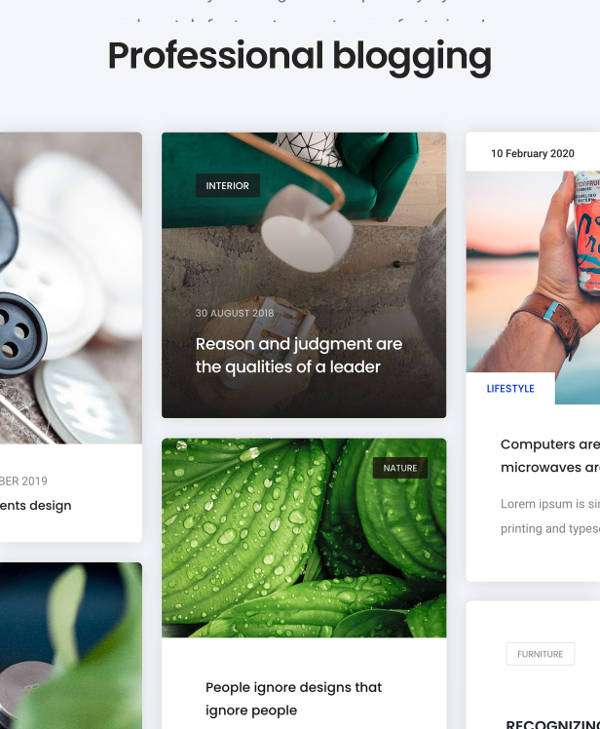 Litho theme makes all aspects of the theme perfectly, nothing is missed from each part, as well as for those of you who want to use this theme to create blogs, both personal and professional, and even content-rich news websites can too. Litho has provided at least 11 lists of interesting blog layouts such as grid, mansory, classic, clean, modern and many more.
In addition, there are also 5 detailed blog options made for user-friendly readability with layouts that will set your posts apart and leave your visitors amazed by what you create. It also supports standard, gallery, slider, video, audio, link and blockquote post types.
300+ Template Collection
Litho is equipped with a super large collection of templates, there are more than 300 templates already available and ready to use. You can make your page look beautiful by adding a variety of templates according to your needs.
This is very useful when you want to show a prominent part of the page to present important information whether it's product displays, newsletters, calls to action, tabs, slides and much more. It's all in a modern and responsive design.
Popular Plugins Compatible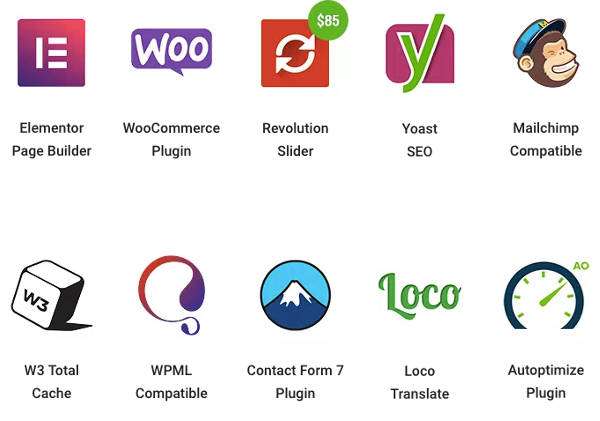 Yes, a good theme must of course be compatible with various kinds of plugins, both free and paid. Because WordPress cannot be separated from plugins and Litho this theme is also compatible with various plugins such as WooCommerce, Yoast, Contact form 7, caching, Mailchimp, WPML and many more.
You don't have to worry about your favorite plugins that are usually installed on your website will still work well in this theme. In addition, the interesting thing when buying this theme is that it also includes a cool plugin to create various kinds of slides, namely Slider revolutions, the price of this plugin is $85 and is given free to you when you buy a theme that costs only $39.
WooCommerce Compatible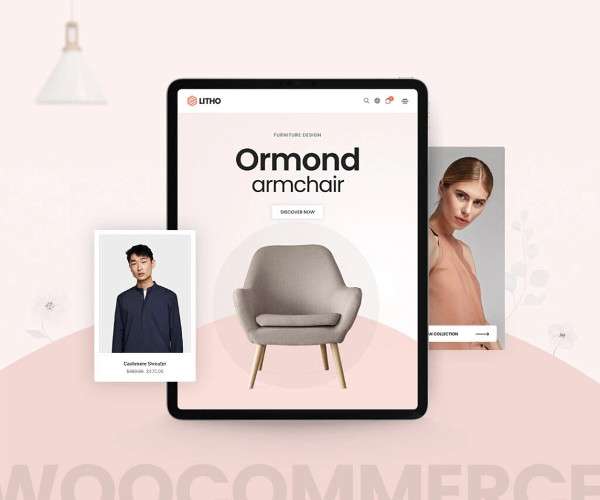 WooCommerce is a popular plugin for making websites work to easily sell products, and the Litho theme supports WooCommerce. There are several important elements specifically for WooCommerce that will make it easier for you to sell products such as Appealing hover style, Detailed filtering, Modern mini cart, Attractive gallery.
Not only that, there are several layouts made especially for WooCommerce namely fashion and furniture. You can start selling products online and make your online store look professional with a very luxurious design with this theme. Just focus on your business and let the litho theme handle the design of your website.
10+ Portfolio Style
For those of you who need to display your work in a beautiful portfolio, Litho brings 10 more designs that you can use to display your product or work so that it looks beautiful on your website, this will attract the attention of clients.
There are options like classic, boxes, colorful, bordered, overlay and many more to showcase your portfolio list, Customizable all columns, attractive hover styles, Advanced single projects, and custom content blocks. Meanwhile, to display a full portfolio is no less cool, because there is a single project page that will make your portfolio more interesting in detail.
Section Builder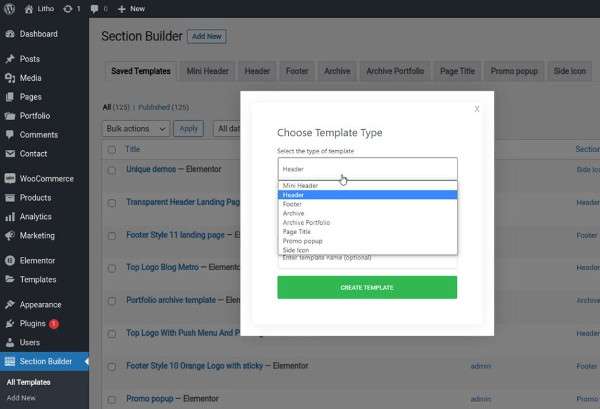 Litho brings this feature and for professional users it is very useful, because with it you can create multiple sections of a page and customize them as you wish. You can also use these pre-made sections on various pages.
Litho already has plenty of ready-to-use designs available, but you can also create entirely new sections from scratch if none of the templates actually work for your site.
Conclusion
The Litho theme is an interesting choice if you really like using the Elementor WordPress Page builder. Because this theme can be used for various types of website needs. The features that are brought are also very complete by having more than 36 different homepages that are ready to be used. This theme is very lightweight and offers many useful functions.
This theme has also been trusted by more than 36 thousand customers and they love it. It's also getting big sales on Themeforest so you shouldn't hesitate to use this theme. When you buy this theme, almost every feature you can imagine can be found in this theme.
Read: Element Pack Pro – Best Addon For Elementor Page Builder