Master Addons – Best Addons and Extensions for Elementor – Elementor is a very popular free WordPress Page Builder plugin that has become the best with evidence of around 4 Million + Active Installations. And nowadays page builder has become familiar to many WordPress users, Using a page builder has become a habit of most WordPress users.
Now with Page Builder, anyone can build their own website without writing a single line of code. Anyone can now directly participate in the writing and design process.
As Elementor grew in popularity, a large number of add-ons created by third party developers emerged to extend the core functionality of Elementor. Since Elementor is so popular, of course there are tons of add-ons you can find on the internet, and of course it will confuse you.
In this article I will introduce one add-on but it will fulfill all what you need to be a complement to the Elementor Page builder, the plugin is the Master Adds.
What are Master Addons?
Master Addons is a great add-on Addons for Elementor. It brings a large number of elements that can transform your site into something more user-friendly, visually appealing, and interactive. In addition, there are also many other useful elements to complement the features of various types of websites.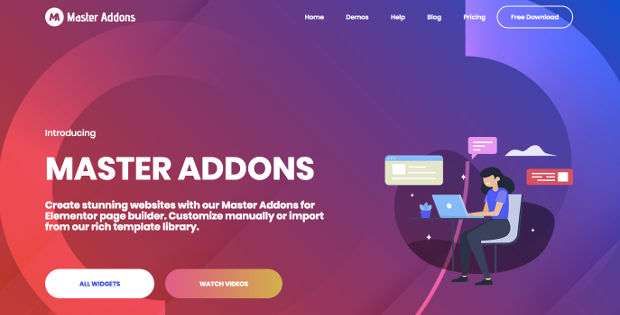 Master Addons comes in free and paid versions. The free version can be downloaded from the WordPress repository, and the premium version can be purchased on the CodeCanyon marketplace and its official website.
Master Addons pack some of the most important Elementor elements in their package. So far, it has 30 elements and still counting. And below is a list of the essential Elements of Master Addons:
Free Elements : Animated Headlines, Dual Heading, Advanced Accordion, Tabs, Progressbar, Tooltips, Flip Box, Info Box, Team Members, Team Members Slider, WP Forms, Call to Action, Creative Buttons, Changelog, Creative Links, Image Hover Effects, Blog, News Ticker, Business Hours, Table of Contents, Changelog, Image Hotspots, Image Gallery, Pricing Table
Form Elements : Contact Forms 7, Ninja Forms, WP Forms, Caldera Forms, weForms
Extensions Elements : Particles Background, Animated Gradient Background, Background Slider
Master Addons PRO Elements : All Free Elements + (Animated Headlines, Advanced Nested Accordion, Advanced Multicolor Accordion, Nested Tabs, Creative Buttons, Creative Links, Team Members (Content Drawer, Animation Background), Flipbox, News Ticker, Image Hover Effects, Animated Gradient Background, Image Hotspots).
Price of Master Addons For Elementor
You can use the Master Addons and download it for free via the WordPress.org plugin repository here → Download the Master Addons. However, if you are not satisfied with the free version and want to get many other useful features, you can upgrade to the premium version by purchasing on the CodeCanyon marketplace or on the official website.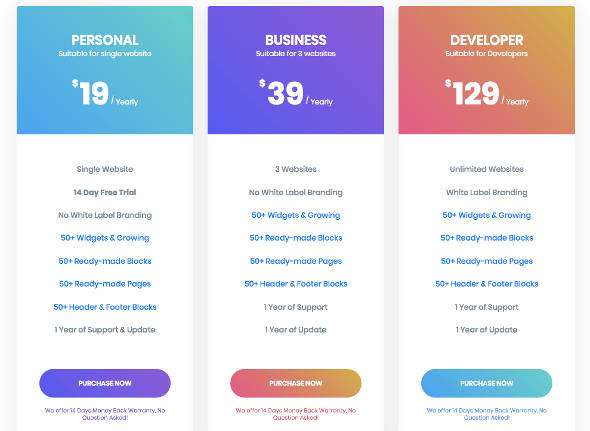 The Master Addons price is divided into 3 packages, where each option provides three different price packages. Each of them comes with the same features. The only difference is the amount of usage on the website.
The Personal plan is for one site for $ 19, Business can be used on 3 websites for $ 35, and the Developer license package can be used on an unlimited number of sites for $ 129.
There is a 14 day money back guarantee if purchased from the official site. You also get full support either through the WordPress Support Forum or from the official website. Master Addons also offers a free 14-day trial of the PRO version without the need to enter payment details.
Read: Top 20 Best WordPress Themes for Elementor + 10 Essential Plugins for WordPress
Master Addons Features
When you install and activate the Master Addons plugin, you will see several tabs such as Addons and Extensions. You can enable addons you want to use or disable ones you don't use.
Then start by opening the post or page you want to edit or create with Elementor. Look for the "Master Addons" category or scroll down until you find it.
Select that option to find all available Master Addon elements. Add and customize the selected elements to your liking.
And here is a brief explanation of each Addons, Here you can see all the Master Addons for Elementor or addons that you can enable or disable. :
Content Elements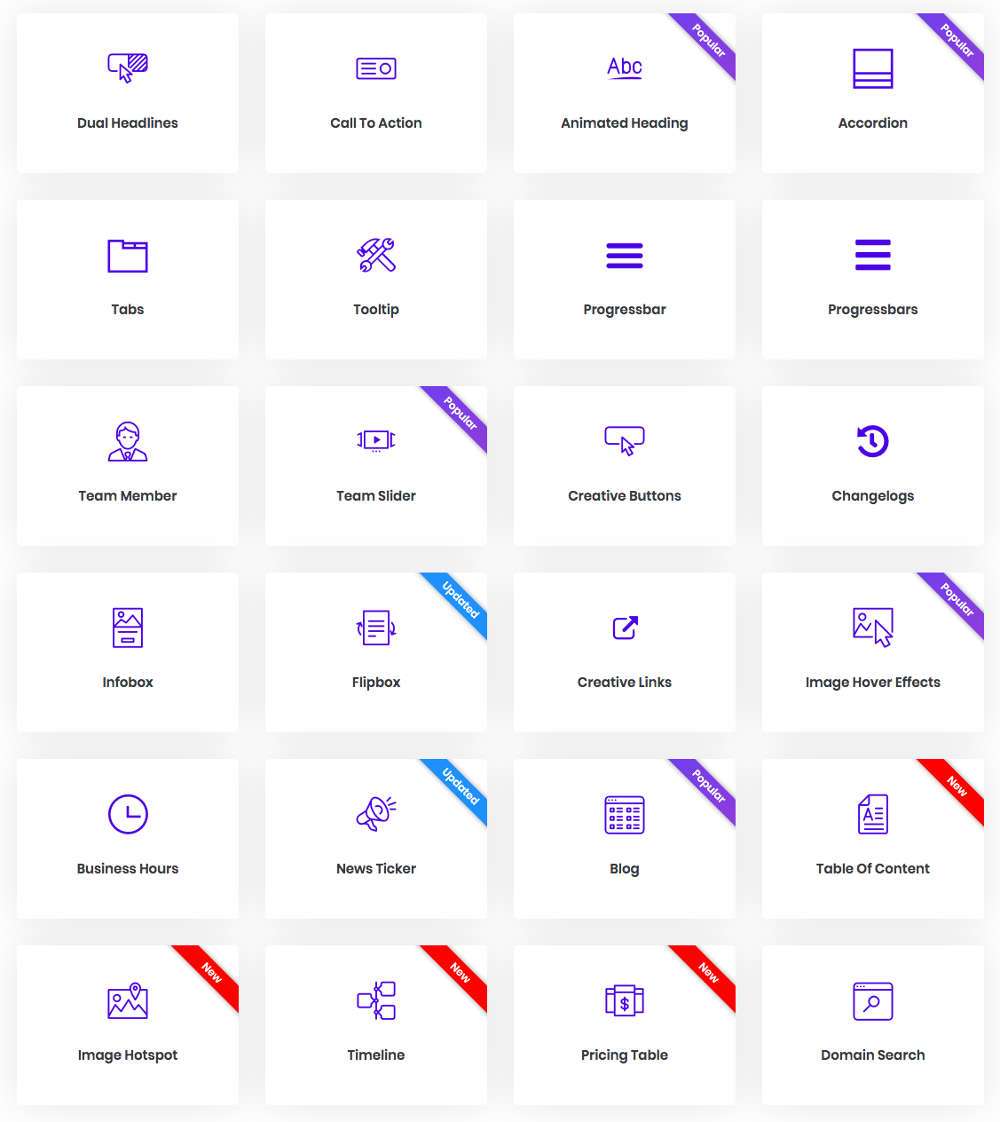 MA Animated Headlines – This widget can be used to create interesting headlines. You can customize the header style to your liking. There are also dual headings for advanced options besides headline animation.
MA Advanced Accordion – The Advanced Accordion feature can be used to show and hide content to help your visitors get a better understanding of your content before they click through to specific pages of your website.
MA Progressbar – This feature allows you to add an animated progress bar to the pages of your site. They can be used to highlight your various products and services or to show different areas of expertise.
MA Team Member – This feature is for showing your team members or employees. It is perfect for use by business sites. There are many templates in the library. Once you've chosen a template, you can add an image, name, social media information, description and other text as needed.
MA Tab – Having informative and interesting tabs is another way to simplify site navigation. You can create as many tabs as you like and the Tab Add-on can be used to customize tab colors, font sizes, icon images, vertical or horizontal positions, and more.
MA Info Box – Information boxes can be used to display important information on the site in a way that really grabs the viewer's attention. People's time is limited, and if they can't find what they're looking for quickly, they'll move on to another site.
MA Tooltip – Tooltips can be used to allow your site visitors to mouse over a specific icon, image or piece of text to learn more information without having to click on it. Tooltips generate more interactive potential for your site's content.
MA Flip Box – Adding a flip box is a great way to make a call to action, product, or service stand out on the page. MA Flip Box includes great 3-dimensional effects and several other convenient options. The variations of the flip box are cube, diagonal, faded, horizontal flip box, vertical flip box, flipped cube, and rollover.
MA Member Team Slider – You can use the team members slider add-on to create a team member page on your site complete with a fully customizable slider view. All of your current team members will be displayed on the same page at once.
MA Timeline – A handy feature that allows you to add a timeline to your website. The best part about this feature is that you don't have to deal with complex coding. Your layout can be vertical or horizontal and can include animation and various styling options.
MA Filter Image Gallery – Useful elements to quickly and concise image filters if you have a lot of pictures or photos.
MA Image Hotspot – This feature allows you to add interesting bookmarks and hotspots to emphasize important information in an image on your site.
MA Restrict Content – This element can be used when you want to lock certain content on your site. You can select an age, checkbox, password, pop-up, or user role selection to restrict content. You can also add forms, images, text, videos, PDFs and more in the restricted content section.
MA Current Time – This element allows you to add the current date to a specific part of your website. This information will then be updated automatically.
MA Changelog – Add-on changelog is used to add updates, enhancements, and other fixes to showcase what's new.
MA Domain Search – This element can be added to the available domain search feature. Just enter a specific domain name to see if it's still available for purchase.
MA Table – This feature allows you to integrate custom tables with multiple row and column options.
MA Search – Element An addable search widget to help your visitors find what they are looking for on your website quickly and easily.
MA Counter Up – A feature that allows you to add animated numeric counters to any page on your site.
MA Progressbars – The Progressbars add-on works on the same principles as the MA Progressbar add-on. The only difference here is that this option lets you add several different animation progress bars.
MA Countdown Timer – A quick and easy way to add a countdown timer to your website.
MA Navmenu – this add-on is a great way to incorporate a great looking navigation menu into your WordPress site. All navigation menus you add are fully customizable to meet your design preferences.
MA Price Table – An effective way to display pricing information. Pricing tables can include discounts, ribbons, and any other features or aspects you want to illustrate.
MA Creative Buttons – The creative button add-on provides you with a variety of creative animations which can be activated whenever a site visitor hovers their mouse over a specific button or other clickable element on your site.
MA Image Hover Effects – Image Hover Effects can help you add image title and description. The add-on includes more than 20 different hover elements. You can easily adjust text color, type, background color and border from the rich options panel.
MA Creative Links – This option allows you to add your text links in a more imaginative way.
MA Blog – Blog Addon is useful for making blog pages cooler in elementor with masonry style, list, or grid, you can change the type of excerpts, headlines, and your meta information.
MA News Ticker – A ticker addon can be used to highlight news articles, blog posts, or other important information. Posts can be sorted by publish date, author, post type, ID, last modified date, random, etc.
MA Business Hour – Addon includes custom design tables and five standard designs. You can edit and rearrange the content in the clockwork elements the way you want.
MA Table of Contents – This feature is for creating a table of contents to help your site visitors navigate effectively through all of your blog posts.
Read: Monstroid – Best WordPress Themes for Elementor Page Builders
Forms Addons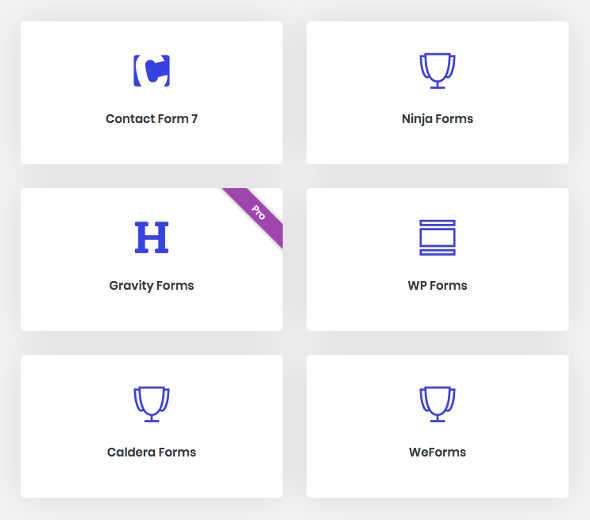 MA Contact Form 7 – This add-on allows users to fill out short forms on your site. Forms can contain names, e-mail addresses, and messages. You can customize this form by changing the fields and background color and other options.
MA Ninja Form – An excellent choice for Ninja Form users who want a good add-on for Elementor to help customize their forms. You can use this add-on to customize your design and other important elements.
MA WPForms – This addon can be used to add certain items that are unique to WPForms. If you've already created forms using WPForms and want to add them to pages created in Elementor, this is a great add-on that you can use.
MA Gravity Forms – Addon that lets you integrate certain elements of Gravity Forms in Elementor.
MA Caldera Forms – This plugin can be used to add items that are only used in Caldera forms with Elementor.
MA weForms – Another unique plugin that allows you to bring together elements designed for weForms on Elementor.
MA Call to Actions – Elements of creating a compelling call to action to convert your visitors into paying customers. This is one of the important marketing functions for companies in any industry.
Extension Addons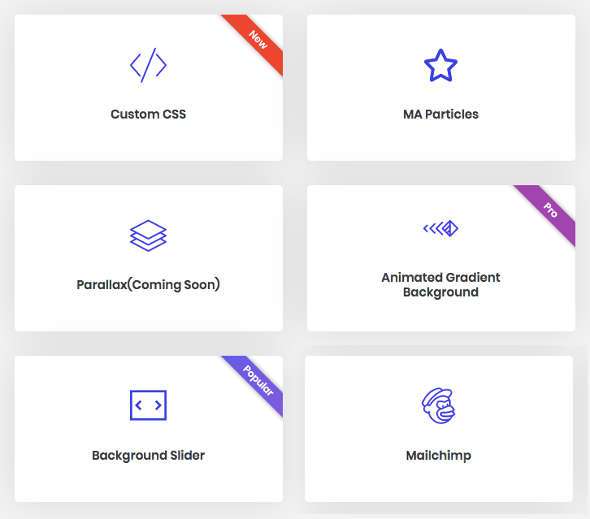 Particle Background – This is an animated background that contains moving particles. You can change the color, size and shape of the particles.
Animated Gradient – This addon allows you to design a row or section background with just a gradient. The color palette allows you to create almost limitless unique and custom background layouts.
Background Slider – This simple background element can be used to integrate video and image sliders into your page. A background color overlay can be added to draw more attention to the selected content.
Custom CSS – You can add your own custom CSS.
Positioning – Custom positioning gives you a lot of flexibility and power over your layout designs.
Extra – Set the minimum and minimum width and height of the container
Mega Menu – This allows you to create a fully responsive mega menu with dropdown items and rich content modules.
Transitions – You can choose from a large selection of animations that you can apply to widgets.
Transforms – Enabling transforms allows you to rotate, translate and scale elements.
Rellax – Allows you to apply parallax effect to any widget, following page scrolling.
Reveal – You can set the element, content or widget to reveal in a certain direction at a set speed with a delay and color.
Conclusion
Master Addons for Elementor can help you create attractive modern layouts or layouts for your site. This free plugin has over 30 different blocks to work with. There is also a premium version of the plugin with more features and functions. If you feel unsatisfied with the default elements of Elementor's Page builder, Master Addons can be the best choice for you.