Types of Hosting You Need to Know . After previously I made an article about the Complete Definition of Hosting and its terms , now I will show you some types of hosting that you need to know, this is important for you to know because by knowing these types of hosting you can easily choose the type of hosting package when You will buy hosting for your website or blog, below are the types of web hosting that you will often find when visiting a hosting provider service site: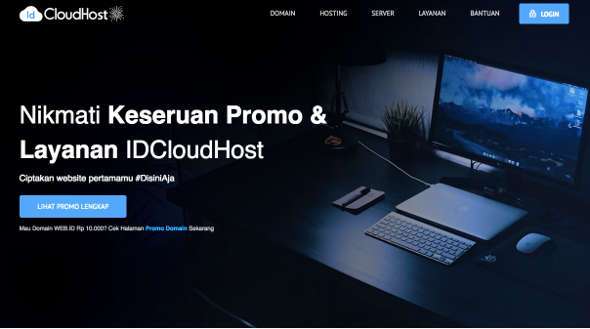 5 Types of Hosting You Need to Know
You may not find all of the types of hosting below for all hosting service providers, because most of them only offer services such as shared hosting and VPS hosting. Only large companies provide all the packages as below, some of which are:
1. Shared Hosting?
Shared Hosting is a term used for web hosting services where several websites share the resources of a large web server. Many WordPress web hosting providers offer shared hosting at very affordable prices ranging from $ 1.89 per month and also $ 3.89 per month. Shared web hosting is the cheapest and most affordable type of web hosting option like VPS or Dedicated Server.
Due to its low cost, shared web hosting is considered ideal for small businesses, blogs, and portfolio websites. Most newbies don't need anything more than shared web hosting. I recommend keeping costs low when you want to start your online business. You don't have to spend money on resources you don't need.
Are you wondering why shared hosting is so cheap? Now by having multiple websites on the same server, a web hosting company can only provide services at a much more affordable rate. For example like this. If you rent your own house, then you are responsible for paying all the rent yourself. But if you have roommates or other friends in the house, of course you can share the payment with your friends, so that costs are cheaper because they are borne by several people.
2. Dedicated Hosting?
Dedicated hosting is a term used to describe web hosting packages that provide dedicated servers with dedicated resources for a single client. Dedicated hosting is ideal for WordPress websites with a very large number of visitors. Many WordPress hosting Service Providers offer a Shared Dedicated Hosting Plan with a VPS hosting Plan.
For example, in a shared hosting plan, the client shares the computer with many other clients. In the case of the VPS hosting plan, the client shares the machine but not the resources with other clients on the same computer. However, it is a dedicated client hosting plan that rents the entire server with all its resources. Web hosting companies offer different packages for Dedicated hosting. Plan pricing is based on the client's choice of hardware and resource allocation.
Dedicated hosting is ideal for large organizations or sites with enormous traffic. Clients get full control of the server which allows them to configure it to meet their own needs. Dedicated Hosting Plans also come in managed and unmanaged forms where the hosting center can manage servers for clients in case of problems. Managed dedicated servers are generally more expensive.
This price is also affected by the amount of resources required such as bandwidth, storage space, and the amount of RAM, among others. The additional cost for a dedicated server also covers the software packages required to run the server. Such software may include a license for Windows, if desired, cPanel, if desired, and other paid software. Free alternatives to most of the paid software packages are available but are generally disliked due to problems with software stability. The main exception to preference for paid vs free software is the widespread use of Linux over Microsoft or other paid OS on servers.
3. VPS Hosting?
VPS hosting is the abbreviation for Virtual Private Server hosting. Virtual Private Server hosting offers virtual machines to clients. The concept of virtualization is similar to shared hosting where one server computer can have several websites running on it. However, virtualization technology allows each account to be treated as its own machine with its own dedicated resources and operating system.
For Example: In a shared hosting environment all clients share resources from the same computer. Most shared hosting service providers have scripts that limit the resources of each client, so that no one client uses all the resources. However, clients are not guaranteed computing resources which may fluctuate from time to time depending on how many clients are using the resource at the same time.
On the other hand, VPS hosting can guarantee the resources available to clients by using virtualization technology. This provides clients with a much more stable hosting environment with little or no fluctuation in available resources. Niagahoster and IDCloudhost are recommended VPS hosting providers. They are fast and reliable.
If you have ever used programs such as Microsoft Virtual PC, VMWare Player, workstations, etc. then you are already using the same concept on your computer. The software allows you to do the same thing on your personal computer by allowing you to "almost" run another operating system environment on top of the one already installed. People use this technology on personal computers primarily for testing or to run software and websites in different environments without incurring the expense of buying a new computer.
4. Cloud Hosting
Cloud Hosting is the latest type of hosting technology that you may not be able to find on all web hosting service providers. Cloud hosting is a type of hosting that uses the concept of cloud computing technology which has better speed and is known to be more secure because it does not only rely on one server but uses many servers spread across various points and various countries. This is what makes cloud hosting proven to be safer because if one server does not work, another server will replace it.
Cloud hosting describes a method of configuring a server in a flexible way to enable the most affordable, scalable and reliable web work in the web infrastructure.
Indeed, cloud hosting is more expensive than shared hosting packages, and there are fees that depend on how much resources you use, but this will be suitable for sites that grow all the time and using cloud hosting will be easy when you need more resources. big. For Cloud Hosting, I highly recommend that you use IDCloud Hosting 's Cloud Hosting service. Because, bluehost has this package itself, it doesn't join cloud VPS and the price is more affordable, only $ 5 per month.
5. Managed WordPress Hosting
Managed WordPress Hosting is a type of hosting that is specifically built to run websites with the WordPress platform. As we all know that WordPress is the most popular website platform and controls all types of platforms that exist today, knowing this many hosting service providers build their servers specifically for WordPress users and even hosting companies like Bluehost have special hosting packages to run WordPress with. WooCommerce.
The advantage of using this type of hosting compared to other hosting when you run WordPress is that it is on the server side that has been specially optimized so that WordPress runs well, besides that there are many more benefits that you will get, such as the following:
Automatic site updates / WordPress.
Automatic daily / weekly backups.
Built-in speed optimization via caching networks and CDNs .
Integrated security mechanism optimized for WordPress.
Built-in database optimization for WordPress.
Scalability optimization (servers are able to handle more traffic if necessary).
Server settings specially optimized for the WordPress software.
Dedicated support from WordPress experts
For the price of managed WordPress hosting, this type of hosting is indeed more expensive than shared hosting and can be equivalent to the price of VPS hosting.
Above are some types of hosting that you need to know, hopefully the article above helps you in understanding the types of hosting and you can determine which hosting is right for you to use. Hopefully this is useful 🙂