Are you looking for a fast WordPress hosting, at a good price and with a fast and punctual support service? VHosting has what you need!
The (Italian) company offers hosting services of all kinds: low cost, professional web hosting, dedicated servers, vps, hosting plans for Joomla, Presta Shop, Magento and of course WordPress. And it is precisely the WordPress hosting plans that I want to talk to you in this article. Follow me!
What are we talking about
WordPress hosting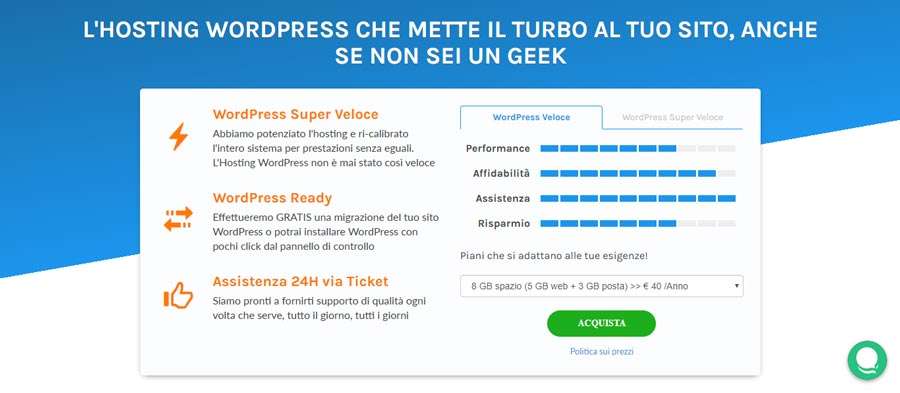 WordPress hosting comes with two options: WordPress Veloce and WordPress Super Veloce . Two parameters vary: power and savings.
Unchanged are three o'clock
basic features of the VHosting proposal:
performance above the norm;
free WordPress site transfer
from current hosting or easy installation of the CMS;
24h assistance via ticket, with support from
quality;
How much does all this cost?
In addition to the two variables mentioned above, a third one comes into play, space. 8, 15 or 25 GB, divided between web space and mail. They range from a minimum of 40 euros per year (WordPress Veloce 8 GB) to a maximum of 85 euros per year (WordPress Super Veloce 25 GB), plus VAT.
Important: VHosting has a transparent pricing policy . This means that the costs indicated will remain unchanged even for subsequent renewals . Thus, the second year you will avoid the unpleasant surprise of seeing the price of your package rise.
The characteristics of the two
plans
What are the characteristics
of the two floors? Let's see them point by point!
Domain
Both packages include free registration (the first year) of a .it, .com or .eu domain. Domain aliases and manageable subdomains are unlimited. DNS management is included.
Hosting service
Among the most important features, in addition to unlimited traffic, the Softaculous service (which allows you to install the main CMSs with one click) and http / 2 support, there are Varnish SuperCache and LiteSpeed .
Varnish SuperCache is a cache accelerator that allows you to improve the performance of a website. It is active on the WordPress Veloce plan and uses static and dynamic cache. LiteSpeed is an even more powerful webserver and cache accelerator, active on the WordPress Super Veloce plan. Both systems are configurable through a special plugin .
Need even more boost? Activate CloudFlare , the most popular CDN, capable of quickly serving your content around the world.
But speed is nothing without safety. Let's Encrypt is active on both packages, which offers free SSL certificates for browsing in secure mode (now a standard).
Both on WordPress Veloce and on WordPress Super Veloce an automatic backup service is active (both FTP and MySql) with the possibility of easily restoring the backup. That way, no matter what happens, you can always be sure you don't lose your site.
E-mail
You can create unlimited mailboxes and send up to 300 emails per hour via SMTP. The emails you can receive are unlimited. There are no limits for attachments either.
If you do not want to configure your mailbox on a PC or smartphone, you can read it via the web using the classic services: RoundCube , Horde and Squirrel Mail . The messages will be protected by antivirus and antispam services . In addition, the automatic mail backup will intervene every hour to save your mails.
The options are active on
both packages, demonstrating a high standard also in services
Basic.
Hardware and database
Both packages offer the ModSecurity Web Application Firewall , a technology that increases the protection of your website by filtering access to protect against different types of cyber attacks.
Simultaneous connections from
single IP and the requests are unlimited for both offers.
Plans support php 5.6, 7.0, 7.1, 7.2, 7.3 . The Memory Limit parameter is unlimited. The php.ini file, with some basic parameters, can be customized. This applies to both packages, as well as remote access to MySql, an unlimited number of available databases and unlimited single database size.
Statistics
VHosting plans offer a statistics service with error logs, CPU usage, number of processes and traffic consumption.
GDPR
WordPress Veloce and WordPress Super Veloce are perfectly compliant with the GDPR , the new legislation on the processing of personal data.
This means:
data administered in Italy and not transferred to
third parties;
periodically updated systems;
active and passive protection against viruses e
malware;
compliant datacenters, located in Europe;
SSL certificate for web browsing
encrypted;
automatic data backup on dedicated resources;
mailbox protected with antivirus e
antispam;
secure access to the mailbox with encryption;
Guarantee "Satisfied or
refunded "
For both plans there is a "Satisfied or refunded" service. If you are not satisfied with VHosting, you can request a refund of the cost of the service minus the cost of the domain.
WordPress hosting
Multidomain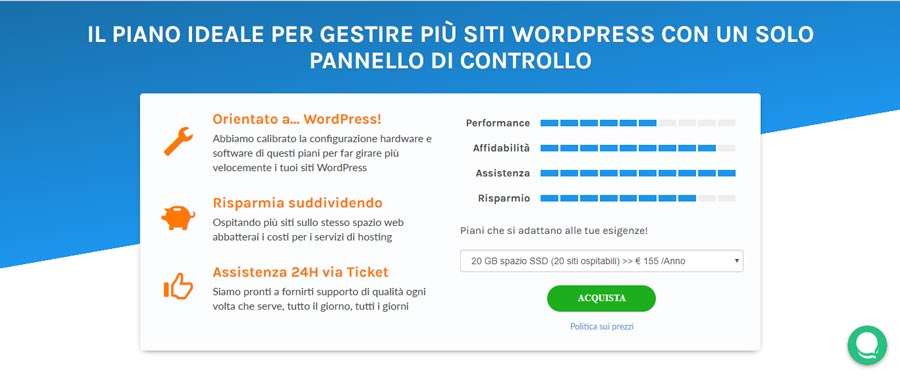 The other package offered by VHosting for the popular CMS is the Multidomain , which provides the ability to manage multiple domains simultaneously. Up to 20 hosting sites the price is 155 euros a year, up to 30 it's 269 euros a year, plus VAT.
The technical characteristics are
the ones we have seen for the WordPress Veloce and Super Veloce plans. Worth the
two aspects are worth underlining:
the sites will always remain visible , even if the resource limits are exceeded. VHosting calls it a "customer policy". It means that it will be the company itself, through a person in charge, to identify the best solution to keep the sites online;
the resources assigned to the Multidomain plan are divided among all the sites published within it . So be careful: if you want to publish an e-commerce or a site with a large amount of traffic, on the same level you can make a limited number of sites coexist. Vice versa in the case of simple blogs or sites with little traffic.
Conclusions
VHosting offers for WordPress (but also the other plans) have very attractive technical features at equally competitive prices . I had the opportunity to personally test a Super Fast hosting plan and I can say that it keeps its promises perfectly , both in terms of performance and assistance, worthy of the best hosting in the world.
If you are looking for a professional and less expensive alternative to Siteground , VHosting can give you great satisfaction!