10 Best CDN Services for WordPress Websites – Website loading speed is desirable for any site owner, because if your site is very slow to access then your visitors will be impatient to wait for your site to appear and they may leave your website with immediately and prefer to find another website that has a better loading speed.
If you are currently using WordPress as a website platform, there are many solutions to increase the speed of your WordPress site. You can use the best hosting service, you can add cache storage plugins such as W3 Total Cache and WP Super Cache . With a combination of these 2 things, your site is very fast when accessed. But if your site has a lot of content such as images, your videos can use one more addition, namely the Content Delivery Network or often called the Content Delivery Network (CDN). By using a CDN, your WordPress site will be faster to access and make your site safer and stronger.
Before going to the main point, namely the 10 best CDN services for WordPress websites, let's first get acquainted with what is called a Content Delivery Network (CDN) and find out some of the benefits of using a CDN.
What is a Content Delivery Network?
A Content Delivery Network (CDN) service is a global network of servers located in several locations in various countries, not just one or two data centers and has been optimized to distribute static files. CDN serves most of internet content such as web objects (text, graphics and scripts), download objects (media files, software, documents), applications (e-commerce, portals), live streaming media, on-demand streaming media, and social networks. .
The CDN service will duplicate static files for distribution to various servers that are owned in various locations, so that no matter where your website visitor is, there is a possibility that the visitor will access your static file from the server that is closest to the visitor. So that files are sent and received more quickly.
However, you need to know that CDN is different from Web Hosting, so when you choose to use a CDN, you will still need web hosting to store databases and other non-static files. However, the two services can work together at the same time.
What are the advantages of using a CDN?
The main benefit of using a CDN is to increase the loading speed of your website in displaying content. Additionally, CDNs can enhance security protection from DoS attacks by using their large distributed server infrastructure to absorb DoS attack traffic.
As I explained in the opening of this article, the benefits of having a website with a faster loading time not only help improve the user experience for the better, but can also increase conversion rates and reduce the bounce rate on your website.
As we know Google uses site speed to rank websites in their search engine results, there are SEO benefits to be had by increasing your site's loading time with a CDN.
10 best CDN services for WordPress websites
Here are the 10 best CDN services to improve the performance of your WordPress site. Some of these CDN services have easy integration with WordPress, flexible pricing plans, large server networks, and free trials.
1. MaxCDN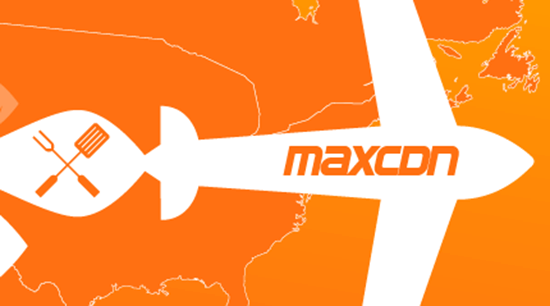 MaxCDN is a top-notch CDN service that specializes in content delivery networks based in Los Angeles California and MaxCDN is one of the most well-known names on the internet. Many well-known sites use this content delivery network service from MaxCDN, and if your website has global visitors, then MaxCDN is certainly the right choice for you, because most server locations are distributed throughout the US, South America, Europe, Asia, and Australia. Servers are placed in strategic locations in the highest demand areas, accelerated by Anycast routing and Max CDN 100% using SSD servers.
The customer dashboard section is well designed to make it easier for users to control websites hosted by MaxCDN services. This includes content provisioning and cleaning controls, usage reports, and content caching settings.
MaxCDN offers a free test account and a 30-day money-back guarantee, MaxCDN makes it easy for users who want to try their service with little risk. There are also plugins that can easily integrate WordPress with MaxCDN services such as the W3Total cache.
Main feature:
Multiple server locations in four regions
Intuitive and fully featured control panel
Real-time reports and analysts
High level of account security
WordPress integration support
24/7 support assistance
Free test account option
30-day money back guarantee
Price: from $ 9 / month | Further information
2. KeyCDN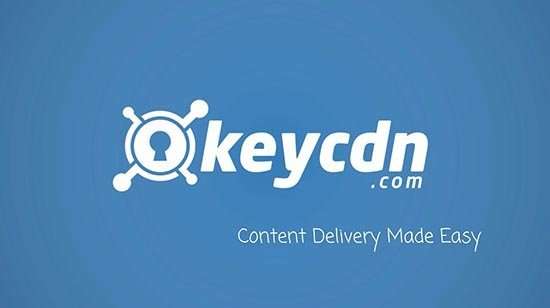 KeyCDN has many advantages, especially on the pay-as-you-go pricing structure. This means no monthly fees, and you only pay for the data you transfer. However, other fees may be applied to your account, so you should always check the price details in full.
Like MaxCDN, their server network covers four major regions of the world, helping to ensure the least number of hops between content and end users. Thanks to real-time reporting, you can immediately see how the service is performing and how much data you are using.
Main feature:
Server locations in four regions
Complete user dashboard
Real-time Usage Reports
Instant content cleaning
Safety features
WordPress integration support
Image optimization service
24/7 support assistance
Flat rate price
30 days Free 25GB trial
Price: $ 0.04 / first 10TB | Further information
3. Amazon CloudFront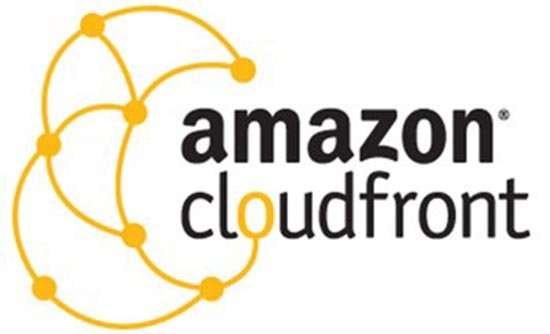 The Amazon CloudFront CDN service is part of the Amazon Web Services product portfolio, and it is considered to be the largest and most well-known secure and best CDN service out there. CloudFront is integrated with S3 cloud hosting services, also from Amazon.
While pricing is very competitive, with 1 year free for beginners, getting started with Amazon CloudFront is a bit more detailed than some of the other options listed here. Amazon CloudFront is also very easy to use for WordPress, because there are plugins to integrate this service with WordPress.
Main feature:
A large number of locations are spread over five main areas
Optional usage reports and access logs
WordPress Plugin Integration
Online support and premium help desk
Development Tools and SDK
Pay-as-you-go pricing with no minimum fees
Free beginner account
Price: 1 year free 50GB Beginner plan | Further information
4. CloudFlare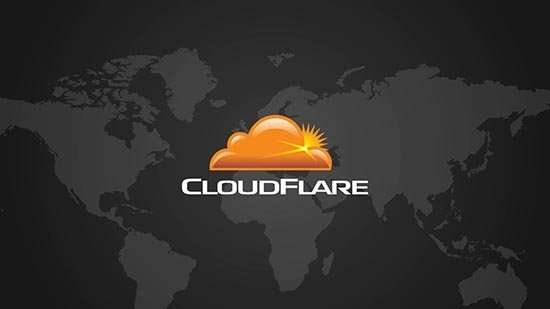 CloudFlare has servers in 76 data centers located around the world. This is also the best CDN service for WordPress websites, media files and other static content are automatically pushed to the CloudFlare network, while your visitors are served dynamic content by your web host and the two services are seamlessly combined.
With a free entry-level plan and an easy-to-use WordPress plugin, if you want to start using a CDN following the path of the most resistance, CloudFlare is hard to beat over other services.
Main feature:
Global data center network
Fixed charge rates – not charged by bandwidth usage
Blocking threats and bots
Quick setup with a WordPress plugin
Integrated with popular WordPress plugins for caching
Entry-level plans are forever free
Price: free entry level plan | Further information
5. Microsoft Azure CDN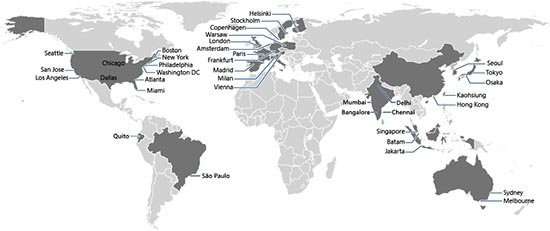 Microsoft Azure CDN is the best global delivery network service for high-bandwidth content. They offer several pricing plans to make sure you only pay for what you need. The free trial will help you get started with this service. Microsoft Azure CDN services also integrate with many developer tools.
This CDN is deeply integrated with other services from Azure, including storage, Web Apps, and Media Services products. Therefore, if you are looking for a highly scalable and extensible solution for your website or other online presence, this could be your choice.
Main feature:
Real time analysis
Integration with other Azure services
WordPress integration
Support for popular caching plugins
Free trial and $ 200 credit
Extensive array of pricing plans
Pay-as-you-go pricing
Price: $ 0.087 / GB plus $ 200 free trial credit | Further information
6. CDN77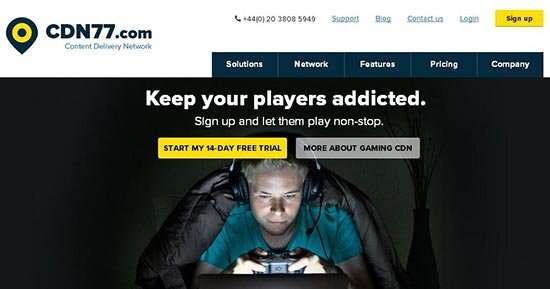 CND77 has plans for every type of website, with pay-as-you-go pricing and high-volume pricing plans, CND77 aims to serve various types of websites both small, medium and large websites, as well as high traffic websites.
To help you monitor performance and costs, CND77 offers a set of reporting and analysis tools. CDN77 also integrates well with some of WordPress' leading caching plugins, including W3 Total Cache and WP Super Cache. Therefore, if you are using one of the popular plugins, CDN77 will be very easy to configure with your WordPress website.
Main feature:
Rich server locations and 5 regions
Real time reports graphs of bandwidth, traffic, and costs
Good support for WordPress plugin caching
Hotlink protection
24/7 help desk support
Pay-as-you-go and plan for high volume
14 day free trial
Price: from $ 35 / TB Further information
7. CDNify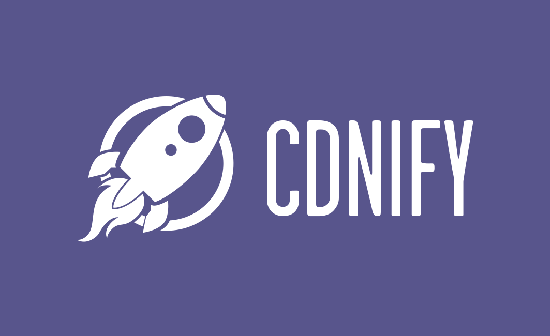 CDNify also integrates with popular WordPress plugins for caching. Thanks to the WordPress plugin cache allowing the CDNify service to work for your website very easily.
Once you register, you can begin to enjoy the benefits of having your static website content presented to your visitors from locations in three global regions such as Africa, Russia, and South America.
Main feature:
Servers in the US, Europe and Asia
Custom optional CDN service
Custom WordPress plugins
Integrated with the W3 Total Cache plugin
Real-time statistics and responsive dashboard
24/7 Support
Fixed-rate price
Price: from $ 10 / mo | Further information
8. Fastly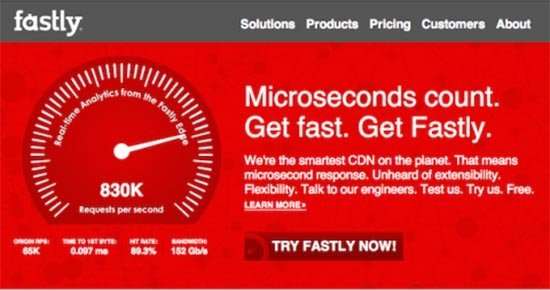 Fastly has a focus on mobile traffic, fastly aims to help your website perform better and be more secure. This is one of the few CDN services that provides a demo dashboard. Through the demo, you can see how requests and latency are monitored, so you can decide whether to use the service or prefer another CDN service.
Main feature:
Instant activation
Real-time performance analysis
CDN is optimized for mobile traffic
Bandwidth based pricing
Custom WordPress CDN integration plugin
Free trial account
Price: from $ 0.08 / GB | Further information
9. Incapsula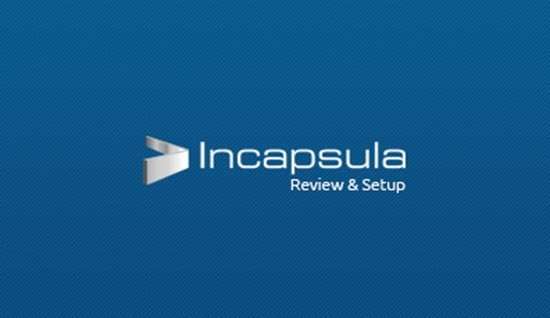 Incapsula offers a free entry-level plan for bloggers. CDN is one of the security and performance services that Incapsula offers, and with a free entry-level pricing plan for personal blogs, it could be a great choice for your pocket.
Access to limited support for free accounts. However, by upgrading to the next level for $ 59, you will be able to email the help desk to ask any of your questions.
Main feature:
Reported average website speed up to 50%
Global network of 28 data centers
Optional caching service
Free entry-level plans
14-day free trial for premium plans
Price: Free entry-level plan | Further information
10. CDN.net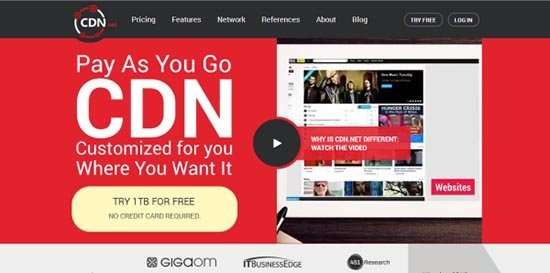 CDN.net describes itself as the Uber CDN, but it is said that CDN.net is the largest CDN in the world. Of course this will be very suitable for your site with very high traffic and is targeted for visitors globally, because CDN.net has server locations covering 88 cities, 112 countries, and 179 global locations.
CDN.net has an attractive approach to pricing, with a single price plan across all levels.
Main feature:
Has a great server location
Attractive pricing model
Low latency guarantee
WordPress integration via popular caching plugins
Price: $ 100 / mo | Further information
Conclusion
There are a number of important factors that you need to consider when you want to decide to use the right CDN service for your website. One of them is the location of the server. All of the best CDN services above have servers in major regions, such as the United States and Europe. Of course the above services will be very suitable for those of you who create sites in English with a more global target visitor, but there are also several CDN services above that have servers in Indonesia such as Microsoft and some have server locations close to Indonesia.
The best content delivery network or CDN services store your files on optimized servers, and serve to shorten the distance the files go from traveling to reaching the location of your visitors. With a CDN it can certainly improve loading times faster, improved search engine rankings, and a better user experience. WordPress integration is also greatly simplified, either through plugins released by the CDN or easily integrated with one of the leading caching tools which will make all setup easier, so be sure to know how the CDN is used for WordPress.
And you need to know that a CDN service is not a magic tool. You may still consider other options for speeding up your site, such as using a WordPress caching plugin , choosing the best fast web hosting, and optimizing your images.
There are other options to increase your WordPress speed with a free CDN such as Jetpack Photon. Jetpack Photon will distribute your image files for free, if you don't need a full CDN service but want a way to speed up your website by offloading your image file submissions, then Jetpack Photon free service is an option you should try.
Photon is used on the WordPress.com site managed by Automattic. However, self-hosted WordPress also has the option of using this service via the Jetpack plugin.
After you enable Photon on your WordPress website, any images used in your posts and pages will automatically be sent to the global WordPress.com cloud. In this way, of course, it will reduce the burden on your web hosting and will increase the loading time when your visitors access them.
One of the limitations of using Photon is that your image will be cached "forever". So if you refresh the image and replace the image, you will need to change the file name to ensure a new version of the image is shown to your blog visitors.