What is Cyber Monday? And when is Cyber Monday? Biggest online shopping day of the year and lots of great deals for you.
It's easy to connect the dots between Black Friday and Cyber Monday, but did you know that Cyber Monday starts to avoid the very busy sales on Black Friday? The retailer or retailer noticed that the Monday after Thanksgiving started to surge in online sales. This led Shop.org to remove the "Cyber Monday" moniker as a hook to attract more consumers.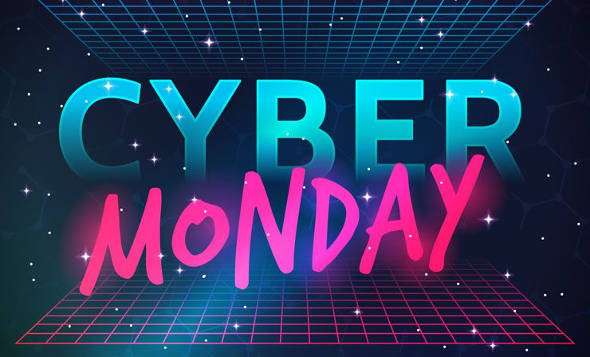 Black Friday and Cyber Monday are basically less well-known in Indonesia because on average, discounters are external websites selling electronic goods, fashion, digital products and others. And in Indonesia also has a national online shopping day which falls on December 12, and most Indonesian online stores also provide huge discounts.
But for those of you who are eyeing products from abroad and from overseas online shop sites, knowing Cyber Monday and Black Friday is very important. This can be a valuable moment to get profits to resell to local buyers. In addition, for internet activists there are lots of big discounts from digital products such as WordPress themes, plugins, software and much more.
Read: What is Black Friday? Complete History of Black Friday
What is Cyber Monday?
Most of the people think that Cyber Monday is reserved only for a group of tech companies that sell their electronics. Actually at that time it was quite extraordinary. Cyber Monday is now the biggest shopping day of the year, surpassing even Black Friday. In 2016, Cyber Monday sales hovered under $ 3.5 billion.
Electronics sales are soaring into every aspect of retail, and the best part is there are no hours of queuing in front of the store to pull and push one of the few doormen retail outlets use to lure shoppers into their stores.
When is Cyber Monday?
Cyber Monday always falls on a Monday as the name suggests and it falls after Thanksgiving. But since the deal can start at 12:01 am on December 2, 2019, you might be doing a lot of shopping late at night on Sundays.
Which is better between Black Friday or Cyber Monday?
Don't expect to get the best deals on electronics just because it includes the word 'cyber.' While Cyber Monday is exclusively an online shopping day and is sure to have some great deals on tech, Black Friday is still a great day to buy gadgets. Equally surprising, Cyber Monday is a great day for fashion.
And as you might expect, Cyber Monday also includes offers like free shipping that you don't usually see in stores selling Black Friday.
Of course, the biggest difference is the fact that Cyber Monday is done online. This not only means not waiting in long lines, it also means checking social media and online shops can be an integral part of finding good deals and discounts. Here's what we recommend:
Twitter can be a solid way to find deals. Use the Search function on Twitter by entering #CyberMonday to learn all the buzz around the best deals. You can also search Instagram, add a hashtag in front and see what comes up.
Check the Facebook page of your favorite seller to find good sales. Some stores offer their loyal readers express deals, such as' order online until 14:00. Give a 40 to 70 percent discount 'or' give a coupon to the first 100 people who reply to their posts.
Find your favorite brands on Instagram to see if they post an offer on Cyber Monday. Use the same methods from Twitter and Facebook to get a good price for the product you want.
Before Cyber Monday, consider subscribing to the newsletter from your favorite brand or retailer for offers. Many will offer at least a first-time email subscriber discount; others use the media to communicate specific sales and prices for newsletter members.
Keep in mind that all the newsletters you register and the brands you start to follow can add to the number of targeted emails and advertisements you may see. You might think of it as fair trade, but it's something to consider. If the subscription email bothers you a lot, Don't be afraid to unsubscribe as soon as the offer day is over.
Each year is subject to change, but in the past these recommendations were generally correct:
Do Buy: Clothing and beauty products are often ranked as the best deals on Cyber Monday. Vacation packages and travel deals are also among the best. Electronics tends to be a bit more hit-and-miss with Android-based smartphones and Windows-based laptops generally having better deals on Cyber Monday.
Don't Buy: Household appliances. These products usually have the best deals on Black Friday (or Thanksgiving, as many Black Friday sales now extend their discounts on Thursdays). And while Apple may be getting more Cyber Monday vigor this year than ever before, their smartphones and tablets may still be better off buying on Black Friday. while Cyber Monday is great for fashion, Black Friday is great for electronics and digital products.
What to Look For on Cyber Monday
As with sales, always remember to comparison shop. This is especially true during so-called Flash sales. Just because something is heavily discounted from its manufacturer's suggested retail price (MSRP) doesn't mean it's a fair price. The sole real purpose of MSRP is for retailers to use it when convincing you they have a great sale.
Since Cyber Monday occurs online, you can easily check prices at other online stores. Amazon is a great place for great price comparisons. If you can get a cheaper price from a site on Amazon, then you're in luck and saved a lot on Cyber Monday.
Don't miss it on Green Monday either
If you missed all the sales on Black Friday and Cyber Monday, don't despair. The second Monday of December is usually the cutoff date for the guaranteed delivery date during the holidays. Called Green Monday, it's a good day to take advantage of more cyber selling.
Read: Buy Cheap Hosting and Themes on Black Friday 2019 [Best Deals]
And that's a complete explanation of what Cyber Monday is and when you will find it. Hopefully this article is useful for you and happy shopping online. 🙂