10 Awesome WordPress Themes For Video Blogs – There is no doubt that blogs are still popular today. Even in 2018, a blog is the best and most profitable way to talk to your audience. To say more, it's a good idea to create trustworthy relationships with online users. Without a doubt, the progress never stops. Speaking of the digital world, it is expanding even too fast! As a result, these days, video blogs are also popular. As I said in this article.
Today, I'm going to review 10 amazing artistic WordPress themes. Some of them are made for video blogs and others are multifunctional and suit every business niche.
Why WordPress?
Today, WordPress is the most popular platform for building websites for any site purpose. According to statistics, more than 40% of all modern online projects work on WP. There are templates for creating websites of any type that you might want to display online. However, among the WordPress products, you will not find the template alone. There are countless themes and plugins. Many of them are free and can be used by anyone who needs them and many are also premium themes.
Visiting YouTube or article sources from blog websites, you will easily find lots of tutorials on how to work with WordPress such as this WP Radar.com blog which fully reviews WordPress tutorials for Indonesian users. By the way, they all have regular updates which are also free! As you can see, WordPress is more than just a simple platform.
Read: 10 Amazing Themes To Create A WooCommerce Online Store
What is a WordPress Theme?
Long story short, a WordPress theme or template is a set of pages that are displayed and designed by a team of professionals who understand the web programming language. Such a theme pack usually includes all the must-have pages. For example, choosing a personal WP blog theme, you will have a page like:
contact us
Our Project
Blog
Video Blog
Gallery
Testimonials for reviews
Maps
and others.
Second, all decent personal blog WordPress themes come with a popular plugin set. They are easy to manage, so you can easily add essential functionality needed to your blog. Apart from that, there is a user-friendly drag and drop page builder for new pages. The WordPress theme is built based on open source code and comes with a library of presets.
In short, this WordPress theme can be used by bloggers of any skill level. Thanks to the intuitive functionality of a WordPress theme, you can create the ideal website without a hitch. So, what features will you get? Finally, let's move on to the review of the themes for the vide blog below!
| | | | | |
| --- | --- | --- | --- | --- |
| Name | Number | Price | Creator | Main Features |
| YouMovie | 74483 | $ 75 | ZEMEZ | WYSIWYG experience, responsive design, several styles for blog and homepage |
| DJ Beatmix | 74357 | $ 75 | ZEMEZ | mobile-friendly design, ace content modules, SEO-ready design |
| Tomi Solas | 53878 | $ 75 | ZEMEZ | Testimonials, WPML-ready design, Elementor Page Builder |
| Pixate | 65159 | $ 75 | ZEMEZ | Cherry Projects, Cherry PopUps, Cherry Services List, Cherry Team Members, etc. |
| Visuelle | 70493 | $ 75 | ZEMEZ | Simple Data Installer, Search Engines Optimization, Crossbrowser Compatibility |
| Adveland | 64616 | $ 75 | ZEMEZ | drag & drop, multiple layout options, |
| NavyBlue | 62484 | $ 75 | ZEMEZ | Background Video, Appointment Booking, awesome loading speed |
| Escapade | 64522 | $ 75 | ZEMEZ | Power Builder, 25+ content modules, a bunch of presets, trendy widgets, |
| Projector | 65915 | $ 75 | ZEMEZ | Parallax scrolling, eye-friendly web fonts, responsiveness |
| Monstroid2 | 62222 | $ 75 | ZEMEZ | 500+ new UI components, WooCommerce Package, Jet Plugins, Elementor Page Builder, etc. |
1. YouMovie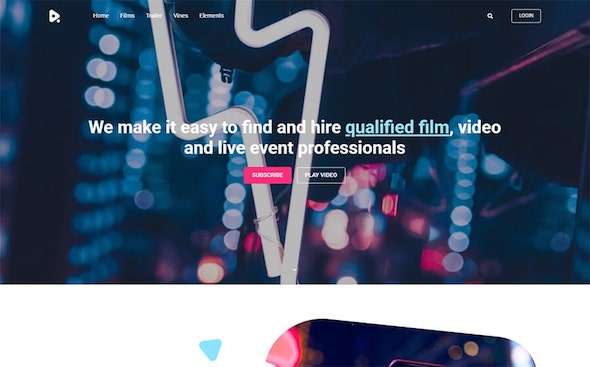 Previously, YouMovie was an easy-to-use video WordPress theme, made especially for video bloggers. Using this theme you can create your own video blog without coding skills! For this simple reason, YouMovie has many pages ready to grab a visitor's attention. For example, within this WordPress theme pack, you will find pages like:
Video Playlist
Video Trends
Category: Movies
and some interesting layouts for blogs and homepages.
YouMovie is an Elementor based theme, which means that you get a real WYSIWYG experience that integrates well with WordPress. There are live previews to help you avoid common mistakes during content creation or when editing. Apart from that, this popular drag & drop editor support for WordPress websites comes with a rich library of UI elements. There are many trendy widgets, web design components and features to enrich your blog. Working with Elementor, you will be able to create your own layouts and save them as new templates to the library.
2. DJ Beatmix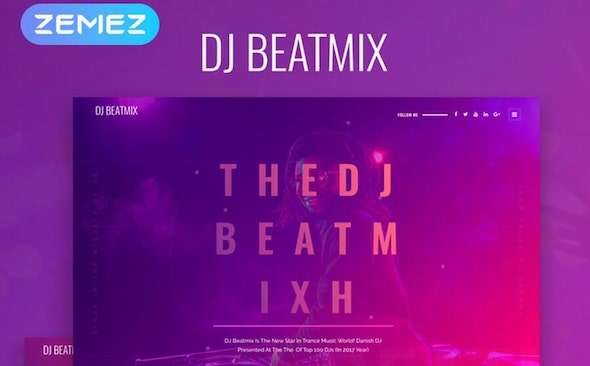 For today, it is very important to have a mobile-enabled website that works flawlessly. Why is that? Well, just because of the fact that, in 2018, more than half of all related traffic was accessed by filtered smartphone devices. People enjoy searching for products and services from their cell phones. It's convenient and time-saving, so let's see how you can turn your blog into a real place. When it comes to DJ Beatmix, this excellent WP template has something better than a simple, mobile-friendly design. There's mobile technology in the package! Long story short, this is a modern website building technique. This starts creating your blog from a smaller version. As a result, your mobile blog will be ready while the desktop version is still in progress. Thanks to this feature, you can quickly find your audience. Plus, your readers will be able to log in to the blog wherever they are and via whatever device they are using.
3. Tomi Solas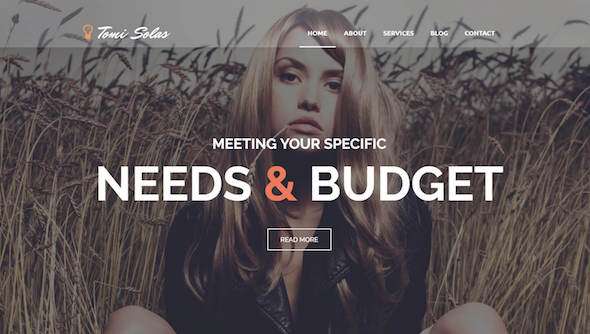 Built with the famous Elementor Page Builder, Tomi Solas is a 100% responsive video WordPress theme. It makes a ready-made solution for those users, who dream of managing a website with an interest in photography. As usual, this template comes with pre-designed pages like:
Testimonials
Our team
Portfolio
Home
Blog
Our Project
About Us
Contact us
and much more.
Tomi Solas is also a WPML-ready theme. This means that you can translate your website content without any problems! In fact, this is an important step if you want more visitors. The problem is that not all search engines work with foreign websites. Some of them (for example, in French or Korean) can only recognize online projects that have some original language content. For this simple reason, turning your business website into a multilingual website is the first step to success.
4. Pixate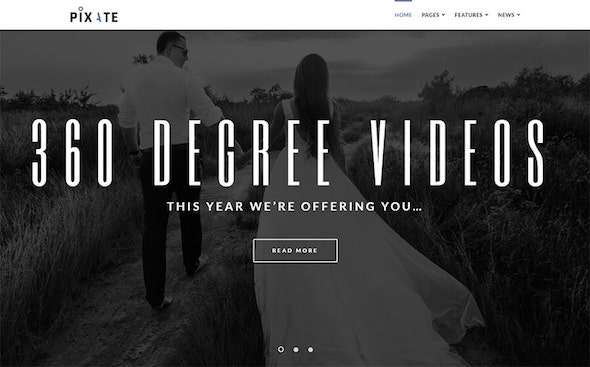 Pixate is a deep, colorful video WordPress theme with a comfortable and user-friendly design. First, when choosing this item, you will get a lot of premium Cherry plugins. They will add amazing functionality to project work. Besides, this plugin is very easy to use! This list contains things like:
Cherry Project
Cherry PopUps
Cherry Services List
Team Cherry
Search for Cherry, etc.
Second, Pixate also contains an impressive WooCommerce package. With it, you can add online shop functionality to your current website design. What's more, you can even easily build an online store in a few minutes! This package comes with everything and anything you would need for an online web shop.
Third, working with Pixate, the user gets the Max Mega Menu. This plugin is great for SEO, so here's a cool way to get higher search results. The theme is equipped with a Mega menu, you can create a menu from any interesting content.
5. Visuelle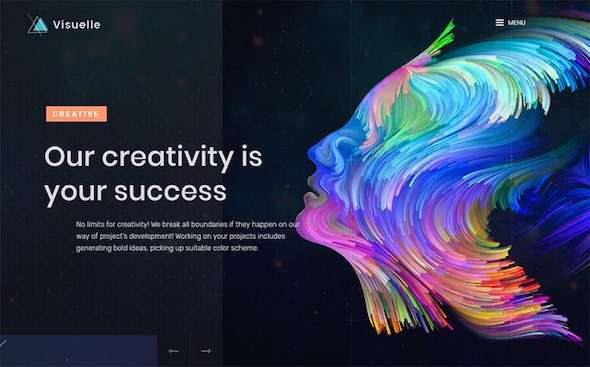 As you can see from the screenshot, Visuelle is another innovative video WordPress theme, which comes in a stylish design. Initially, this theme was designed for fashion and beauty services. However, Visuelle is very flexible and has many other interesting options. That's why you can use Visuelle for almost any type of business website. And what will you see in the Visuelle pack?
Visuelle has a Simple Data Installer. Basically, using the demo Installer, you can install simple design templates and data. As a result, you will have a website that looks like a demo version of this WP theme. Needless to say, many online users complained that the templates they purchased were disappointing. They have to work hard to make this product look like what is in the demo. Unlike the Visuelle theme, which gives you convenience when you want to make the theme look like the demo version with just one click.
Read: 10 Best WordPress Themes For School and University Websites
6. Adveland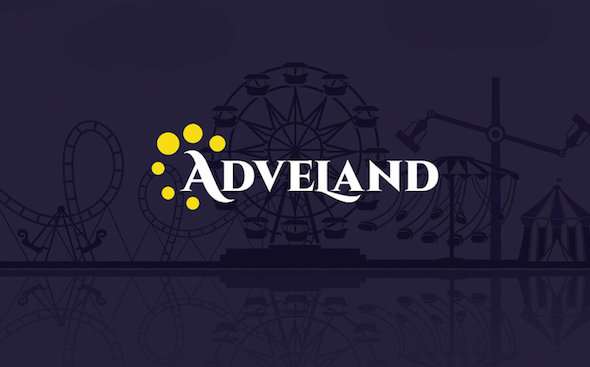 If you're looking for a modern video blog WordPress theme with drag & drop features with a Cherry plugin set, don't miss this product! Just like the previous template, Adveland comes with a built-in Simple Data Import feature. By the way, this is a helpful choice even if you are about to change the theme design. Sample Data Installer will help Visuelle owners to install themes easily. With that, you will be able to see how your site will look like a demo.
Apart from that, this WordPress theme has several layout options. So, you can choose from a huge number of layout options to your liking. Plus, saving your favorite layouts to the library will speed up the site building process. You can use the new template whenever you need it. In addition, the Adveland package also has a complete and beautiful Content Module. Thanks to this feature, you will easily add elements such as:
Button
Icon
Banner
Slider
Bar
Table
Contact form
and others.
7. NavyBlue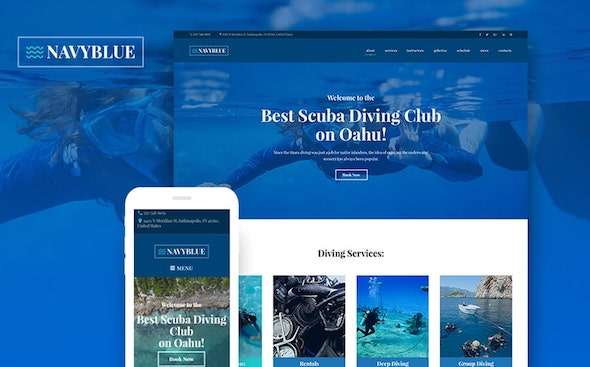 With the NavyBlue video blog WordPress theme, you will find a Video background feature that will make your WordPress site stand out. This feature will help website owners to add video clips as background to your website header. Without a doubt, such voguish elements will bring your website to life. Overall, it lets you guide customers through website content in an interactive form. Another option NavyBlue deserves is the Booking Designation. Thanks to this feature, you let prospects book appointments and complete pick-up forms directly on the website. This will save both your time and your client's time.
8. Escapade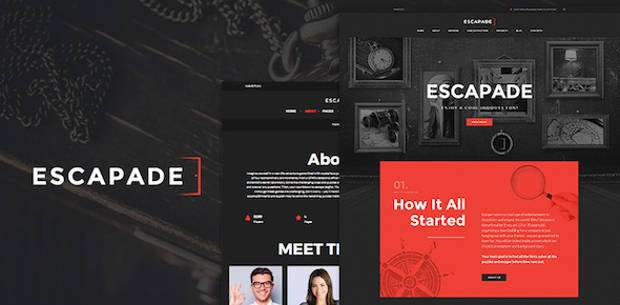 So, all the video blog WordPress themes I added to this selection are based on Elementor's page builder or Power Builder. Why is that so important? Because Page builder that supports drag & drop is a well-known website building technique that is so much in demand by web builders today. I even say that this is the best way to manage your website projects. First, using it, you don't have to touch a single line of code, which makes the process code-free. Second, the page builder provides you with a live preview. This will help you avoid all the little mistakes during content creation. In fact, you will get a real WYSIWYG experience! Third, the editor is equipped with a rich library full of cool UI components. In it you will see:
25+ content modules
Bunch of presets
Trendy widgets
And other eye-catching web design elements.
Apart from that, there are a series of advanced configuration options. This means that you can easily customize the Escapade design according to your personal taste.
9. Projector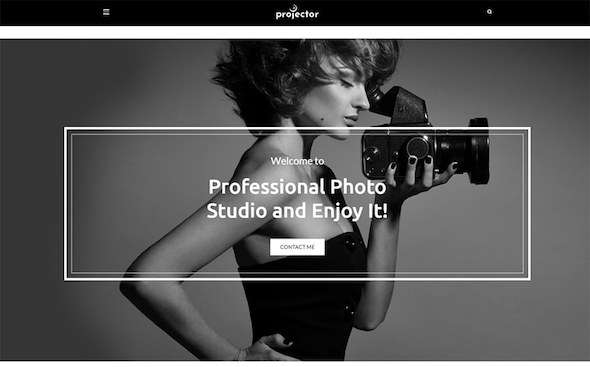 Well, Projector is an attractive multi-homepage WP theme that provides users with several pre-designed styles for the main page. You can choose a design you like or create your own template using a set of easy-to-use features.
Among the template features, you will see interesting features such as Parallax scrolling. This is a trendy web design effect, which makes the background image shift slower in perspective compared to the foreground elements. As a result, Parallax scrolling creates a feeling of three-dimensional depth and space. I advise you to run a live demo of the Projector theme and just see how this effect works. Needless to say, Parallax can always attract the attention of visitors. That's how you can increase the popularity of your business website with an eye-catching design.
10. Monstroid2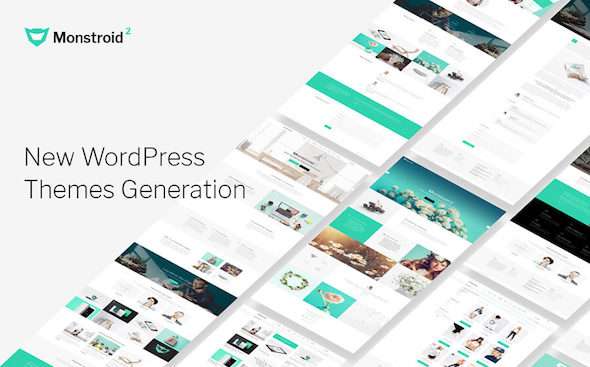 Monstroid 2 is a leading WordPress theme, which has been very popular among WP users over the years. In 2018, Monstroid 2 received a major update, so this product is definitely worthy of your various websites. What's in the featured pack of the Monsroid2 theme?
First, there is an increase in loading speed. Today, it only took 1.2 seconds for the theme to load!
Second, there are 500+ new UI components in the library. What's more, fresh modules come every week. Free and automatic updates.
Third, there is an easy content creation wizard to help you work with Monstroid 2.
Fourth, there is flexible customization, comprehensive documentation, and 24/7 technical support. And it's free for life!
Apart from that, there are cool plugin packages like Jet Plugins, Elementor Page Builder, and WooCommerce Plan.
Conclusion
For now, all the premium WordPress themes I have chosen are for you. To sum it all up, these products are fully responsive. They work in any browser and they are compatible with all devices. Regardless of the screen size a potential customer has, your content will always look classy with this WordPress theme. Apart from that, this theme is 100% SEO ready. This means that their code meets all the latest requirements. Whatever your business, Search Engine Optimization will be the key to its popularity.
Finally, which features are important to you? All are in the list of WordPress themes above.
Read: 15+ WordPress Themes for Media Magazines, News & Personal Blogs