15+ WordPress Themes for Media Magazines, News & Personal Blogs – It is an undeniable fact that media plays an important role in our daily life. If in the past century people read media in the form of printed press (and many offices and other agencies still do this) spent money on magazines and newspapers every day, now the era of technology brings many opportunities and online media is one of them.
Some people believe that online media is worse than print media, because relocation to the internet can affect the quality of the news or its effectiveness will be reduced. In fact, such an opinion is objectively wrong. When someone posts any type of publication online, the news is easier to read and understand. In addition, the newspaper introduction is gone, and your content is delivered directly to your followers or subscribers. All restrictions were removed when the internet appeared.
What Will Help Your Site Become Popular?
Increased exposure isn't enough, unless you don't care about keeping your content interesting and engaging. In addition, you run the risk of losing visitors. Depending on your personality and taking into account what your followers want to see, you should create a basic lead that your content should follow.
Whether you are writing news stories, political commentary or simple gossip, your work must be presented in a professional and aesthetic manner. A suitable WordPress Media theme plays an important part in such a case. It has "ornaments" that help emphasize the beauty of your "web appearance" without distracting attention from a key element, namely your content.
Read: 10 Amazing Themes To Create A WooCommerce Online Store
Why Use WordPress When Creating a Media Website?
News Magazines and Personal Blog Sites come and go but only a few of them have become very popular and get a large number of visitors. There are many great news websites that use WordPress. Some of them are CNN, Forbes, The New York Times, Engadget, TechCrunch and others. All of these sites are hosted on VIP WordPress hosting, which is built to manage data with millions of visitors per month.
Another reason why WordPress themes are widely used is their simplicity, ease of editing and ease of website maintenance. The WordPress theme is also fully responsive which is also an important advantage of all News Portal WordPress Themes. Thanks to this feature, your website will look great on any device and screen type, so your visitors will be happy to read your posts whenever and wherever they want. So let's see below there are about 15 more WordPress Themes for online media.
NEWSmaker – News & Magazine WordPress Theme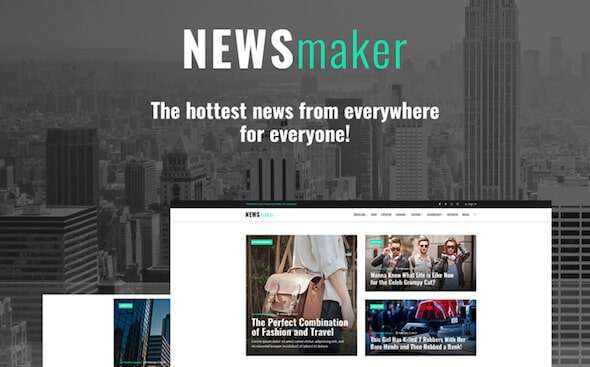 Very simple to install and use this theme, NewsMaker will underline the importance of your content of any type. Every element of NEWSMaker is carefully crafted and according to the latest trends. 15 topical images, which you will get as a special bonus, will help make your website bright and attractive. Because this theme is Ecwid Ready, you can add an online store to your site for free and in just 5 minutes!
Iggy – Clean Blog & Magazine WordPress Theme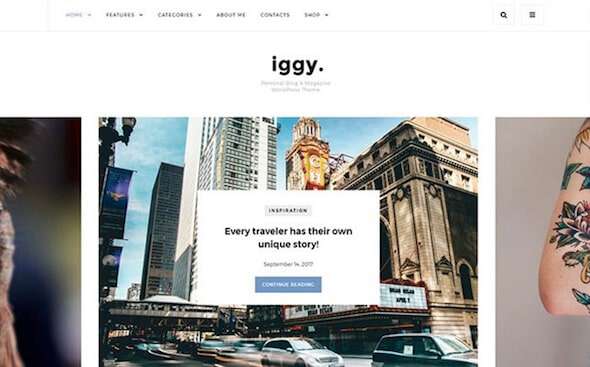 Yes, it is the perfect choice for those looking for inspiration. The Iggy theme has unlimited blog styles and variations (5 different Blog Layouts, 2 Header Variations, and 5 Slider Feature variations + different color schemes and unlimited widget combinations). Aesthetic images combined with fun fonts will refresh your writing. An elegant Full Instagram feed in the footer will help enrich your number of Instagram followers.
Sportex – Sports News WordPress Theme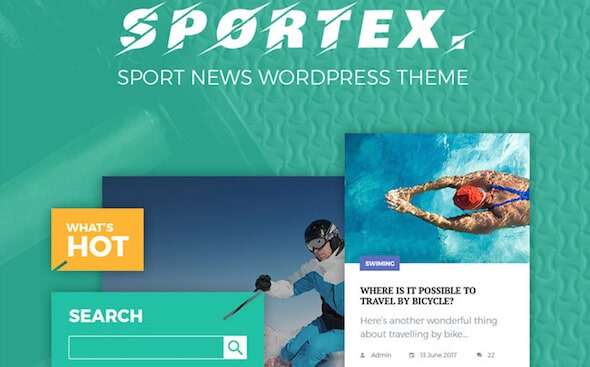 This theme is created for those who are active and passionate, who can't imagine their life without exercise. Being an up-to-the-minute theme, Sportex is reinforced with excellent features and the latest developments. The clear installation and user-friendly customizer make this theme attractive to beginners. Also, when creating this theme, the developer used React.js technology to make it very reactive.
Newsider – Magazine & Clean Blog WordPress Theme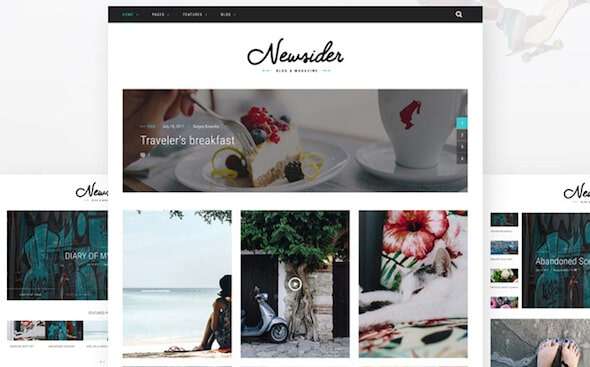 This is a minimalist theme, elegant and nice! This will help you to create a trendy fashion website, travel website, photography blog or magazine about food and even a political site. You can easily change the layout style, font and choose the color you need. Landing page builder and Slider Revolution will make your blog look amazing. Newsider is fully responsive and Retina ready.
Echo Magazine WordPress Themes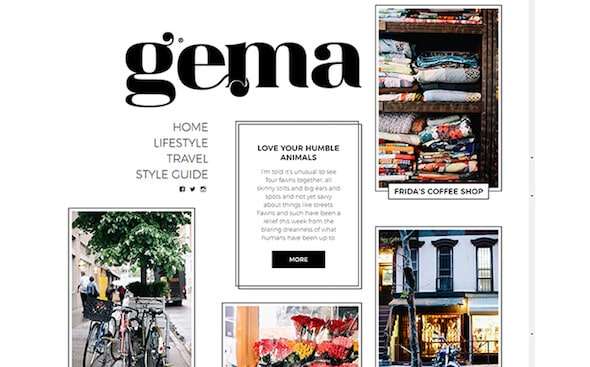 This theme looks very comfortable and modern, so your viewers will surely love visiting your page again and again. It's designed with attention-grabbing content, so it can be adapted to suit any type of post – text, images, quotes, and any combination thereof. Smooth animation provides a friendly note to your story.
Digezine – Magazine and News WordPress Theme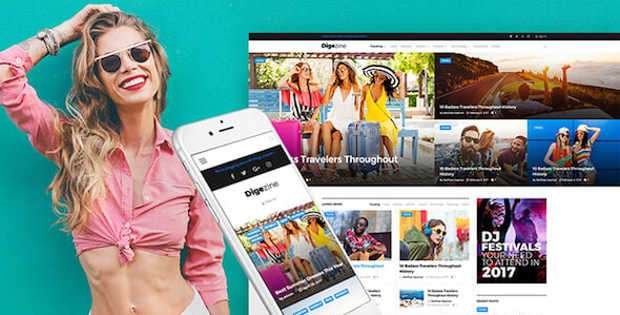 With this bright and colorful theme, your readership will increase day by day. Choose from 7 header layouts, easily change colors and fonts to make your online magazine look unique and eye-catching. Custom widgets will enrich your theme with advanced functions. SEO-friendly and fully responsive, Digezine will look equally great on any device.
Guapa – Minimalist Blog WordPress Theme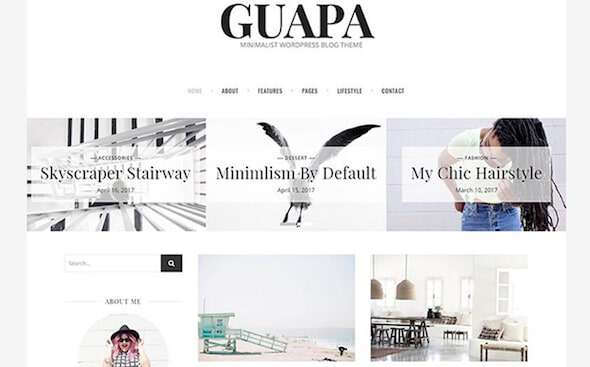 Let your visitors fall in love with your blog at first sight thanks to the minimalist appeal of this theme. It's responsive, so your followers will love reading your posts on any device and screen type. Elegant and simple, Guapa contains a slider feature as well as an Instagram showcase bar.
Aquene Magazine and Blog WordPress Theme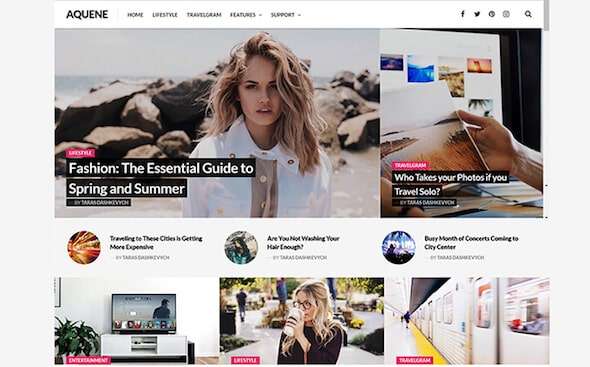 This stylish theme will speed up your creation of a site for magazines, newspapers, and personal blogs. With this template you can change the layout of your blog in just a few seconds. Highlight your most important posts with the help of Highlight Content to engage readers. Thanks to well thought out typography, you can use custom formatting for introductions, Drop Cap and pull down signs to guide visitors through your posts.
BitNews – Magazine Blog & News Portal WordPress Theme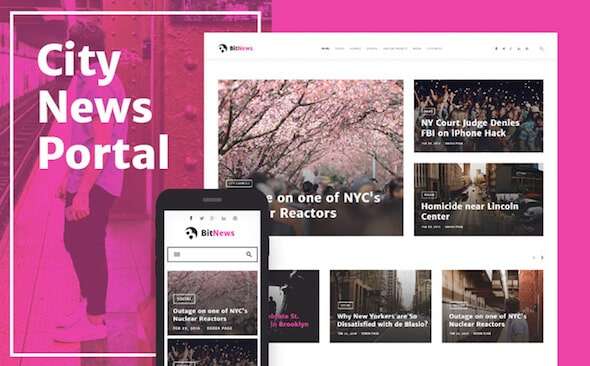 Eye-catching but still quite minimalistic, BitNews will help make your news visible among a large number of internet users. This theme is packed with a large number of useful tools and widgets, which will help you create a variety of interesting layouts. Designed by top developers, this theme is SEO friendly, which means you can seamlessly promote your WordPress site on search engines.
Financial News & Magazine WordPress Theme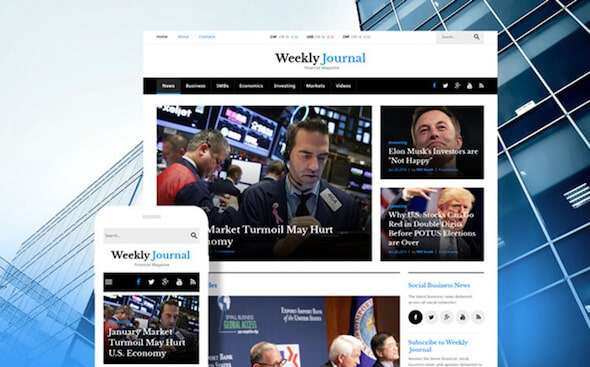 Being aesthetically pleasing and dynamic, Weekly Journal will be perfect for your Finance or Political News blog. Different colored fonts and eye-catching titles will create a different hierarchy. Featuring live search and a dropdown menu, this template is also fully integrated with social media.
News and Blog WordPress Theme Patch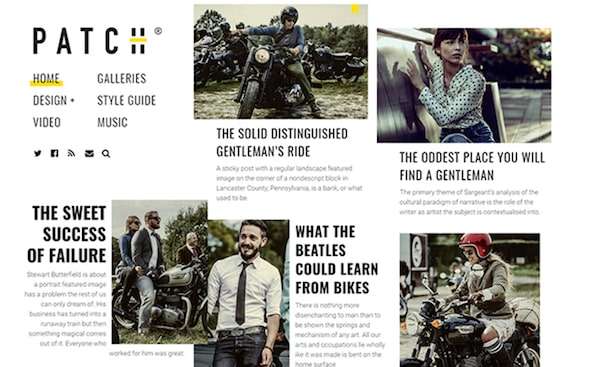 This theme is newspaper-inspired and has all the features you need to create a blog for posting news, in-depth posts, or interesting findings. Patches have a clear and harmonious appearance, are displayed in a smart grid, a variety of different post layouts, and the right choice of fonts. With this theme you will have no problem with portrait images or long headlines as each post layout adapts to its specific characteristics.
BlazingNews – Responsive News Magazine Theme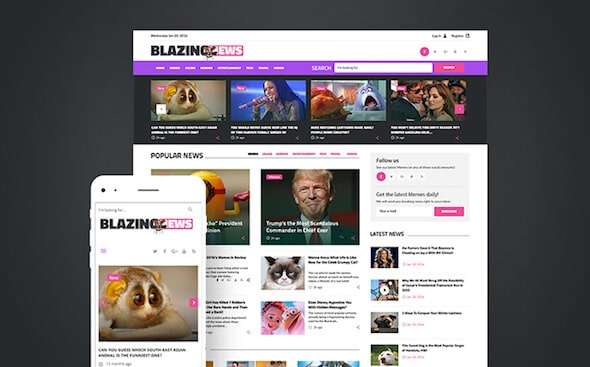 This SEO-friendly and easy to use theme will help you to share all the hottest news easily and pleasantly for readers. Fully responsive design with various layouts and widgets will make your magazine stand out. Sledge TM Gallery and Media library will help you to present all world news in an attractive and professional manner.
Science Portal & Magazine News WordPress Theme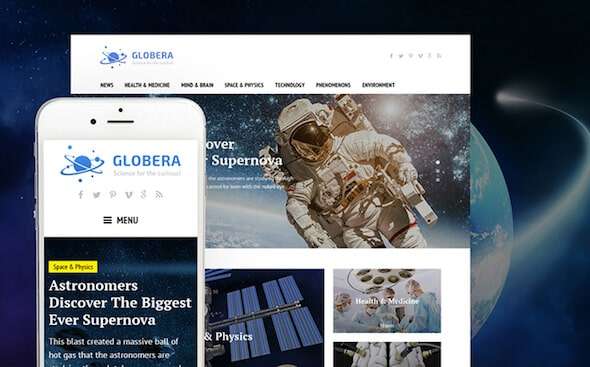 If you are aiming to surprise the super-savvy science and news seekers, then you should go for Globera. It is designed to empower online magazines and scientific blogs with complex content structures. This theme is built with Bootstrap Framework, which is very helpful for both beginners and professionals – developing their website in a straightforward manner.
Aahva – Blogging WordPress Theme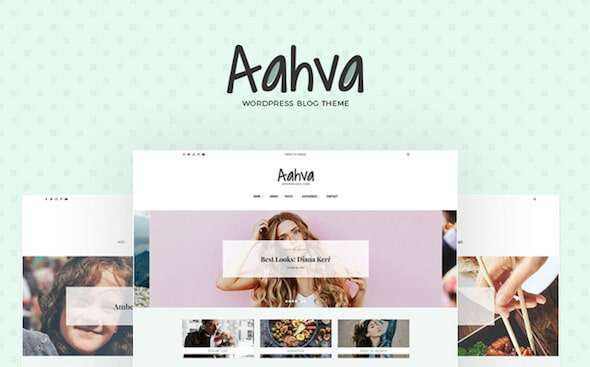 This theme will be suitable for both beginners as well as for professional bloggers. Aahva uses the native WordPress Customizer, so you don't need coding skills to change the color, background or layout of your blog. Make your pages load faster with optimization and cache plugins. Link your blog to various social media profiles with the built-in Custom Social Share Widget.
Monreal – Blog Fashion WordPress Theme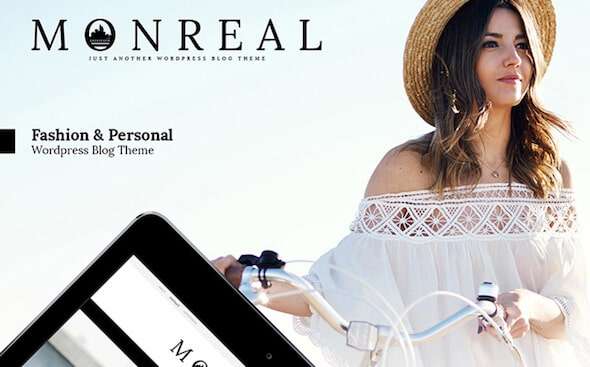 This creative and modern fashion WordPress blog template will grab the attention of every visitor to your site. Monreal is perfect for anyone looking to create clear and smooth designs as it contains a wide variety of plugins and widgets. This theme is also fully responsive, so your blog looks perfect on any device.
The Daily Post – Latest Media & News WordPress Theme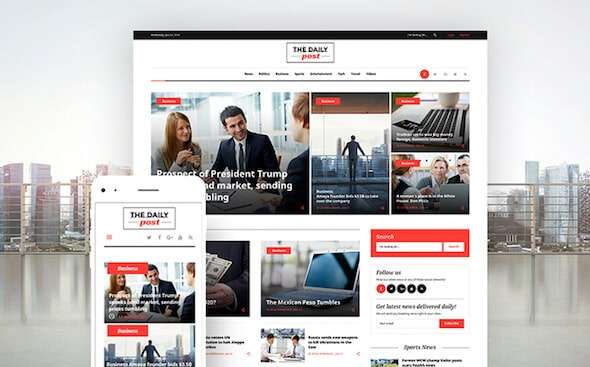 Editable and well documented, this template is perfect for sharing daily news of any kind: economy, politics, culture, environment, and more. Page Builder, Live Customizer and Cherry 5 Framework will go a long way in the process of creating a personal and unique blogging style. Let viewers comment on their favorite posts and share them with the Social Sharing plugin.
City Herald – Magazine WordPress Theme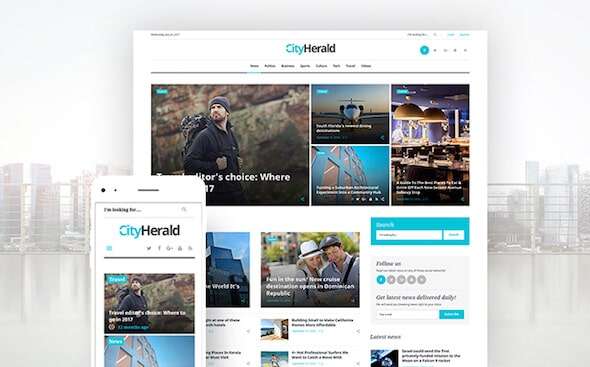 This theme has a design best suited for media portals. The City Herald is less distracted and more focused on visuals. With the help of newsletter subscription, login and user registration forms engage new arrivals to your site and develop close contact with your readers via the contact form, Twitter Feed, and social options.
Read: 10 Best and Most Trusted Indonesian News Sites (Web Portals)