Do you want to take your business in a bigger direction? If so, then to facilitate all of your business management such as human resource management, customer relationship management, project management and financial management, your company must be handled by sophisticated tools with ERP (Enterprise Resource Planning) solutions.
Here I will introduce to you a sophisticated ERP tool that has complete features to meet your needs in managing all important and vital things in the development of your business, some of this work if you do it manually will waste your time and resources, but when you do. switching to using this sophisticated ERP system solution will have a lot of important time that you can use to focus more on thinking about your business development.
The sophisticated ERP system solution that I mean here is WP ERP, where WP ERP will complete many tasks and make many of your business management tasks much more effective. In this article I will review in full about WP ERP, let's get to know first about WP ERP and how this tool will help make work easier and take your business to a higher level.
What is WP ERP?
WP ERP is an enterprise resource planning system that integrates directly with the WordPress platform in the form of a plugin developed by weDevs. Maybe for some people, not many people know this. But this plugin really has all the features an ERP system needs for small to mid-sized companies. It's actually a complete set of tools including features for recruiting, accounting, human resources, and customer relationship management.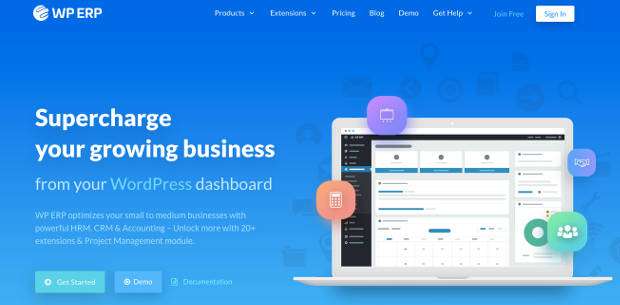 The best thing about WP ERP is of course because it is free and built on WordPress, which we all know is the best web platform in the world. In addition, with a system that integrates directly with WordPress, it means that you can combine your business website together with the ERP solution for your company in one WordPress dashboard, this clearly makes your work and your employees more focused on one platform.
So, let's find out how WP ERP's HRM (Human Resource Management), CRM (Customer Relationship Management), and Accounting systems modules work and can they really help businesses automate their processes.
WP ERP Key Features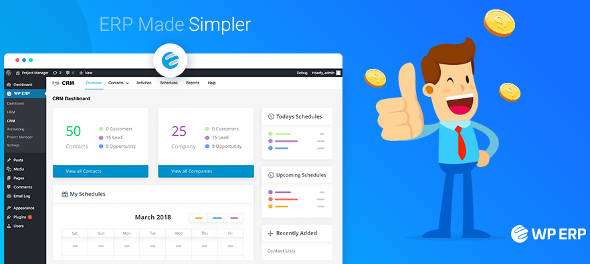 Own company profile: This feature paves the way for adding your company details such as your company name, street address, telephone, the type of your business you do and more.
Branch Management: Your office may have several branches in different locations or in different cities. With this feature, you can register them according to location name, zip code, province, district, etc.
WordPress admin dashboard customization features: You need to install different plugins to maintain your site. This often creates a redundant number of menu items in the dashboard. To hide unnecessary menu items, WP ERP does a great job.
Audit logs to check the whole workflow: Don't let anything disappear from your history. Using the audit log you can find details such as which employees have been created, who took time off, whether announcements were made and much more.
Complete Currency Support: From the ERP setup menu you can configure multiple currencies for your business. The default currency is set to US dollars and it supports around 44 currencies.
Email notification with custom templates and shortcode support: The plugin comes with prebuilt email templates and the best part is that it supports SMTP, IMAP / POP3 protocols to send and receive emails automatically.
Assign different user roles: From the WordPress Admin Dashboard if you select the 'Users' menu item then you will find all users of your site that you have granted special access to the HRM, CRM and Accounting modules separately. In addition to the default WordPress User role, you will get specific User roles for WP ERP with status, Employee, HR Manager, CRM Manager, CRM Agent, Accounting Manager.
Free form builder integration: WP ERP also integrates seamlessly with popular form builders like Contact Form 7 , weForms, Ninja Forms, Gravity Forms etc.
Above are some of the core features of WP ERP, now let's discuss each of the modules carried by WP ERP, where WP ERP brings several modules as below:
HR Module
CRM Module
Accounting Module
The great thing about WP ERP is that you can deactivate modules you don't want to use and activate modules you really need.
Read: How to Create an Autoblogging Website with WP RSS Aggregator
HR Module
HR Module is a module that manages your company's human resources or HR. Individually, the HR module consists of a review dashboard, employee sections, departments, designations, announcements, and reporting. And there are many other management options in the premium extension. You can read below or learn more about the HR Module here → HR Management .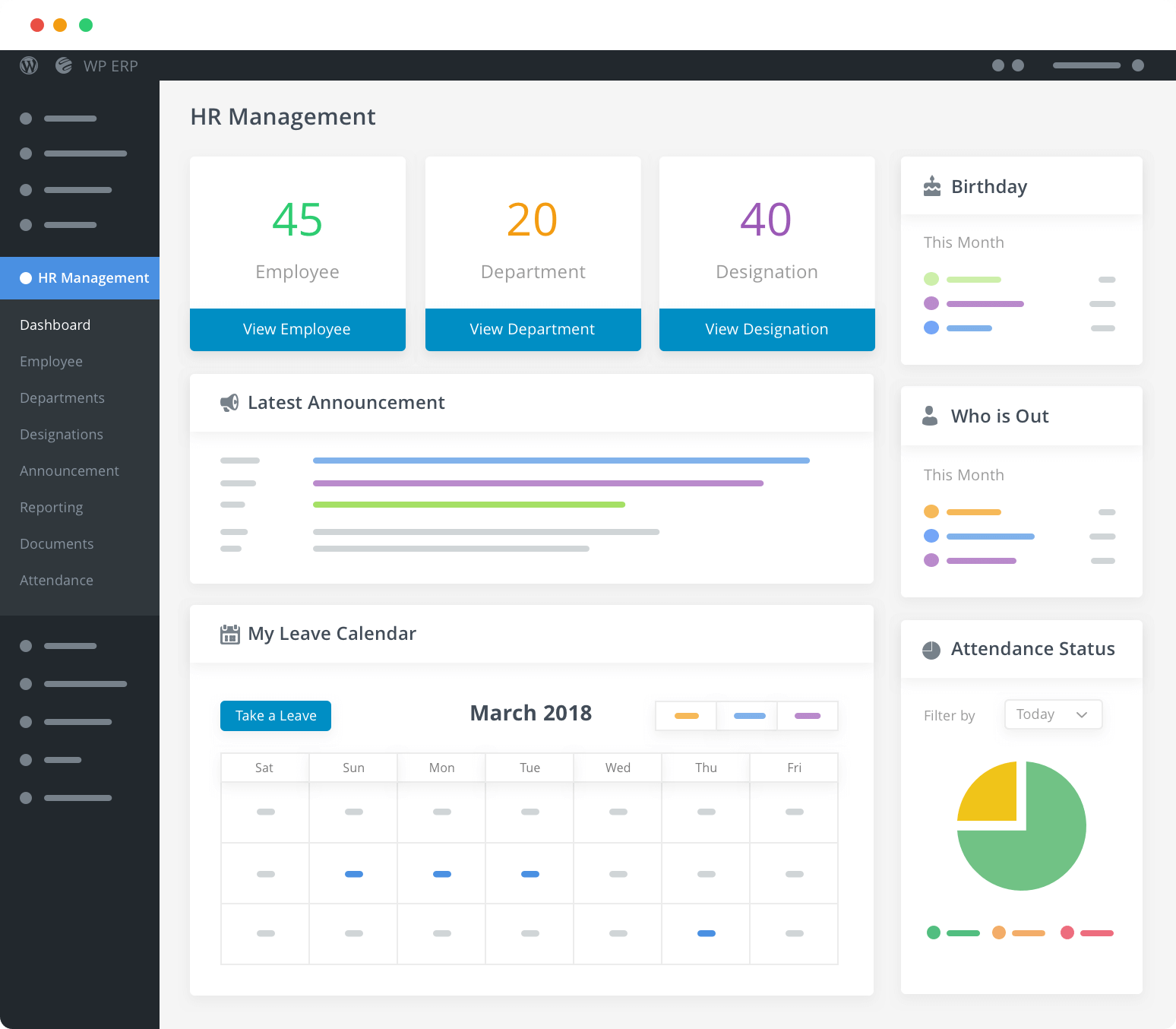 Dashboard
In the HRM Module overview section you will see some important things in your human resources department such as your current number of employees, departments, designations, employees who are on vacation and many more.
There is an announcement section, It helps you to announce your company to keep your employees privacy. It's published on the HRM dashboard so you know they are sure to see it.
There is also a monthly leave calendar that shows detailed information for each employee. You can navigate to next month, previous month, choose to show calendar as monthly, weekly, or even daily.
Employees
In the employees section you can see complete information about your employees from name, designation, department, type of job, date they joined and other important information.
In addition, you can see what tasks your employees are working on. And each employee will have an individual profile which consists of all their information. And what's interesting is that there is a built-in performance evaluation feature for company management that makes things easier.
On top of that, each of your employees gets their own profile. From there, they can view general information, job status, leave status, notes section that HR managers can use, performance and much more.
Department
In the department section, you can view the total number of sections working in your company and can also view all your individual employees working in their respective departments. Clicking on their name will take you to the same employee profile found in the HRM module
Designations
In this section you will see all your company designations with the number of people employed. The same employee profile is also available here too. All designation features are fully customizable.
Notifications
The Announcement section is an announcement feature that helps you convey your message to employees quickly. You can make announcements by selecting the title, message, to whom the announcement will be sent, selecting by department, designation, all employees or only certain employees you choose.
HRM Report
In this section you can generate automatic reports of each type of human resource report required. You can create reports based on Age profile, Salary history, Gender profile, years of service, number of members, leave report. And you can also customize how you want your report to be created.
CRM Module
The WP ERP CRM module is responsible for managing your company's customer management system with related components and needs. You can read below or read more about the CRM Module here → CRM Management .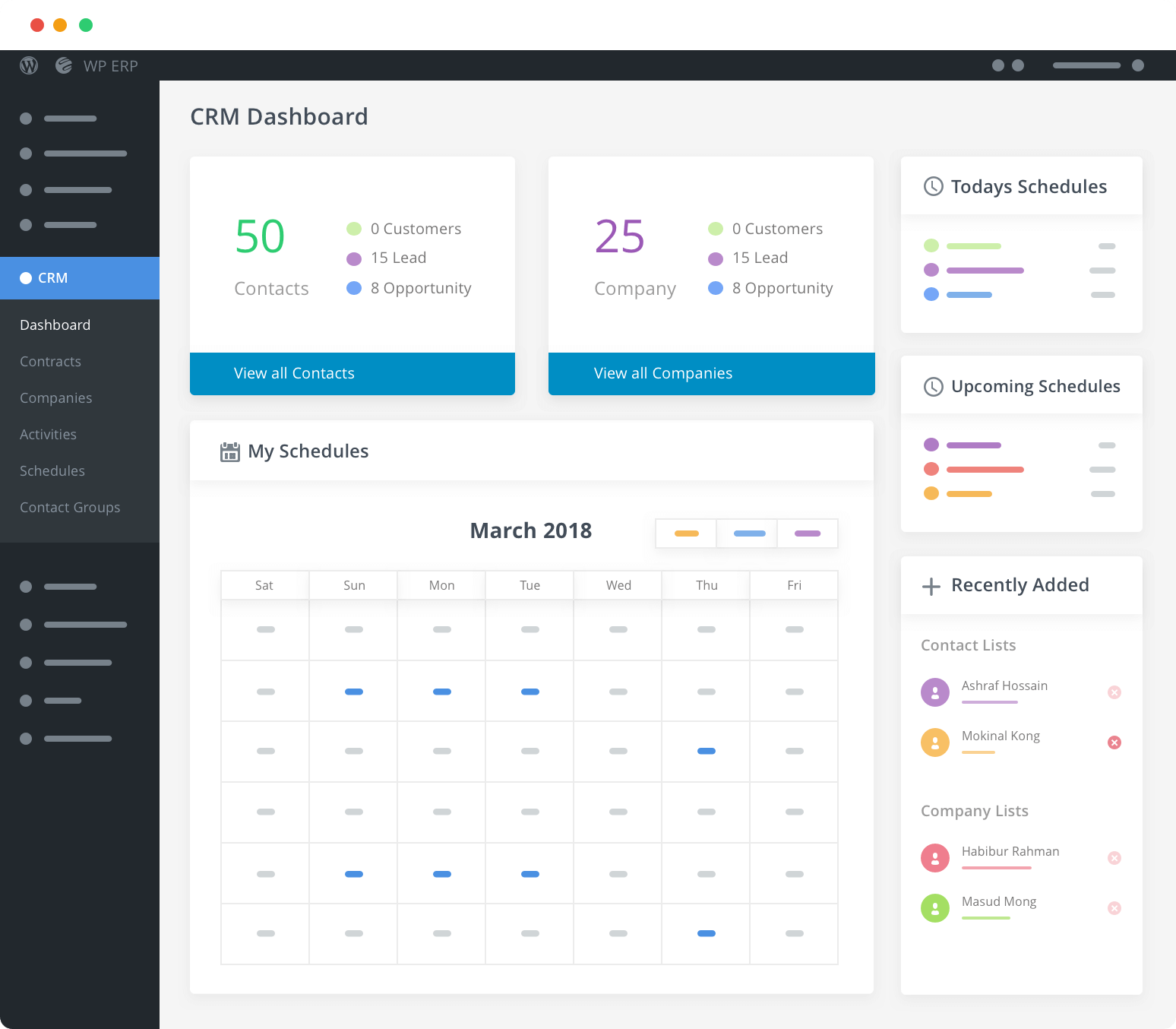 Overview
In the "Overview" section you can preview the total number of customers, prospects, opportunities and customers. And also the entire daily and upcoming schedule for the month, day and week. Shows everything that happens in the CRM System. In the lower right corner, a small widget box shows the number of incoming emails in your database.
Contact
In the "Contact" section you can add, manage, or update individual contacts of customers or companies. You can save notes, send email, add notes, create schedule & tasks, and upload documents separately. This helps you target the customers or companies you want in a more organized way. Easily edit contacts or update their information at any time. The contacts section is also equipped with contact search and filtering features to allow you to search for contacts and find contacts faster.
Companies
For each customer or company contact, you can save notes, send email, add notes, create schedule & tasks, and upload documents separately. This helps you target the customers or companies you want in a more organized way. Also filter previous specific activity search by e-mail, task schedule or notes enter the date of the specified period. You can also add tags, assign companies or contact and view them as contact groups in the display section.
Activities
In the "Activities" section you can manage all activities & task scheduling easily and with a highly developed activity & scheduling CRM module management facility, taking care of those problems is never a problem again.
In addition, there is a filter feature that makes it easy for you to quickly find the activity that you have assigned to all previous contacts or companies. All the activities that you schedule can be viewed on the schedule tab as monthly, weekly or daily so that it becomes easier for you to prepare for upcoming activities.
Group Contact
In this section you can group your customers into your desired contact groups for easy segmentation. This allows the user to know the types of customers of all different interests. Apart from that, you can also find out if the contact you are approaching is a Customer, Followers, Leads or opportunity. This helps the company to quickly develop a strategy to target them based on their life stage.
Report
The "Reports" section plays a very important role in helping the company understand which areas need to be looked at and improved. So this CRM module provides you with some useful reporting to get the most out of your customer interest. This module allows you to generate activity reports to give you an overview of all the actions taken in it. It also leaves you with customer reports that help you find out what types of customers are currently engaged.
Read: Zero BS CRM – Free Customer Management Plugin for WordPress
Accounting Module
The WP ERP Accounting Module allows you to track your company's finances with complete and valid data and reports. This will help make it easier for you to find out all financial reports and determine the future of your company. You can read below or learn more about the Accounting Module here → Accounting Management .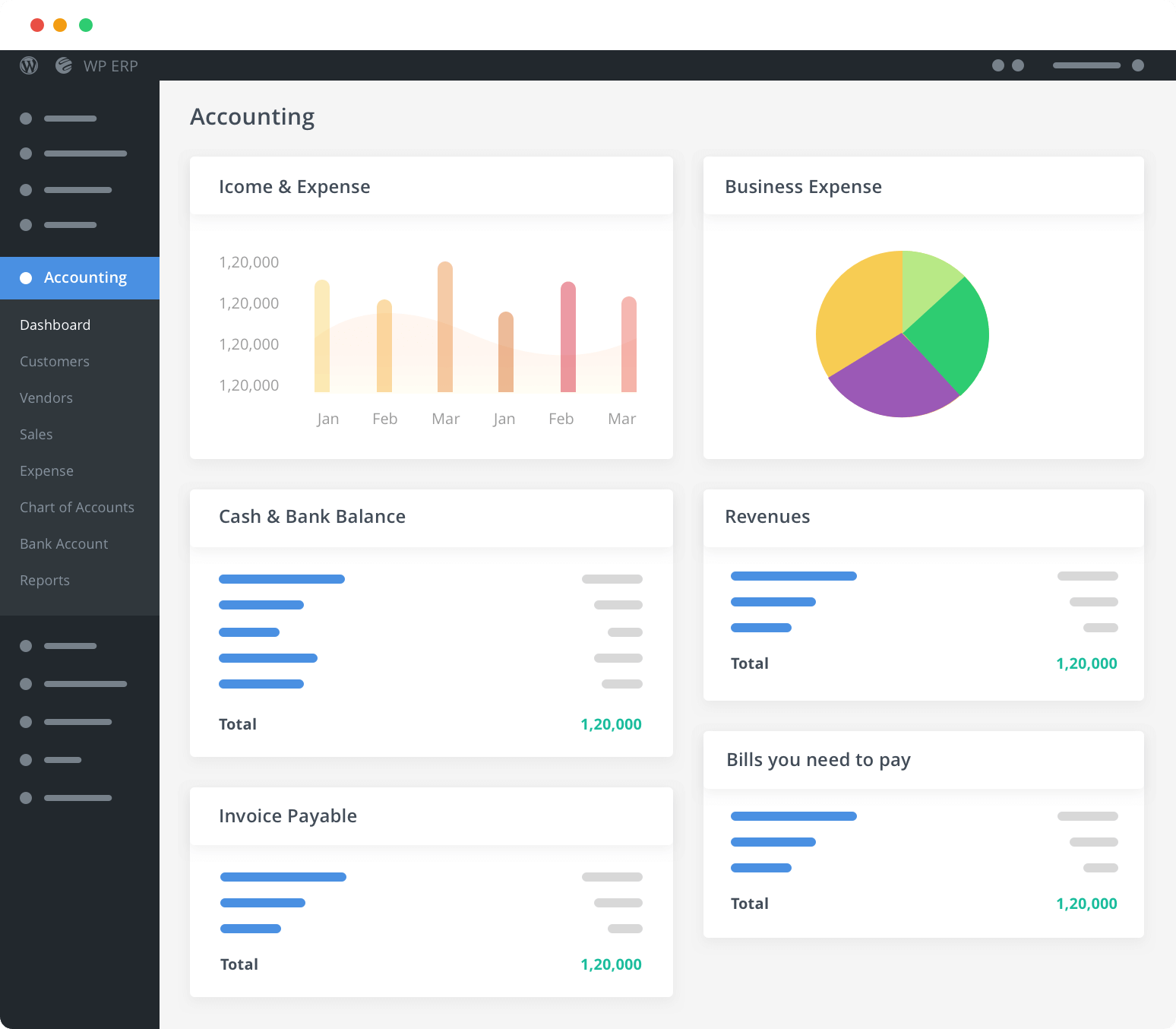 Accounting Dashboard
In this part of the accounting dashboard you can see a quick overview of financial reports with an intuitive interface that displays graphs and numbers. You can also see about how much you have spent or earned each month. You can see how much money is left in your petty cash account or in your bank account, how much of your income, accounts receivable and payable.
In addition, there are still so many features in the WP ERP accounting section, such as sales and expense management that manage.From cash sales or fees to credit sales or transaction fees, the WP ERP accounting module can cover all types of sales transactions with its extensive capabilities.
You will be able to find out if there are pending payments, partial payments or closed payments very easily. You can also cancel, print or export invoices as PDF.
Sales transactions in the EP ERP accounting module will also allow you to record Expense transactions starting from buying inventory in cash or on credit or in installments.
This WP ERP Accounting Module already has all the things needed to maintain a complete financial journal. You can not only enter the account name and the amount of money but also you can enter an explanation for each journal entry.
Reports
Reporting is an integral part of the accounting process. WP ERP accounting module offers Trial Balance, Balance Sheet, Sales Tax, Inventory Report, Income Report, etc.
Conclusion
WP ERP is a fully featured free plugin. This plugin allows you to carry out the most important tasks for seamless planning and management of company resources.
And for some premium extensions offer many useful features that you will need in managing HRM (Human Resource Management), CRM (Customer Relationship Management), and Accounting systems in your company.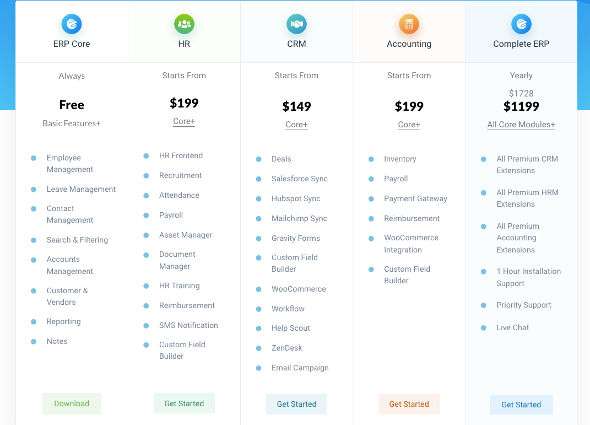 Apart from that, this is a free plugin but you can also upgrade to premium plans which you can buy according to your needs or you can also buy all packages directly.
ERP Core: Free
HR: $ 199
CRM: $ 149
Accounting: $ 199
Complete ERP: $ 1199
If this is what you are looking for, then feel free to try WP ERP to help take your company to the next level. Along with this, consider getting your company a paystub maker.