Create a Marketplace Website Like Ebay and Amazon with Dokan – Have you ever thought or are having an idea to create a marketplace website like Amazon and eBay? If so, then here I will provide the perfect solution for you to make your dreams come true and manage this project properly.
When you want to do business online by creating a large online store website like Amazon or eBay, of course the first thing that prevents you from continuing your dream is how to create such a web platform, and of course you will think that to create a web marketplace platform like Amazon and eBay will need a lot of capital.
If that happened a few years ago it might be true, but for now you can make it happen easily and also doesn't require a lot of capital, you just need to think about your business and market your site to be better known. For matters of how to create such a web platform, you don't need to worry anymore because a well-known developer, weDevs, created a cool plugin called Dokan. The dokan plugin is useful to help anyone who wants to easily create a marketplace website like eBay and Amazon without even required code knowledge.
Let us understand more about Dokan… ..!
Pray for WooCommerce Multivendor
What is Dokan?
Dokan is a plugin developed by the renowned WordPress developer weDevs. This plugin was created to complement the strengths that WooCommerce already has as the best eCommerce plugin today, where Dokan is useful for making WooCommerce able to turn your online store into a marketplace like eBay and Amazon that can manage multiple vendors at once, even unlimited.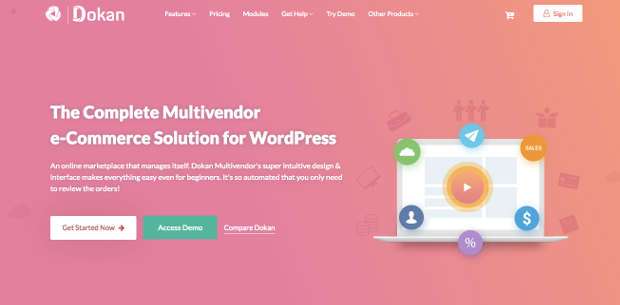 By using Dokan, you will quickly have a sophisticated and easy-to-use online buying and selling portal or website marketplace. You only need to invite or promote your website to attract many vendors to sell their products through your marketplace site.
In addition, having a multi-vendor WooCommerce site will also bring great benefits, when you have many vendors joining, you will get a lot of commissions from every product sale they put on your site. This method is certainly better than when you only sell your own products in your online store. Inviting multiple vendors will make it easier for you to succeed and your site will be more easily known for selling a complete range of products from various vendors without you needing to think about what to sell yourself.
Dokan Plugin Pricing Plan
To start a marketplace business, you can try praying with the free version at the beginning. But if you want more features and resources, Dokan also provides a price plan that is still very reasonable and affordable. Here are some pricing plans from Dokan: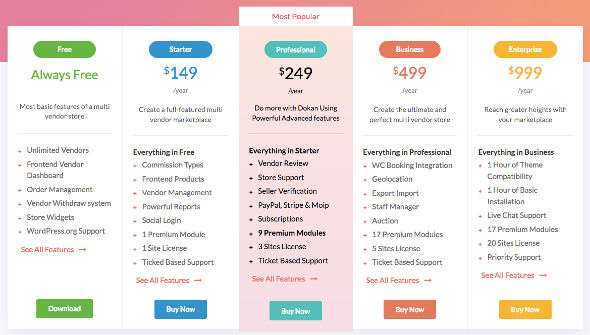 Free (Always Free) : Most basic features of a multi vendor store: Unlimited Vendors, Frontend Vendor Dashboard, Order Management, Vendor Withdraw system, Store Widgets, WordPress.org Support
Starter $ 149 / year : Create a full-featured multi vendor marketplace, Everything in Free: Commission Types, Frontend Products, Vendor Management, Powerful Reports, Social Login, 1 Premium Module, 1 Site License, Ticked Based Support
Professional $ 249 / year : Do more with Dokan Using Powerful Advanced features, Everything in Starter: Vendor Review, Store Support, Seller Verification, PayPal, Stripe & Moip, Subscriptions, 9 Premium Modules, 3 Sites License, Ticket Based Support
Business $ 499 / year : Create the ultimate and perfect multi vendor store, Everything in Professional: WC Booking Integration, Geolocation, Export Import, Staff Manager, Auction, 17 Premium Modules, 5 Sites License, Ticket Based Support
Enterprise $ 999 / year : Reach greater heights with your marketplace, Everything in Business: 1 Hour of Theme Compatibility, 1 Hour of Basic Installation, Live Chat Support, 17 Premium Modules, 20 Sites License, Priority Support.
Features and highlights of Dokan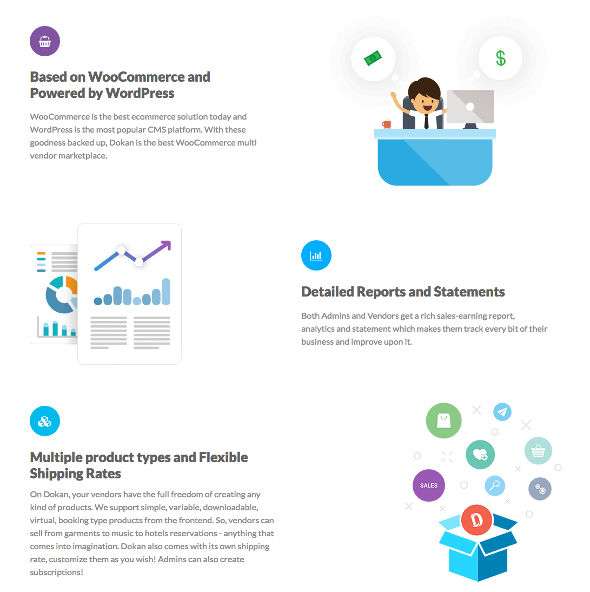 Built on WooCommerce and Powered by WordPress : WooCommerce is the best e-commerce solution today and WordPress is the best and most popular CMS platform. With that in mind, Dokan is the best WooCommerce multi-vendor marketplace you can choose from.
Full Reports : Both Admins and Vendors get rich sales reports, analytics and statements that let them track every part of their business and improve it.
Multiple product types and Flexible Shipping Rates : At Dokan, your vendor has complete freedom to create any product. Dokan supports simple, variable, downloadable, virtual, order type products from the frontend. So, vendors can sell from clothing, digital, hotel bookings and whatever else you want to sell. Dokan also comes with its own shipping rate, adjust it according to your wishes! Admins can also create subscriptions!
Frontend Dashboard : Dokan has a unique Frontend Dashboard that makes it easy for Vendors to manage everything, where Vendors get the full functionality of the frontend dashboard – coupons, discounts, reviews, withdrawals, earnings reports, support, all on the frontend!
WooThemes Compatible : Dokan frontend is built on bootstrap, so it is fully compatible with most (100+) WooCommerce themes and more than 17+ fully compatible themes on ThemeForest. And Dokan also supports all WooCommerce themes.
Easy to use : Dokan's intuitive frontend interface is very straightforward. Anyone with even eCommerce experience can easily sign up and start selling right away.
SEO friendly : Dokan allows vendors to manage the SEO for their own shop pages. They can write custom SEO meta, save permalinks, and descriptions right from their front-end dashboard. This makes it easier for vendors to compete on search engine results.
Best storefront and market experience : Dokan offers vendors the best storefronts with features and designs that follow the most trending markets to create the best customer experience.
Marketplaces with Self Stores : Similar to Shopify, eBay, or Amazon – Dokan provides customized shop vendors and the opportunity to provide additional support.
Monetise From Each Sale : Fill commission globally, at vendors, or get special commission for one product. The fair commission model allows both parties to share your market success!
Coupon Management : Vendors manage their own products and the discounts they offer. Additionally, vendors can create coupons for special sales!
Stylish product showcase : Dokan provide each storefront for vendors to look professional with location and rating, perfect for branding your business. Stores can also use multiple template designs to get the best look.
Increase Brand Value with Product Reviews : Vendors and the Products they sell can be reviewed and rated by customers directly. Good reviews help other customers to gain trust and increase brand value.
Manage Orders : Vendors can manage their own orders, mark orders as pending or processed, view shipping and billing addresses and ship products.
Review Product Publishing : Maintain product quality in your market and block spam or illegal products. If publishing approval is enabled, Admin will review the product and publish. Vendors can arrange their products published at any time.
Easy Withdrawal System : Withdrawals are very easy to do with Dokan. Vendors can ask the admin from the front dashboard. Admins can set withdrawal thresholds, cycles, and customer refunds as well.
Completeness of Vendor Profiles : The completeness of the vendor profile on the vendor dashboard is very complete. So that vendors can provide as complete information as possible so that customers can trust the vendor more.
Vendor Store Setup Configuration : Vendors can include additional information about their shop and brand from the front dashboard.
Vendor Payment Method Settings : Vendors can manage their payment methods from their dashboard settings and also set their withdrawal methods from the frontend.
Social Profile Integration for Vendors : Vendors can add their social profiles from Twitter, Facebook, etc. And also link their Facebook shop into their shop profile to help them cross-sell.
Shipping Management for Each Store : With Dokan shipping, vendors can manage global shipping for their stores and also change shipping rates for products right from their frontend dashboard.
Order and Generate Widgets on Vendor Dashboard : A vendor can have a quick view of his current position. order status based on the order status dashboard.
Refunding Customers Very Easy : Customers can request a refund through the vendor. The admin will review the request and issue a refund.
Important Announcements for Vendors : As an admin, you can broadcast important announcements for all vendors or specifics. Announcements will be displayed on the vendor dashboard.
Sellability Control : Admins can activate / deactivate vendor sales rights. Vendors can also be promoted as "trusted vendors" for live publication without review.
Multiple Language Support : Dokan supports WPML and 17+ language translations for worldwide customers, so you don't have to worry about languages.
That's the list of features that Dokan has, you will still find so many useful features when using Dokan.
Create a WooCommerce Marketplace with Dokan
Creating your own marketplace website like ebay and amazon is certainly a very profitable thing, imagine how many brands you can host and how multi-vendor WooCommerce will be in business with you. You will grow on the network and become popular in addition to profits.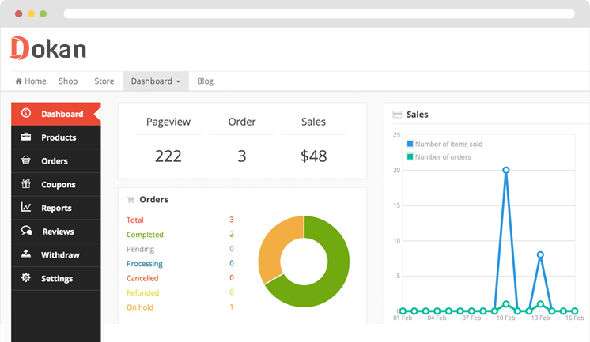 Having your own marketplace is also very easy with Dokan, because pray is a free solution, which you can use to build the marketplace of your dreams. All you need to build your online Marketplace with Dokan are:
Installing and configuring the multivendor WooCommerce Marketplace takes only about 10 minutes. You won't find anything difficult when configuring Dokan, this plugin also provides very comprehensive documentation both video and writing.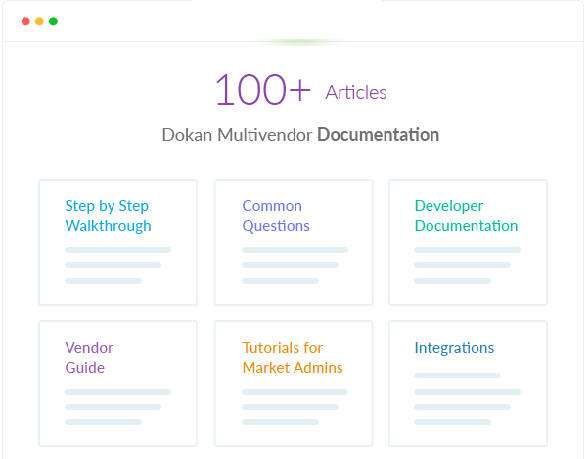 You are also given the opportunity to try out the demo version of Dokan before purchasing. Make sure you look in detail and try all the features in the demo version both from the back-end and front-end. Pray for a demo .
Dokan Extension
Dokan comes with various extensions or Dokan Modules to enhance core Dokan capabilities. And this extension is made to cater to various types of marketplace business industries. You can choose one of the extensions depending on your needs and give a new dimension to your WooCommerce marketplace.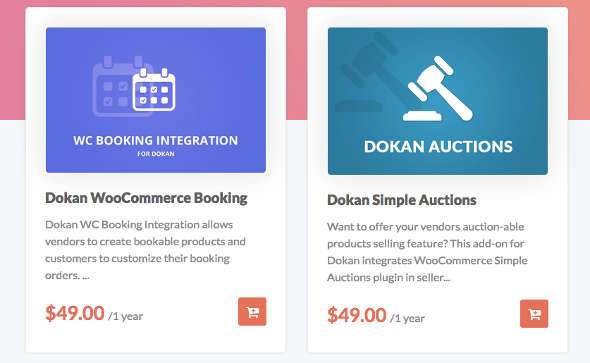 And here's a list of the Dokan extensions you can use:
Dokann WooCommerce Booking
Dokan Simple Auctions
Ajax Live Search
Color Scheme Customizer
Export Import
Geolocation
Live Chat
Moip
PDF Invoice
Product Duplicator
Product Inquiry
Seller Verification
Single Product Multivendor
Store Support
Stripe Connect
Subscriptions
Vendor Reviews
Vendor Staff Manager
Vacation Vendor
And that's a line of Dokan extensions that you can use to fulfill your needs in creating a Marketplace website like eBay and Amazon, make sure you only buy what is useful to you. For more complete information about each dokan extension, you can see directly here.
Read: Sell Your Zoom Meetings With WooCommerce and WP Event Manager