Basic Guide to Virtual Private Server (VPS) Hosting – When you decide to choose hosting when you are about to start a new blog, it is highly recommended to use the shared hosting type because shared hosting is the most affordable hosting package compared to other types of hosting, but along with as time goes on and your blog grows in terms of business and increased visitor traffic, you should immediately upgrade to a better type of hosting, namely Virtual Private Server (VPS) hosting.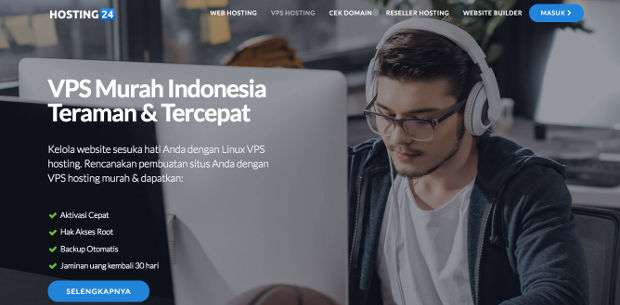 In this article, I will explain in full about VPS hosting and provide a basic guide for Virtual Private Server (VPS) hosting so that you better understand this type of hosting and make the right decision before paying for VPS hosting.
What is a Virtual Private Server (VPS)?
VPS is a virtual private server which is usually referred to as VPS, this type of hosting is the middle class hosting solution of choice between shared hosting and dedicated servers. VPS is created by using virtualization software to divide the physical server into smaller parts in virtual form, where each virtual server has its own operating system and dedicated storage, RAM and CPU resources.
Even though it is in one server hardware, this VPS hosting feels independent and other users will not interfere with the performance of your hosting server.
What is the Difference between VPS Hosting and Shared and Dedicated servers?
Shared hosting is affordable hosting because in shared hosting you rent a portion of the server and share resources such as CPU (processor), memory and disk space, bandwidth, etc. with other users. However, shared hosting works fine for most of the smaller websites because the speed, storage, bandwidth and reliability you need is also small and these servers usually keep up with problems.
However, when you use your website for business with larger visitors, the available resources are very limited and if you still insist on using shared hosting, this can also affect your website and the websites of other users who are in one. your server.
If shared hosting equates to many people sharing in a large house, then VPS hosting is the equivalent of dividing a large house into several smaller flats. Each VPS is a separate computing environment, isolated from the others, with its own dedicated resources. Being a separate entity with its own operating system means your data won't be compromised by vulnerabilities of other customers. It also means you can run any custom application on your VPS hosting.
Continuing with the house analogy, for a dedicated server type hosting is the equivalent of owning the entire mansion alone. You have all the disk space and computing resources you want and control which operating system and hardware you want to use, however, this makes it the most expensive option and best suited for businesses that have significantly greater processing and storage needs.
What are the benefits of using VPS hosting?
Basically, VPS hosting gives the website owner the opportunity to have many of the features of a dedicated server but at a much cheaper price with a cost close to shared hosting. For example, at https://id.hosting24.com/ which is a cheap Indonesian VPS provider, you can have a VPS server with prices starting from Rp. 119,893 per month. This price is almost the same as the price for the shared hosting business packages they offer.
VPS also gives you the option of fully manageable hosting, dedicated IP, full administrative access, remote server access, and the ability to run dedicated software applications. Plus, you have more CPU, bandwidth, RAM, and storage for you to use than with shared hosting.
Who and when should you consider using a VPS?
With advances in virtualization and cloud computing, it seems increasingly likely that shared hosting has become a low-level solution in previous years. But for a new company starting their website today to run their business online, choosing VPS hosting is a much better choice for now as it's also a very affordable price.
And for those of you who are currently loyal to shared hosting, here are signs that you should immediately upgrade to VPS hosting:
Slow running website – an indication that you have reached your shared hosting resource limit.
Your website has started to have much more traffic or has significant peaks that are difficult to overcome.
You are storing sensitive data and need to protect your customer information and comply with Data Protection Laws, etc.
You operate an e-commerce site that stores card details or processes payments and must comply with the Payment Card Industry Data Security Standards.
Your company needs to run special applications to operate its business.
How to choose a good VPS hosting plan?
Not all VPS hosting is the same and some hosts offer services that are much better than others, for example, Indonesia cheap VPS hosting24 service which has all the features needed by most users as I will mention below, where the things are important below. you should find a VPS hosting provider before you buy it.
Fully managed hosting
Many business websites use shared hosting but don't have the in-house technical expertise to manage servers and if this applies to you, you should look for a hosting service that provides a fully managed service that maintains your hardware, installs and updates your operating system, and monitors servers. You are at the same time helping to deal with when problems are encountered so that your website can continue to operate at optimal levels.
Easy-to-Use Control Panel
Look for a VPS hosting that provides a control panel that is easy to use, and make sure the Control panel in VPS hosting also provides all the features & tools needed for website creation and management.
VPS hosting from Hosting24 has a simple control panel that is easy to use and understand even if you are unfamiliar with technical issues. In addition, there are various tools that can help and make it easier for you to manage your VPS hosting.
24/7 customer support
If you are thinking about using VPS hosting, chances are that your website traffic is quite large. Therefore you need to make sure that the VPS host service you choose offers full 24/7 support, including technical support.
A good hosting service provider should have multiple channels through which you can communicate: phone, email, live chat, etc.
Hosting24 has a customer success team that is ready to help you 24/7. You can contact their team via live chat or email.
High uptime
You need a host that can guarantee that your website will be online and will not be hampered by various problems. Ideally, your host should offer 99.5% uptime or higher.
Great hardware
Your entire server operation runs on hardware. If you want a VPS that delivers enterprise-class performance, you need to make sure that your hosting service invests in the latest technologies such as super fast SSD drives, high speed processors and memory and high performance RAID controllers.
Hosting24 uses an SSD Drive which ensures website load speeds and speeds. Apart from SSD storage, other things to consider when choosing VPS hosting are CPU and RAM.
Price
Price is important when it comes to choosing a VPS hosting plan, but price shouldn't be a determining factor. It's much more important to consider the value for money you get for the package you choose. For this reason, it is best to compare the various services offered carefully and make sure that you get everything you need not only right now but can meet your future needs as well.
Hosting24 has 8 types of VPS hosting that you can choose according to your needs and abilities. You can have VPS hosting from hosting24 starting from less than IDR 125,000 per month, where you will get 1 GB RAM, 2 GB Burst RAM, 2.4 GHz CPUs, 20 GB Disk Space, and 1000 GB Bandwidth.
Dedicated Resources
By using VPS hosting, all the resources offered are entirely yours, because you don't need to share resources with other websites, as happens in shared hosting. This certainly gives you the freedom to organize and manage resources as you wish.
In addition, VPS hosting24 also provides root access. Root access is arguably one of the things you need to pay attention to when choosing VPS hosting. Root access gives you the flexibility to manage hosting optimally, adjust settings, and install new software.
Full Backup
The more developed your website, the more data it will have. VPS hosting must have a full backup feature so you don't have to worry about losing your files.
Like the cheap Indonesian VPS from Hosting24, there is a weekly backup service that will automatically secure all your files and data. Apart from weekly backups, you can also create VPS snapshots manually and restore them if something goes wrong.
Conclusion
Hopefully this article was useful for you and could provide you with a clearer understanding of Virtual Private Servers (VPS) and a deeper understanding of the different types of hosting between shared, VPS and dedicated hosting, the benefits of VPS hosting and when you should consider switching to a VPS and understand how to choose the right VPS hosting service for your business website. As I mentioned in this article, you can also choose one of the Indonesian VPS hosting services that have good quality, namely the Cheap Indonesia VPS Hosting 24.