A website helps showcase your products and services and is an important feature of any company. When you work on a website or app, it is crucial to give your customers the best online experience. The availability of your website is essential for attracting and keeping customers.
However, managing a website can be difficult since it includes various IT components. If there are any problems with the IT infrastructure, it can lead to downtime. Downtime can lead to income and traffic loss during peak hours. This is where uptime monitoring comes in.
If you continuously monitor the uptime of your website, you can solve any issues that might be causing downtime. Applying a powerful uptime monitoring strategy will help you gain insight into your website and automate availability checks and downtime alerts.  
Uptime monitoring also helps you display reliability and protects your brand reputation. If you want to monitor uptime efficiently and precisely, we have prepared a list of the best uptime monitoring tools.
1. Uptimia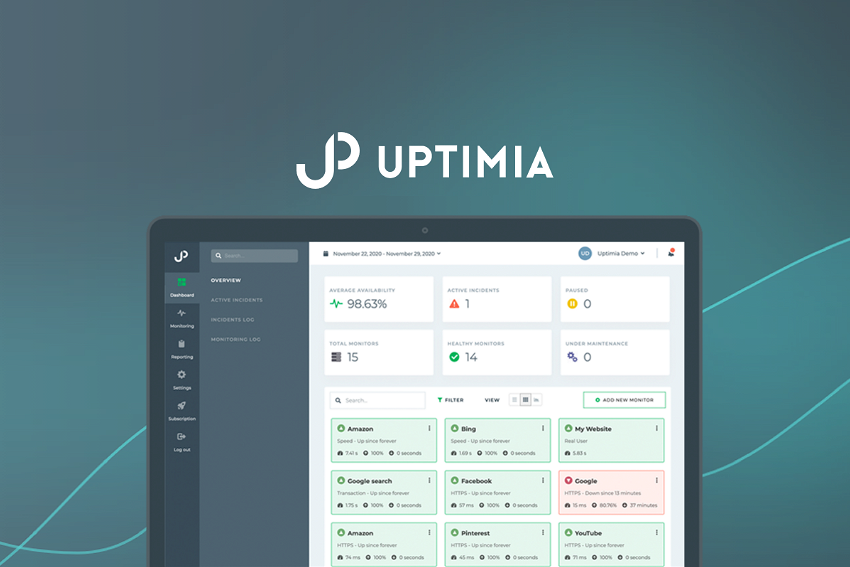 Nobody wants to waste time manually tracking website status and issues. That's why Uptimia helps you monitor website uptime, speed, and health. You will receive live alerts when your website is experiencing issues or when it is down.
It can monitor your website every 30 seconds, and the system can triple-check errors from different geographic locations. You will also receive alerts when probes can't complete journeys or if web elements are stuck.
In addition, Uptimia offers transaction monitoring where you can build intuitive transaction journeys and identify issues. You can monitor multiple websites, assign tasks to your team, and display public status pages from one place.
This tool builds trust and confidence with customers by showing them your service status. It is also ideal for eCommerce, small businesses, and product managers and is an alternative to UptimeRobot, Pingdom, and StatusCake.
Finally, Uptimia integrates with Discord, Slack, Microsoft Teams, Whatsapp, Telegram, and Webhooks. Thus, it gives you all the right features to monitor uptime and lets you solve any problem in seconds.
2. My Website is Online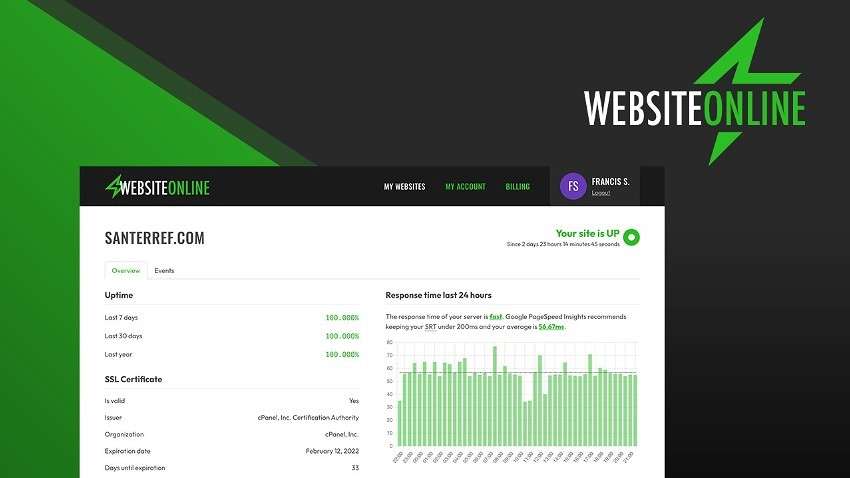 My Website is Online is a professional uptime monitoring service that lets you configure unlimited monitors. Every monitor has its own interval; if one fails, an email will be sent to you. Plus, every website can have multiple recipients for email alerts.
You can also enable SMS alerts which are perfect for tracking downtimes. It comes with observers that check response time, DNS record changes, and SSL certificate expiration. It can also run Google Web Risk monitoring on any site, and you get unlimited status pages on all accounts. 
My Website is Online is ideal for customer support, consultants, and remote teams and is an alternative to UptimeRobot and integrates with Slack and Zapier.
3. CheqUptime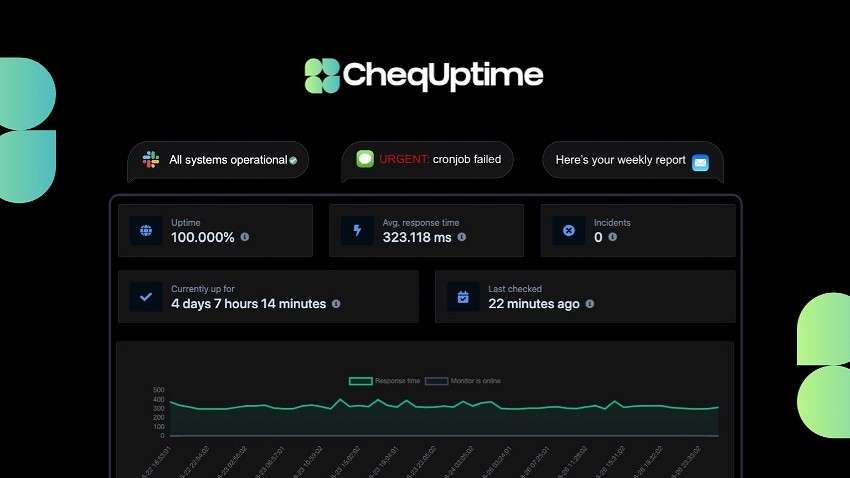 CheqUptime lets you monitor your software uptime, notifies and keeps you fully informed. It will prevent income and customer loss and help you launch a beautiful status page. With it, you can set up monitors in just under five minutes. They can monitor websites, servers, and ports from multiple locations.
Furthermore, it can track Cronjobs too. Just send a POST or GET request every time your Cronjob runs. You can get emergency notifications and set up SMS, email, Slack, Telegram, Discord, and webhook notifications.
CheqUptime is perfect for solopreneurs, small teams, remote teams, developers, small businesses, and web designers. Plus, this tool will help you launch a beautiful status page and build trust with your customers and confidence in your product.
4. Netumo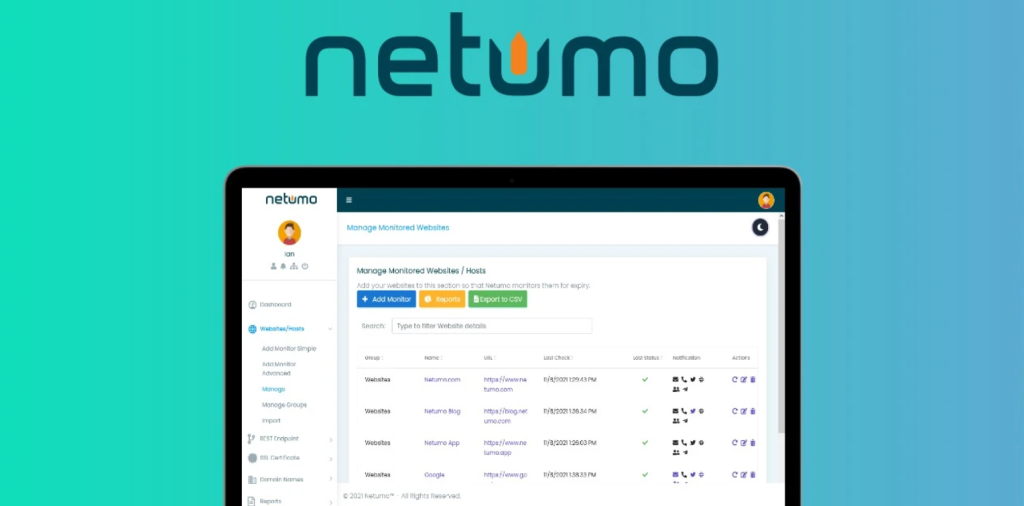 Netumo monitors uptime for APIs, websites, domains, and hosts. It checks for SEO elements, certificates, verifications, and more. You can get instant alerts via SMS, email, Microsoft Teams, Slack, Telegram, and Twitter. These alerts are crucial to keeping your website healthy and measuring its performance.
In addition, you can specify preset intervals. It helps you detect issues immediately and avoid unnecessary load on your server. The tool also offers various reports that give you insight into the health of your website. These reports can show your service provider and your clients the uptime and downtime of your website.
Netumo is ideal for freelancers, consultants, and IT agencies. It is an alternative to UptimeRobot and StatusCake and integrates with Microsoft Teams, Slack, API, Telegram, and Twitter.
5. Weblister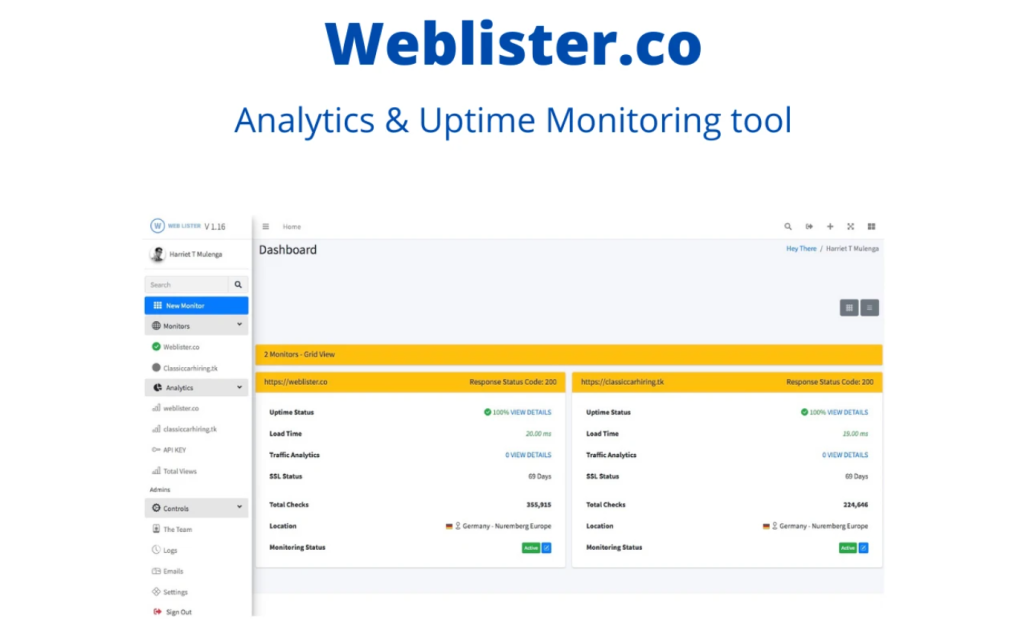 Weblister monitors your website uptime and downtime, and data traffic. It lets you use Google Analytics and comes with website traffic data mapping that can track and record visitors by the country.
Moreover, it offers unlimited team accounts, websites, and website pages with support of up to a million monthly page views. You can download traffic data as PDF and Excel documents and get email notifications on downtime.
It's an alternative to AcencyAnalytics and is ideal for web design agencies and web designers.
Final Words
Uptime monitoring will help you save time, money, and effort. You will avoid downtime, and it will help you protect your brand and attract and keep customers.
When it comes to uptime monitoring, Uptimia is a powerful tool that will monitor website speed, health, and uptime and give your customers an amazing online experience.