What is Google Analytics
Google Analytics is a tool that gathers information from your applications and websites to provide reports and insights into how well your business is doing. You must first register for a Google Analytics account to measure a website.
If you have never heard about Google Analytics before and do not know where to go from here, read this in-depth tutorial on installing Google Analytics in WordPress on ULTIDA if you're doing it for the first time.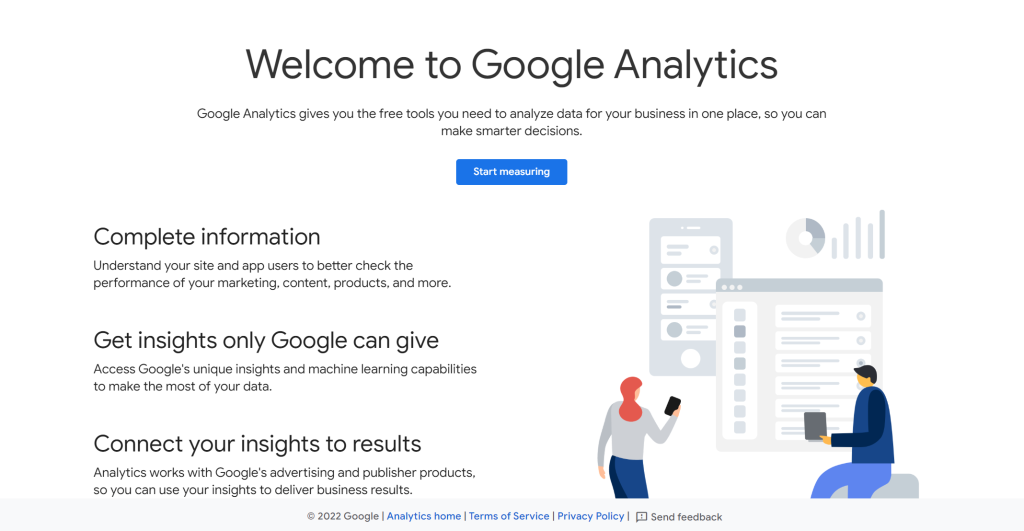 How does it work
The tracking code will gather anonymous data each time a person accesses a website regarding their interactions with the page.
The measurement code gathers data, bundles it, and sends it to Google Analytics for analysis and creation of reports. When Analytics analyses data, it collects and arranges the data according to certain criteria, such as the user's device type (desktop or mobile) and browser.
The data is kept in a database where it cannot be modified once Analytics has processed it. So, keep in mind not to omit any data from your settings that you may wish to study later. The data will show up as reports in Google Analytics once processed and saved in the database.
What is Google Analytics good for
Google Analytics collects a lot of information about your website and its users. This information covers the methods by which people access your website, how they engage with its content, information about your website's audience, the percentage of visitors that convert, etc.
The reports in Google Analytics may also be used for tasks like assessing the success of your marketing initiatives, figuring out how to improve the performance of your sites, choosing the audience you should target with content and advertising, monitoring conversions and transactions, and much more.
Best WordPress plugins
If you have a WordPress website and want to utilize Google Analytics, you have come to the right place.
We will go over some of the best tools you can use to leverage Google Analytics. Here is the list of the top Eight Google Analytics WordPress plugins.
Analytics Cat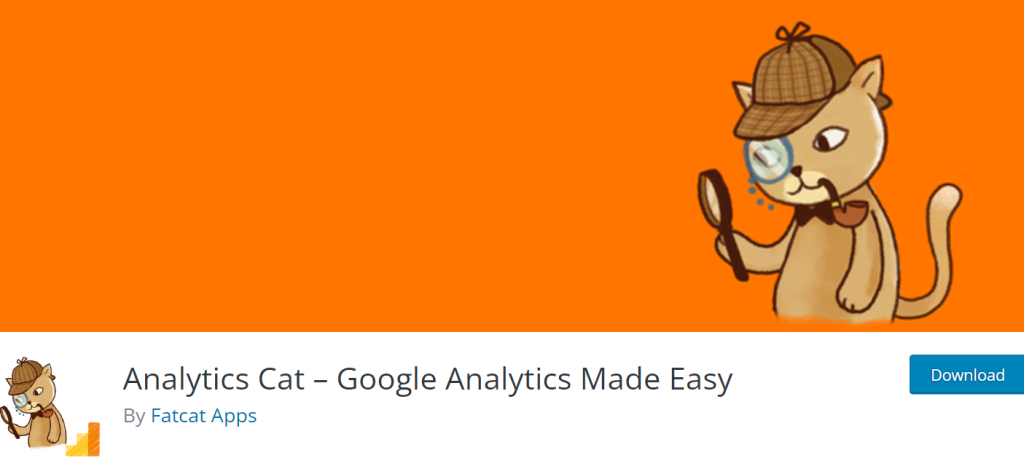 The clever WordPress plugin Analytics Cat adds Google Analytics code to your website without requiring any extra settings or coding. It is a straightforward, trustworthy Google Analytics plugin.
You may quickly install the Google Analytics tracking code and keep it hidden from users who are signed in. Unfortunately, Analytics Cat lacks an installation or setup wizard. Therefore, you must open Google Analytics, locate your code, and then paste it into the settings.
The plugin directory offers Analytics Cat at no charge. Additionally, this plugin is slated to have a ton of interesting upgrades and feature enhancements.
Analytify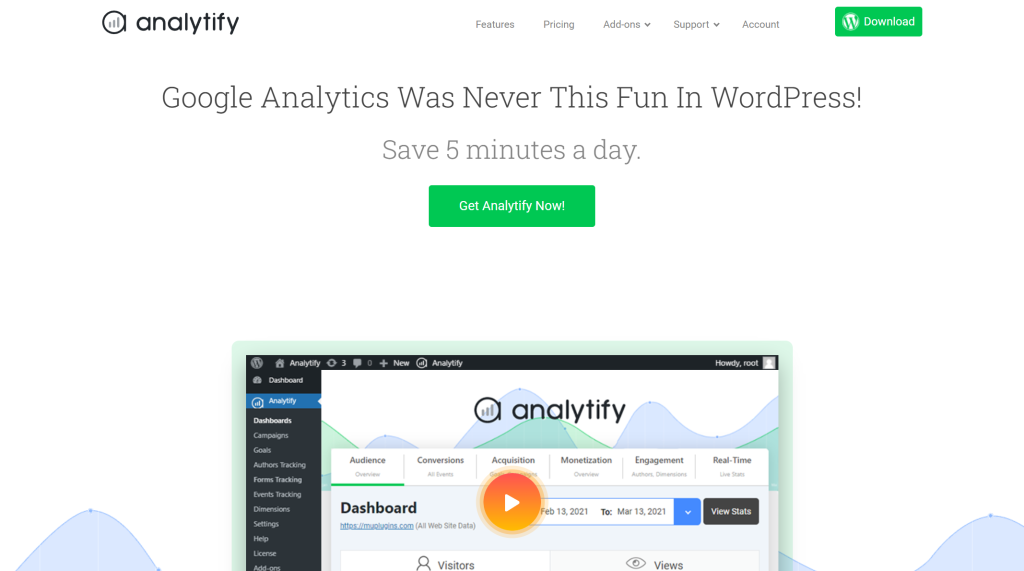 Analytify, a plugin from a Google Analytics Premium Partner, does more than just add tracking code to your website; it also displays statistics beneath articles, pages, and even custom post kinds.
You can access your Google Analytics reports with Analytify directly inside your WordPress admin area, and installation is really simple. Additionally, you can obtain detailed statistics for your custom post kinds, such as portfolios, galleries, and testimonials, as well as page-level analytics for each page and post.
However, some capabilities, such as receiving email notifications along with your reports, require extensions. Key features include the bounce rate of top pages, list of top countries, list of top cities, social media stats, list of top referrers browsers, list of top referrers, mobile device stats, and traffic data for individual blog posts and pages.
Conversios.io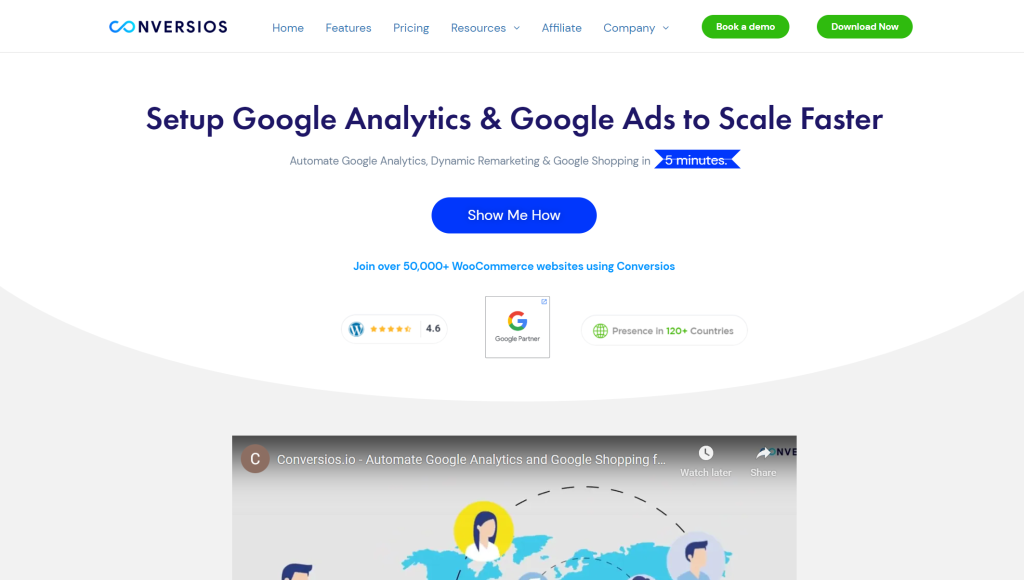 A well-liked Google Analytics plugin made specifically for eCommerce business owners is called Conversios.io. It provides an effective eCommerce tracking function to evaluate the effectiveness of your online business. The Starter package for this plugin is free.
Basic functionality like product feed synchronization for up to 100 goods and global analytics tracking is included. The Hustle, Growth, and Leap premium plans are also available to users. Hustle starts at $19/month and includes complete Google Analytics monitoring tools.
Growth is $29/month and includes premium customer assistance and a free Google Analytics audit. Key features include an actionable dashboard, complete eCommerce analytics reports, comprehensive Google Shopping automation, Dynamic remarketing ads, etc.
HubSpot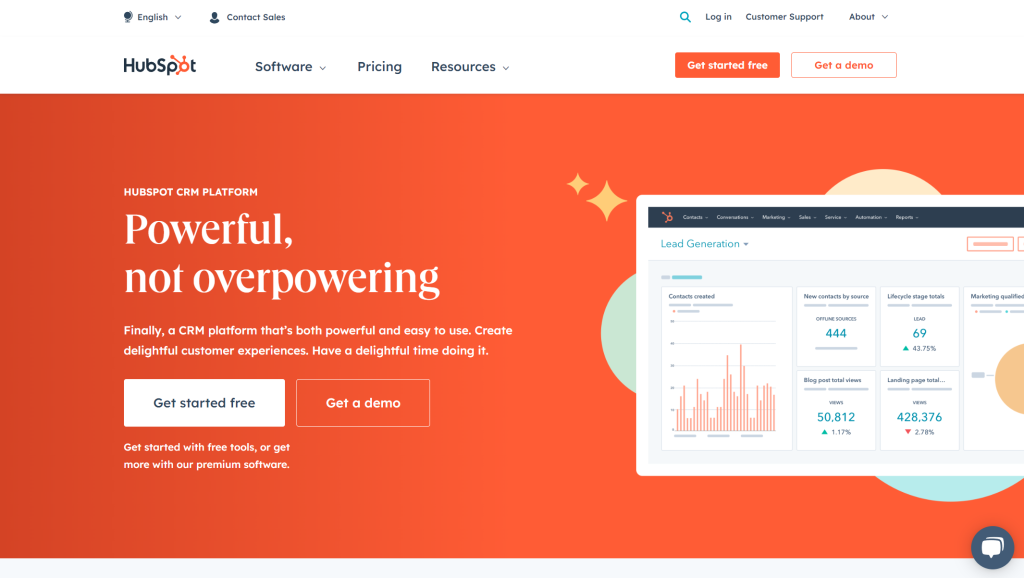 One of the top WordPress plugins for marketing, site analytics, and customer relationship management (CRM) is HubSpot. It has over 40000 downloads and offers free and paid versions, starting at $19/month. The best use case for this tool is found when creating advanced eCommerce statistics.
HubSpot's solutions, intended for large enterprises, will improve your ability to interact with customers. Key features include multiple software integrations, website traffic analytics, pop-ups and forms, campaign reporting, predictive leads ranking, behavioral event triggers, etc.
Jetpack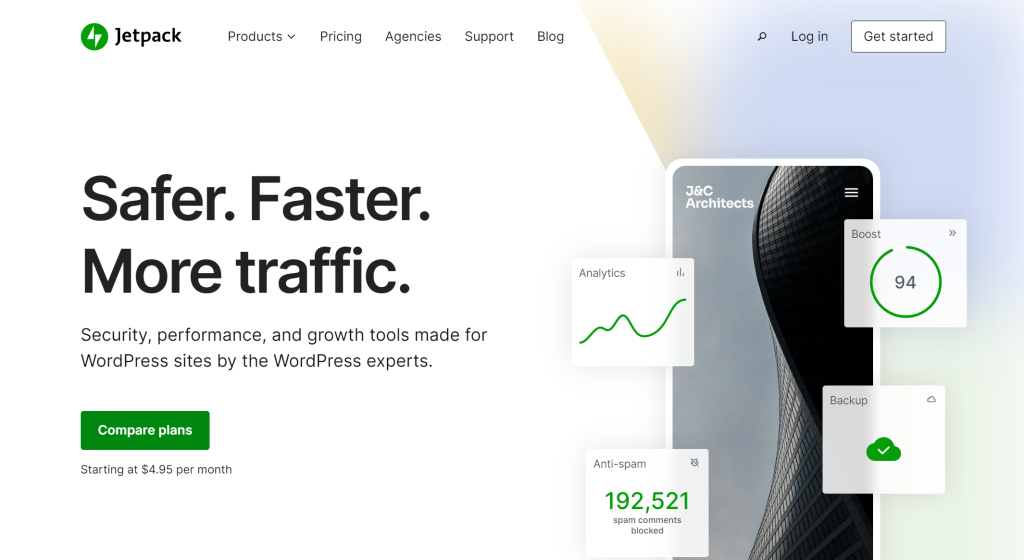 Arguably one of the most popular plugins on WordPress in general, Jetpack has over 5 million downloads and offers the option to view analytics stats. The free version comes with Google Analytics-enabled plans starting at $10.95/month.
In addition to site security, CRM, and performance tools, it offers a variety of services. The Google Analytics connection with Jetpack's growth tools enables you to examine traffic statistics for your website from the WordPress admin.
Key features include multisite management, downtime monitoring, a beginner-friendly interface, a content delivery network, site protection, an activity log, etc.
MonsterInsights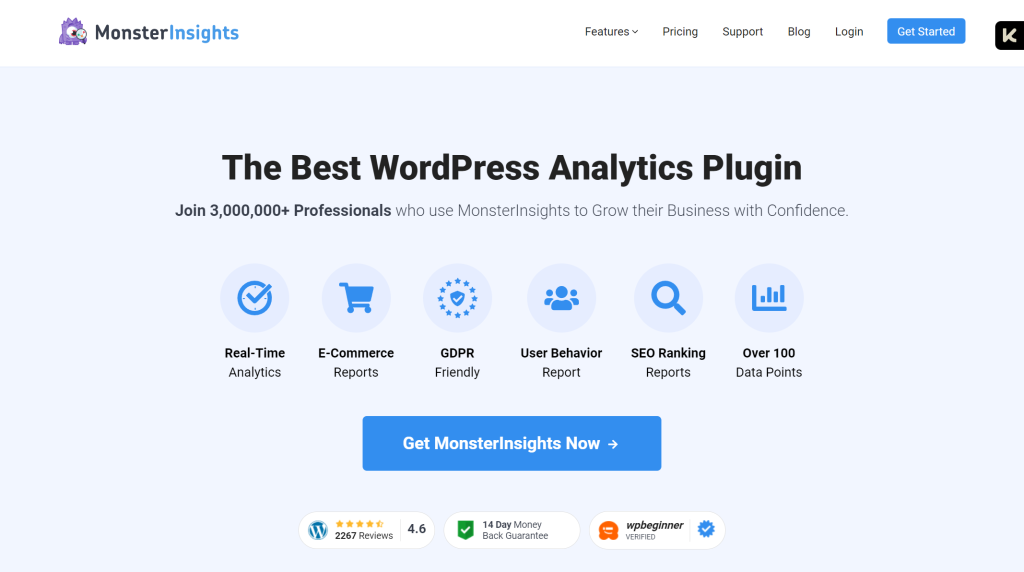 The most used Google Analytics plugin for WordPress is MonsterInsights. You can easily integrate Google Analytics with your website and see your reports directly from the WordPress admin.
Even the most complex Google Analytics capabilities can be easily set up in WordPress with the MonsterInsights plugin in just a few simple steps.
It is the perfect answer for small enterprises on a budget because neither coding nor developers are required. Google Analytics 4 and Universal Analytics, the most recent iteration of Google's analytics software, are compatible with MonsterInsights (GA4).
With MonsterInsights' Dual Tracking function, you may connect to both versions simultaneously or just the one you're currently using.
WP Google Analytics Events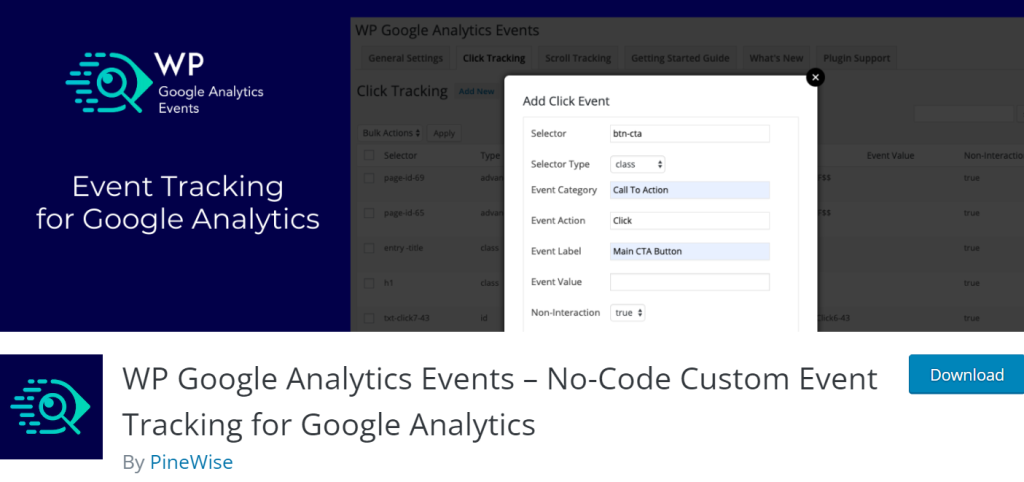 Without having to write any code, WP Google Analytics Events make it incredibly simple to send events to Google Analytics whenever WordPress visitors navigate to a certain point of interest on your site or click specified components (like buttons or Ajax submit forms).
Using the Google Analytics event monitoring feature, you may learn a lot about the actions that visitors to your website perform while they are there. Some key features include tracking in-page navigation, call-to-action button performance comparison, contact form conversion tracking, and much more.
WP Statistics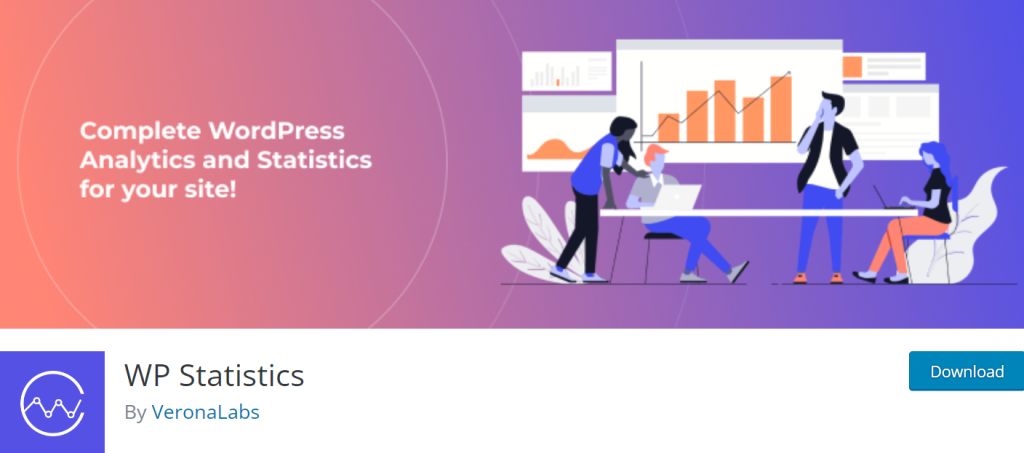 In your WordPress dashboard, WP Statistics, a freemium analytics plugin, displays statistics and straightforward graphs.
In addition to tracking referrals from search engines like Google, Yahoo, Bing, and DuckDuckGo, you can also track visitor information like IP address, referring site, browser, operating system, nation, and city. The fact that this plugin saves the data on your WordPress website is a drawback. This can cause your backup to grow in size over time.
You may export your analytics data to XML, CSV, or TSV files with WP Statistics, and you can send an email with a customizable statistics summary. WP Statistics also supports WordPress roles.
Conclusion
We hope that you found something interesting in this article and that we helped you in some way to decide on the best Google Analytics WordPress plugin for you.
Either way, we highly recommend you do your research on each plugin to find out more about them.