How to Change Password in WordPress – A password is a secret word or character string that is used for user authentication as proof of identity or used to gain approved access to resources. In WordPress the password is used to log in or enter a crucial area, namely the admin section of the WordPress dashboard to do various things depending on the role the WordPress user is given.
In the previous article, I made articles related to WordPress passwords, such as how to delete a Lost Your Password WordPress Login URL and how to restore a WordPress [Localhost] Password . In this article, I will discuss about passwords again and it is certainly more basic than previous articles, but this article will certainly be very useful for WordPress users who are completely new.
Here I will show you how to change the password or password in WordPress, this method is used for users who remember passwords, not for users who forget their passwords, because for those of you who forget your WordPress admin password, you can immediately click the lost password menu under the login username page. enter your email address.
Read: How to Change Fonts in Your Instagram Bio to Be More Attractive
Before You Change Your WordPress Password
A password or passwords could be your first line of defense against hacking attempts. Often times users create weak passwords because they are easy to remember. I hope you always create strong passwords , this is because it is very easy to crack your passwords. You can use one of the many free and secure password managers or use the WordPress built-in Password Generator.
Sometimes it's tempting to share your WordPress password with team members or even developers, if you feel that your site is of high value. You can't do that. Instead, I recommend that you create new user accounts with appropriate user roles, so that you can manage permissions according to user roles.
This way you can easily delete their accounts when they are no longer part of your team without having to change your master password.
Having said that, let's take a look at various ways to change your WordPress password.
Read: How to Use WordPress iThemes Security (Better WP Security)
How to Change WordPress Password or Password
The first thing you need to do is login to your WordPress website admin. You can do this by adding the wp-admin URL so that it looks like this: http://yourdomain.com/wp-admin/
After you log in, go to the Users »Profile menu. and you will see the profile settings page as below.

Scroll down and find " Account Management " and in the " New Password " section there will be a " Generate New Password " button, click that button and there will be a new long and safe password combination, please delete the generated password with your own password which is more easy for you to remember, after that click the box " confirm use of weak password ".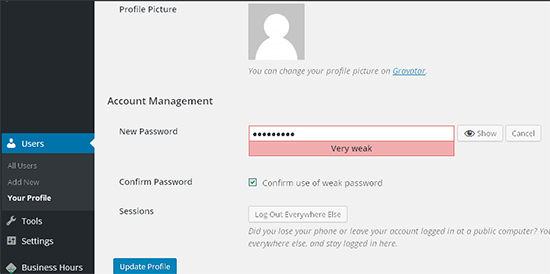 The strength indicator bar below you type in this password will tell you the strength of your password. You want to make sure that your password is strong and difficult to guess. A strong password is easy for you to remember and difficult for others to guess.
After you have finished typing your new password, click on the " Update Profile " button to store your new password.

And congratulations, you have successfully changed your WordPress password. Changing passwords or passwords regularly will certainly make your WordPress site more secure, because it could be that your password is already known by irresponsible parties when WordPress has a bug or error, so to anticipate that your WordPress site remains safe, change the password. periodically, you can change your password once a week or once a month.
And that's a short guide on how to change passwords or passwords on the WordPress Dashboard, hopefully this article will be useful for you and your WordPress site to stay safe from irresponsible people. Good luck 🙂