The Deep Theme is a multipurpose WordPress theme that may surprise you. Why I titled this as a multipurpose WordPress theme is because you can use this one theme for various types of websites. No matter what kind of website you want to create, Deep Theme will still be your choice.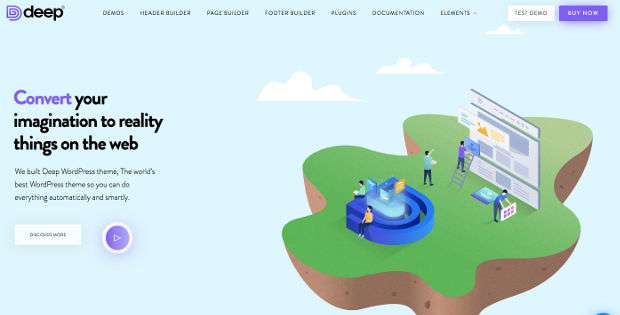 I'll explain more about what I say about the Deep Theme why it's considered a multipurpose theme, so keep reading this review.
Why Deep Theme?
Deep Theme is a multipurpose WordPress theme developed by Webnus, where webnus is inhabited by a team of professionals who are experts in the field of WordPress. And one of the products from webnus is Deep, a theme that you can use to develop any kind of website you can think of. It provides a large number of templates, premium plugins, and a powerful page builder that you can use to build the most powerful WordPress website, and the Deep theme is arguably one of the best multipurpose WordPress themes.
For example, when you want to create a WordPress site for business, you can choose the Deep Theme, when you want to create an educational website you can choose this theme. And so you will still be able to choose the Deep Theme.
Here I will explain some important points of the WordPress Deep theme, and discuss what are the advantages of this theme that you need to have one.
Multipurpose Theme with Multiple Demos
As I have said above, that the Deep theme is a multipurpose theme, this is because until the time I write this review, this theme has more than 85 demos with a beautiful and modern look, where all the templates are carefully designed so that they display beautiful templates. spectacular for a wide variety of websites.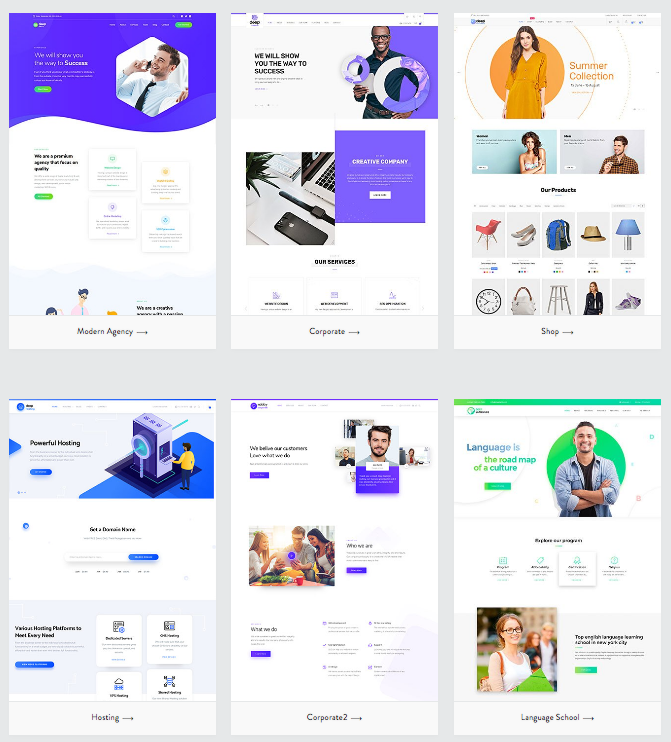 Having one Deep theme means the same as having multiple themes ready for you to use for different website purposes. And the wide variety of demos featured will allow you to choose between demos to find the one that fits your needs. For example, if you want to develop e-Commerce website, education web, hospital or business website, you can create such websites using Deep as almost all your needs have been provided by Deep theme designer.
Webnus has tried to provide different options for different implementation scenarios. If you run a digital marketing agency, there will be five different options as the Easyweb package tailored for each of these websites. Likewise, there are various options for Church and religious websites, wedding planner websites, restaurants, cafes and even hotels. The good point about these demos is that they come with customized features.
For example, if you use a Health demo made for health services such as a doctor, you can display features for ordering and calendars with the help of the MEC Pro version which is another product from Webnus.
Not only does it provide demo templates that are very many and beautiful for various websites. Deep also provides a template for websites that are still in development, the "Coming Soon" page. They provide 12 custom templates for Coming Soon (Under Construction) that are already themed ready so you can use them when you want to quickly get to the main tasks of building your website. Imagine, Deep theme also provides this kind of thing for you. It is truly a complete theme.
Not only that, Deep theme provides more than 160 shape templates, which helps you easily build whatever you want to meet the needs of your website. Using this handy template, you'll experience building a unique website quickly and easier than ever.
Premium Plugin (Free)
Deep is like any WordPress theme that supports all the popular plugins found in the WordPress.org plugin directory, the thing that sets Deep apart from other WordPress themes is that there are more than 29 premium WordPress plugins that you can use to build the best WordPress website and the prices of all. the premium plugins brought by Deep theme are over $ 700 and you can get all that for free in one Deep Theme purchase package.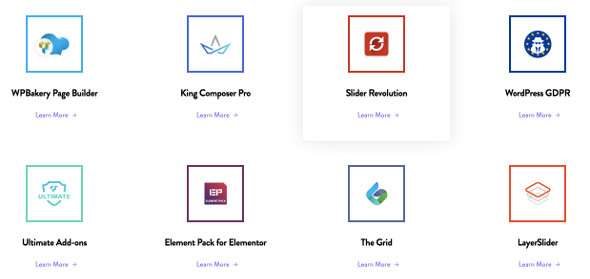 The Deep theme also uses three of the best page builders for WordPress, there are Elementor (plus the complete Jet Elements package), King Composer and WP-Bakery, therefore, even if you don't have coding skills, you can build your pages in the easiest way possible. use the live edit feature. and by the drag & drop method. You can also use more than 160 shortcodes available on Deep.
When you can really take advantage of your skill on the Deep theme, then you will have a really powerful website full of features.
Read: 10 Amazing Themes To Create A WooCommerce Online Store
Deep Theme Builder
There are a number of options available for building your website pages on Deep. If you can look up and down quickly, the first thing you'll do is an awesome Deep header builder. This feature is almost unique among all other themes regarding the options it provides. You can change the style and order of almost everything in your website header using the Deep Header Builder.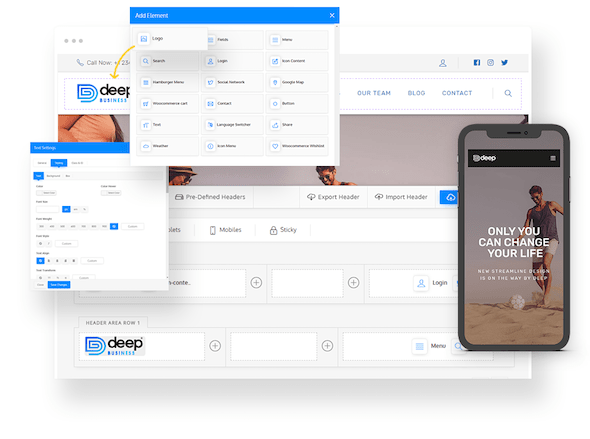 Deep also provides a custom builder for a handy and easy footer for your website. You can create a customized and unique footer for your website using the Deep footer builder.
Full Widget
Widgets are an integral part of a WordPress site. Deep offers users a comprehensive and practical widget collection all of which are built according to modern design methods. And to use widgets is very easy, you only need to drag and drop it.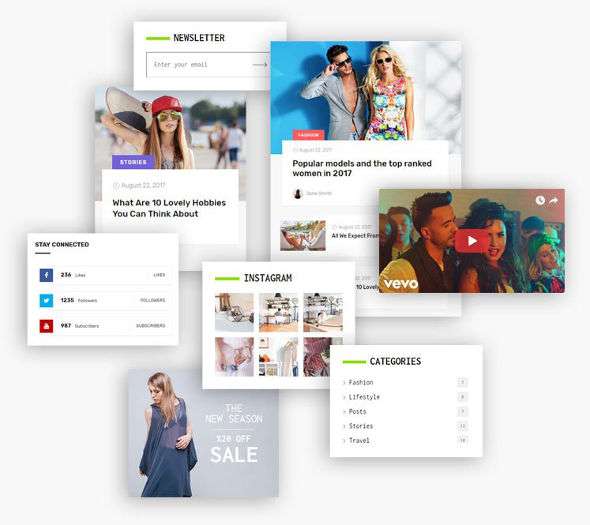 And here are some of the widgets that the Deep theme brings:
Advertisement
Facebook
Flickr
Instagram
Google+
Copyright
Latest Posts
Latest Reviews
Login
Mini Slideshow
Popular Posts
Post Slider
Social Icons
Subscribe
Testimonials
Tabs
Youtube
Daily Post
High Performance
When you look at Deep, you might think that this is a heavy WordPress theme, considering that this theme is made so feature-rich. But that estimate is certainly wrong, because you need to know that since version 2 Deep, they added a new feature called Automatic Speed Booster which can be a revolutionary change in theme page coding.
From now on, the CSS and JS elements used will be loaded in the source code page and no additional code will be loaded on the page. As a result, the page size will decrease considerably and that will increase the loading speed.
The deep theme in its pages also states and provides evidence that several popular website speed testing tools such as Google Page Speed, Gtmetric, pingdom and webpagetest all give deep themes an A.
Easy Import
You can easily import the demo you want in the WordPress Deep theme. You just need to go to the theme dashboard, select the demo you want and click import. Then you can select the plugins you want to install and activate, in addition to the ones listed in the demo.
There are several lists of plugins that are defined and in the developer recommendations for each demo theme, this is to customize the demo themes and functions they need, but you can customize what plugins you will install according to your needs.
You can also select a demo page and which content to import for the demo. You will have different options in this section which includes posts, pages, widgets, theme options and many more pre-built options.
Theme and Customization Options
The Deep theme has a special options panel that you can use to customize and adjust the configuration like most other premium themes. You can customize almost every aspect of your website including fonts, colors, social buttons, page styles, blog styles, etc.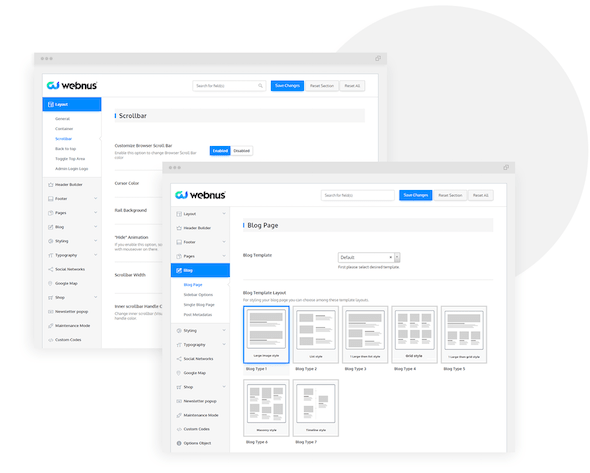 Maybe you can find a number of standard features in the best WordPress themes, but practical built-in features separate good themes from great themes. It supports WPML, adaptive images, header builder, footer builder and more. The great thing about the Deep theme is that it supports most of these great features without needing to install a plugin for them.
Comment
Engagement is one of the key factors for any website. Most teams work very hard to engage with as many visitors as possible. One of the most important aspects that any website should have, is a practical and fun platform for communication on the website. This is what Deeper Comments provide in the Deep package. This is a revolutionary step in the subject of WordPress comments that will bring a new experience to users who have never been like this before. This is a free WordPress plugin to be replaced for the native WordPress commenting system. This plugin has a modern design. It comes with a complete set of comment functions and features.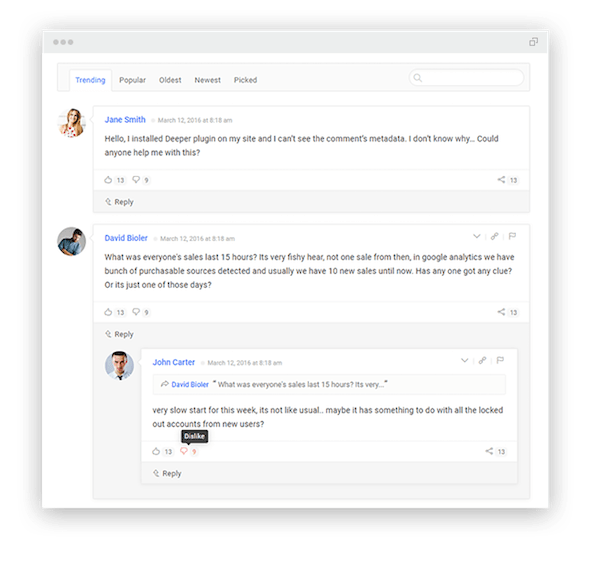 Documentation and Support
It's not hard to find a great premium WordPress theme, but If you're looking for a really good one, you should find a theme with an active support team and complete practical documentation. You should know that Webnus which is the company behind the Deep theme, has provided a good environment for sales support and technical support that is almost ready to answer your questions all day long. In addition, there is complete documentation available for the product, which you can study and apply.
Deep Theme Price
Deep Theme is not a theme that is sold as a whole in one theme package. But by paying only $ 49, you have got an account on webnus which gives you the ability to access all the great themes made by webnus, and all the premium plugins that I have mentioned above are also included in that price. So it's really really cheap. And you need to know that this is not an annual price but forever. For just $ 49 you'll get updates all the time.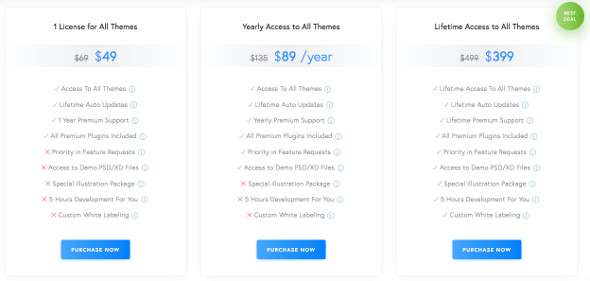 And the really nice thing about the Deep theme is that it comes with a free version that you can download by simply entering your email address. Of course the free version is the standard version and you will only get 3 templates, namely Modern Agency, Personal Blogger and Magazine. However, you will get a Mega menu, header and footer builder and much more.
Conclusion
WordPress is a web platform or CMS that has millions of themes spread both free and premium. And to find a premium theme is also very easy because there are so many developers creating premium themes with the best designs and features. But if you are looking for a design that is customized for many types of websites and even meets almost any type of website that most people and the industry need, you should look for a modern and well-designed theme like the Deep WordPress Theme. Because this theme can cover all your needs in design as well, it reduces the cost of plugins that you have to buy to design your website. That's the reason why you should try to use Deep in every project of your website.
Read: 45+ Photography WordPress Themes for the Best Free Download