How to activate the registration feature in WordPress – WordPress comes not only to be used by one user in managing a website, but WordPress was created to be able to manage multiple user accounts at once. With the User Registration feature, WordPress allows users to register and have an account on your site. You can allow multiple authors on your website to enter the WordPress dashboard area to write and publish articles, as well as allow new users to register and comment.
In this article, I will show you how to enable User Registration or the User registration feature on a WordPress site and user management.
Enabling the Registration feature or User Registration in WordPress
To activate the registration feature or User Registration in WordPress is quite easy, you only need to go to the Settings »Genera l menu and scroll to the Membership section. Check the checkbox next to ' Anyone Can Register '.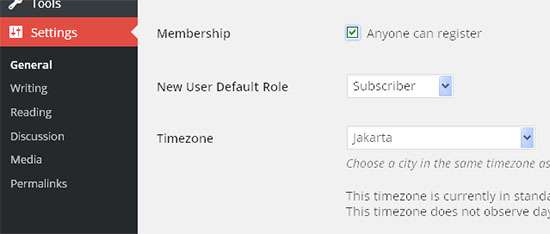 Next, please select New Users Default Role. The default user role is Subscriber , which you can change according to the user role you want. After that click on the Save Changes button to store your settings.
Display the Login and Register Menu in WordPress
After you activate the user registration feature on your WordPress site to allow user registration, the next step is to put a menu on the front end or front of your site so that users know that they can register as users on your website.
There are two ways to show the registration link on the WordPress site in this tutorial:
Method 1: Meta Widget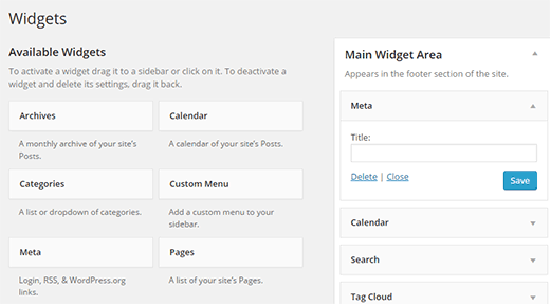 The simplest way to add a login link is by adding a meta widget to your sidebar. Simply go to the Appearance »Widgets menu and add the Meta widget to the available sidebar area. If so you will see some new links for user registration on the sidebar.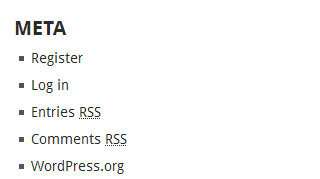 Method 2: Using Custom Login Page
You can also use your own WordPress page for login and registration, of course this will look more attractive than the first method above. See the previous tutorial on WP Radar for using a custom login page.
Managing Users on WordPress
To see a list of all users who have registered on your website, please go to the Users »All Users menu in your WordPress admin. WordPress will display a list of users with their username, names, roles, and email addresses.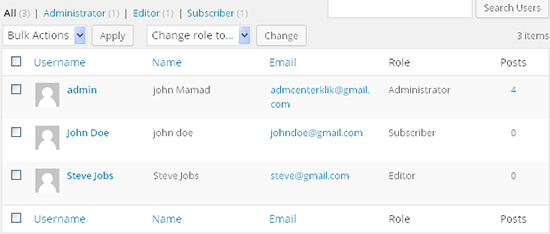 As a website owner, you will certainly find your role as an administrator. As an administrator you have full control who can do everything in the admin area such as deleting users, changing the user role to the user you want, you can also edit user profiles, and even change their passwords.
Prevent Spam
Spam is a common problem that WordPress users often experience, from Spam in the comments area there is also spam if you enable user registration on your WordPress site. There are many dangerous spam bots out there looking for a WordPress site that allows registration for visitors. This bot can add spam accounts to your WordPress site which could pose a threat to site security. However, preventing WordPress spam registrations is not difficult at all.
All you need to do is just install and activate the Stop Spammer plugin. Or you can check out some tutorials in the WP Radar that discuss how to prevent spam like Blocking WordPress Comment Spam with CAPTCHAs .