VdoCipher – WordPress Plugin to Protect Your Videos – When you decide to create an online course website, the first thing you should do is choose a robust web platform to run your business, one of the best and the best is WordPress. Why WordPress is a very good choice because WordPress has a lot of plugin support that can handle the feature needs of your online course business such as LearnDash, WP eMember, WooCommerce, and Sensei.
Then the best way to attract as many students as possible is to provide quality content in both text and video form, of course video is the most attractive way that students are very interested in your online course. But problems that will arise and can hurt your business are when the best videos that you have painstakingly created for your online course students can be stolen or downloaded and shared irresponsibly.
Then those who take your video can share it on various free video sharing platforms like YouTube , Viemo, Facebook or even torrent for their own sake and take advantage.
In this article I will provide the best solution to protect your valuable videos from video theft and allow you to protect your videos safely without being able to be downloaded by any video download software. To protect your videos, you can use VdoCipher Secure Video Streaming .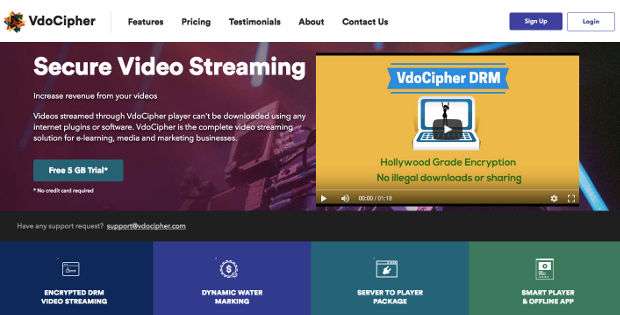 What is VdoCipher?
VdoCipher is a highly secure video streaming service that will protect your valuable videos from piracy. VdoCipher will provide a high level of security with DRM encryption, url authentication, dynamic watermarking, screenshot prevention for certain devices / browsers, as well as Geo restrictions).
In this way, you don't have to worry about losing premium videos and decreasing your business. You can quietly create videos for your media business, online education courses or anything that makes money from paid video content on a subscription model.
The great thing about VdoCipher is that they have a special plugin to protect your videos from being displayed on the site that you create with WordPress. This VdoCipher video plugin will host premium video content on your WordPress website. The VdoCipher Video plugin will also give you complete control over your video content, so you can start making money from your amazing videos.
The VdoCipher WordPress video plugin can also be easily integrated with various popular member or membership plugins such as Restrict Content Pro, MemberPress and WP eMember. And it also works great with Learning Management systems for online courses such as Moodle, Sensei, LearnDash, Tutor LMS , WP CourseWare, LifterLMS and LearnPress.
Price
VdoCipher is a really advanced service that can protect your premium videos. Apart from protecting your profits, it will also save your business. You can try to use VdoCipher for free for 30 days.
With this free trial package, you will get a total bandwidth of 5 GB and upload a maximum of 10 videos. Then you can upgrade to a paid plan for a starting price of only $ 99 per year with 50GB of storage space and 250GB of bandwidth. And there are still other packages if you feel that you are missing the Starter package. You can see the price details in the image below.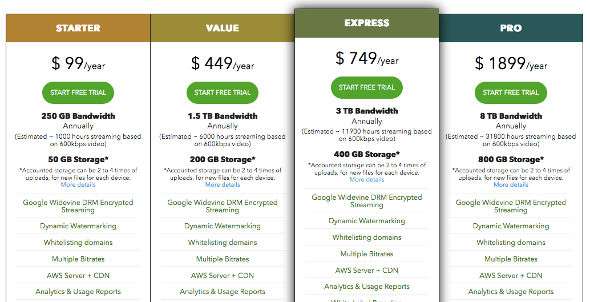 VdoCipher Key Features
VdoCipher can really protect your videos so they are safe from various theft methods and have Hollywood-approved security standards that protect your videos from hackers and downloaders, why should you be sure of VdoCipher? Here are some of the features of VdoCipher to make it the safest video streaming service.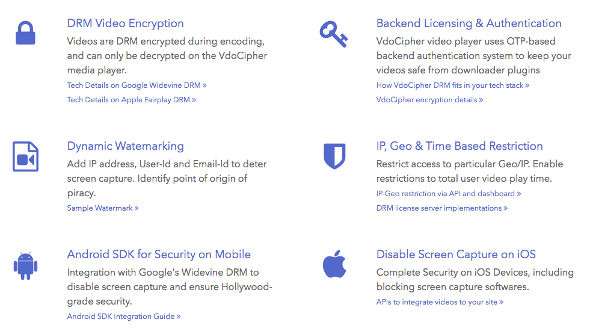 DRM Encrypted Streaming
DRM encrypted video streaming technology ensures that your videos cannot be downloaded even by any video download software. Where your videos are protected with the highest level of security with the Widevine architecture as part of the streaming infrastructure. This includes transcoding, protection and encryption, adaptive streaming, and communication with secure DRM license servers.
Watermark & DRM
VdoCipher can display static watermarks as well as dynamic watermarks that can move so that it can protect your video in the event of a screenshot by the user. You can enter a watermark in the form of IP, email, user id. Apart from that, it also supports Expiration time for urls, IP-Geo Restriction, multi device DRM with highest security.
VOD website
You can launch your videos like Netflix / Coursera under your own brand to sell videos on your website, payments, memberships, DRM, and playback packages.
Customizable player
VdoCipher has settings for Buffer retention that minimizes bandwidth, Change Color, Large selection of Themes, Size, MPML Multi-bitrate Whitelabel player and support for subtitles.
Speed Change Control
VdoCipher also has a typical player that has navigation for dynamic controls to change video playback speed and to move video playback back and forth.
Analysis
You can view detailed Analysis statistics for video playback and viewers. There is also a report showing about your most popular videos, recording Video views, location, browser, etc. Demographics for video playback provide useful insights that you can use for future video testing.
Upload videos from anywhere
VdoCipher allows you to easily upload videos from various devices such as desktop and mobile. And also upload using other methods such as from dropbox, server, url, ftp, vimeo. Use the dashboard or API.
Device compatibility
Reach audiences worldwide on every device. Application for android and iOS systems. HTML 5 support for easy playback.
AI Based Chapters & Phrases
Automatically generated chapter segmentation, phrase cloud, in-video search for lecture content. Delivered with AI partner companies.
Customer support
VdoCipher support is very easy, they can help you anytime via email communication. You can contact their team by emailing info@vdocipher.com with specific questions and any assistance you may want.
Developer friendly API
Automate your workflow with detailed APIs, Embed, Transcode, Tag, Search. They also provide various ready-to-use codes for your convenience.
Easy Dashboard
Everything you can do in the dashboard of VdoCipher, everything seems simple and uncomplicated. You can upload, transcode, encryption, custom thumbnails, custom encodings, analytics, usage reports all your bias access from the dashboard.
How to integrate VdoCipher with WordPress
Following are easy steps for integrating VdoCipher with the WordPress site to protect your videos so that they are safe, cannot be downloaded and hijacked by irresponsible users.
Please install the VdoCipher WordPress Plugin directly through your WordPress dashboard because the plugin is already available in the WordPress.org plugin directory. After that, activate the VdoCipher plugin.
Next, create an account at VdoCipher.com – You can try a free account that you can create with a maximum of up to 10 video uploads for safe and anti-piracy video hosting.
After the account has been created, you will get a client "Secret Key" that will be sent to your email account and you can also find it in the configuration section of the user dashboard.
Click on the VdoCipher menu on the WordPress menu bar under the Settings menu, and enter your client's "Secret Key" in the field provided.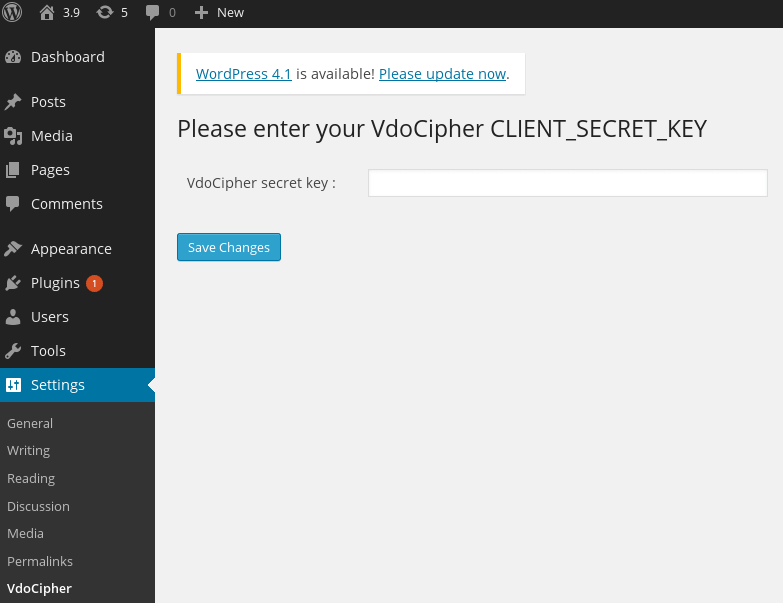 You can also enter your watermark format here. Sample code is also provided.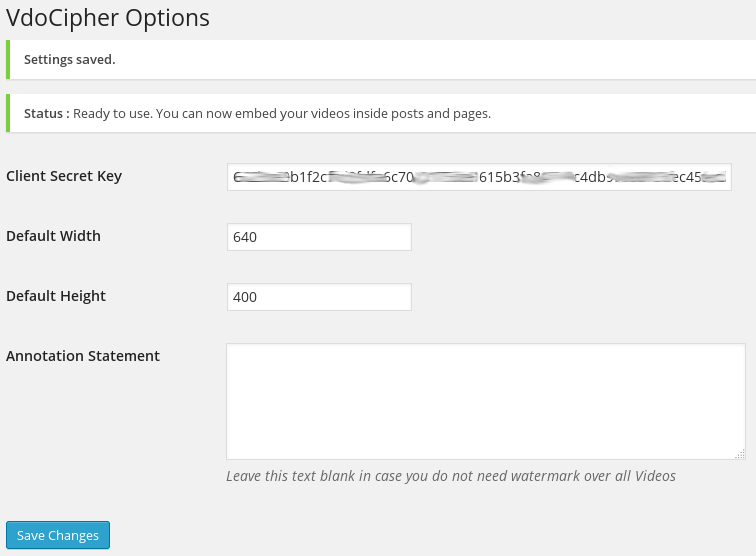 Add video to dashboard, under video name you will find video id. Copy the video id and place it in a shortcode and insert it on the post or page where you want the video to appear. Example – [vdo id = "123456789?]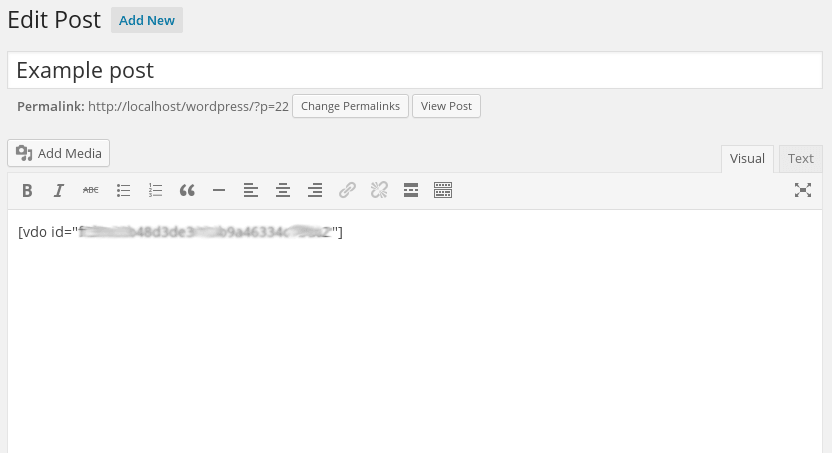 Now Publish and see your safe video content is now displayed on your WordPress site. You are doing a trial to download the video and it is certain that you cannot download it because the video is already in a completely safe protection mode.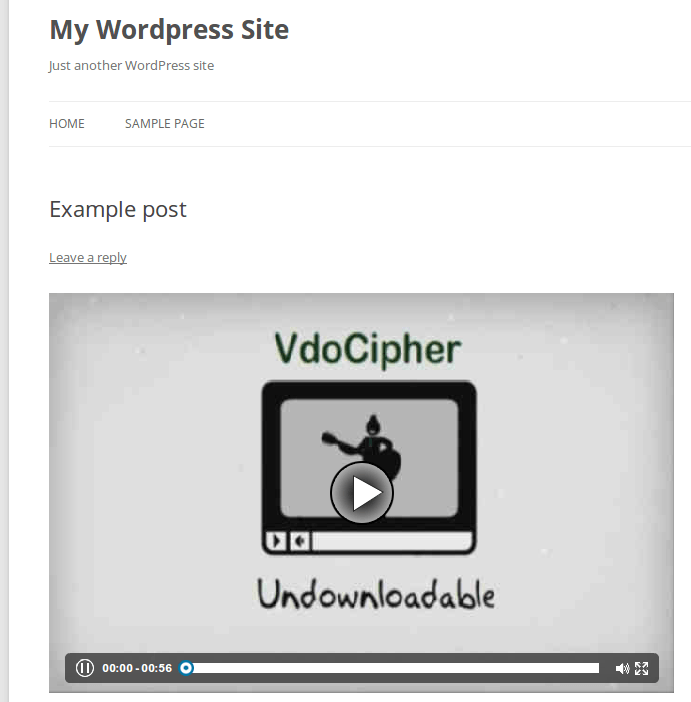 And that's a complete review of VdoCipher Secure Video Streaming that I can share with readers, I hope this article is useful and a solution to protect your premium videos from piracy and enjoy your business and make money from your premium videos in peace. 🙂